Anna Brownell Jameson, née Murphy, writer, feminist, art historian (b at Dublin, Ire 17 May 1794; d at London, Eng 17 Mar 1860). Anna spent her early adulthood as a governess in England, in 1825 publishing A Lady's Diary
Anna Brownell Jameson, née Murphy, writer, feminist, art historian (b at Dublin, Ire 17 May 1794; d at London, Eng 17 Mar 1860). Anna spent her early adulthood as a governess in England, in 1825 publishing A Lady's Diary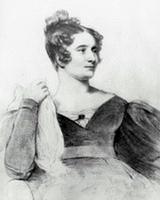 Anna Jameson was a determined, though conservative, early feminist, one of the many in her generation who were vocal about their rights in law and their needs and opportunities in society (courtesy Toronto Public Library, J. Ross Robertson Collection T-15167).
Wayish-ky's lodge, Sault Ste-Marie, Ontario. Sketch by Anna Jameson, 31 July 1837 (Metropolitan Toronto Reference Library, by permission of J.D. Bain.)
Jameson, Anna Brownell
 Anna Brownell Jameson, née Murphy, writer, feminist, art historian (b at Dublin, Ire 17 May 1794; d at London, Eng 17 Mar 1860). Anna spent her early adulthood as a governess in England, in 1825 publishing
A Lady's Diary
(later
Diary of an Ennuyée
), a fictionalized account of a European tour. She married lawyer Robert Sympson Jameson in 1825, but the couple were separated in 1829 when Jameson became a judge in Dominica, and later in Upper Canada. By 1836, when she joined her husband temporarily in Toronto, Anna Jameson was a well-known author. She chronicled her 8-month stay in Canada in the frank, informative
Winter Studies and Summer Rambles in Canada
(1838), its "Winter Studies" a lively but uncomplimentary portrait of Toronto, and its "Summer Rambles" an enthusiastic recounting of her journey through southwestern Ontario, up the lakes to Sault Ste Marie and back. On her return to England, legally separated from Jameson, she began a 6-vol compendium of Christian art, popularly known as
Sacred and Legendary Art
. In later years she was the mentor of the young feminists who founded The Englishwoman's Journal and Girton College at Cambridge University.