Joseph Georges Gilles Claude Lamontagne, O.C., O.Q., air force officer, businessman, mayor of Québec City and lieutenant-governor of Québec (born 17 April 1919 in Montréal, Québec; died 14 June 2016 in Québec City). Gilles Lamontagne was a veteran who was taken prisoner during the Second World War and who went on to have a long and successful political career at both the municipal and federal levels. Mayor of Québec City for some twelve years, Lamontagne contributed to modernizing the city's infrastructure and governance. The former lieutenant-governor of Québec is also known for his civic engagement, especially with respect to military families.
The Honorable Gilles Lamontagne in Québec City, 3 June 2010.
Education and Early Career
Son of Anna Kieffer and the industrialist Trefflé Lamontagne, Lamontagne attended school in Montréal, first at Les Sœurs de la Providence, then at Collège Jean-de-Brébeuf and the École des hautes études commerciales (HEC Montréal).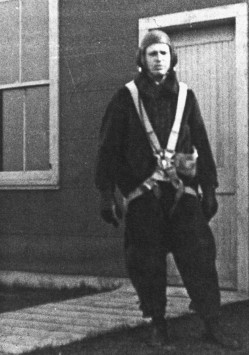 Gilles Lamontagne in his pilot coveralls and full kit. During the Second World War, Lamontagne piloted a Wellington bomber in French Canadian Squadron 425 of the the Royal Canadian Air Force.
Gilles Lamontagne writing between two bombing missions.
Gilles Lamontagne was taken prisoner by the Germans in Holland on 13 March 1943. First transferred to the Dulag Luft camp in Frankfurt, he was later sent to the Stalag Luft 3 camp, at Sagan, southeast of Berlin. This photograph was probably taken by a German guard, shortly after Lamontagne's arrival at the camp. Prisoner 905 was wearing his bomber jacket, and the camp buildings can be seen in the background.
Gilles Lamontagne (centre, wearing a flight-lieutenant cap) is repatriated, along with other former prisoners, aboard Pasteur, a French ship.
In 1941, he joined the ranks of the Royal Canadian Air Force. After training as a pilot, he was sent to England with the 425th Bomber Squadron, which was the first French Canadian squadron and known as Les Alouettes (Skylarks). Unfortunately, in March 1943, he was taken prisoner by the Germans after his plane was brought down in the Netherlands. He was held in a prisoner-of-war camp for more than two years.
When the war ended, Lamontagne returned to Canada and settled in Québec City, where he opened the Korker Shop, his first china shop. In 1950, he became a recruitment officer in the Royal Canadian Air Force reserves. Lamontagne was also heavily involved in his community. He joined the Rotary Club of Québec, a service club comprised mostly of businessmen. He was president of the club in 1962 and 1963.
Municipal Politics
Aerial view of Québec City (Colour Library Books).
Quebec 1877-87, architect E.E. Taché (courtesy Archives nationales du Québec, Quebec City).
In 1962, Lamontagne helped found the municipal party Le Progrès civique de Québec and was elected a municipal councillor in the Montcalm neighbourhood of Québec City. He remained councillor until 1965. After being chosen as leader of the party on 20 February 1964, Lamontagne won the next election and was mayor of Québec City for more than 10 years (1965-1977).
Lamontagne's years as mayor were characterized by large development projects that refashioned Québec City's urban landscape. At a time when Montréal was preparing to host Expo 67and was building highways and a metro (subway), Québec City was lagging behind in terms of infrastructure. Lamontagne undertook a number of projects: building a water treatment facility, overseeing the renewal of several neighbourhoods, managing large low-income housing developments, and erecting office towers for provincial public servants, including the famous Marie-Guyart building (nicknamed "Complexe G") and Place Québec. Lamontagne also invested in the development of Québec City's Parliament Hill and began work on Autoroute Dufferin-Montmorency (the eastern portion of Québec's Autoroute 440). Although Lamontagne is portrayed as the mayor of modernization, some of his detractors are critical of him for partially destroying Québec City's built heritage, by demolishing part of the Saint-Roch and Saint-Jean-Baptiste suburbs, and for "paving over" the city at the expense of green spaces. A good example of this was Lamontagne's decision to build a concrete walkway in order to clean up the banks of the St. Charles River.
As mayor, Lamontagne also introduced significant reforms to the governance of the municipal administration — for example, by introducing external audits and establishing competitions for awarding contracts — and he undertook the first series of municipal amalgamations. During his term, Québec City welcomed several important visitors, such as General Charles de Gaulle just a few days before de Gaulle's visit to Montréal and his famous "Vive le Québec libre" proclamation from the balcony of Montréal's City Hall. Lamontagne also played an important role at the provincial level, including sitting on the Board of Directors of the Canadian Federation of Mayors and Municipalities (now the Federation of Canadian Municipalities) beginning in 1970 and acting as president of the Union of Québec Municipalities (1974–77).
Member of Parliament, Minister and Lieutenant-Governor of Québec
In May 1977, Lamontagne won the by-election in the federal riding of Langelier, in Québec City, for the Liberal Party led by Pierre Elliott Trudeau. From October 1977 to January 1978, Lamontagne was parliamentary secretary to the minister of Energy, Mines and Resources. Trudeau later named him minister without portfolio (January 1978) and minister of the Post Office (February 1978–June 1979).
After the June 1979 election victory of the Conservative Party led by Joe Clarkand a brief stint as the official opposition, the Liberals returned to power in February 1980. Lamontagne was appointed minister of National Defence. He stayed in this post until August 1983, while also acting as the minister of Veterans Affairs (1980–81).
In March 1984, having resigned from his seat in the House of Commons, Lamontagne became the 24th lieutenant-governorof Québec. He filled this role from 28 March 1984 to 9 August 1990.
Civic Engagement
Returning to life as a simple citizen, Lamontagne renewed his connections with the business world. Advisor at Consilium (which in 1994 became GPC International) from 1991 to 2005, he was involved with the Québec City Chamber of Commerce and the Economic Council of Canada, and was a member of the board of directors of Université Laval between 1991 and 1996.
For several years (1987–96), Lamontagne was also an honorary colonel of the No. 1 Squadron of the Royal Canadian Air Force at St. Hubert, a suburb of Montréal. From 1996 to 2013, he was actively involved in the Military Family Resource Centre at the Canadian Forces Base Valcartier. In 1997, he became Chairman of the Board of Governors of the Royal Military College of Canada (RMCC), a body established to implement recommendations from the Commission of Inquiry into the Deployment of Canadian Forces to Somalia. Lamontagne regularly took part in activities commemorating the Second World War and participated in several special projects such as The Memory Project, La force francophone (Francophone Strength) and Des héros se racontent (Heroes Remember). Lamontagne received many military and civilian honours throughout his long and successful career, including appearing on the King George VI (United Kingdom) list of honours.
Honours and Awards
Knight of the Order of St. John of Jerusalem (1985)
Honorary Doctorate (Law), Royal Military College of Canada in Kingston (1986)
United Nations Medal (1987)
Honorary Doctorate (Business), Royal Military College Saint-Jean (1989)
Officer of the Order of Canada (1991)
Knight of the National Order of Québec (2000)
Member of L'Académie des Grands Québécois (2005)
Knight of the Legion of Honor of France (2006)
Québec City Medal (2008)
Minister of Veterans Affairs Commendation (2011)
Queen Elizabeth II Diamond Jubilee Medal (2012)