Judith Jasmin, journalist, actor, and producer (born 19 July 1916 in Terrebonne,
Quebec
; died 20 October 1972 in
Montreal
). A true pioneer of
journalism
in Quebec, Judith Jasmin was the first Canadian woman to make her mark both as a special correspondent and as a foreign correspondent. She was also the first female political and international journalist.
Education and Early Career
Judith Jasmin was the daughter of Rosaria Desjarlais and Amédée Jasmin, a notary. In the early 1920s, her family moved to France, where she attended a girls' high school in Versailles. When she returned to Quebec in 1932, she was just 16 years old. The Great Depression that was affecting all of North America at the time shattered her dream of studying chemistry at university, but she nevertheless completed her classical studies at Collège Marguerite-Bourgeoys in Montreal before beginning her career.
Judith first turned to theatre to earn a living. After a successful stage debut, she became one of the most beloved radio stars at age 22 thanks to her leading role in Robert Choquette's radio drama La pension Velder. While pursuing a career as an actor, she also produced a number of radio programs, including Radio-théâtre, Les voix de mon pays, Studio G7, and Entrée des artistes.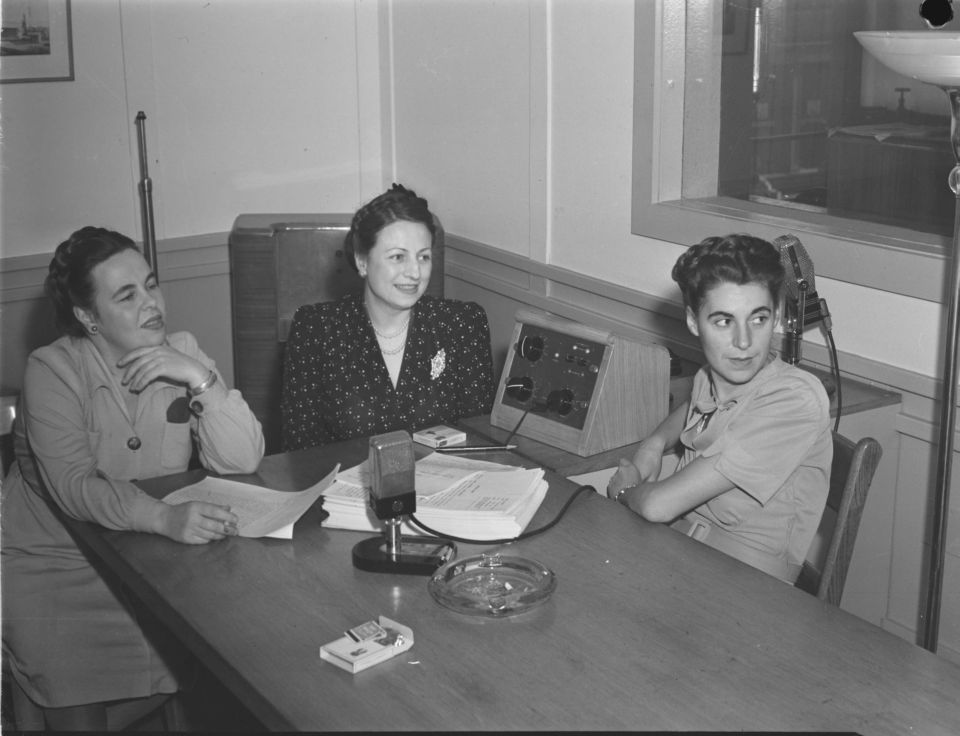 Marcelle Barthe, Berthe Lavoie and Judith Jasmin, three directors of CBF (Radio-Canada) in Montreal in 1945, meeting in the studio.
International Journalism
Judith Jasmin was 30 years old when she joined the International Service of the Canadian Broadcasting Corporation (CBC) and began her career as a journalist. When Radio-Canada, the French-language arm of CBC, introduced television broadcasts, she was at the forefront, switching easily from one medium to the other while maintaining the same high journalistic standards.
René Levesque, puts his mini-tape recorder on his head as he makes his way toward RCR troops deeper in enemy territory. Korea, 14 August, 1951.\u00a0Image: Canadian Department of National Defence/Library and Archives Canada/C-077793.
In 1953, she worked with
René Lévesque
to establish the first news program on Radio-Canada's television network. She then became the first woman to work as a CBC foreign correspondent (in Paris, New York and Washington). She was also the first female Canadian journalist to cover international events and politics.
Through her work as a journalist and reporter, she traveled to Algeria, Cuba, Israel, India, Peru and Haiti. She interviewed with considerable aplomb some of the greatest artists and writers of the 1950s and 1960s, including Salvador Dali, Le Corbusier, Orson Welles, Josephine Baker, François Truffaut, Hergé, Marcel Pagnol, Jean Cocteau, Eugène Ionesco, André Breton, Marguerite Duras and Anne Hébert. In 1961, she conducted the only televised interview that Gabrielle Roy ever gave. A number of heads of state, including François Duvalier (Haiti) and Ho Chi Minh (Vietnam), also met with her and answered her questions.
Author Gabrielle Roy in 1946 (courtesy Globe and Mail).
Anne Hébert writing poetry, La Fontaine Park, Montreal (courtesy SSC Photocentre/Phototeque).
Upon returning to Montreal in 1970 after several years abroad, she worked on the programs
Format 30
,
Format 60
, and
Politique atout
. In 1971, she was elected president of the Syndicat général du cinéma et de la télévision (General Film and Television Union).
Social Engagement
Judith Jasmin helped to create the Mouvement laïque de la langue française (French-Language Secular Movement), an organization that promoted secularism in Quebec's political institutions, active from 1961 to 1969. Her reports and writings, collected and published by Colette Beauchamp (another pioneer of Quebec journalism) reveal a woman involved in the major causes of the 1960s and, on a larger scale, of the 20th century. She supported the deconfessionalization of the school system, the emerging environmental movement, pacifism, and the anti-racism movement. In the late 1960s, she participated in a protest against racial segregation in the United States; this resulted in a 30-hour stay in jail.
Honours and Awards
Judith Jasmin saw information as a means of public education and social change. Many of her fellow journalists regarded her as a leading light committed to raising awareness. The St-Jean-Baptiste Society recognized the high quality of her work with the Olivar-Asselin award for journalism, which she won in 1972, six months before her death. Each year, the Fédération professionnelle des journalistes du Québec presents the Judith-Jasmin Award, established in 1975. A building at the Université du Québec à Montréal was also named in her honour. On 8 March 2021, Judith Jasmin was designated a historic figure by the Ministère de la Culture et des Communications du Québec. 
Judith-Jasmin Building