Kathleen O'Day Wynne, 25th premier of Ontario 2013–18, member of provincial parliament 2003–present, school trustee, community activist, mediator, teacher (born 21 May 1953 in Toronto, ON). The skills of a mediator, coupled with a strong sense of will, propelled Kathleen Wynne's political career, making her Ontario's first woman premier and Canada's first openly gay head of government.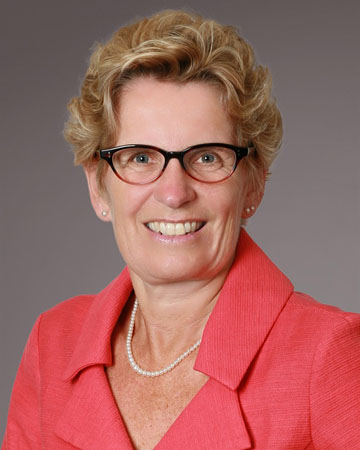 The Honourable Kathleen Wynne, Ontario's 25th premier (courtesy Liberal Caucus Service Bureau).
Childhood and Teen Years
Kathleen Wynne was born at the Toronto Western Hospital, where her father, Dr. John B. Wynne, was an intern. Her mother, Patsy O'Day Wynne, was a singer who performed in musical theatre and on the CBC. Shortly after Kathleen's birth, the family moved to Richmond Hill.
At Richmond Hill High School, Wynne was not afraid to take on the administration, joining with friends to challenge a rule that prevented girls from wearing pants to school. She participated in several sports, setting the regional record in the 440-yard dash. Her life changed when her track coach chose Wynne to go to the Ontario Athletic Leadership Camp in Orillia, where she began to realize her potential as a leader.
University and Family Life
Wynne began studies at Queen's University in 1972, where she was co-captain of the track team. There she met her future husband, Phil Cowperthwaite, and her closest friend, Jane Rounthwaite. In 1977, Wynne graduated with a degree in English and history. She married and moved to the Netherlands, where Cowperthwaite began working as an accountant . The couple had their first two children, a son and a daughter, in the Netherlands.
The family returned to Canada in 1980. That year, Wynne received a master's degree in linguistics from the University of Toronto. Later she gave birth to her third child, a daughter. In the 1990s, Wynne completed a master's in education at the Ontario Institute for Studies in Education and took a course in mediation at Harvard University.
By the early 1990s, Wynne's marriage had collapsed. Cowperthwaite moved to the basement of the family home, Rounthwaite moved in, and Wynne told friends and family members that she was a lesbian. The arrangement lasted for two years, at which point Cowperthwaite moved to a nearby house. Wynne and Rounthwaite were wed in 2005, not long after Canada legalized same-sex marriages (see LGBTQ2 Rights in Canada).
Career and Political Activism
Prior to her political career, Kathleen Wynne was a tutor, a teacher of English as a second language , and president of the Toronto Institute of Human Relations, an organization that trained counsellors and psychotherapists. Eventually, she discovered her greatest strength was in conflict resolution. She worked as a mediator and implemented conflict mediation programs in more than 60 Ontario schools during the 1990s see Alternative Dispute Resolution).
The 1995 election of Mike Harris as premier of Ontario changed the course of Wynne's life. Her interest in education had led her to run unsuccessfully for a seat on Toronto's public school board in 1994, but after Harris's election she became much more politically active. Wynne helped found Citizens for Local Democracy to fight the Progressive Conservative government's plans to merge the City of Toronto with five surrounding municipalities. She created the Metro Parent Network and was active in the Ontario Education Alliance, both of which opposed cuts to education funding. In 1999, Wynne sought the Liberal nomination in the Toronto riding of St. Paul's, but lost after the party establishment sided with the eventual winner, Michael Bryant.
Provincial Parliament and Cabinet
Despite losing the Liberal nomination in 1999, Kathleen Wynne continued her quest for public office. In 2000, she was elected trustee for the Toronto District School Board, though she lost her 2001 bid to be board chair. In 2003, she was elected as a member of provincial parliament for Don Valley West, defeating David Turnbull, the Progressive Conservative incumbent and former Cabinet minister. She was re-elected in 2007, when she beat opposition leader John Tory, and again in 2011 and 2014.
Wynne entered the Cabinet of Premier Dalton McGuinty in 2006, first serving as minister of education. Over her four years in the portfolio, she implemented full-day kindergarten and reduced class sizes. In the 2010 Cabinet shuffle, she became minister of transportation.
In the election of October 2011, the Liberal government was reduced to a minority. Wynne was given two portfolios, becoming minister of municipal affairs and housing and minister of Indigenous affairs. Soon, the government was under attack on a variety of fronts. Teachers opposed legislation that froze their wages for two years, banned strikes, and allowed the province to impose contracts upon teachers and school boards.
The media revealed financial irregularities at the provincial air ambulance service, Ornge. The police also began investigating allegations that company executives had received kickbacks from a helicopter manufacturer.
Another scandal emerged over the McGuinty government's decision to stop construction of gas-fired energy plants in Oakville and Mississauga. Hoping to hold onto Liberal seats in the two communities, the Liberals had cancelled the unpopular plants, claiming that the decision would cost about $200 million. Later estimates showed that the true cost was much higher, perhaps more than $1 billion. The government repeatedly refused to provide relevant documents to the legislative committee investigating the scandal. Wynne was not directly responsible for any of these difficulties, but she would have to deal with all of them when she took over the Liberal leadership.
In 2012, McGuinty announced he was stepping down. Wynne resigned her Cabinet posts to seek the party leadership. In a crowded field of seven strong candidates, all with Cabinet experience, Wynne prevailed, winning the leadership at the party convention in January 2013.
Premier
Kathleen Wynne was sworn in as premier on 11 February 2013. She immediately faced substantial challenges, including the difficulties of sustaining a minority government and continued fallout over the gas plant and Ornge scandals. Wynne released documents related to the cancellation of the gas plants and apologized for the McGuinty government's decision. She sought to undo the damage caused to the government's relations with teachers, promising that she would never impose contracts on them.
Wynne kept the government alive for more than a year, negotiating agreements with New Democratic Party leader Andrea Horwath. In May 2014, Horwath announced that she had lost confidence in the premier and that the NDP would be joining the Progressive Conservatives to vote against the budget. Wynne called an election, which pundits of all political stripes predicted she would lose.
During the campaign, Wynne again apologized for the gas plant fiasco. She promised a contributory pension plan to supplement the Canada Pension Plan, an increase in the child benefit for low-income families, a higher minimum wage, and more money for public transit and hospitals. She attacked Progressive Conservative leader Tim Hudak for pledging to cut 100,000 public sector positions and for promising that his policies would create one million new jobs, an estimate that economists said was based on faulty math. Wynne urged traditional NDP voters to support the Liberals in order to block the Tories from taking office. At no point in the campaign was Wynne's sexual orientation an issue.
On election day, 12 June 2014, the Liberals had their majority: Wynne's party won 58 seats, while the Conservatives took 28 and the New Democrats 21.
In July, Wynne's government reintroduced the budget first presented — but not passed — in May. The government increased spending on infrastructure (including transit and schools), augmented the Ontario Child Benefit, created a contributory pension plan for those who did not have a pension through their employer, and raised taxes for those earning more than $150,000 per year.
In subsequent budgets, the Liberal government invested heavily in transportation infrastructure. It established a cap-and-trade plan for carbon emissions (see Carbon Pricing), free university tuition for students from families earning less than $50,000 a year, and a universal drug coverage program for children and youth, among other social spending.
Near the end of its mandate, the Wynne government increased the minimum wage from $11.60 per hour to $14 per hour in 2018, with a scheduled increase to $15 per hour in 2019. The government also announced new spending for free child care (see Early Childhood Education) and expanded dental care.
Wynne's approval rating declined over the four years of her mandate, falling below 20 per cent in late 2016. Observers associated the Liberals' unpopularity with increased hydroelectricity costs and the government's partial privatization of Hydro One in 2015. The partial sale of Hydro One, a crown corporation, was a means to pay down part of the province's multi-billion dollar deficit.
Days before voters went to the polls in the June 2018 provincial election, Wynne conceded that the Liberals would likely not form government. However, she called on voters to support Liberal candidates to keep the party in a viable position in the legislature.
On 7 June, PC Party leader Doug Ford won a majority with 76 seats and nearly 41 per cent of the popular vote. The NDP, under Andrea Horwath, gained official opposition status, more than doubling its seat count to 40. The Liberals fell to just seven seats in the legislature, one short of the eight required for official party status. In her concession speech, Wynne resigned as leader. However, she remained MPP for Don Valley West, the riding she has represented since 2003.
Women and Politics
In 2019, Kathleen Wynne participated in No Second Chances, a special project by Canada 2020, an independent think tank. The project included interviews and podcasts with the 12 women who have served as first ministers — 11 premiers and Canada's only female prime minister to date, Kim Campbell. On 19 June 2019, these former first ministers released an open letter to Canadians, emphasizing the importance of women's participation in politics. "Until we achieve the full and equal participation of women in politics, we will not reach our full potential as a nation."
On 19 June 2019, Canada's 12 female first ministers released an open letter to Canadians emphasizing the importance of women's participation in politics. (This is page 1 of that letter.) The former first ministers were part of No Second Chances, a special project by think tank Canada 2020.
(No Second Chances/Canada 2020)
On 19 June 2019, Canada's 12 female first ministers released an open letter to Canadians emphasizing the importance of women's participation in politics. (This is page 1 of that letter.) The former first ministers were part of No Second Chances, a special project by think tank Canada 2020.
(No Second Chances/Canada 2020)