Babs Fraser Drennan served in the Women's Royal Naval Service during the Second World War. Read and listen to her testimony below.
Please be advised that Memory Project primary sources may deal with personal testimony that reflect the speaker's recollections and interpretations of events. Individual testimony does not necessarily reflect the views of the Memory Project and Historica Canada.
WRENs VJ-Day parade in Bombay, India, 1945.
The Taj Mahal at Agra. Babs Fraser spent the majority of her career as a WREN stationed in India.
Babs Fraser Drennan, the "Nightingale of the Wrens", 1945.
Worldwide WREN reunion, hosted by the Kingston W.R.C.N.S Association in 1995. Over seven hundred WRENs attended.

Petty Officer Babs Fraser, W.R.N.S. in Bombay, 1944.
(Courtesy of The Memory Project)
"Our group, though small, became well known and each of us was given a nom de plume. Mine was The Nightingale of the Wrens"
Transcription
My name is Babs Fraser Drennan and I was a WREN in World War II.
The Second World War broke out on September the 3rd, 1939. Britain had been preparing for war for over a year. The population had been issued with identity cards and gas masks and bomb shelters had been built. Food rationing began.
I was still in high school with no thought of how the war would affect me. In 1941, women from the age of twenty to thirty were called up for National Service. They had many choices: The Land Army, The Women's Auxiliary Air Force, The Auxiliary Territorial Service for Women, munitions, the Forestry Corps, etcetera, etcetera.
I didn't want to wait to be conscripted and none of these options appealed to me, so I volunteered for the W.R.N.S. - Women's Royal Naval Service. I did my basic training at the Wren Training Depot in Mill Hill, London.
My first posting was to Oban on the west coast of Scotland. This was a Naval Base heavily involved in the anti-U-boat campaign. My training included an accountancy course and in Oban, I was responsible for the supply accounts of a small fleet of trawlers. I was there for a year, then volunteered for overseas service.
Following embarkation leave, I reported to Golden Square in London. There, along with other wrens, I was kitted out with tropical uniforms. And on November 13th, 1943, forty of us boarded the troop ship Reina del Pacifico, in Liverpool. It was part of a large convoy and was the second biggest ship. We spent almost six weeks in transit, dodging U-boats in the Atlantic Ocean and were attacked by the Luftwaffe in the Mediterranean. Ships were sunk and many lives were lost.
Once through the Mediterranean, our ship separated from the convoy when we reached the Suez Canal and we sailed alone into the Red Sea, then across the Arabian Sea to Bombay where we docked a few days before Christmas, 1943. During our first days settling in to our wren quarters, we had many social invitations, that we were not allowed at night without a male escort. There had been bitter rioting prior to our arrival and racial tensions ran high.
By April, 1944, our routine was set. Wrens could be found on all of the naval establishments. But on the 14th of April, disaster struck. An out of control fire on board an ammunition ship set off a chain reaction that culminated in the destruction of 27 ships. Hundreds of people all over Bombay were killed. Two of our wrens were seriously injured. It took many months to clear the harbour of the sunken ships.
Apart from our wren duties, a few of us got together and had been entertaining the troops in various camps. We were invited to join the Forces Hour, a program that was broadcast regularly over All India Radio (AIR). Our group, though small, became well known and each of us was given a nom de plume. Mine was "The Nightingale of the WRENs."
Then in 1945, when Armistice in Europe was declared, we wondered how that would affect us. The war in the Far East was still going strong. Then the first atomic bombs were dropped on the Japanese cities of Hiroshima and Nagasaki and the war was over.
[Note: The atomic bombs that ended the war in the Pacific were dropped on the Japanese cities of Hiroshima (August 6, 1945) and Nagasaki (August 9, 1945).]
Book a Speaker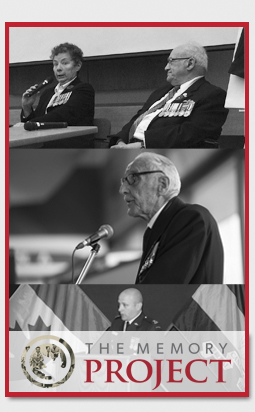 The Memory Project is a volunteer speakers bureau that arranges for veterans and Canadian Forces members to share their stories of military service at school and community events across the country.
Request a Memory Project speaker at thememoryproject.com/book-a-speaker.