Please be advised that Memory Project primary sources may deal with personal testimony that reflect the speaker's recollections and interpretations of events. Individual testimony does not necessarily reflect the views of the Memory Project and Historica Canada.


Ida Lackey in Canadian Women's Army Corps battledress, London, England, 1944.
(Courtesy of The Memory Project/Ida May Lackey)
"

When the bomb hit, I was in the middle of the building between two doors. So I was just spun around with the blast, but I wasn't hurt."
Transcript
I enlisted in Winnipeg in 1941. I did join the Canadian Women's Auxiliary Corps. I believe it was then named CWAC [Canadian Women's Army Corps] and it was incorporated in 1941 into the regular army. I enlisted in September and became a member of the military in October 1941 in Winnipeg.
I worked at Woolworth's on Portage Avenue in Winnipeg. I was doing stock and inventory control, doing records. When I joined the army, I believe, the first 100 women who came from the corps were put right to work in what they were able to do. We didn't have any basic training because we had already had our training.
I went then to work right in the Ordnance Corps, taking stock of all the military equipment. And I was there until I was drafted for overseas. And I believe that was in 1943 because I wasn't sent straight from Winnipeg, I did go to Camp Shilo, from Winnipeg, and I worked out there for quite a while.
So I was assigned to the RCEME, the Royal Canadian Electrical [and] Mechanical Engineers as a clerk typist at Fairfax House in London. So I was assistant to the chief clerk, who was a staff sergeant; and I didn't, I didn't have to count, do inventory, I worked the desk, yes.
I was doing, well, it was mostly top secret files, which I couldn't talk about and I don't think I can yet. It was a war zone because we had to put up with the buzz bombs [V1 flying bomb] and the V2s [long-range ballistic missiles]. The building Fairfax House was right next door to was hit by a V2 and it blew in half the side of our building. My desk was right at that window, but I had moved to go out into the hallway to take a letter over to the stenographers. When the bomb hit, I was in the middle of the building between two doors. So I was just spun around with the blast, but I wasn't hurt. I came back into the room and some of our girls who worked there were bleeding from the glass; and a lot of the men were hurt, very badly hurt. So that was my closest.
The war ended in May 1945, as you know, and I was drafted to Holland in June 1945. I went to Apeldoorn and I worked [in] tents there. I did the same work for the RCEME, but we lived in tents because we had no barracks at that time until it turned cold. And then we went and lived in a seminary, it was a very huge building and it was taken over by the army.
The military had a club for the non-comms [non-commissioned officers] and the WOs [warrant officers], that was our recreational club that we went to for meals and dancing, and meeting all the other friends. And I met him [her husband, Fred Lackey] at the club. It was called the 99 Club. He was there with some of his friends from his unit and I was there with some of my friends, and we met there. We met there quite a few times. We were engaged to be married in September; and we realized we could not go home without getting married because I lived in Winnipeg and he lived in Ontario. And so we applied to get married over there, which we did in December 1945.
It was a military wedding. We rented swords from one of the police departments in one of the little towns in Holland and I had a guard of honour with half women and half my friends, and half Fred's friends. I tell you, it was the best years of my life, I think. Most interesting. And the fact that I met my husband there too, that was part of it.
Book a Speaker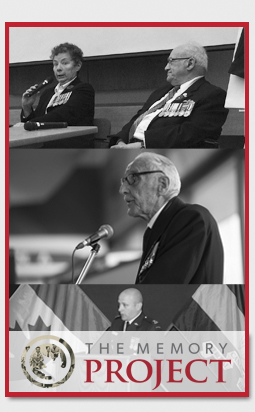 The Memory Project is a volunteer speakers bureau that arranges for veterans and Canadian Forces members to share their stories of military service at school and community events across the country.
Request a Memory Project speaker at thememoryproject.com/book-a-speaker.