Please be advised that Memory Project primary sources may deal with personal testimony that reflect the speaker's recollections and interpretations of events. Individual testimony does not necessarily reflect the views of the Memory Project and Historica Canada.

Kenneth Snider at The Memory Project event in Ottawa, Ontario, August 2012.
(Courtesy of The Memory Project/Kenneth Snider)
"We were set off to look for a fishing boat, and when we got to the area, all we could find was one man in the water, and we pulled him on board, and he was quite close to passing, I guess."
Transcript
I was 16, the 11th of December 1952, and I joined the navy 28th of January 1953, so I was just a young 16 year-old. But I went and it was the best thing I coulda done. I learned a lot about life, education. As I say, I wasn't a great student, but the navy, and the armed forces, tends to make you a student, if you are at all able, and your peer pressure gets you to persevere. And, so, then we off to [CFB] Cornwallis [Nova Scotia], did basic training, and during the basic training and the Queen [Elizabeth II] was being put in as the Queen and they had the big ceremony in England. But in Ottawa they had a big contingent of military on Parliament Hill, so we trained for about two weeks, as a military unit, and were transported up and stand on Parliament Hill with the air force and the army, and when the Queen was officially installed as the Queen. So that was my first experience. Then selected or transferred, drafted, to the HMCS Iroquois, which was going on a third trip to Korea.
We started to go on patrols and we would go three to six weeks at a time. We would go up and tour and what we said was, we were more peacekeepers because when they heard the ship was coming over, the Iroquois was coming, they said, "Oh, we better sign the peace treaty." So, we didn't have to shoot anybody. But we had to be very cautious. We had patrols, we had armament ready at all times. At night, we would anchor out and we had armed guards walking around the upper deck and then also had a 40 millimetre Bofors gun* armed, and a crew, and I had the pleasure of being one of the loaders, which I never had to do. But, we had to sit by that gun for your four-hour shift or your four-hour watch and be ready in case there were any problems.
Because we're radar operators, we, normally we'd take turns watching the radar or plotting the shift movements around us, keeping an eye on what is there. We had one surface radar and one air radar, with which we could detect aircraft. And, that, just what you continually do – and then, but when you're not on watch, you're being seamen. We chip paint, scrub decks, painted, and if it doesn't move, you painted it. So, then, you know, we worked up with other ships, fueling at sea, and being ready in case we're needed. But then we had some spare time off, so we visited places like Yokosuka [Japan] and then from there we went over to Hong Kong and we had some times there, shore time, and touring around the Tiger Balm Gardens and the museums and whatnot.
We're out going somewhere, we were set off to look for a fishing boat, and when we got to the area, all we could find was one man in the water, and we pulled him on board, and he was quite close to passing, I guess, and the doctor had him for, I think a week, severe pneumonia, hypothermia, and he recovered and he became a friend of the ship. So, after – I guess it had to have been a couple of weeks he was on board. So when he got better, and they got out with other Korean ships around us, a little minesweeper that got an officer over, and between the translator… told him about it, and he said how thankful he was that we saved his life and everything. And then we took up collection around the ship of shoes, and clothes, and money. The money that they had in those days, he was very wealthy when he left the ship from what he started. So, that was a good experience.
One day we were sitting along the beach there [Paengnyong-do**], and felt something on my back and looked and it was a young boy, a young child, and a man was starting to walk away, saying, "Present-o, present-o." I said, "Whoa-whoa-whoa, no, no, no, come back here." You know, he's giving us the boy, and so we said, "No, no, can't do that." Well, he didn't understand, but he understood that we couldn't take him so we, we had to give him back. But, I would have been popular taking him, young boy on board.
*Swedish designed automatic anti-aircraft cannon
**Island off the Korean mainland where Korean refugees lived
Book a Speaker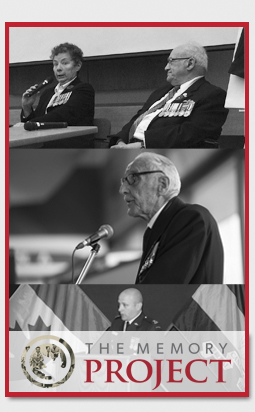 The Memory Project is a volunteer speakers bureau that arranges for veterans and Canadian Forces members to share their stories of military service at school and community events across the country.
Request a Memory Project speaker at thememoryproject.com/book-a-speaker.