Please be advised that Memory Project primary sources may deal with personal testimony that reflect the speaker's recollections and interpretations of events. Individual testimony does not necessarily reflect the views of the Memory Project and Historica Canada.


Portrait of Ruby Fletcher, 1945.
(Courtesy of The Memory Project/Ruby Grace Fletcher)
"

But the next morning, both the houses on each side was gone, but that one didn't even have a cracked window ̶ that's the only time I ever remember."
Transcript
I was born in Bournemouth, Hertfordshire, England on 9 June 1927. My home town where I was brought up was Sidmouth, Devon. My eldest brother had joined the navy, probably the first year of the war; and my sister had joined the ATS [Auxiliary Territorial Service], which is the army, and when I was old enough, I just wanted to join up too and so I went in the navy [Women's Royal Naval Service]. [laughs] The girls and I used to go out; we used to go to a little pub called Pennycomequick. It was underneath the railroad station, and it was nice. We used to go in there and have a drink; and have crab sandwiches and they were really good. Of course, I liked fish anyway; any kind of seafood is really good. And, of course, Plymouth was pretty well bombed out, but when we went back the first time, John took us back to Plymouth; and the one church that was bombed out in the middle of the city has a fence all the way around it, and they keep it there as a memorial. I guess it gets overgrown with weeds and they get in and have it cut down, but it's still there as far as I know. So they did keep a few things to remind them of what went on. But I was never actually in a bombing. I was in once when I was in London one night. I was visiting a girlfriend, on the way home from a girlfriend's, and there was a bombing; and we went down and sat underneath the dining room table because I wouldn't go out in the little air raid [shelter] that they have in the backyard. But the next morning, both the houses on each side was gone, but that one didn't even have a cracked window ̶ that's the only time I ever remember. But my friend and I slept through it. [laughs] We didn't even hear it. I didn't do any of the cooking, thank goodness. But we had cooks there and we cleaned the place up. It wasn't really hard work anyway because the Wrens [Women's Royal Naval Service] all had to have their own beds made so that they were all ship-shape and tight, and everything else. We used to bounce a shilling off the bed. If they couldn't bounce them, they had to remake it. [laughs] On 8 May 1945, VE [Victory in Europe] Day, that day, everything went crazy. The war was over. The lights came on that night; and we hadn't had lights in five years, so all the streets and everything were all lit up. It was just like Christmas, to be honest with you. The girls, there was Daphne and Winifred, and there was another girl, I can't think of what her name is; and we all decided after we were off duty to go down to Plymouth and do some celebrating ourselves. We couldn't find any transport, so we walked all the way down. When we got down there, we couldn't get into the pubs. They were all crowded; the dance halls were crowded, it was just like one body moving. The whole room seemed to move all at once. So we decided we'd just go up on the hill and that's where an American, and my future husband, and another American all said, would you mind if we joined the line, so we let them all join the line; and I was on one end and he was on the other. They walked us home, when it was time to go and a few days later, I got a letter. My girlfriend, Winifred, handed me this letter. She said, this came in an envelope; he couldn't remember your last name, so he wrote me and sent it to Winifred. And that's how we got started going out on a date. He asked me for a date, but then he went to sea and I went home on 'victory leave.' So when I got back, there was another letter. He finally found out what my last name was, and there was another letter; and he made arrangements for us to go out again. But he got wounded. He had to go out, it was on a minesweeper and he had to sweep for mines around the Channel Islands and the Germans hadn't yet given up on the Channel Islands. They fired on the ship and he got wounded. So he landed in the hospital, so our courtship really was letters, but what the odd letter coming back and forth from the hospital. Eventually when he did come, he phoned and said he'd be there at a certain time and he rolled up in a taxi, which nobody ever used taxis. He took me out to a movie and, of course, when we got to the movie house, we were getting out of the taxi, everybody was hooting and hollering, and everything. But it was very nice; and he walked me home and we had several dates after that. I decided to take him home to meet the family; and I phoned my mother and said, I'm bringing a boyfriend with me. The only problem was she didn't hear 'boy.' And when I got home, she had a big double bed made up for my friend and myself, [laughs] so she had to run around and change it. But we made out alright, that was fine. Then he asked for my hand in marriage and we were married on 20 September 1945.
Book a Speaker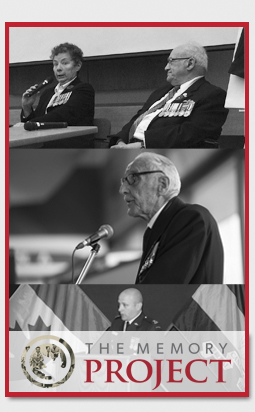 The Memory Project is a volunteer speakers bureau that arranges for veterans and Canadian Forces members to share their stories of military service at school and community events across the country.
Request a Memory Project speaker at thememoryproject.com/book-a-speaker.