Seth Aaron Rogen, actor, comedian, writer, producer, director (born 15 April 1982 in Vancouver, BC). Seth Rogen is one of Hollywood's leading comedic stars. He is famous for playing characters that are at once sweetly naïve, slyly intelligent and utterly profane. Initially known for his collaborations with writer-producer Judd Apatow on such films as 
The 40-Year-Old Virgin
 (2005), 
Knocked Up
 (2007) and 
Superbad
(2007), he eventually began producing and co-directing his own comedies, such as 
This Is the End
 (2013) and
The Interview
 (2014). Known as "the stoner king of comedy," Rogen was named Comedy Star of the Year in 2008 by the US National Association of Theater Owners. He has twice been named Canadian Comedy Person of the Year at the
Canadian Comedy Awards
.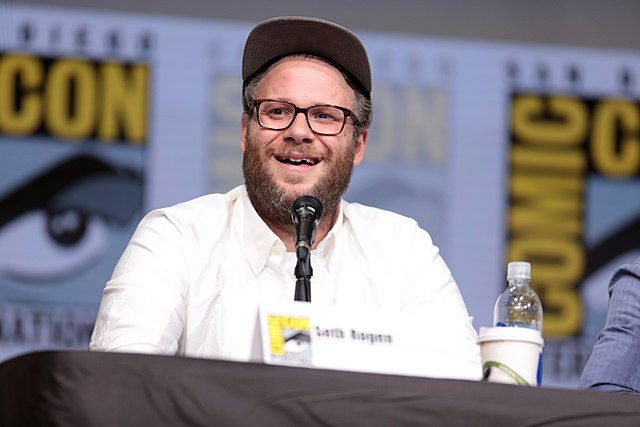 Early Years and Education
Rogen grew up in Vancouver, where his mother was a social worker and his father, an American, worked for non-profit organizations. Of Russian-Jewish heritage, Seth attended Talmud Torah Elementary School and Point Grey Secondary School. He began performing comedy at Camp Miriam, a Jewish summer program on Gabriola Island, and started doing stand-up at clubs around town at age 13. When he was 16, he placed second in the Vancouver Amateur Comedy Contest.
Early Career
Also at age 16, Rogen successfully auditioned for the NBC dramatic comedy series Freaks and Geeks (1999–2000). He moved to Los Angeles, where he was cast alongside SCTV alum  Joe Flaherty and future friends and collaborators Jason Segal and James Franco. Created by future Hollywood mega-producer Judd Apatow, the coming-of-age show about high school misfits circa 1980 was cancelled after only 18 episodes but earned critical acclaim and a cult fan base.
Impressed with Rogen's quick wit, which lent itself to an improvisational performance style, Apatow cast him in his next TV project, the college co-ed comedy Undeclared (2001–03). Rogen also served as a writer on the series, becoming good friends and roommates with its star, fellow Canadian Jay Baruchel.
Following the cancellation of Undeclared, Rogen continued to work in Los Angeles as a writer. He provided punch-up ghostwriting on the scripts for comedies such as The Shaggy Dog (2006) and Big Momma's House 2 (2006). He also worked as a staff writer on the American incarnation of the British comedy program Da Ali G Show (2003). He was part of the team that received an Emmy Award nomination for outstanding writing for a variety, music or comedy program.
As an actor, Rogen appeared in an episode of the TV series Dawson's Creek (2003). He auditioned for many roles, including Patrick in Eternal Sunshine of the Spotless Mind (2004) and Dwight in the US remake of The Office (2004). Able to play much older characters, thanks to his deep voice and heavy-set build, he also gave supporting turns in the Apatow-produced comedies Anchorman: The Legend of Ron Burgundy (2004) and The 40-Year-Old Virgin (2005), for which he received a co-producer credit.
Career Breakthrough
Rogen landed his first lead role, as a slacker man-child who embraces responsibility after a one-night stand leads to parenthood, in Apatow's Knocked Up (2007). The movie, which Rogen also executive-produced, became a surprise box-office smash. It grossed nearly $150 million domestically and made Rogen a comic star virtually overnight. This status was further cemented by the equally successful lewd teen comedy Superbad (2007), co-starring Michael Cera. Rogen and his childhood friend and frequent writing-producing partner, Evan Goldberg (described by Rolling Stone as Rogen's "comedy partner/hetero lifemate"), had begun writing the script for Superbad when they were 13.
Acting Career Highlights
Rogen followed the success of his breakout year with starring roles in a number of comedies, including the drug-addled action satire Pineapple Express (2008), Kevin Smith's Zack and Miri Make a Porno (2008), the black comedy  Observe and Report (2009) and another comedy he produced with Apatow, Funny People (2009), co-starring Adam Sandler. He also provided voice acting for the hit animated films Shrek the Third (2007), Kung Fu Panda (2008) and its two sequels, Horton Hears a Who! (2008), The Spiderwick Chronicles (2008) and Monsters vs Aliens (2009), as well as the animated TV series Family Guy and The Simpsons. He and Goldberg co-wrote an episode of The Simpsons in 2009.
Rogen's status as a bankable comedy star was recognized when he was named Comedy Star of the Year at the 2008 ShoWest Awards, and Canadian Comedy Person of the Year at the Canadian Comedy Awards in 2008 and 2009. In 2011, he appeared as a crime-fighting hero in the box-office flop The Green Hornet, as a cuckolded husband in Sarah Polley's romantic drama Take This Waltz and as the friend of a man diagnosed with terminal cancer in the Vancouver-shot 50/50, which he and Goldberg produced through their production company, Point Grey Pictures.
Rogen took a more conventional turn opposite Barbra Streisand in the mother-son road-trip comedy The Guilt Trip (2012) and played a supporting role in the highly anticipated 2013 season of the acclaimed comedy series Arrested Development. He then played a version of himself opposite Jay Baruchel and other Hollywood pals in the self-effacing apocalyptic comedy This Is the End (2013). It was based on the 2007 short film he and Baruchel co-wrote and starred in called Jay and Seth Versus the Apocalypse. This is the End also marked Rogen's feature directorial debut alongside his writing-producing partner Goldberg.
Rogen then produced and starred in the box-office hit Neighbors (2014) and its sequel, Neighbors: Sorority Rising (2016). He also gave rare dramatic performances in James Franco's adaptation of William Faulkner's The Sound and the Fury (2014) and as Apple co-founder Steve Wozniak in the Danny Boyle-directed biopic Steve Jobs (2015).
With Goldberg, Rogen wrote and produced the animated comedy Sausage Party (2016), an allegory about religion and the afterlife as told through a group of supermarket food products.  Rogen also starred in the Christmas comedy The Night Before (2015) and played a sceptical script doctor in James Franco's The Disaster Artist (2017), which Rogen and Goldberg also produced.  Rogen co-starred with Kristen Bell and Kelsey Grammar in the comedy drama Like Father (2018), directed and co-written by his wife, Lauren Miller Rogen. In 2019, he co-starred in the high-profile releases Long Shot, with Charlize Theron, and Disney's remake of The Lion King.
Producing and Directing Highlights
Rogen has also produced and/or directed a number of other projects in addition to those he has acted in. He and his creative partner Evan Goldberg, together with Sam Catlin (Breaking Bad), produced the action-fantasy series Preacher (2016–), adapted for AMC from the DC Comics series. Rogen and Goldberg also produced the teen comedy Blockers (2018), the sci-fi comedy Singularity (2018), the action-comedy series Future Man (2017–19), the comedy series Black Monday (2019–), and the anti-superhero series The Boys (2019–). They also co-directed episodes of Preacher, Future Man and Black Monday, as well as the TV movie Singularity. In 2018, it was announced that they would be producing Console Wars, a dramatic series about the corporate battle between Nintendo and Sega over the video game market in the 1980s and 1990s.
The Interview and the Sony Hack Incident
Seth Rogen and Evan Goldberg's second film as co-directors was the broad political and media satire The Interview (2014). The comedy follows an American tabloid TV host (James Franco) and producer (Rogen) who land an exclusive interview with North Korean dictator Kim Jong-un and are then hired by the CIA to assassinate him. The movie, produced by Rogen and Goldberg, was shot in Vancouver with a US$44-million budget. It was scheduled to be released by Columbia Pictures in October 2014. However, the film's release sparked an international incident that Salon's Andrew O'Hehir called "the most insane cultural-political spectacle in recent memory."
In late June 2014, a spokesperson for North Korea's foreign ministry declared the movie "a most blatant act of terrorism and war" due to its depiction of Kim Jong-un's assignation. The spokesperson also warned that "a merciless counter-measure" would be taken if the film was released. In a letter sent to UN secretary general Ban Ki-moon in July, North Korea's UN ambassador, Ja Song Nam, called on the US government to "take immediate and appropriate actions to ban the production and distribution of the aforementioned film; otherwise, it will be fully responsible for encouraging and sponsoring terrorism."
In August 2014, Columbia's parent company, Sony Pictures Entertainment, bumped the movie's release date from 10 October to 25 December. It also made several alterations to the final cut, including toning down the bloody depiction of Kim Jong-un's death. However, on 24 November, Sony Pictures became the victim of a cyber-attack. An image from a group calling itself Guardians of Peace appeared simultaneously on every company computer declaring, "We've already warned you, and this is just a beginning. We continue till our request be met."
In an email to media on 16 December 2014, the Guardians of Peace threatened to attack movie theatres that showed The Interview, stating, "The world will be full of fear. Remember the 11th of September 2001. We recommend you to keep yourself distant from the places at that time." Rogen and Franco cancelled all publicity appearances for the film. After exhibitors expressed concerns over their liability should anything happen, the National Association of Theater Owners gave them the go-ahead to pull the film. Sony then announced that it would not release The Interview on 25 December as planned, a decision that drew widespread criticism.
On 19 December, the FBI confirmed that the government of North Korea was behind the Sony hack and the threats to moviegoers. However, publications such as the Guardian, the Independent, CNBC News and the Canadian Press presented compelling evidence arguing that the hack was actually committed by a hacker or group with a grudge against Sony. Criticized for bowing to the threats and faced with the prospect of losing US$75 million (the film's combined production and marketing costs), Columbia Pictures released The Interview on Christmas Day in about 300 independent theatres in the US and simultaneously made it available for download online.
The Interview grossed US$6 million during its limited domestic release and another $5 million worldwide. It also netted more than $40 million in cable, satellite and online Video on Demand (VOD) sales, setting a new record for a VOD release. On 24 January 2015, the film was made available on Netflix.
Twitter Controversies
Rogen has established himself as an opinionated and outspoken public figure on Twitter, where he has about 8 million followers. He has written critically about a number of subjects, from American right-wing political pundit Nancy Grace to Canadian pop star  Justin Bieber. In May 2014, he lashed out at Washington Post film critic Ann Hornaday after she wrote that his "outsized frat-boy fantasy" Neighbours makes young men feel "unjustly shut out of college life that should be full of sex and fun and pleasure," and was therefore partly to blame for the killing spree at the University of California, Santa Barbara, on 23 May 2014 that left six people dead and 13 injured. Rogen called her op-ed article "horribly insulting and misinformed."
In January 2015, his comment that American Sniper (2014) "reminds me of the movie that's showing in the third act of Inglorious Basterds" drew the ire of right-wing American pundits, who construed that he was comparing the film to Nazi propaganda. He later flatly denied that charge, saying, "My comment about the movie was not meant to have any political implications. Any political meaning was ascribed to my comment by news commentary."
Activism, Entrepreneurship and Charity Work
Rogen is an avid pot smoker and high-profile advocate for the legalization of cannabis. He was named Stoner of the Year by High Times magazine in 2007 and 2012 and is a member of the US-based National Organization for the Reform of Marijuana Laws (NORML). In 2014, Time magazine called him "the stoner king of comedy."
In March 2019, Canopy Growth Corporation announced that it had acquired a 25 per cent stake in Houseplant, a Toronto-based cannabis brand owned by Rogen and Goldberg. "We have been working on this quietly for years and seeing everything come together is a dream come true," Rogen said in a statement. "We could not be more passionate about this company and are dedicated to doing everything the right way." 
Rogen is also an advocate and spokesperson for the National Alzheimer's Association in the US. In February 2014, he addressed a US Senate subcommittee in Washington, DC, about funding to treat Alzheimer's disease, which afflicts his mother-in-law. He said at the time, "The situation is so dire that it caused me — a lazy, self-involved, generally self-medicating man-child — to start an entire charity." That organization, Hilarity for Charity, produces variety shows to promote awareness of Alzheimer's disease, raise funds for its treatment and provide in-home care for people who can't afford it.
Awards
Canadian Comedy Person of the Year – All Media, Canadian Comedy Awards (2008)
Best Writing – Film (Superbad), Canadian Comedy Awards (2008)
Comedy Star of the Year, ShoWest Awards, ShoWest Convention (2008)
Canadian Comedy Person of the Year – All Media, Canadian Comedy Awards (2009)
Best Musical Moment (This Is the End), MTV Movie Awards (2014)
Best Comedy Director – Film (This Is the End), American Comedy Awards (2014)
Comedy Filmmakers of the Year (shared with Evan Goldberg), CinemaCon Awards (2014)
Comedy Stars of the Year (shared with Charlize Theron), CinemaCon Awards (2019)