H. Wade MacLauchlan, CM, OPEI, MLA, 32nd premier of Prince Edward Island (2015–19), president of University of Prince Edward Island (1999–2011), lawyer, academic (born 10 December 1954 in Stanhope, PEI). MacLauchlan was sworn in as premier of Prince Edward Island on 23 February 2015, becoming the province's first openly gay premier. The former law professor and university president received the Order of Canada in 2008 and the Order of Prince Edward Island in 2014. He is the author of Alex B. Campbell: The Prince Edward Island Premier Who Rocked the Cradle (2014).
Premier Wade MacLauchlan of Prince Edward Island
Early Life
Wade MacLauchlan was born in Stanhope, 
Prince Edward Island
, to Marjorie and Harry MacLauchlan. His father was a prominent entrepreneur who worked in a wide range of industries, including 
construction
, 
tourism
, fuel and 
telecommunications
.
Education and Early Career
Wade MacLauchlan attended Charlottetown Rural High School, where he became involved in student council and ran the school's winter carnival. His early interest in politics led him to serve two sessions as a page in the provincial legislature. MacLauchlan attended the University of Prince Edward Island (UPEI) on a full scholarship, where he earned his undergraduate degree in Business Administration in 1976. He completed his Bachelor of Laws from the University of New Brunswick in 1981, winning the Lieutenant Governor's Medal for top marks in his class. MacLauchlan was then appointed a law clerk in the Supreme Court of Canada (1981–82). He received an O'Brien Foundation Scholarship in 1982 to pursue his Master of Laws at Yale University (1983).
Academic Career
In 1983, Wade MacLauchlan became a professor of law at Dalhousie University (1983–91) and acted as director of Dalhousie's Common Law-Civil Law Exchange Program (1984–91). His areas of research and teaching expertise included constitutional law, administrative law,  public administration and public policy. MacLauchlan went on to become dean of law at the University of New Brunswick (1991–96) and subsequently the director of the Centre for Property Studies at UNB (1997–99).
He also held the positions of visiting professor at McGill University (1989–90), visiting researcher at the Swiss Institute of Comparative Law at the Université de Lausanne (1990) and visiting researcher at the University of Melbourne, Australia (1997).
President, UPEI
Returning to his alma mater, Wade MacLauchlan became president and vice-chancellor of the University of Prince Edward Island (1999–2011), where he presided over an era of change. Under his leadership, the university raised millions of dollars for research and development, increasing funding by over 500 percent. The student population doubled to approximately 4,500 students. He oversaw a construction boom on campus, including a new business school, student centre and National Research Council institute. In the course of this development, UPEI improved its standing in Maclean's magazine's ranking of Canadian universities, in the category of primarily undergraduate universities, from eighth to fourth place.
During his tenure as president, MacLauchlan sat as a board member of the Association of Universities and Colleges of Canada and chaired the Association of Atlantic Universities and the Association of Atlantic University Sport.
Regional Involvement
Always a strong supporter of local affairs, Wade MacLauchlan served as an elected member of the Community of North Shore local council, a board member of the Federation of Prince Edward Island Municipalities and a board member of the Atlantic Provinces Economic Council. In 2009, MacLauchlan became a board member of the Medavie Health Foundation, an organization that funds programs to help children and youth with mental health and type 2 diabetes. He became a director and later chair of the board in 2013.
MacLauchlan helped bring PEI's famous literary heroine Anne Shirley to Chinese readers while director of the business Anne in China Inc., which translated Anne of Green Gables into Mandarin and published it in China in 2011. The book was shortlisted by the country's national publishers' association as one of the most influential novels published in China in 2012. In 2013, he cochaired the Georgetown Conference on reinvigorating rural Atlantic Canada. The conference website continues to provide a forum for ideas inspired by the 2013 conference.
National Involvement
At the national level, Wade MacLauchlan served as a board member of the Canadian Institute for the Administration of Justice and of Canada's Public Policy Forum, a nongovernmental organization that strives to improve the quality of government in Canada. He chaired the 2012 Palmer Conference on Public Sector Leadership, which explored the theme of Canada as a leader in immigration policy and practice. In 2013, MacLauchlan was appointed a mentor with the Pierre Elliott Trudeau Foundation, a charity that awards doctoral scholarships and supports dialogue between academics and policy makers in four key areas: human rights, Canada's role in the world, people and their environments and responsible citizenship.
Premier
On 13 November 2014, Liberal premier Robert Ghiz announced his resignation. Two weeks later, Wade MacLauchlan declared his candidacy for leadership of the provincial Liberal Party.
Considered by some to be an outsider with little political experience, MacLauchlan nevertheless received enthusiastic support from Liberal cabinet members. As the only candidate, he was acclaimed leader on 21 February 2015 and sworn in as the  premier of Prince Edward Island on 23 February 2015. His immediate political challenges included the province's ongoing economic struggles, outmigration, an aging population and declining provincial power compared with the rest of the country.
MacLauchlan called an early provincial election on 4 May 2015. The Liberals secured a majority government with 18 seats (reduced from Ghiz's 23), while the Tories won 8 and the Green party took 1.
Following the 2015 election, MacLauchlan reduced his cabinet to nine members from Ghiz's eleven. Some of his early political decisions were controversial, including cuts to teaching positions (which were later reversed), as well as funding cuts to cultural and arts organizations. The Liberals released their budget on 19 June 2015, proposing a balanced budget for the 2016–17 fiscal year. The budget supported a culture of entrepreneurship, tax relief for lower-income citizens and a tax increase on tobacco.
MacLauchlan generated further controversy over his role as the voice behind a 2015 commercial for Trout River Industries, a private PEI company that manufactures industrial trailers. While opposition leader Steven Myers criticized MacLauchlan's involvement as a conflict of interest, the premier's office insisted that his volunteer voiceover was part of the premier's agenda to help build a prosperous local economy.
During his term as premier, MacLauchlan has worked on issues including electoral reform, abortion access, population growth and climate change. In 2016, MacLauchlan's government held a plebiscite, a nonbinding vote, on the question of electoral reform within the province. Islanders voted in favour of changing their first-past-the-post (FPTP) voting system to a mixed-member proportional representation system (MMP). However, only 36.5% of voters participated; hence, MacLauchlan decided to keep the current FPTP system. A binding referendum on the issue will be held at the same time as the provincial election in October 2019.
His government has also worked to promote women's reproductive rights after the prochoice group Abortion Access Now threatened the province with a legal challenge. In 2017, safe, legal abortions were performed in PEI for the first time in nearly 35 years at the new Women's Wellness Centre, which opened at Prince County Hospital (Summerside).
Her Excellency the Right Honourable Julie Payette, Governor General of Canada, was welcomed to Fanningbank, the official residence of the Lieutenant-Governor of Prince Edward Island, for her first official visit to the province (25 June 2018). Also pictured are Premier Wade MacLauchlan (left) and Lieutenant-Governor Antoinette Perry (right).
In a bid to stimulate population growth, MacLauchlan visited Toronto in 2018 to promote PEI and encourage people to move to the province. He highlighted the province's financial prosperity, affordable housing, best early childhood education in Canada and lowest crime severity index in Canada. His government hopes to see the population grow to 160,000 by 2022.
MacLauchlan's stance on a provincial climate change plan changed during his time as premier. MacLauchlan claimed in 2016 that PEI would create its own plan to reduce carbon emissions, in response to the federal government's demand that all provinces reduce emissions by implementing carbon pricing. However, no such plan materialized, and in October 2018 he negotiated with the federal government before the 2019 introduction of mandatory carbon pricing. Instead of a full federal carbon tax in PEI, a new federal fuel tax of four cents per litre will be introduced in April 2019. The provincial government will offset this tax by dropping its provincial excise tax by three cents a litre, leaving Islanders with a one cent per litre increase. MacLauchlan gained an exemption from carbon taxation on home heating and fuel used for agriculture and fishing until 2020. According to PEI's environment minister, Richard Brown, the exemption was granted because of the province's leadership in wind energy and energy efficiency programs.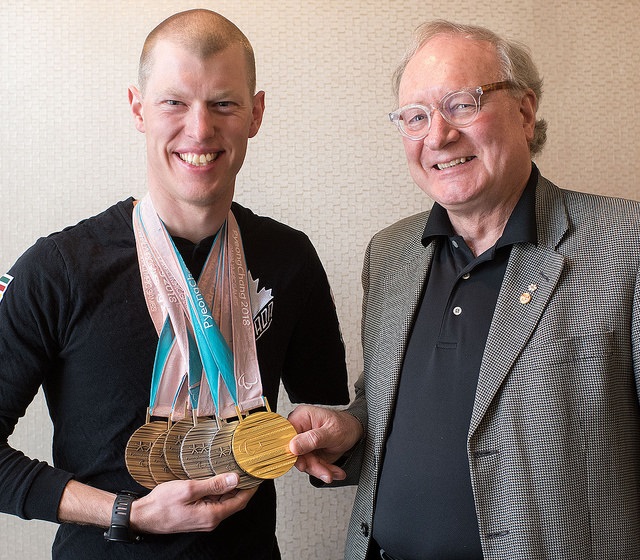 Paralympian Mark Arendz (biathlon) and Premier Wade MacLauchlan of Prince Edward Island at the celebration for Arendz and fellow Paralympian Billy Bridges (para-hockey) at Rodd Royalty Inn in Charlottetown, PEI (4 April 2018).
2019 Provincial Election
In the 2019 provincial election, held on 23 April, Wade MacLauchlan lost his seat in Stanhope-Marshfield to Progressive Conservative candidate Bloyce Thompson. The Liberals won only six seats in the election, while the PC Party under Dennis King took 12 seats in total, enough for a Tory minority. The Green Party, led by Peter Bevan-Baker, won eight seats and will form the Official Opposition.
Author
A longtime student of PEI history, politics and public affairs, Wade MacLauchlan researched and wrote the political biography of PEI's longest-serving premier, Alex Campbell (1966–78). MacLauchlan interviewed over 100 sources during the three years spent researching Campbell's character and political tenure. His book, Alex B. Campbell: The Prince Edward Island Premier Who Rocked the Cradle, was released in 2014.
Personal Life
Wade MacLauchlan's partner, Duncan McIntosh, is the founding artistic director of the Watermark Theatre (North Rustico, PEI). They currently live in West Covehead, PEI.
Honours and Awards
Member of the Order of Canada (2008)
2010 Lieutenant Governor's Award for Excellence in Public Administration, Institute of Public Administration of Canada (2010)