timeline
Colonization
This timeline includes events related to colonization in Canada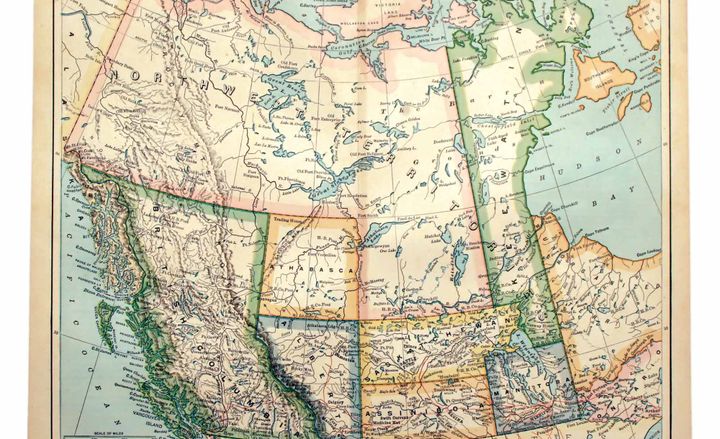 January 15, 1540

Colonization

Roberval Made Viceroy

Jean-François de la Rocque de sieur Roberval was appointed viceroy of Canada, Newfoundland and Labrador, and given a mandate to establish a permanent colony.

August 05, 1583

Colonization

Gilbert Claims Newfoundland

Sir Humphrey Gilbert took possession of Newfoundland for Elizabeth I. He drowned in a storm on 9 September off Sable Island in Canada's first recorded marine disaster.

Colonization

La Roche's Monopoly

The Marquis de la Roche received a fur-trade monopoly to New France. He landed with a party on Sable Island, today in NS. Only 11 of the 40 colonists survived to be rescued 5 years later.

May 26, 1603

Colonization

Champlain Reaches Tadoussac

Samuel de Champlain reached Tadoussac on the north shore of the St Lawrence River and set foot for the first time in New France.

January 07, 1608

Colonization

de Monts's Monopoly Renewed

Henri IV of France renewed de Monts's fur-trade monopoly, temporarily saving the colony at Port-Royal.

July 05, 1610

Colonization

Founding of Cupids Bay

John Guy and 39 settlers departed Bristol, arriving in Newfoundland in August. Though his settlement at Cupids Bay lasted only to 1628, its founding was a signal event in the early history of Newfoundland.

May 22, 1611

Indigenous Peoples

First Jesuits Arrive in New France

The first Jesuits to arrive in New France, Pierre Biard and Ennemond Massé, arrived at Port-Royal on May 22, 1611.

July 01, 1615

Colonization

Champlain Visits Huronia

French explorer Samuel de Champlain reached Huronia, at the southern end of Georgian Bay.

July 09, 1615

Indigenous Peoples

Champlain Treks Up Ottawa River

Samuel de Champlain began his journey up the Ottawa River, passing through the Lac des Népissingues (Lake Nipissing), the Rivière des Français (French River) and the great Lac Attigouautau (Lake Huron). He arrived among the Hurons on 1 August.

August 01, 1615

Indigenous Peoples

Champlain Arrives at Huronia

Samuel de Champlain completed his journey up the Ottawa River, arriving among the Hurons.

February 04, 1623

Colonization

Seigneurial System Instituted

The feudal seigneurial system was instituted in New France, when Louis Hébert was granted the fief of Sault-au-Matelot, near Québec. The system was not abolished until 1854.

April 29, 1627

Colonization

Compagnie des Cent-Associés

The Compagnie des Cent-Associés was granted New France from Florida to the Arctic. The Company was given full seigneurial ownership of New France.

April 27, 1628

Colonization

Oxen in New France

Samuel de Champlain recorded in his journal that, for the first time in New France, land had been "broken by the plough drawn by oxen," a task typically carried out by human strength.

March 01, 1633

Colonization

Champlain Recommended to Lead Colony

Asked by Cardinal Richelieu to take command of the colony, Isaac de Razilly deferred to Champlain as being "more competent in colonial affairs."

May 23, 1633

Colonization

Champlain Returns to Québec

Champlain returned to Québec and began to rebuild the Habitation from its ruins and to build the church of Notre-Dame-de-la-Recouvrance.

January 15, 1635

Colonization

La Tour Granted Land

Charles de La Tour was granted land around present-day Saint John, NB.

December 25, 1635

Colonization

Death of Champlain

Champlain died at Québec. He had suffered a stroke the previous October and signed his will November 17.

June 24, 1636

Colonization

First Saint-Jean-Baptiste Celebrations in New France

The earliest record of Saint-Jean-Baptiste Day celebrations in the colony of New France appears in the Jesuit Relations of 1636. The tradition has its origins in pagan Europe with the lighting of bonfires to mark the summer solstice. With the spread of Christianity in the middle ages, the custom became tied to the feast day of Saint John the Baptist (24 June). Saint-Jean-Baptiste celebrations have endured in French Canada, and the day is now officially known as the Fête nationale du Québec (national holiday of Québec).

March 06, 1645

Colonization

Compagnie des Habitants Formed

The Compagnie des Habitants was formed in New France when a royal edict transferred the trade monopoly for fur, held by the Compagnie des Cent-Associés, to all inhabitants of the colony. In practice, only a few of the wealthiest benefited from the change. The monopoly's cost was the equivalent of the colony's administrative expenses plus an annual payment of 1,000 beaver skins and the promise to bring in 20 new colonists a year.

March 27, 1647

Colonization

Louis XIV Sets up Council

Louis XIV set up the Council of Québec, providing the first political constitution of New France.

July 21, 1647

Colonization

First Civil Election in New France

Residents of Quebec City, Montreal and Trois-Rivières elect syndics, or trustees, to a colonial council responsible to the gouverneur. Syndics act as liaisons between residents and the council. However, they have no power to affect policy because the colonies are ruled by a monarchy.

March 16, 1649

Indigenous Peoples

Jesuits Killed

Jesuit missionaries Jean de Brébeuf and Charles Lalemant were executed by the Haudenosaunee.

February 24, 1663

Colonization

New France a Crown Colony

King Louis XIV revoked the monopoly of The Compagnie des Cent-Associés and New France became a Crown colony. The king appointed a new governor and an intendant.

March 23, 1665

Colonization

Talon Becomes Intendant

Jean Talon received his commission as intendant of New France. He arrived in Québec on September 12.

May 02, 1670

Colonization

Hudson's Bay Company Founded

King Charles II of England granted a charter to Prince Rupert and his "Company of Adventurers of England trading into Hudson's Bay." The charter granted the company a monopoly of trade in the Bay and ownership of all lands drained by rivers flowing into the Bay. The HBC established an English presence in the Northwest and a competitive route to the fur trade centred on Montréal.

January 01, 1677

Indigenous Peoples

Silver Covenant Chain Treaty

This wampum treaty between Britain and the Haudenosaunee represented an open and honest communication between two peoples. Subsequent wampum treaties reinforce this idea, as well as the idea of mutual interest and peace. Such wampum treaties oblige the parties to help each other, in war if necessary, should they be asked.

January 05, 1680

Colonization

La Salle Builds Fort Crévecour

La Salle built Fort Crévecour on the Illinois River.

August 05, 1682

Colonization

Fire Destroys Québec

A fire reduced the public square of Québec to rubble.

January 22, 1690

Indigenous Peoples

Haudenosaunee (Iroquois) Peace Treaty

The Haudenosaunee concluded a peace treaty with the English and the tribes of the Great Lakes.

August 01, 1701

Indigenous Peoples

Great Peace of Montreal

Three dozen Indigenous groups and the French colonial government sign the Great Peace of Montréal, forging peaceful relations that end nearly a century of war between the Haudenosaunee and the French (and their Indigenous allies).

June 17, 1753

Colonization

Germans Settle Lunenburg

Almost 1500 German settlers arrived at Lunenburg, NS.They built a palisade for defence on the present site of the academy, drew lots and planted some crops.

August 08, 1759

Colonization

Andrew Rollo Captures Île Saint-Jean

Brigadier-General Andrew Rollo, the 5th Lord Rollo, captured Île Saint-Jean (now Prince Edward Island) from the French at the height of the Seven Years'' War. Roughly 3,500 Acadians were swiftly repatriated to France whilst Rollo constructed Fort Amherst in honour of, and on orders from, General Jeffrey Amherst.

September 05, 1760

Indigenous Peoples

Huron Treaty

A treaty was concluded between the Huron-Wendat and the British. The Huron-Wendat agreed to put down their arms. In return they would receive safe passage, free exercise of religion, local government and justice. The treaty was recognized in 1990 by the Supreme Court.

July 24, 1766

Indigenous Peoples

Pontiac's Treaty

Ottawa chief Pontiac signed a treaty with the British ending the uprising he initiated three years earlier. The treaty helped to establish Indigenous rights for the future.

June 28, 1769

Colonization

Government for PEI

A separate government was established for St John Island, which was not named Prince Edward Island until 1799.

September 15, 1773

Colonization

Arrival of the Hector

A group of Scottish highlanders followed a piper off the ship Hector to land at Pictou, NS. Their arrival marked the symbolic beginning of Scottish settlement in Canada, although earlier groups had previously settled in PEI.

May 20, 1790

Indigenous Peoples

McKee's Purchase of 1790

McKee's Purchase of 1790 (also known as the McKee Treaty or Treaty 2) was an early land agreement between Indigenous peoples and British authorities in Upper Canada (now Ontario). The southernmost Upper Canada treaty, it consisted of a large strip of territory from the southwestern shore of Lake Erie north to the Thames River and east to a point southwest of modern-day London, Ontario. This land was made available for settlement by Loyalists who were displaced by the American Revolution. McKee's Purchase legitimized the land transfers of 1784 and 1786 as well as many other private illegal sales of Indigenous land to settlers.

June 11, 1792

Colonization

First Elections in Lower Canada

The first elections are held in Lower Canada. Anyone over 21 who owns sufficient property can vote, including women.

June 24, 1792

Colonization

Simcoe Arrives in Upper Canada

John Graves Simcoe arrived in Upper Canada. He reached Kingston July 1 and took office July 8.

June 01, 1800

Indigenous Peoples

First Smallpox Vaccinations

The first smallpox vaccinations in Canada (and possibly in North America) were given by Dr. John Clinch of Trinity, NL. By the end of 1801, Clinch had vaccinated 700 people in the area. The disease wasn't eradicated until 1977, but vaccination gradually checked the devastating epidemics that Canada had experienced since the 17th century.

January 03, 1802

Colonization

Highlanders Settle Sydney

Three hundred Scottish Highlanders settled at Sydney, NS.

August 29, 1812

Colonization

Macdonell Reaches Red River

Governor Miles Macdonell arrived at Red River with Scottish colonists to establish Selkirk's colony. A second group arrived in October.

January 08, 1814

Colonization

Pemmican Proclamation

Governor Miles MacDonell of Red River tried to monopolize the provision trade in the Northwest with the Pemmican Proclamation.

January 01, 1815

Colonization

The Underground Railroad

Canada's reputation as a safe haven for Blacks grew substantially during and after the War of 1812. Between 1815 and 1865, tens of thousands of African-Americans sought refuge in Upper and Lower Canada via the legendary Underground Railroad.

June 19, 1816

Indigenous Peoples

Battle of Seven Oaks

About 60 Métis and First Nations men, led by North West Company clerk Cuthbert Grant, were confronted at Seven Oaks by Hudon's Bay Company Governor Robert Semple and 28 men (mostly HBC officers and employees). The gunfire and hand-to-hand combat that resulted left Semple and 20 of the HBC party dead. On the Métis side, 16-year-old Joseph Letendre died, and Joseph Trottier was wounded. The battle was a culmination of the Pemmican Wars and the escalating fur trade disputes between the HBC and NWC.

April 08, 1820

Colonization

Death of Selkirk

Lord Selkirk and his family received a land grant from the Hudson's Bay Company in 1811 for roughly 300,400 km2 in Assiniboia, part of what is now Manitoba. An advance party, sent under Miles Macdonell, established the Red River Colony in 1812. After his death, Lord Selkirk's executors took over administration of the Red River Colony.

March 19, 1825

Colonization

Founding Fort Vancouver

The Hudson's Bay Company established Fort Vancouver on the Columbia River, near present-day Portland, Oregon.

June 27, 1825

Colonization

Canada Company Founded

John Galt's Canada Company was incorporated.

September 26, 1826

Colonization

Bytown Founded

Bytown (the future Ottawa) grew from a campsite established by John By as a base for the construction of the Rideau Canal.

July 30, 1827

Colonization

Construction of Fort Langley

Construction began on the Hudson's Bay Company post of Fort Langley, at the mouth of the Fraser River.

May 04, 1836

Colonization

Assiniboia Transferred

The territory of Assiniboia was transferred to the Hudson's Bay Company by Lord Selkirk's family.

June 24, 1837

Indigenous Peoples

Smallpox Hits Prairies

An American Fur Company boat arrived at Fort Union, setting off a smallpox epidemic across the praries, killing an estimated three-quarters of the Blackfoot, Blood, Peigan, Sarcee and Assiniboine peoples of the prairies.

June 10, 1857

Indigenous Peoples

The Gradual Civilization Act

The Gradual Civilization Act requires male Status Indians and Métis over the age of 21 to read, write and speak either English or French, and to choose a government-approved surname. It awards 50 acres of land to any "sufficiently advanced" Indigenous male, and in return removes any tribal affiliation or treaty rights.


July 25, 1862

Colonization

Overlanders

The Overlanders, a group of some 150 settlers who travelled from Canada West, reached Fort Edmonton. They crossed the Rockies and travelled on to BC.

July 01, 1869

Indigenous Peoples

William McDougall Ordered the Red River Land Survey

Anticipating the transfer of Red River Colony and the North-West from the HBC to Canadian jurisdiction, Minister of Public Works William McDougall ordered the Dominion Government land survey of the Red River settlement. The Métis, fearful of the implications of the transfer, disdained the survey, which they blocked on 11 October.

November 02, 1869

Indigenous Peoples

Red River Resistance

With 120 men, Louis Riel occupied Upper Fort Garry in the Red River Colony to block the transfer of Rupert's Land from the Hudson's Bay Company (HBC) to Canada. Known as the Red River Resistance, the Métis — led by Riel — and First Nations allies defended the Red River Colony from White settlers and government encroachment on their lands. Louis Riel was hanged for treason, and Cree chiefs Mistahimaskwa (Big Bear) and Pitikwahanapiwiyin (Poundmaker) were imprisoned. Promises to protect the Métis were still unfulfilled more than a decade later, sparking the Northwest Resistance in 1885. In 2019, Poundmaker was exonerated by the federal government.

November 02, 1869

Indigenous Peoples

Métis Refuse McDougall Entry to Red River and the North West

In a show of solidarity, Métis horsemen refused North-West Territories Lieutenant-Governor William McDougall entry to their land. He was forced to retreat to the United States.

December 23, 1869

Indigenous Peoples

Riel's Provisional Government

Louis Riel issued a Declaration of the people of Rupert's Land and the Northwest and became head of the provisional government of Red River.

August 03, 1871

Indigenous Peoples

Treaty 1

The first post-Confederation treaty was signed at Lower Fort Garry, Man. The first of many "Numbered Treaties," Treaty 1 was signed between the Crown and the Ojibwe and Swampy Cree Nations. The treaty included the provision of livestock, agricultural equipment and the establishment of schools in exchange for ceding large tracts of Indigenous hunting grounds.

August 21, 1871

Indigenous Peoples

Treaty 2

Treaty 2 was concluded with Chippewa of Manitoba, who ceded land from the mouth of Winnipeg River to the northern shores of Lake Manitoba across the Assiniboine River to the United States frontier.

June 01, 1873

Indigenous Peoples

Cypress Hills Massacre

A gang of wolf hunters looking for a stolen horse killed 20 Assiniboine camped in the Cypress Hills. Some of the attackers were tried but none convicted. The event sped up the arrival of police.

October 03, 1873

Indigenous Peoples

Treaty 3

Treaty 3 was signed by the Saulteaux (Chippewa) of northwestern Ontario and of Manitoba. For the surrender of a tract comprising about 55,000 sq. miles, the Dominion Government reserved not more than one square mile for each family of five and agreed to pay $12 per head and an annuity of $5 per head.

September 15, 1874

Indigenous Peoples

Treaty 4

Treaty 4 was signed at Fort Qu'Appelle, Saskatchewan, with Cree, Saulteaux (Chippewa) and other First Nations.

October 01, 1874

Colonization

Establishment of Fort Macleod

One hundred and fifty North-West Mounted Police established the first police post in what is now Alberta on an island in the Oldman River, and named it after Assistant Commissioner James F. Macleod.

September 20, 1875

Indigenous Peoples

Treaty 5

Treaty 5 was concluded at Lake Winnipeg ceding an area of approximately 100,000 sq. miles inhabited by Chippewa and Swampy Cree (Maskegon) of Manitoba and Ontario.

April 12, 1876

Colonization Indigenous Peoples

Indian Act

The Indian Act is introduced. The Act aims to eradicate First Nations culture in favour of assimilation into Euro-Canadian society. The Act also reinforces that Status Indians must voluntarily give up status and treaty rights to vote federally. Status Indian women are barred from voting in band council elections.

August 23, 1876

Indigenous Peoples

Treaty 6

Treaty 6 was signed at Carlton and at Fort Pitt with the Plains Cree, Woodland Cree and Assiniboine. It ceded an area of 120,000 sq. miles of the plains of Saskatchewan and Alberta.

September 22, 1877

Indigenous Peoples

Treaty 7

Treaty 7 was signed at Blackfoot Crossing in southern Alberta by the Siksika, Kainai, Piikani, Tsuut'ina and Stoney. Canadian officials understood that by the treaty First Nations surrendered some 35,000 sq miles of land to the Crown in return for reserves, payments and annuities.

April 19, 1884

Indigenous Peoples

Creation of Residential Schools

Amendments to the Indian Act of 1876 provide for the creation of residential schools, funded and operated by the Government of Canada and Roman Catholic, Anglican, Methodist, Presbyterian and United churches.

January 01, 1885

Colonization

Chinese Head Tax

Chinese migrants were obligated to pay a $50 "entry" or "head" tax before being admitted into Canada. The Chinese were the only ethnic group required to pay a tax to enter Canada. By 1903, the head tax was increased to $500; the number of Chinese who paid the fee in the first fiscal year dropped from 4719 to 8.

January 01, 1885

Indigenous Peoples

Electoral Franchise Act

The original draft of the Act gave federal voting rights to some women, but under the final legislation, only men can vote. The Act gives some Reserve First Nations with property qualifications the right to vote, but bars Chinese Canadians.

January 01, 1889

Indigenous Peoples

Peasant Farm Policy Introduced

From 1889 to 1897, the Canadian government's Peasant Farm Policy set limits on Indigenous agriculture on the Prairies. The policy included rules about the types of tools First Nations farmers could use on reserve lands. It also restricted how much they grew and what they could sell. The policy impeded the growth and development of First Nations farms and reduced their ability to compete with settler farms on the open market.

December 15, 1890

Indigenous Peoples

Death of Sitting Bull

Hunkpapa Lakota Sioux warrior and chief Tatanka Iyotake, also known as Sitting Bull, died at Standing Rock, South Dakota. Sitting Bull was a leader in indigenous resistance against American westward expansion. He and his people sought refuge in Canada, but left when the Canadian government refused to establish a reserve for them. Sitting Bull was killed during a gunfight with American authorities trying to execute a warrant for his arrest.

January 01, 1896

Colonization

Sifton Encourages Immigration

Clifford Sifton removed red tape, broadened the selection of potential immigrants and offered incentives to those who would come to settle the Canadian West, "the last, best West." The result was an influx of immigrants from eastern and southern Europe that changed the composition of the Canadian population forever.

June 21, 1899

Indigenous Peoples

Treaty 8

Cree, Beaver, Chipewyan and Slavey First Nations ceded territory south and west of Great Slave Lake in northern Alberta to the federal government in Treaty 8.

April 17, 1903

Colonization

Barr Colonists Arrive

The Barr colonists arrived in Saskatoon, where they spent 2 weeks reorganizing before embarking on a wagon trip to the Barr colony on the Alberta border.

February 26, 1920

Indigenous Peoples

Indian Act Amendment Allows for Forced Enfranchisement of Status Indians

The Indian Act is amended to allow for the forced enfranchisement of First Nations whom the government thought should be removed from band lists. Enfranchisement was the most common of the legal processes by which First Nations peoples lost their Indian Status under the Indian Act.

April 01, 1920

Indigenous Peoples

Residential Schools Become Mandatory

Deputy Superintendent General of Indian Affairs, Duncan Campbell Scott, makes attendance at residential school mandatory for every First Nations child between 7 and 16 years of age. This policy was also inconsistently applied to Métis and Inuit children.

February 24, 1925

Indigenous Peoples

Lake of the Woods Treaty

Canada signed a boundary treaty with the US, providing for an International Lake of the Woods Control Board.

February 15, 1936

Indigenous Peoples

Ewing Report Recommends "Métis colonies" Be Established

The Ewing Commission was the result of Métis leadership lobbying the Alberta government to set aside land for Métis settlers. The commission examined the socio-economic conditions faced by Métis in Alberta and recommended creating "Métis colonies." The provincial government eventually established 12 Métis settlements in the central and northern parts of the province. By 1960, the provincial government had rescinded four of those settlements. The remaining eight (Paddle Prairie, Peavine, Gift Lake, East Prairie, Buffalo Lake, Kikino, Elizabeth and Fishing Lake) continue to be vibrant Métis communities.

January 01, 1960

Indigenous Peoples

The Sixties Scoop

As residential schools closed, thousands of Indigenous children were taken from their families by provincial and federal social workers and placed in foster or adoption homes. Often, these homes were non-Indigenous. Some children were even placed outside of Canada. (See also Sixties Scoop.)

February 14, 1973

Indigenous Peoples

Yukon Land Claims

The federal government established a committee to negotiate land claims in the Yukon.

March 18, 1973

Indigenous Peoples

First Reserve in NWT

The first First Nations reserve in the Northwest Territories was created at Hay River.

September 07, 1973

Indigenous Peoples

NWT Court Allows Land Claim

The Northwest Territories Supreme Court allowed the Indian Brotherhood of the NWT to file a land claim for one-third of the NWT.

January 01, 1976

Indigenous Peoples

Nunavut Land Claims Presented to Government

The Inuit Tapirisat of Canada submitted a formal land claims proposal to the Government of Canada.

July 19, 1979

Indigenous Peoples

"Indian Women's March" Protests the Indian Act

Twenty-eight women from the Tobique First Nation's women's group organized a 160 km walk from the Oka Reserve in Québec to Ottawa. They aimed to bring national attention to gender discrimination in the Indian Act.

July 30, 1981

Indigenous Peoples

UNHRC Decision Highlights Indian Act Discrimination

The United Nations Human Rights Commission (UNHRC) presented its decision on the Lovelace case. Sandra Lovelace, of the Maliseet First Nation, argued that losing her Indian Status after marrying a non-Status Indian was discriminatory. The UNHRC declared Lovelace's status loss tantamount to cultural interference.

June 05, 1984

Indigenous Peoples

Inuvialuit Final Agreement

After ten years of negotiation, the Inuvialuit Final Agreement (IFA) was settled in Northwest Territories. The IFA was Canada's second finalized comprehensive land claim, and the first in the extreme North. The Inuvialuit exchanged exclusive usage of ancestral lands for guaranteed rights over land, wildlife protocols and funds.

June 17, 1985

Indigenous Peoples

Bill C-31, An Act to Amend the Indian Act, Passed

Since the mid-1800s the status of women had been tied to that of their husbands. Therefore, if a Status Indian woman married a non-Status Indian man, she would lose her status and if a non-Status Indian woman married a Status Indian man, she would acquire status. Bill C-31 removed these discriminatory provisions.

July 11, 1990

Indigenous Peoples

Oka Standoff

A standoff began at Oka, Québec, when police attempted to storm a barricade erected by the Mohawk to block the expansion of a golf course onto land claimed by the Mohawk. The protesters surrendered to soldiers on September 26, after a 2-month-long siege.

August 17, 1990

Indigenous Peoples

Canadian Forces Called in at Oka

Québec premier Robert Bourassa asked that the Canadian Forces replace the Sûreté du Québec (SQ) to resolve the Oka Crisis, a standoff by the Mohawk of the Kanesatake Reserve who had set up a blockade to protest the expansion of a golf course across land they claimed. Corporal Marcel Lemay, of the SQ, was killed on July 11 when the SQ stormed the blockade. The standoff ended peaceably 78 days after it began.

October 30, 1990

Indigenous Peoples

Phil Fontaine's Testimony of Abuse at Residential Schools

Phil Fontaine, Head of the Assembly of Manitoba Chiefs, speaks publicly of the abuse he suffered at Fort Alexander Residential School. He calls for a public inquiry into the schools, which the federal government initiates in 1991.

April 22, 1992

Indigenous Peoples

Gwich'in Comprehensive Land Claim Agreement

The Gwich'in Tribal Council and the Canadian and the Northwest Territories governments signed the Gwich'in Comprehensive Land Claim Agreement. The Agreement involved lands in the Mackenzie Delta in the Northwest Territories and in Yukon. Special hunting rights were also extended, permitting the harvest of fur-bearing animals throughout the settlement area.

November 03, 1992

Indigenous Peoples

​Inuit Accept the Terms of the Nunavut Land Claims Agreement

A majority of Inuit beneficiaries voted to accept the terms of the proposed Nunavut Land Claims Agreement. In tandem with the Nunavut Act, the land claims agreement led to the creation of the territory of Nunavut.

January 30, 1993

Indigenous Peoples

The Gwaii Haanas Agreement Was Signed

The Council of the Haida Nation and the Government of Canada signed the Gwaii Haanas Agreement, which designated Gwaii Haanas, the southernmost Haida Gwaii island, a National Park Reserve and Haida Heritage Site. Clear-cut logging threatened the island, its peoples and their cultural heritage in the late 1970s through 1985. Haida protests stopped the logging, leading to this agreement.

February 15, 1996

Indigenous Peoples

Nisga'a Land Claim Agreement

Federal and provincial officials signed an agreement of land claims with the Nishga'a in northwestern British Columbia. The Final Agreement calls for cash payments to the Nisga'a of approximately $190 million over a period of years, and recognizes the communal ownership and self-governance of about 2,000 km2 of Nisga'a lands in the Nass River Valley.

May 20, 1999

Indigenous Peoples

Off-Reserve Voting Rights

The Supreme Court of Canada ruled unanimously to open Indigenous band elections to off-reserve band members, stating that excluding them violated the Canadian Charter of Rights and Freedoms.

June 30, 1999

Indigenous Peoples

Treaty to Share Pacific Salmon

Canada and the US signed a treaty governing the conservation and sharing of Pacific salmon, which migrate between waters of the two nations.

December 13, 1999

Indigenous Peoples

Nisga'a Treaty Approved

The House of Commons voted 217-48 in favour of a bill that would give the Nisga'a of northwest BC the right to self-government. The band received 2000 sq km of land and $253 million. In return they agreed to pay taxes and relinquish future claims.

April 13, 2000

Indigenous Peoples

Nisga'a Treaty

The Nisga'a Treaty was given royal assent by Governor General Adrienne Clarkson.

March 10, 2001

Indigenous Peoples

Nuu-chah-nulth Agree to Treaty

The Nuu-chah-nulth tribal council, the largest Indigenous group in British Columbia, agreed to a treaty with the provincial and federal governments, giving it more autonomy over its territories on Vancouver and Meares islands and a large one-time payment.

October 18, 2003

Indigenous Peoples

Kluane First Nation Land Claim

The Kluane First Nation signed a finalized land claims and self-government agreement with the Canadian and Yukon governments. The Kluane First Nation is located at Burwash Landing, a former trading post. Among the Final Agreement's many objectives was the preservation of Yukon First Nations' cultural heritage and language.

July 03, 2007

Colonization

Commemorative Fountain in Québec

The Simons family offered the Tourny Fountain to Québec City for the 400th anniversary celebrations. One of 6 fountains made in the second half of the 19th century to grace opposite ends of Allées de Tourny in Bordeaux, France, the fountain was dismantled and reconstructed in Québec City.

September 01, 2007

Indigenous Peoples

Indian Residential Schools Settlement Agreement Comes into Effect

The Indian Residential Schools Settlement Agreement provides compensation to Survivors, including the Common Experience Payment, which is based on the number of years they attended residential school. Claims of sexual and physical abuse are assessed through an independent process. The Agreement focuses on funding and supporting Indigenous health and healing services and also establishes funds for the Truth and Reconciliation Commission (TRC).

December 31, 2007

Colonization

400th Anniversary Celebrations (Que)

An outdoor show outside of Québec City involving more than 400 performers kicked off celebrations of the 400th anniversary of the city's founding.

June 01, 2008

Indigenous Peoples

Truth and Reconciliation Commission of Canada is Established

The Canadian government authorizes the Truth and Reconciliation Commission of Canada to document the truth of Survivors, families and communities and inform all Canadians about what happened in residential schools. It is funded by the Indian Residential School Settlement Agreement.

June 11, 2008

Indigenous Peoples

Formal Apology to Former Residential Schools Students

Prime Minister Stephen Harper, on behalf of the Government of Canada, delivers a formal apology in the House of Commons to former students, their families, and communities for Canada's role in the operation of residential schools. Provincial and territorial apologies follow in the years ahead.

April 03, 2009

Indigenous Peoples

Tsawwassen Treaty

The Tsawwassen First Nation treaty in British Columbia legally took effect, providing Indigenous members of the Lower Mainland region financial support to help increase the economic vitality of the area. It is was the first urban treaty ever negotiated in British Columbia.

June 16, 2010

Indigenous Peoples

First National Truth and Reconciliation Event

The Truth and Reconciliation Commission of Canada hosts its first national event, in Winnipeg, MB. It explores the history of the residential school system, the experience of former students and their families and the impact such institutions had on Indigenous peoples in Canada. Over the next five years, six more events follow in cities around the country, with a national closing ceremony in Ottawa.

November 29, 2011

Indigenous Peoples

Eeyou Marine Region Land Claims Agreement

The Eeyou Marine Region Land Claims Agreement, recognizing the Indigenous rights and title of the Cree of Eeyou Istchee, received assent. The land claims process began in 1974. The Agreement is unusual because it traverses boundaries. For instance, the settlement area includes a section of Northern Québec coastline and offshore islands claimed by Nunavut.

August 15, 2013

Indigenous Peoples

First Totem Pole Erected in Gwaii Haanas in 130 Years

The Gwaii Haanas Legacy Pole, carved by a team of Haida craftsmen led by Jaalen Edenshaw, was erected in Gwaii Haanas National Park Reserve and Haida Heritage Site on Haida Gwaii. The totem pole was the first erected on Gwaii Haanas in 130 years. It marked the site of the 1985 standoff over a proposed clear-cut logging operation that led, eight years later, to the 1993 South Moresby Agreement. That agreement created Gwaii Haanas, an ecological and heritage partnership between the Haida Nation and Parks Canada.

March 04, 2014

Indigenous Peoples

Sioux Valley Dakota Nation Self-Government Agreement

The Sioux Valley Dakota Nation Self-Government Agreement, the first self-government agreement on the Prairies, received Royal Assent. The Sioux Valley Dakota are located near Brandon, Manitoba. Not a treaty, the self-government protocols give the First Nation more control over governing decisions involving economic development, land management, education, housing and utility management.

March 27, 2014

Indigenous Peoples

Final National Truth and Reconciliation Event

The seventh and final national event of the Truth and Reconciliation Commission of Canada (TRC) takes place over three days in Edmonton, Alberta inviting individuals, families, and communities to share their experiences at residential schools.

May 16, 2014

Indigenous Peoples

National Operational Review on Missing and Murdered Aboriginal Women

The RCMP released the National Operational Review on Missing and Murdered Aboriginal Women. Research identified 1,181 missing and murdered Indigenous women and girls in Canadian police databases: 164 missing (dating back to 1952) and 1,017 murdered (between 1980 and 2012).

June 25, 2014

Indigenous Peoples

City of Vancouver Acknowledges the City is on Unceded Aboriginal Territory

During its Year of Reconciliation, Vancouver city council unanimously voted to acknowledge that the city was built on unceded Indigenous territory. The motion read, in part, "the modern city of Vancouver was founded on the traditional territories of the Musqueam, Squamish and Tsleil-Waututh First Nations […] these territories were never ceded through treaty, war or surrender."

August 03, 2016

Indigenous Peoples

Ottawa Launches Inquiry into Missing and Murdered Indigenous Women

The federal government launched the National Inquiry into Missing and Murdered Indigenous Women and Girls, naming five commissioners and outlining its terms of reference. It committed $53.86 million over two years to the initiative, with the goal of producing recommendations on concrete actions to address the disproportionately high rate of violence toward Indigenous women and girls in Canada. The inquiry set out with a focus on prevention in addition to tackling issues of systemic and societal discrimination.

December 21, 2016

Indigenous Peoples

Québec Announces Inquiry into Treatment of Indigenous People

After months of public pressure led by Indigenous leaders, Québec premier Philippe Couillard announced that the province would undertake a public inquiry into systemic discrimination toward Indigenous people. Calls for the inquiry grew in the wake of an October 2015 Radio-Canada investigation into the mistreatment and abuse of Indigenous women by police officers in Val-d'Or.

September 13, 2018

Indigenous Peoples

Agreement Reached in Williams Treaties Dispute

In 1992, the seven Williams Treaties First Nations filed a lawsuit against the federal government asking for financial compensation for land surrenders and loss of rights dictated by the Williams Treaties. Ten years later, a trial began in which Canada and Ontario acknowledged limited off-reserve treaty harvesting rights, but litigation was dropped in favour of out-of-court negotiations. These began in March 2017. A negotiated settlement approved on 13 September 2018 gave financial compensation to the First Nations involved. It recognized their harvesting rights and allowed each First Nation to add up to 4,452 hectares to their reserves by purchase from willing sellers.

May 27, 2021

Indigenous Peoples

200 Possible Unmarked Graves Found on Grounds of Kamloops Residential School

Ground disturbances indicating 200 possible unmarked graves were found using ground penetrating radar on the grounds of the former Kamloops Indian Residential School — at one time the largest residential school in the country. Chief Rosanne Casimir of the Tk'emlups te Secwepemc First Nation called the finding an "unthinkable loss that was spoken about but never documented."

June 23, 2021

Indigenous Peoples

Hundreds of Possible Unmarked Graves Found at Saskatchewan Residential School

One month after the discovery of 200 possible unmarked graves at a former residential school in Kamloops, BC, ground-penetrating radar revealed an estimated 751 possible unmarked graves at the site of the former Marieval Indian Residential School in Cowessess First Nation territory, about 150 km east of Regina. The radar search began on 1 June. The Marieval school was open from 1899 to 1997 and was administered by the Catholic Church until 1968.