Antonine Maillet, CC, OQ, ONB, novelist, playwright, translator, scholar (born 10 May 1929 in Bouctouche, NB).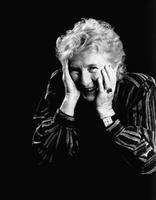 Maillet's novels fuse adventure, desire, frustration, agony and joy to offer a new image of the original Acadia (photo by Andrew Danson).
Antonine Maillet, CC, OQ, ONB, novelist, playwright, translator, scholar (born 10 May 1929 in Bouctouche, NB). A Companion of the Order of Canada, the first non-European recipient of the Prix Goncourt, and winner of the Governor General's Award, Antonine Maillet has been called "the soul of contemporary Acadian literature."
Education and Early Career
Antonine Maillet earned a BA (1950) from the Collège Notre-Dame d'Acadie, an MA (1959) from the Université de Moncton, and a PhD in literature from Université Laval in 1970, where she then taught literature and folklore. She has also taught at the Université de Montréal, the University of California, Berkeley, the University at Albany, State University of New York, and the Université de Moncton, and has worked for CBC Radio-Canada in Moncton.
A prolific writer of more than a dozen plays and almost 20 novels, Maillet published her second play, Poire-Acre, and first novel, Pointe-aux-Coques, in 1958. Her works celebrate the dialect and heritage of the Acadian people.
A Dominant Force in Acadian Literature
Antonine Maillet, 1984. \r\nImage: Harry Palmer/\u00a9 Library and Archives Canada/PA-182393.
After the success of her play La Sagouine (1971; tr. 1979) and the novel Pélagie-la-Charrette (1979), which charts the triumphant return home of the Acadian people after the 1755 expulsion, or le Grand Dérangement (see History of Acadia), Maillet dominated contemporary Acadian literature. The latter won the Prix Goncourt, bringing her overnight fame in France, where it sold over one million copies. Maillet has famously remarked that with the publication of the novel she "avenged [her] ancestors." Maillet's imaginary universe is rooted in the geography, history and people of Acadia. Her novels, often reworked for the theatre, fuse adventure, desire, frustration, agony and joy to offer a new image of the original Acadia, restructured to fit an epic vision. She presents a simple event (conflict between two characters, a collective struggle to conquer the land, the long trip back to the homeland), rich in every kind of development. As the characters work through these developments, they become symbols. The language of these pieces, a fusion of "ancient and sonorous words" and literary language, is an original creation. The narrator is often presented not as an individual but as a collective being — the memory of the Acadian people. Maillet is a storyteller; but La Sagouine is not a narration. Here the character is autonomous and has an authenticity and complexity that lifts her above the other characters in the piece.
Maillet's renown coincides with an Acadian cultural revival (see Contemporary Acadia): La Sagouine, as well as being a genuine literary success, appeared at the right moment to give voice to a renewed sense of Acadian cultural distinctiveness and pride (see Acadian Literature). We find in the voice of its central character, an earthy charwoman, former prostitute and fisherman's wife, wisdom and lucidity, verve and reserve, humour and anger. As the author herself says, to recognize her works is to recognize the people to whom she belongs.
Among Maillet's other major works are Don l'Orignal (1972, Governor General's Literary Award for Fiction), Mariaagélas (1973, Prix France-Canada), L'Acadie pour quasiment rien (1973), Évangéline Deusse (1975), Les cordes-de-bois (1977), La gribouille (1982), Le huitième jour (1986, tr. 1987), L'oursiade (1990), Comme un cri du coeur (1992), Les confessions de Jeanne de Valois (1992), Le chemin Saint-Jacques (1996), Chronique d'une sorcière de vent (1999), and Madame Perfecta (2002). Maillet has also adapted and translated works by Ben Johnson, William Shakespeare, George Bernard Shaw and others, and has written books for children, such as Christophe Cartier de la Noisette, dit Nounours, 1981.
Honours
Canada Council Prize (Les Jeux d'enfants sont faits)

(1960)




Prix Champlain (francophonie nord-américaine hors Québec) (1961)

Governor General's Award (1972)

Grand prix du livre de Montréal (1973)

Prix France-Canada (1975)

Prix des Volcans (France, 1975)

Prix littéraire de La Presse (Québec, 1976)

Officer of the

Order of Canada

(1976)

Prix des Quatre Jurys (1978)

Prix Goncourt (France, 1979)

Officier

de l'Ordre des Palmes académiques (France, 1980)

Lorne Pierce Medal,

Royal Society of Canada

(1980)

Companion of the Order of Canada (1981)

Médaille Gloire de l'Escolle (1981)

Chevalier

de l'Ordre de la Pléiade (Assemblée parlementaire de la Francophonie) (1981)

Ordre des francophones d'Amérique (1984)

Officier

de l'Ordre des Arts et des Lettres (France, 1985)

Officier

de l'

Ordre national du Québec

(1990)

Grands Montréalais (1991)

Officier

de l'Ordre national de la Légion d'honneur (France, 2004)

Order of New Brunswick (2005)

Prix Hommage 2010, Soirée des prix Éloizes (Acadie, 2010)
Antonine Maillet has received honourary degrees from more than 30 universities in Canada and internationally. L'école élémentaire Antonine-Maillet in Oshawa, ON, is named in her honour; she served as chancellor of the Université de Moncton from 1989–2001. Bouctouche, NB, is now home to "Le Pays de La Sagouine," a theme park that celebrates Acadian language, heritage and culture.
Antonine Maillet - The Possibilities Are Endless by Ginette Pellerin, National Film Board of Canada