Hans Island,
Nunavut
, is a tiny (1.2 km
2
), unpopulated island south of the 81st parallel in the Kennedy Channel (the northern part of Nares Strait), almost equidistant between
Ellesmere Island
and Greenland. The Greenlandic word for the island is Tartupaluk. (Greenlandic is a language spoken by Greenland
Inuit
.) For decades, both Canada and Denmark claimed ownership of the island. On 14 June 2022, however, the two countries settled the dispute, dividing the island roughly equally between them. (
See also
Canadian Arctic Sovereignty
.)
Historic Claims
Until 2022, Denmark and Canada argued over which country owned Hans Island. Denmark's claim was based on an expedition that included Danish participation and which named Hans Island in 1853, that geologically the island is part of Greenland, and that it is slightly closer to Greenland than to Ellesmere Island. Canada maintained that Denmark's claim had lapsed because Denmark failed to enforce its sovereignty. Canadian and Danish cartographers have depicted the island as part of their respective countries (see also History of Cartography in Canada). In 1973, the two countries agreed on a maritime boundary dividing Nares Strait between Ellesmere Island and Greenland, but they could not agree on the ownership of Hans Island.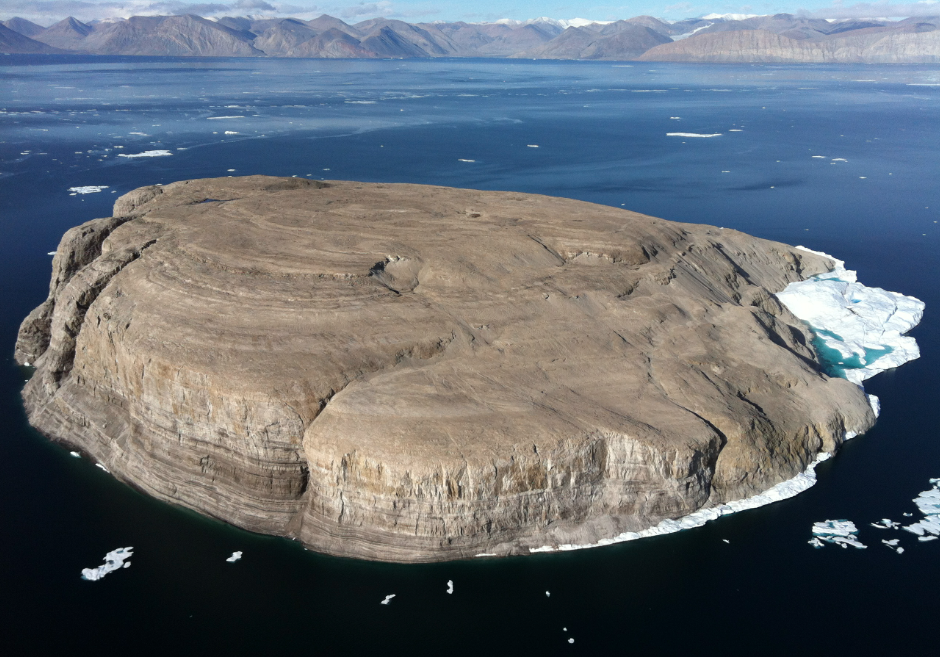 Displays of Sovereignty
During the Second World War, Canadians operated a temporary scientific station on Hans Island and in the early 1980s, Dome Petroleum was active there. When Tom Hoeyem, Denmark's minister of Greenlandic affairs, personally planted a Danish flag on the island on 28 July 1984, the Canadian government protested. Since 1984, both countries have sent officials to the island to raise flags and claim the land. Canadians would raise the Canadian flag and leave behind a bottle of whisky for the Danes; they in turn would visit, raise their flag and leave behind a bottle of schnapps (akvavit). This good-natured "whisky war," as it was often called, lasted for years.
Final Settlement
In 2018, Canada and Denmark established a joint working group to settle the territorial dispute. In addition to officials from both countries, it also involved Inuit from both Nunavut and Greenland. On 14 June 2022, an agreement was signed in Ottawa by Greenland Prime Minister Múte Bourup Egede and foreign affairs ministers Mélanie Joly (Canada) and Jeppe Kofod (Denmark). They sealed the deal with a final exchange of spirits. The island was divided roughly in half (about 60/40 in favour of Denmark), with the north-south border running along a naturally occurring rift atop the rock. As a result, Canada now shares an official land border with a European country. Following the signing, Nunavut MP Lori Idlout called for the island to be officially renamed Tartupaluk.