John Mercer Johnson, lawyer, politician (born October 1818 in Liverpool, England; died 8 November 1868 in Chatham, NB).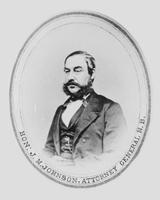 John Mercer Johnson, lawyer, politician (born October 1818 in Liverpool, England; died 8 November 1868 in Chatham, NB). John Mercer Johnson was a delegate for New Brunswick at the Charlottetown Conference, Québec Conference and London Conference. He argued for a strong central Canadian government, including federal control of all courts. In his home province, he developed a reputation as a strong, witty speaker at ease with the raucous debates of the era.
Early Life
Born in Liverpool, England, John Mercer Johnson immigrated to Chatham, New Brunswick, in 1821, three years after his father. He was admitted to the Bar as an attorney in 1838 and as a barrister two years later. Johnson was active in numerous local organizations, including a debating society and a temperance movement group called the Union Lodge of Good Templars. He held community posts ranging from fire warden to hog reeve.
Political Career
First elected to the New Brunswick Assembly in July 1850, John Mercer Johnson was considered a liberal who supported calls for responsible government. He developed a reputation as a strong speaker whose colourful debating style led to equally colourful insults from such opponents as newspaper publisher Timothy Anglin, who called Johnson "a pothouse brawler and swaggerer." Alternately, pro-Confederation ally Samuel Leonard Tilley observed that "a more intimate acquaintance with him will not diminish your respect for his talents and gentlemanly bearings."
Johnson served as solicitor general in Charles Fisher's government from 1854 to 1856. He occupied the post of postmaster general from June 1857 until he was forced to resign in November 1858 after his lax management style led to scandal. Because his clerks did much of his department's work, the opposition accused Johnson of taking home "a salary he never earned." His indifference to administrative details was a weakness he was criticized for in subsequent posts.
The incident barely harmed Johnson's political prospects, as he was elected Speaker in February 1859. Lieutenant-Governor Arthur Hamilton Gordon characterized Johnson as "one of the ablest men in the house, a good speaker and a ready debater, but very deficient in that judicial calmness and dignity which should characterize the occupant of the Speaker's chair." Johnson's humour, especially his wit, enhanced his ability to carry out his duties. He remained Speaker until 1862, when Tilley appointed him attorney general, a role he held for the next three years.
Confederation
John Mercer Johnson was chosen to serve as part of New Brunswick's delegation to the Charlottetown Conference in September 1864. At this point, he favoured a legislative union instead of a federal one. He also had ideas as to which provinces might be dissolved under Confederation. During a session on Maritime union, Johnson, to the irritation of other delegates, suggested that it would benefit Prince Edward Island to become "a partner in the land of New Brunswick."
After he realized that legislative union would not work, Johnson switched his support to a strong central government the following month at the Québec Conference. He also believed that the judicial system should be controlled entirely by the federal government.
Barely defeated by anti-Confederation forces in the 1865 New Brunswick election, Johnson topped the polls when he was returned to the Assembly the following year. He was among the colony's five representatives at the London Conference in December 1866.
See also New Brunswick and Confederation.
Life after Confederation
Though ill, John Mercer Johnson was elected as Member of Parliament for Northumberland in 1867. His death a year later was blamed on "social excesses," which may have alluded to his alleged drinking and gambling habits.
Legacy
John Mercer Johnson was a firm advocate for Confederation throughout its development. His views evolved into support for most legislative powers being invested in a strong central government.