Field Marshall Julian Hedworth George Byng, 1st Viscount Byng of Vimy, Commander of the Canadian Corps from 1915 to 1917 and Governor General of Canada from 1921 to 1926 (born 11 September 1862 in Hertfordshire, United Kingdom; died 6 June 1935 in Essex, United Kingdom). Byng led the Canadian Corps to victory at the Battle of Vimy Ridge during the First World War. As governor general, he is best known for his role in the King-Byng Affair, when he formally refused Prime Minister William Lyon Mackenzie King's advice to dissolve Parliament and call a federal election.
Julian Hedworth George Byng, May 1917. Byng had acted honestly in the affair with King, but he departed from Canada under a shadow
Early Life and Family
Julian Hedworth George Byng was the 13th and youngest child of George Stevens Byng, the 2nd Earl of Strafford, Comptroller of the Household to King William IV and then Queen Victoria from 1835 to 1841. His father was a member of the Whig party and served as a Member of Parliament from 1830 to 1852 and then a peer in the House of Lords from 1853 until his death in 1886. Byng's mother, Harriet Elizabeth Cavendish, was the daughter of Charles Cavendish, 1st Baron Chesham, an MP for the Liberal party. From the ages of 12 to 16, Byng attended Eton College. He did not complete the sixth form (the final year of secondary school for students who intend to continue to university) and later joked that he had been "Eton's worst scug," a slang term for a boy who did not distinguish himself in his studies. He was nicknamed "Bungo" at school to differentiate him from two of his older brothers, who were nicknamed "Byngo" and "Bango."
On 30 April 1902, Byng married Marie Evelyn Moreton, the daughter of Janie Ralli and Richard Charles Moreton, who had served as comptroller at Rideau Hall, while Governor General Lord Lorne was in office from 1878 to 1883. The couple were unable to have children.
Viscount Julian Hedworth George Byng and Lady Evelyn Byng (Montreal, Quebec ca. May 1922)
(photo by Rice Studios, courtesy Library and Archives Canada / C-033995)
Early Military Career
Although Julian Byng wanted to follow his four older brothers into military service, the family didn't have enough resources to purchase a regular military commission for a seventh son. As a result, Byng began his career in the local militia and became a second lieutenant in the 2nd Middlesex Militia (Edmonton Royal Rifle Regiment) in 1879, at the age of 16. In 1883, the future King Edward VII, a friend of Byng's father, offered Byng a place in his own regiment, the 10th (Prince of Wales's Own) Royal Hussars. Byng served with the regiment in Lucknow, India, and at the Battle of Tamai in Sudan. He became a close friend of Edward's sons, Albert Victor (who died in 1892) and the future King George V. However, he declined the opportunity to become one of Albert Victor's equerries (or household officers) and instead furthered his military education at the Staff College at Camberley, graduating in 1894.
From 1899 to 1902, Byng served as a lieutenant colonel in the Boer War in South Africa and recruited and commanded the South African Light Horse Regiment. After the war and his marriage in 1902, he was again posted to India before returning to Britain in 1904. The following year, he was made commander of the 2nd Cavalry Brigade at Canterbury. In 1909, he was promoted to Major General and made a divisional commander of the newly formed Territorial Force. From 1910 until the outbreak of the First World War in 1914, Byng commanded the British forces in Egypt and was based in Cairo.
First World War and Command of the Canadian Corps
Byng returned to Britain with the outbreak of the First World War and was appointed commander of the 3rd Cavalry Division. He travelled to the Western Front with the British Expeditionary Force and served with distinction at the Battle of Ypres in 1914. Byng commanded the 9th Army Corps at Gallipoli in 1916 and managed the British withdrawal from the Dardanelles.
In May 1916, Byng was promoted to Lieutenant General and received command of the Canadian Corps, the largest formation of the Canadian Expeditionary Force. As Field Marshal Douglas Haig wrote to King George V, "The Canadian Govt, has given me a free hand in the choice of his [Lieutenant General E.A.H. Alderson's] successor. I propose to recommend Genl [General] Byng for the appointment. I think he will do it well and is sure to be most popular." Byng was surprised to receive command of the Canadian Corps and wrote in response to a congratulatory message, "Why am I sent to the Canadians? I don't know a Canadian."
As Commander of the Canadian Corps, Byng reformed military training and the appointment of staff officers. Byng formed a Corps school to provide additional training in weapons and trench warfare and allow the various divisions within the corps to meet one another and improve the overall cohesion of the Canadian forces. Byng recognized that Canadian soldiers regarded the British officer corps as detached from their concerns and appointed Canadians as staff officers — a practice that he continued in his household as governor general of Canada.
Byng's leadership and reforms, especially the flexible tactics for individual platoons, contributed to the Canadian victory at the Battle of Vimy Ridge in 1917. Byng also conducted the first surprise attack with mobile artillery at Cambrai later that same year. Byng became very popular in Canada. The Canadian troops nicknamed themselves the "Byng Boys," a designation that continued to be used by veterans during Byng's term as governor general.
Byng was promoted to General and received the title of Baron Byng of Vimy in 1919 for his achievements during the First World War. He became Viscount Byng of Vimy in 1928, following his term as governor general of Canada.
Sir Julian Byng, accompanied by a French officer, is examining several types of trench mortars captured by Canadians at Vimy Ridge, with a row of heavy machine gun sledges in the background. (May 1917)
(courtesy Department of National Defence/Library and Archives Canada)
Lt.-Gen. Sir Julian Byng inspecting an sFH02 15cm German howitzer captured at Vimy Ridge; in background is a captured limber wagon. (May 1917)
(courtesy Department of National Defence/Library and Archives Canada)
Canadian Byng Boys returning after beating the Germans at Vimy Ridge. (Vimy, France, May 1917)
(courtesy Department of National Defence/Library and Archives Canada)
Appointment as Governor General
In 1921, the Colonial Office in the United Kingdom proposed Byng as governor general of Canada after "a group of influential Canadians" recommended him. Byng's appointment was far more popular with the Canadian public than that of his predecessor, the Duke of Devonshire, because he was admired as Commander of the Canadian Corps at Vimy Ridge and had been chosen in direct consultation with the Canadian government. Montreal songwriter Jules Brazil wrote a welcome song in 1921 that began "Who is the man we all admir'd in time of war/Who is the man that we were proud to be fighting for/And who is the man who led us on the Victory/Yes, who is the man that Canada's mighty glad to see?" Byng had reservations about his suitability for the new position, though. On the day that he was sworn into office in Quebec City on 2 August 1921, Byng remarked to Prime Minister Arthur Meighen, "I've never done anything like this, you know, and I expect I'll make mistakes."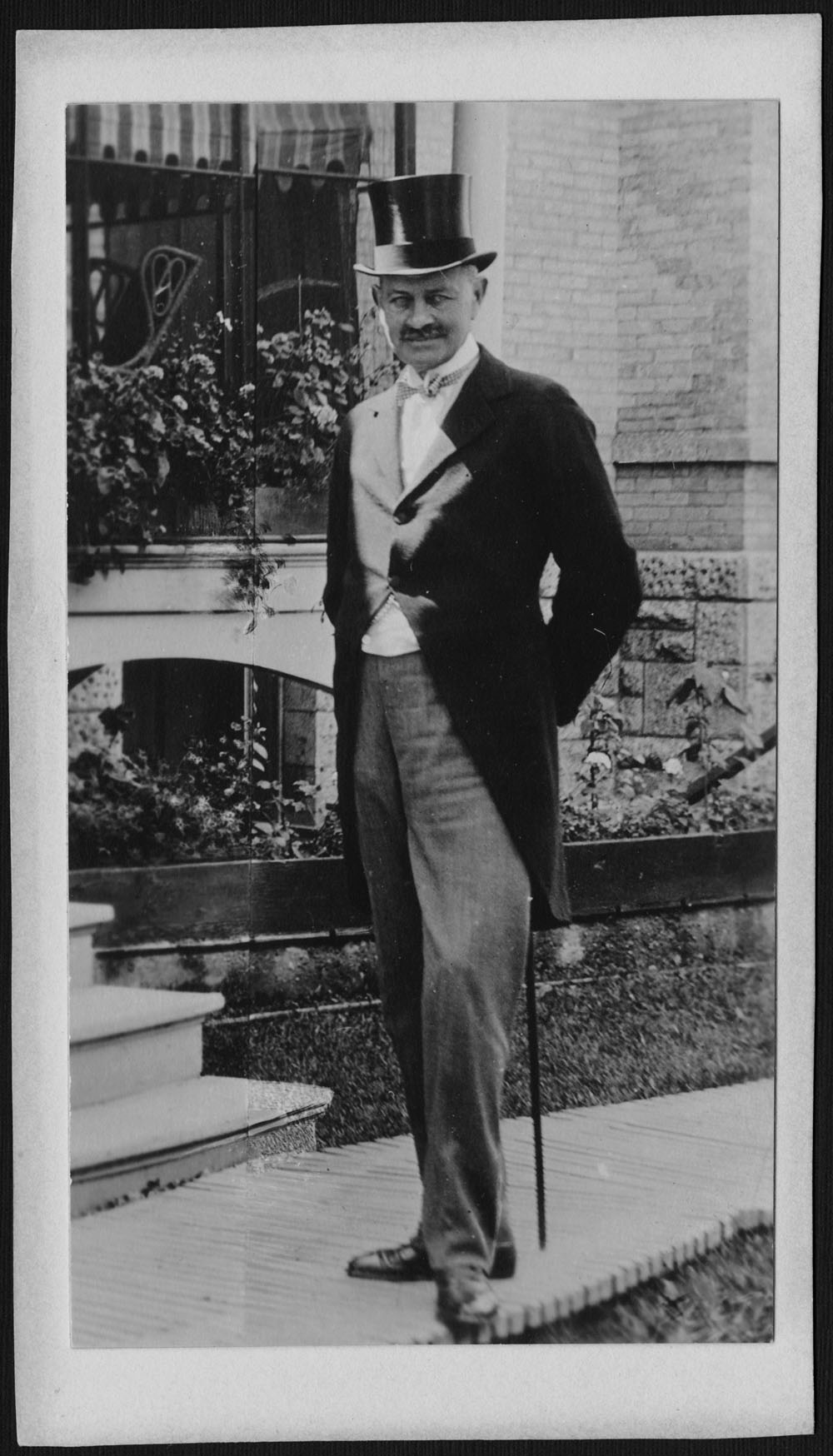 Julian Hedworth George Byng, 1st Viscount Byng of Vimy, was Governor General of Canada from 1921 to 1926. Photo taken 1925.
(courtesy Library and Archives Canada)
Did you know?
Shortly after Byng became governor general of Canada, he and his wife, Lady Byng of Vimy, became national patrons of Canada's Poppy Day. The first "poppy day" in both Canada and Britain occurred on 11 November 1921. The Canadian Great War Veterans Association (a predecessor of the Royal Canadian Legion) decided to adopt the poppy as their symbol of remembrance that year and chose Jewish-Canadian philanthropist  Lillian Freiman to lead the campaign. Millions of the artificial flowers were distributed across Canada. Since 1925, the poppy campaign has been run by the Legion. Every year, the first poppy of the campaign is presented to the governor general, who is patron of the Royal Canadian Legion.
Life at Rideau Hall
During Byng's time as governor general, the Royal Canadian Mounted Police (RCMP) replaced the Dominion Police as security at Rideau Hall. While previous governors general had appointed British adjutants during their time at Rideau Hall, Byng broke with this tradition and chose Canadian First World War veterans as his aides-de-camp. These included Henry Willis-O'Connor, who had served with Byng in Flanders, and future governor general Georges Vanier, who had lost one of his legs after leading an attack in Chérisy, France, in 1918. Lord and Lady Byng became good friends with Vanier and his wife, Pauline, who asked Byng to be godfather to their third child, Benedict, who was nicknamed "Byngsie."
The Byngs hosted formal dinners and balls in honour of the future King Edward VIII during his Canadian tour in 1924. Edward's assistant private secretary, Sir Alan "Tommy" Lascelles, later wrote in 1935, "It seems to me that the two main things in a Governor General that appeal to individual Canadians are, first, that he should be able to doff his Viceroyalty, so to speak, as he doffs his top hat — that off parade they should find him approachable, human and sympathetic — the three adjectives they continually apply to popular Governors General in the past, such as Grey or Byng; and second, that he should show himself interested in Canada, and happy to be in Canada." However, Byng was concerned about Edward's behaviour during the tour. He disapproved of Edward pursuing married women during his time in Ottawa and advised him not to return to Canada during the remainder of his term.
S.S. Distributor during the voyage of H.E. Baron Byng of Vimy down the Mackenzie River, N.W.T., 1925.
(photo by William Arthur Steel, courtesy Library and Archives Canada / PA-092343)
R.C.C.S. wireless operator aboard S.S. Distributor, during voyage of H.E. Baron Byng of Vimy down the Mackenzie River, N.W.T. 1925.
(photo by William Arthur Steel, courtesy Library and Archives Canada / PA-092363)
Ships on the Mackenzie River during the voyage of H.E. Baron Byng of Vimy to Aklavik, N.W.T., 1925.
(photo by William Arthur Steel, courtesy Library and Archives Canada / PA-092349)
Group of schooners on the Mackenzie River during H.E. Baron Byng of Vimy's voyage to Aklavik N.W.T., July 1925.
(photo by William Arthur Steel, courtesy Library and Archives Canada / PA-092365)
Travel in Canada
The Byngs travelled extensively during their time in Canada, including tours of the Canadian North. Byng was the first governor general to travel as far north as the Arctic Circle and met with Inuit people in remote communities there. Byng was the guest of honour at a dinner hosted by Inuit leader William Maglaluik in Kittigazuit (now Kitigaaryuit) in the Northwest Territories. He also travelled extensively in rural areas in both English and French Canada and spoke with farmers about their concerns. In 1924, the Montreal Gazette reported, "His Excellency's growing mastery of the French accent charmed the people, and some old-timers were loud in saying that he spoke better French than Lord Grey, who was a fluent linguist."
In 1923, Baron Byng of Vimy, then Governor-General of Canada, and his lady, had their first ski lesson from W.K. Ross.
(courtesy Library and Archives Canada/PA-051594)
Canadian Sports and Pastimes
Byng had enjoyed sports throughout his career and had become proficient in cricket and polo from a young age. As governor general, Byng took a lively interest in Canadian pastimes, especially ice hockey, and attended most home games for the Ottawa Senators with his wife, Lady Byng. He took skating lessons during his time in Canada. Byng was also an enthusiastic gardener and developed a knowledge of Canadian trees and flowers.
The King-Byng Affair
In 1926, Byng played a key role in a constitutional crisis concerning the relative powers of the prime minister and governor general that became known as the King-Byng Affair. William Lyon Mackenzie King and Byng had a cordial relationship early in Byng's term as governor general. In 1921, as Leader of the Opposition, Mackenzie King wrote to a friend, "I cannot tell you how pleased I am with [Byng] as a man and how certain I am that his administration will prove worthy of the best that has preceded it. … If by any chance I should come to be his advisor in the near future, I shall expect that the association will be one of the happiest and best in my life." Mackenzie King became prime minister later that year.
On 29 October 1925, a federal election returned 101 MPs from the Liberal party, led by Mackenzie King, and 116 MPs from the Conservative party, led by Arthur Meighen, along with 28 Progressive, Labour and Independent MPs. Although his party had fewer representatives in Parliament, Mackenzie King held the confidence of the House of Commons until 25 June 1926. While still prime minister, Mackenzie King advised Byng to call another federal election. Byng refused Mackenzie King's advice and instead invited Meighen to attempt to form a government. Byng refused Mackenzie King's request to consult the British government to resolve the situation and concluded that responsibility rested with the governor general of Canada alone. When Meighen was unable to maintain the confidence of the House, Byng called a federal election in 1926, which returned Mackenzie King to power.
The King-Byng Affair prompted extensive reflections concerning Canada's autonomy from the United Kingdom. Scottish constitutional lawyer Arthur Berriedale Keith wrote, "Lord Byng, in refusing the dissolution of Parliament advised by Right Hon. Mackenzie King, has challenged effectively the doctrine of equality in status of the Dominions and the United Kingdom and has relegated Canada decisively to the colonial status we believed she had outgrown." In contrast, senator and constitutional expert Eugene Forsey argued that "Any charge that Lord Byng acted as the agent of the British Government is simply not true. On the contrary, he refused even to consult the British Government, in spite of the repeated urgings from Mr. King. ... Lord Byng, in declining this advice showed a more scrupulous regard for Canadian autonomy than Mr. King in proffering it."
Byng later reflected on his role in the crisis in a letter to Georges Vanier: "I have to await the verdict of history to prove my having adopted a wrong course, and this I do with an easy conscience that, right or wrong, I have acted in the interests of Canada and implicated no one else in my decision." The Balfour Declaration of 1926, which was supported by Mackenzie King, clarified the role of governors general and made it clear that they were not representatives of the British government but representatives of the Crown in Canada alone, acting solely on the advice of the Canadian prime minister.
No Canadian governor general has refused a prime minister's request to dissolve Parliament since Byng.
Later Life
Following his return to Britain, Byng became commissioner of the London Metropolitan Police and was promoted to the military rank of field marshal. He received the title of Viscount Byng of Vimy in 1928. Byng returned to Canada briefly in 1932 with Lady Byng and met with Canadian First World War veterans and visiting Governor General Bessborough and Lady Bessborough at Rideau Hall. He died suddenly from an abdominal blockage at his Essex country house, Thorpe Hall, in 1935.
Viscount Byng of Vimy, Commissioner of the Metropolitan Police, Scotland Yard (London, England, 1930)
(courtesy Sport & General Press Agency Limited, Library and Archives Canada / PA-122359)
Legacy
Byng established the Governor General's Cup at the Royal Agricultural Winter Fair in Toronto. His military honours from the Battle of Vimy Ridge were donated to the Canadian War Museum in 2007.
The King-Byng Affair continues to be significant in terms of the governor general's powers and responsibilities in Canada. The crisis was discussed extensively in the press when Prime Minister Stephen Harper advised Governor General Michaëlle Jean to prorogue parliament in 2008, as there were parallels between the dilemma faced by Byng and that of Jean (though Jean ultimately agreed to prorogation after hours of deliberation with constitutional experts).