Lucille Teasdale Corti, CM, GOQ, surgeon, humanitarian (born 30 January 1929 in Montréal, QC; died 1 August 1996 in Lombardy, Italy).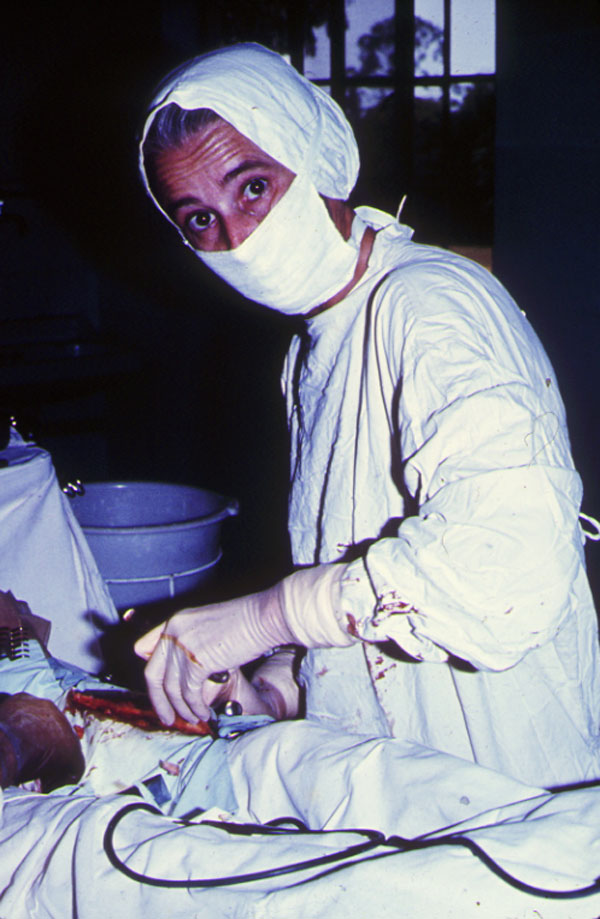 Dr. Teasdale performing surgery. Image: © Piero and Lucille Corti Foundation/Library and Archives Canada/nlc-12016.\r\n
Lucille Teasdale Corti, CM, GOQ, surgeon, humanitarian (born 30 January 1929 in Montréal, QC; died 1 August 1996 in Lombardy, Italy). Humanitarian and visionary Lucille Teasdale was one of Canada's first female surgeons. She travelled to Gulu, Uganda, to practice medicine and to help those in need. By the time of her death in 1996, she had received numerous international honours, including being named a Grand Officer of the National Order of Québec and a Member of the Order of Canada. Lucille Teasdale's extraordinary selflessness and humanitarian determination make her one of Canada's most remarkable women.
Early Life and Education
Lucille Teasdale was born in the east end of Montréal, the daughter of the local butcher. She grew up in a working-class, Roman Catholic family, the fourth of seven children and the only one to finish high school. A bright and determined youngster, she was inspired by the stories of missionary nuns doing aid work in a Chinese orphanage. At age 12, she declared to her father: "I want to help poor and needy children. I'm going to do it by becoming a doctor!"
She studied tirelessly and in 1950, she won a scholarship to study medicine at the Université de Montréal medical school. In 1955, Teasdale graduated cum laude school at age 26. She then interned in surgery at Sainte-Justine Children's Hospital in Montréal. Teasdale wanted to become a surgeon. In order to complete her program, she had to acquire training outside Canada.Schools in the United States rejected her application for residency training (probably because she was a woman), but she was accepted by two hospitals in France. In September 1960, she left for France where she specialized in pediatric surgery in Marseilles, becoming one of Québec's first female surgeons.
Piero Corti
It was during her internship in Montréal that Lucille met Piero Corti, a young Italian doctor studying pediatrics. She learned of his dream to establish a world-class teaching hospital in Africa. He had already heard about a small clinic near Lacor, a town not far from Gulu, a city in northern Uganda. It was little more than a dispensary with a few dozen beds, but he saw this as the perfect place to fulfill his dreams.
While Teasdale was in Marseilles, Piero, travelled from Africa, stopped to visit her. He needed help for a few months, and asked her to join him in Uganda to work as the hospital's first and only surgeon. He offered to pay her airfare, plus money for cigarettes and tooth paste. Teasdale agreed, but made it clear she would only be available for a month or two.
African Aid Work
In May 1961, Teasdale and Corti arrived in Lacor, Uganda, one year before the country gained its independence from Britain. When they first arrived, the hospital had only 40 beds and six staff. Piero raised funds to expand and equip the facility. Lucille, the only doctor in the region. treated countless patients and performed surgeries. Her stay, originally intended to be just two months, was extended. When the time came for Lucille to leave Uganda, she got only as far as Marseilles before Piero reached her, begging her to return. She did, and they were married in December 1961 in the tiny chapel beside the hospital. The following year, their daughter, Dominique, was born.
Piero Corti and Lucille Teasdale soon after the birth of their daughter Dominique. Image: © The Piero and Lucille Corti Foundation/Library and Archives Canada/nlc-12012.
Together, they worked hard to treat a scattered population of more than 200,000 — people with diseases such as tuberculosis, malaria and later, HIV/AIDS. "Dr. Lucille," as she became known, worked tirelessly, bolstered by a strong faith, a deep concern for her patients and boundless energy. Every day, she saw as many as 300 patients and spent her afternoons performing back-to-back surgeries. She completed thousands of operations, often under very difficult conditions. In the early days, she worked with the most basic equipment: no phones, inadequate water supplies, and an uncertain supply of drugs and electricity.
Civil Unrest in Uganda
Uganda gained its independence from Britain in 1962 and the celebrations at first heralded the country's bright future. However, in January 1971, Idi Amin, an army chief of staff, staged a coup, overthrowing the government and declaring himself president. It was in the 1970s, during his brutal dictatorship and the turbulent aftermath of his rule, that northern Uganda turned into a war zone; it is estimated that by 1979 some 300,000 people had been killed. Soldiers with gunshot wounds began pouring into the Lacor hospital. Almost overnight, Teasdale became a war surgeon. Following Amin's overthrow that same year, the ensuing civil war brought more years of uncertainty for the whole region and the hospital became a rebel target. The almost daily attacks included: a raid and sacking of the Cortis' home, attacks on the hospital by rebels looking for drugs or petrol, as well as the rapes and kidnappings of some of its nurses. Throughout it all, Teasdale continued to work, treating hundreds of thousands of patients a year, many of them children. In 1989, a staff doctor was kidnapped, and the Cortis prepared for a possible evacuation. With the prospect of Lacor hospital being completely shut down, the rebel guerillas agreed to stop disrupting the hospital's activities.
Despite the turmoil, the couple continued to expand the hospital to include 482 beds, three health centres in nearby villages, a nursing school, a health worker training program, and training for laboratory technicians. It became one of the top facilities in the region equipped to train doctors.
Lucille Teasdale with Matthew Lukwiya, the hospital's medical superintendent. Image: © Piero and Lucille Corti Foundation/Library and Archives Canada/nlc-12015.
Dr. Lucille Teasdale, Dr. Corti and other medical staff visiting a patient in the tuberculosis ward. Image: © Piero and Lucille Corti Foundation/Library and Archives Canada/nlc-12017.
Death
It was in 1985, following a series of recurring illnesses, that Teasdale discovered she was HIV positive, at a time when the virus was little known. She believed she had contracted the virus while performing surgery on infected soldiers whose bone fragments often punctured her surgical gloves. She was given two years to live, but her perseverance and determination allowed her to live another 11 years. Even in declining health, and up until several months before her death, she continued to care for patients, often working six-hour days. Though increasingly frail, she insisted on traveling widely to solicit funds for the hospital and to raise awareness about HIV/AIDS.
Over the years, Lucille performed more than 13,000 operations, a remarkable accomplishment for any doctor, anywhere. After an 11-year battle with HIV/AIDS, Lucille died in 1996 at age 67. She was buried on the grounds of the hospital, leaving behind a legacy of love, hope and caring. Her husband died eight years later of pancreatic cancer at the age of 78. He is buried next to his wife.
Legacy
In 1995, Lucille and her husband established the Lucille Teasdale and Piero Corti Foundations in Milan and Montréal to ensure the continued existence of the hospital. Their daughter, Dominique, who followed in her mother's footsteps by also becoming a doctor, runs the Foundation in Milan.
Today, St. Mary's-Lacor Hospital is considered to be a medical showpiece in Africa that is bringing first-class medical care to thousands. Now home to more than 500 Ugandan employees, 482 beds and three peripheral health centres, the hospital treats over 300,000 patients a year, half of whom are children under six.
Awards
Dr. Lucille Teasdale-Corti receiving the Order of Canada from the Right Honourable Ramon John Hnatyshyn, Governor-General of Canada, April 17, 1991. Image: Rideau Hall/© Sergeant Bertrand Thibault/Library and Archives Canada/nlc-12018.
Officer, Order of the Merit of the Republic of Italy (1981)
Sasakawa Health Prize, World Health Organization (1986)
Paul Harris Fellow, Rotary International (1986)
F.N.G. Starr Award, Canadian Medical Association (1987)
Member, Order of Canada (1991)
Honorary Consultant, Uganda Ministry of Health (1994)
Grand Officer, National Order of Québec (1995)
Honorary Fellow, Royal College of Physicians and Surgeons of Canada (1995)
Velan Award, Rotary Club of Montréal (1995)
Excellence Award, International Center for the African Cause/United Nations (1995)
Honorary Doctorate, Université de Montréal (1996)
Inductee, Canadian Medical Hall of Fame (2001)
Gold Medal for Civil Merit, Italy (2004)