Nanabozo (Nanabozho or Nanabush) is a culture hero, creator and trickster of various Indigenous oral histories. He is known by a variety of names and appears prominently in many origin tales. In the modern era, Nanabozo, like other Indigenous culture heroes, has proved useful to Indigenous peoples seeking a return to traditional approaches to learning and storytelling.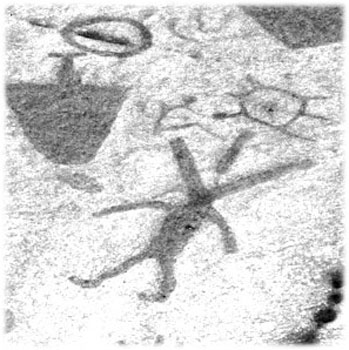 Depiction of Nanabozo (Nanabush) from the Peterborough Pictograph Site in Southern Ontario.
Definition
Nanabozo is a supernatural being of various Indigenous oral traditions. He is the embodiment of life, with the power to create life in others. In some Anishinaabe and Cree stories, Nanabozo is a main player in the creation of Turtle Island.
Nanabozo is also a shape-shifter. He appears as diverse personalities and forms – including a raven, a coyote and a hare – which represent the various phases and conditions of the life cycle in some Indigenous cultures.
Known as a trickster, Nanabozo plays a dual role in Indigenous oral traditions. On the one hand, he protects and even creates life. On the other, he is associated with mischief and breaking the rules. His adventures and misadventures are meant to teach right from wrong and how to live a good life.
Nanabozo in Literature
Nanabozo appears as a character in a number of late 20th-century literary works. He is the main character in Thomas King's short story, "The One About Coyote Going West," and also appears as a coyote in King's novel Green Grass Running Water.
Nanabozo is a seagull, a nighthawk, and a bingo master in Tomson Highway's play  The Rez Sisters. In the foreword to this play, Highway describes him as being "as pivotal and important a figure in the Native world as Christ is in the realm of Christian mythology."
Significance
The stories of culture heroes and
tricksters
like Nanabozo play a variety of important roles in
Indigenous
 cultures, from entertaining community members to transmitting traditional knowledge to teaching moral lessons. Many Indigenous peoples see Nanabozo and other Indigenous cultural figures as a way to bring back the traditional approaches to learning and storytelling that were suppressed by the forces of colonization.