Richard (Rick) Marvin Hansen,
CC
,
OBC
, Paralympian, wheelchair racer, humanitarian (born 26 August 1957 in Port Alberni, British Columbia). In the 1980s, Rick Hansen won six Paralympic medals and three world championships in wheelchair racing. He was named Canada's Disabled Athlete of the Year three times and, in 1983, received the
Lou Marsh Trophy
 (now the Northern Star Award) for Canadian Outstanding Athlete of the Year — an honour he shared with
Wayne Gretzky
. Hansen is perhaps best known for his Man In Motion World Tour. From 21 March 1985 to 22 May 1987, Hansen wheeled more than 40,000 km in 34 countries to raise awareness, public support and finances for spinal cord research, rehabilitation and wheelchair sports. The tour raised more than $26 million.
Early Life
Rick Hansen was the oldest of four children of Joan and Marvin Hansen, a telecommunications worker for BC Tel. He was born in Port Alberni, British Columbia, in 1957.The family soon grew, with the births of Brad, Cindy and Christine. The Hansen family moved several times within British Columbia — to Fort St. John, Abbotsford and Williams Lake — while Rick and his siblings were growing up.
Rick had an active childhood and played volleyball, baseball, softball and basketball. He also enjoyed spending time outdoors and fishing with his father and grandfather.
Accident
As a teenager, Hansen excelled at sports and received athlete-of-the-year honours at his high school in Williams Lake in 1973 when he was 15 years old. He was planning on trying out for the provincial volleyball team later that year.
But an accident changed everything. Late in June, Rick and his friend Don Alder went on a week-long fishing trip. On 27 June, they decided to hitchhike home a day early instead of waiting for Don's father to pick them up. The boys got a ride in the back of a pickup truck, but the driver had been drinking beer and lost control. He eventually drove off the side of the road and rolled his truck. While Don was thrown clear, Rick landed on a big steel toolbox, breaking his back and damaging his spinal cord.
Rick was left a paraplegic after the accident. Paralyzed from the waist down, he spent the next seven months in rehabilitation in Vancouver before returning home to Williams Lake. The transition was tough. While his father had the basement renovated so Hansen could have his own room and bathroom, it was very difficult for Rick to travel in his wheelchair in the town itself. "Mine was the only wheelchair in town, and the town wasn't geared for it," recalls Hansen in his book Rick Hansen: Man in Motion. "Wheelchair access was unheard of, and the smallest trip had to end with my being pushed or lifted. People thought my life was over. Worse yet, so did I."
A New Beginning
Not long after returning to Williams Lake, Hansen was invited to attend a high school volleyball practice by his former coach, Bob Redford, who asked him to assess the players. However, watching his old team was too upsetting for Hansen, and he soon left.
Yet Redford and Jack Burgar, Hansen's former basketball coach, continued to encourage Hansen to participate in sports from a coaching perspective. He helped train some of the athletes at his high school, including a grade seven girls' volleyball team. He also played table tennis, and competed against able-bodied competitors at the 1975 Northern BC Winter Games in Fort St. John.
In the spring of 1975, 17-year-old Hansen met Stan Stronge, a leading para-athlete who co-founded the Canadian Wheelchair Sports and Recreation Association in 1967. Stronge encouraged Hansen to compete in table tennis at the Pacific Northwest Games for the Disabled in Seattle, where he won the gold medal.
Education
In September 1976, Hansen enrolled at the University of British Columbia (UBC) in Vancouver. Although he wanted to study physical education, his application was denied and he enrolled in the Faculty of Arts instead. However, the admissions department reconsidered his request the following year and allowed him to study physical education. In 1986, Hansen became the first person with a physical disability to earn a physical education degree from UBC.
Vancouver Cable Cars and Wheelchair Basketball
In addition to his studies at UBC, Hansen participated in a number of wheelchair sports, including volleyball and basketball. Stan Stronge recruited him for Vancouver Cable Cars, a powerhouse wheelchair basketball team that dominated the national championships in the 1970s and early 1980s. Hansen won multiple championships with the Vancouver Cable Cars and was also a member of the Canadian National Wheelchair Basketball Team from 1977 to 1983.
Hansen's influence in wheelchair basketball went beyond his performance on the court. In 1983, he became one of the founders and first directors of the BC Wheelchair Basketball Society.He also motivated a young Terry Fox to become involved in wheelchair sports after the amputation of his leg in 1977 due to bone cancer. That year, Hansen invited Fox to play for the Cable Cars. Fox won the national championships with Hansen and the rest of the team in 1978 and 1979 before embarking on his Marathon of Hope in 1980.
Wheelchair Racing
While at university, Hansen also started to participate in wheelchair racing. His first serious racing competition was the 1978 Canadian Games for the Physically Disabled in St. John's, Newfoundland, where he participated in the men's 4x100 metre relay. A year later in Vancouver, Hansen competed in his first wheelchair marathon race and finished third.
From 1979 to 1984, Hansen dominated wheelchair racing. He won six medals at the Paralympic Games and 19 International Wheelchair Marathons, including three world championships in wheelchair racing. Hansen also won nine gold medals at the 1982 Pan-American Wheelchair Games in Halifax. He was named Canada's Disabled Athlete of the Year in 1979, 1980 and 1982 and received the 1983 Lou Marsh Trophy for Canadian Outstanding Athlete of the Year, along with co-recipient Wayne Gretzky.
Paralympic Games Medals
| | | | |
| --- | --- | --- | --- |
| Year | City | Event | Result |
| 1980 | Arnhem, the Netherlands | Men's 800m | Gold |
| 1980 | Arnhem, the Netherlands | Men's 1500m | Silver |
| 1980 | Arnhem, the Netherlands | Men's 4x100m relay | Bronze |
| 1984 | Stoke Mandeville, Great Britain | Men's 1500m | Gold |
| 1984 | Stoke Mandeville, Great Britain | Men's 5000m | Silver |
| 1984 | Stoke Mandeville, Great Britain | Men's marathon | Gold |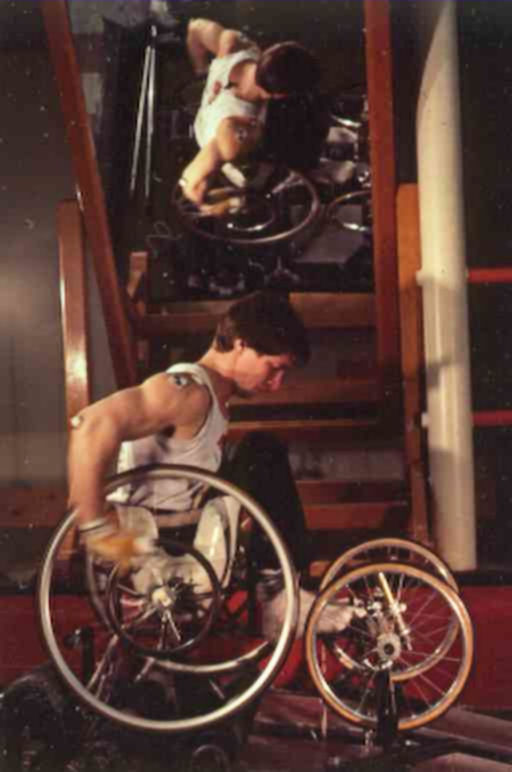 Man In Motion World Tour
Hansen is probably best known for his Man In Motion World Tour, which was inspired by Terry Fox's Marathon of Hope in 1980. From 21 March 1985 to 22 May 1987, Hansen wheeled his way over 40,072 kilometres in 34 countries (including Canada), wearing out 160 wheelchair tires and 94 gloves. Hansen's goal was to encourage communities to become more accessible and inclusive, raise awareness for those with spinal cord injuries and challenge stereotypes faced by those with physical disabilities. On the tour, he raised more than $26 million for spinal cord research, rehabilitation and wheelchair sports.
The tour was a great success within Canada and abroad. International highlights of the tour included a meeting with Pope John Paul II in Italy and a crowd of about 800,000 people cheering him on in Tianjin, China.
The Canadian leg of the tour started in Cape Spear, Newfoundland, on 26 August 1986, with Newfoundlanders donating over $97,000 to his campaign in less than two days. In Ottawa, Hansen met with Prime Minister Brian Mulroney, who gave him a $1 million cheque at Parliament Hill. The people of Alberta donated about $2.45 million to the tour, while the provincial government, led by Alberta Premier Don Getty, matched that amount and donated the funds to The Alberta Paraplegic Foundation, which was established in 1987 partly in response to Hansen's tour. Similarly, British Columbia Premier Bill Vander Zalm pledged that his government would match donations made by British Columbians and raised over $5.45 million in total.
Hansen finished the tour on 22 May 1987 in Vancouver. The following day, more than 50,000 people attended a celebration at BC Place Stadium.
From 24 August 2011 to 22 May 2012, Hansen went on a 25th-anniversary celebration tour, travelling 12,000 kilometres and visiting 600 Canadian communities.
Rick Hansen Foundation and Rick Hansen Institute
The Rick Hansen Foundation was established in 1988 to fund spinal cord injury research and care and raise awareness, change attitudes and remove barriers for people with disabilities. In addition to awareness programs and accessibility services and grants, the foundation provides funding and support to the International Collaboration On Repair Discoveries (ICORD) and the Rick Hansen Institute.
The Rick Hansen Institute was formed in 2008 through the merger of the Spinal Cord Injury Solutions Alliance, the Rick Hansen Spinal Cord Injury Registry and the Spinal Cord Injury Translational Research Network. The institute's mandate is to improve the quality of life and treatment for those with spinal cord injuries and reduce the severity of permanent paralysis for those with spinal cord injuries.
Personal Life
On 10 October 1987, Hansen married his physiotherapist, Amanda Reid. They have three daughters: Emma, Alana and Rebecca.
Honours and Awards
Canada's Disabled Athlete of the Year (1979, 1980, 1982)
Lou Marsh Trophy for Canadian Outstanding Athlete of the Year, shared with Wayne Gretzky (1983)
Outstanding Young Person of the World, Personal Improvement and/or Accomplishment, Junior Chamber International (1987)
Companion of the Order of Canada (1987)
Order of British Columbia (1990)
Ambassador for Peace Award, International Institute for Peace through Tourism (1994)
BC Wheelchair Sports Male Athlete of the Century (2000)
Inducted into Canada's Sports Hall of Fame (2006)
Inducted into the BC Sports Hall of Fame (2007)
Received star on Canada's Walk of Fame (2007)
Christopher Reeve Award, Canadian Paraplegic Association (Alberta) (2007)