Willie O'Ree, CM, ONB, hockey player (born 15 October 1935 in Fredericton, NB). On 18 January 1958, Willie O'Ree became the first Black hockey player to play in the National Hockey League (NHL). He played professional hockey for more than 20 years, including 45 games with the Boston Bruins. Since 1998, O'Ree has been the NHL's Director of Youth Development and ambassador for NHL Diversity. He is a Member of both the Order of Canada and the Order of New Brunswick. He has been inducted into the New Brunswick Sports Hall of Fame, the Hockey Hall of Fame and Canada's Sports Hall of Fame. The Boston Bruins retired O'Ree's No. 22 on 18 January 2022, the 64th anniversary of his first NHL game.
Growing Up in New Brunswick
O'Ree was raised in a large family in Fredericton, New Brunswick. He was the youngest of 13 children of parents Rosebud and Harry. O'Ree's grandparents came to Canada through the Underground Railroad to escape slavery in the United States.
To say that the O'Ree family was an ethnic minority in Fredericton at the time is an understatement. There were only two Black families in Fredericton while O'Ree was growing up. O'Ree's father, Harry, was a civil engineer who worked in road maintenance for the City of Fredericton.
O'Ree started playing hockey at age three and organized hockey at age five. He instantly had a passion for the game. O'Ree played regularly on the backyard rink of the family home and skated to school when weather permitted.
O'Ree has positive memories of growing up in New Brunswick. In his autobiography, The Willie O'Ree Story: Hockey's Black Pioneer, O'Ree wrote that colour was never an issue on those early rinks: "The fact that I was black never came up when we played as kids. You could have been purple with a green stripe down the middle of your forehead, and it wouldn't have mattered. It was only later, when I became older, that I learned what 'colour barrier' meant."
Playing Hockey in New Brunswick and Quebec
When O'Ree was 14 years old, he played organized hockey with his brother Richard; he was in his twenties and taught Willie how to bodycheck. By the time O'Ree was 15, he was playing for the Fredericton Falcons in the New Brunswick Amateur Hockey Association (NBAHA) playoffs.
Over the next three years, O'Ree progressed through the Fredericton hockey system. In 1951–52, he played with the Fredericton Merchants of the York County Hockey League, as well as three games with the Fredericton Capitals of the New Brunswick Senior Hockey League. After a season with the Junior Capitals, O'Ree made a step up to the senior ranks for a full season in 1953–54. While with the Fredericton Capitals, O'Ree played in the Allan Cup tournament, where he scored seven goals in seven games.
At age 19, O'Ree moved to Quebec and played the 1954–55 season with the Quebec Frontenacs of the Quebec Junior Hockey League. He had 27 goals and 17 assists for 44 points in 43 games.
Eye Injury
In 1955–56, O'Ree played for the Kitchener Canucks of the Ontario Hockey Association. In one game, he got hit in the right eye with the puck. The shot also broke his nose and cheekbone. O'Ree lost 95 per cent of the vision in his eye. He was advised by a doctor to stop playing hockey. He was back on the ice within two months.
However, O'Ree could not tell anyone about the injury. According to NHL bylaws, he would not be eligible to play, as the league had (and still has) a rule forbidding all players who are blind in one eye from competing (Bylaw 12.6). O'Ree kept the injury as secret as possible. In an interview with Luke Fox of Rogers Sportsnet on 29 February 2012, O'Ree explained the situation he faced:
If it gets out that I'm blind in my right eye, I probably won't be allowed to play pro, and definitely won't be allowed to play in the National Hockey League. I never took an eye exam in all the 21 years I played. I never sat in front of an eye machine. I don't know why back then they didn't make me. It's different now. Back then, they were more concerned with your physical condition, and I always kept myself in good shape.
O'Ree was determined to make the NHL. As quoted in Breaking the Ice: "I had to play hockey again, because I had to make it to the NHL. That was always the goal, you see, ever since I was 13, and I wasn't going to let anybody or anything stop me."
In order for O'Ree to move up the ranks in the hockey world, he had to overcome not only a colour barrier, but also a genuine physical disability. To compensate for his blindness while playing left wing, O'Ree had to turn his head far over his right shoulder to see a pass.
The Quebec Aces
O'Ree returned to playing hockey in Quebec after one year in Ontario. He was eighth in team scoring with the Quebec Aces in the 1956–57 season (22 goals and 12 assists for 34 points). O'Ree would go on to play two more seasons with the Aces in 1957–58 and 1958–59.
As an organization, the Aces had a history of integration. From 1949 to 1953, Herb Carnegie, a Black hockey player from Toronto, starred for the Aces in the Quebec Senior Hockey League. Carnegie, who played one season with Jean Béliveau, had 77 goals and 121 assists for 198 points in four seasons with Quebec. A member of Canada's Sports Hall of Fame, Carnegie was one of the best players in hockey history to have never played professionally.
While playing with the Quebec Aces, O'Ree played on the same line with Stan Maxwell, another Black Canadian. Like O'Ree, Maxwell played for the Aces from 1956 to 1959.
NHL Debut
For the 1957–58 season, the Aces formed a working relationship with the NHL's Boston Bruins. The relationship meant that Aces players could be called up to the Bruins at any time.
O'Ree made hockey history on 18 January 1958 by becoming the first Black hockey player to play a game in the NHL. The Bruins beat the Montreal Canadiens that night by a score of 3–0 at the Montreal Forum. After playing only two games in the 1957–58 season, O'Ree returned to the Bruins in the 1960–61 season and scored 4 goals and 10 assists for 14 points in 43 regular season games. On 1 January 1961, O'Ree also became the first Black player to score a goal in the NHL in a 3–2 win over the Canadiens.
The fact that O'Ree was the first Black player to play in the NHL received little interest at the time. His debut wasn't mentioned in either The Boston Globe or The New York Times. A Canadian sportswriter at the time wrote that O'Ree "was greeted with no emotion, no applause and, above all, no animosity."
O'Ree's NHL debut may have caused little reaction in Montreal because local sports fans were already familiar with O'Ree; he had played occasionally in Montreal as a member of the Quebec Aces.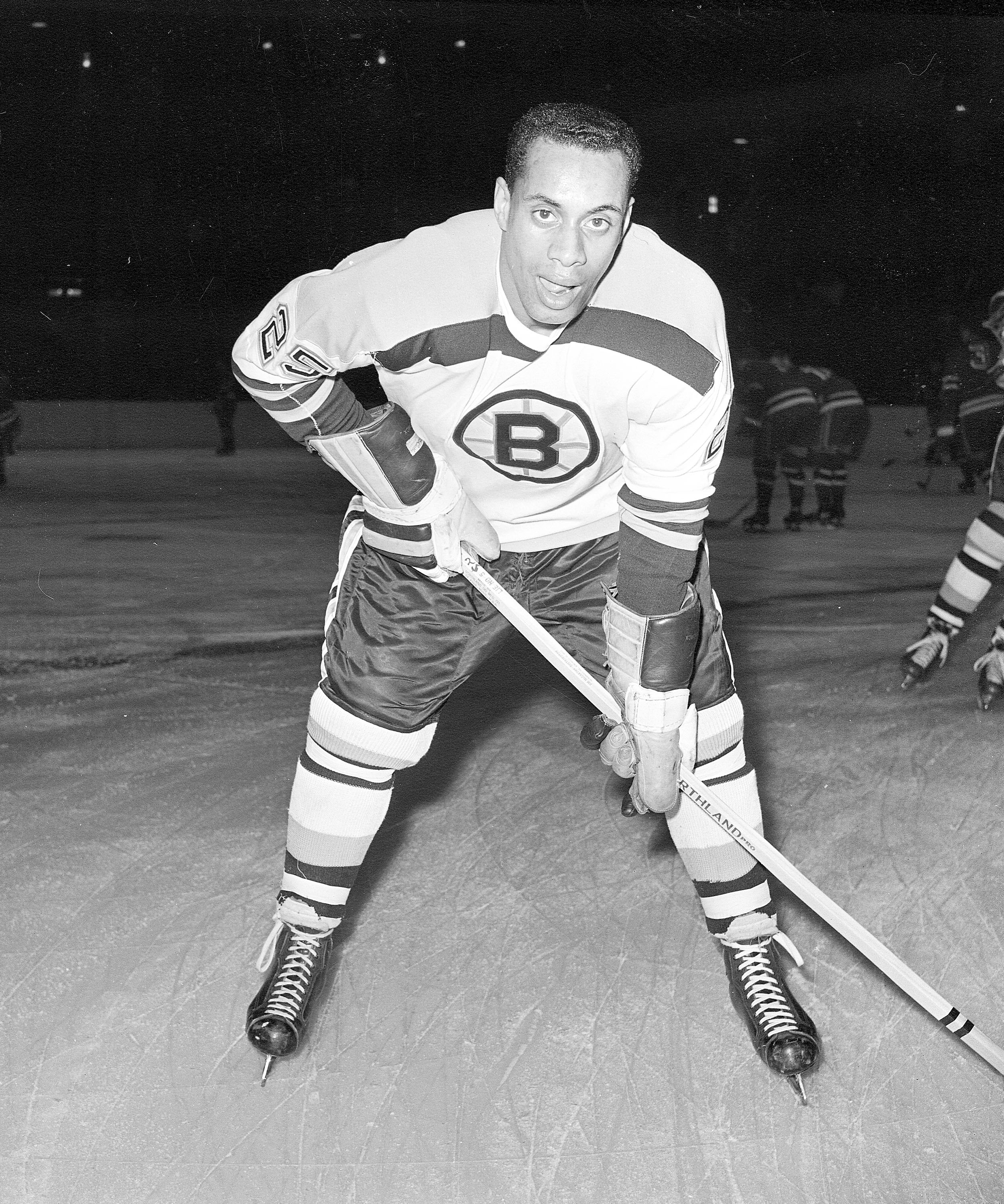 Post-NHL Years
After his short time in Boston, O'Ree went on to play 14 more years of professional hockey. He played with the Hull-Ottawa Canadiens of the Eastern Professional Hockey League; the Los Angeles Blades and San Diego Gulls of the Western Hockey League; the New Haven Nighthawks of the American Hockey League; and the San Diego Mariners of the Pacific Coast League.
One major reason why O'Ree was able to prolong his career was because he moved from left wing to right wing in 1964–65 at the age of 29. The Los Angeles Blades were weak at right wing and head coach Alf Pike had O'Ree change positions. O'Ree delivered instant results, recording 38 goals that season, a personal best.
O'Ree did, however, experience racist taunts from opposing players and fans. One night while playing in Virginia in the 1972–73 AHL season, fans tossed cotton balls and a black cat onto the ice. Throughout his time playing hockey, O'Ree remembers being treated worse in the United States than in Canada. While playing with the Bruins in the 1960–61 season, O'Ree was the victim of racist taunts from a Chicago Black Hawks player. The player also butt-ended O'Ree with his stick and knocked out some teeth. O'Ree retaliated by breaking his stick over the player's head and a brawl broke out.
Hockey Ambassador
Since 1998, O'Ree has been the NHL's Director of Youth Development and ambassador for NHL Diversity. He has travelled throughout North America to promote grassroots hockey programs, with a focus on serving economically disadvantaged children. As head of the Hockey is for Everyone program, O'Ree promotes commitment, perseverance and teamwork as well as important life skills and education. O'Ree also hosts an annual all-star weekend that brings children of diverse economic and ethnic backgrounds together for a tournament.
Honours and Awards
In 2003, O'Ree was named the Lester Patrick Trophy winner for his outstanding service to hockey in the United States. O'Ree was honoured along with former Boston Bruins defenceman Ray Bourque and Ron DeGregorio, the president of USA Hockey.
In 2010, O'Ree received the Order of Canada for his outstanding service to youth development and for promoting hockey within North America. O'Ree also received the Order of New Brunswick (2005) and is an honoured member of the New Brunswick Sports Hall of Fame, where he was inducted in 1984. In 2018, O'Ree was named to the Hockey Hall of Fame in the builder category. He is the third Black player inducted into the Hall, after Grant Fuhr and Angela James.
Also in 2018, the NHL established the Willie O'Ree Community Hero Award in his honour. The award recognizes those who, like O'Ree, have used hockey to "build character, teach life skills and foster positive values." It is open to anyone connected to the sport, including players, parents, coaches, referees, volunteers and rink owners.
O'Ree was inducted into Canada's Sports Hall of Fame as a Builder in 2021. On 12 January 2021, the Boston Bruins announced that O'Ree would become the 12th player in franchise history to have to have his number retired. Team president Cam Neely said in a statement, "Willie's contributions to the game of hockey transcend on-ice accomplishments and have opened countless doors for players who have come after him. He is without question deserving of this honour." O'Ree's No. 22 was raised to the rafters before a home game at TD Garden on 18 January 2022 — the 64th anniversary of his first NHL game.
See also: Trailblazing Black Canadian Athletes; Editorial: Saint Mary's Players Make Hockey History; Coloured Hockey League; Chatham Coloured All-Stars.