Chinese Canadians make up one of the largest ethnic groups in Canada today. Close to 1.8 million people in Canada are of Chinese descent. Chinese food is one of the most popular cuisines in the country. Over time, different immigration cohorts from China shaped the type of Chinese cuisine found in Canada. Cantonese cooking, which is typified by savoury dishes that are full of aromatics, is historically the most popular type of Chinese cuisine in Canada. It inspired early Chinese Canadian dishes like chop suey. Today, cooking techniques from other parts of China and the larger Chinese diaspora are becoming increasingly popular as the demographics of Chinese immigrants to Canada shift.
Early Chinese Immigration to Canada
The first Chinese immigrants to Canada arrived on the West Coast in the late 1850s. In the 1880s, about 15,000 Chinese labourers worked on and completed the British Columbia section of the Canadian Pacific Railway. These early immigrants were from southern China, and the first Chinese restaurants in Canada served food inspired by Cantonese cooking. This style was common in southern Chinese provinces like Guangdong.
The First Chinese Canadian Restaurants
The earliest Chinese restaurants in Canada were on the West Coast, where a majority of the country's Chinese communities were located. As Chinese Canadians moved east from the Pacific, they settled in other cities throughout Canada. Because of anti-Asian racism, they had difficulty finding jobs. Instead, many of them opened restaurants in the cities they now call home as a way to earn a living. In Toronto, Sing Tom opened the city's first Chinese café in 1901. By 1912, there were 19 Chinese restaurants in the city. White Canadians would often frequent these restaurants, drawn in by the affordable prices and "exotic" cuisine. Dishes like egg foo yong, which resembled an omelette on rice, were popular among non-Chinese clientele.
In the early 20th century, some Chinese cafés and restaurants served Western food, such as roast beef, steak and apple pie. Until the 1970s, these restaurants' menus featured a mix of Western food and westernized Chinese food. Some of the most iconic Chinese Canadian dishes came from a mix of these chefs' Chinese cooking methods and flavours. The dishes also made use of ingredients that were available to them in Canada. Popular dishes of this era include chop suey, ginger beef, chicken balls, General Tso's chicken and sweet-and-sour pork. (See Popular Chinese Dishes in Canada.)
Contemporary Chinese Canadian Cuisine
Thanks to the introduction of a points-based immigration system in 1967 (see Immigration Policy in Canada), more Chinese immigrants were able to migrate to Canada as racist restrictions were removed. Since then, immigrants from many different parts of China and the larger diasporic community have made their way to Canada.
In the 1980s and 1990s, cities like Vancouver and Toronto attracted large numbers of immigrants from Hong Kong. These immigrants were highly educated and wealthy, and they wanted "authentic Chinese food" like what they had back home. Dim sum restaurants, wonton shops and Cantonese-style barbecue shops popped up in Chinatowns across the country. They remain mainstays today.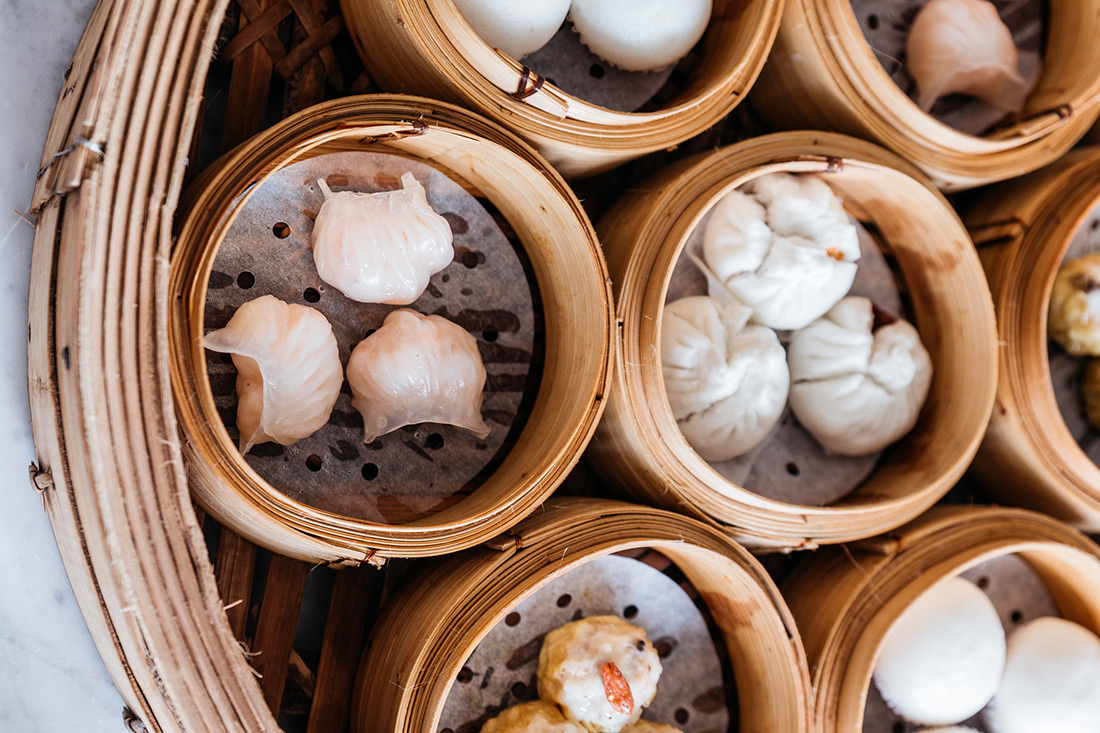 In the 1980s and 1990s, many Chinese Canadians moved out of major cities and migrated to outlying suburbs, such as Markham, Ontario, and Richmond, B.C. Chinese restaurants followed suit. These suburban ethnic enclaves became centres of Chinese culture and cuisine in Canada. For example, Richmond is now considered one of the best places in the world for Chinese food because of its abundance of seafood and high-level chefs.
A Diversifying Chinese Canadian Food Landscape
Today, Chinese Canadian cuisine is more diverse than ever. In 2019, approximately 30,000 people immigrated from the People's Republic of China to Canada. Consequently, more and more restaurants cater to the tastes of immigrants from different parts of China.
Nowadays, restaurants that serve food from a specific region (or even a specific city) are the norm in major urban centres. Sichuan food, for example, has become a popular cuisine in Canada. Diners in major Canadian cities, such as Toronto and Vancouver, now have unlimited access to restaurants that serve mala food. Mala is the numbing and spicy food that Sichuan is known for. Hot pot, which involves a communal pot of bubbling broth that raw meat, vegetables and other ingredients are cooked in, is another common type of Chinese food that's gaining popularity. You can even find different types of hot pot, from the lamb-heavy style that's preferred in northern China to the seafood-oriented version that's common in the southern part of the country. Taiwanese food is another increasingly popular type of Chinese cuisine. While bubble tea has been popular in Canada since the 1990s, lesser-known Taiwanese-style night markets and foods (such as stinky tofu) are also becoming more common.
Big chains from East Asia are becoming a common sight in both urban Chinatowns and suburban ethnic enclaves. Iconic Taiwanese chain Din Tai Fung, for example, is very popular in North America for its expertly wrapped xiao long bao (soup dumplings).
Third-culture chefs — mostly the adult children of Chinese immigrants — are also experimenting by blending Western and Chinese cuisines. (See also Susur Lee.) The results of these experiments include burgers that use Chinese bao-style buns, Singapore-style noodles smothered in shawarma sauce and lobster chow mein, to name a few. Like the early chop suey houses and the evolving culinary scene in the suburbs, these "fusion" restaurants showcase the changing nature of Chinese Canadian culture.