When Chinese immigrants came to Canada in the 1800s, there weren't restaurants catering to their tastes — let alone popular restaurants selling food from China. Nowadays, Chinese food is one of the most popular types of cuisine. There are restaurants all around the world serving Chinese dishes. In Canada, Chinatowns around the country are must-visit destinations for food. (See Toronto Chinatown; Montreal Chinatown; Victoria Chinatown; Vancouver Chinatown)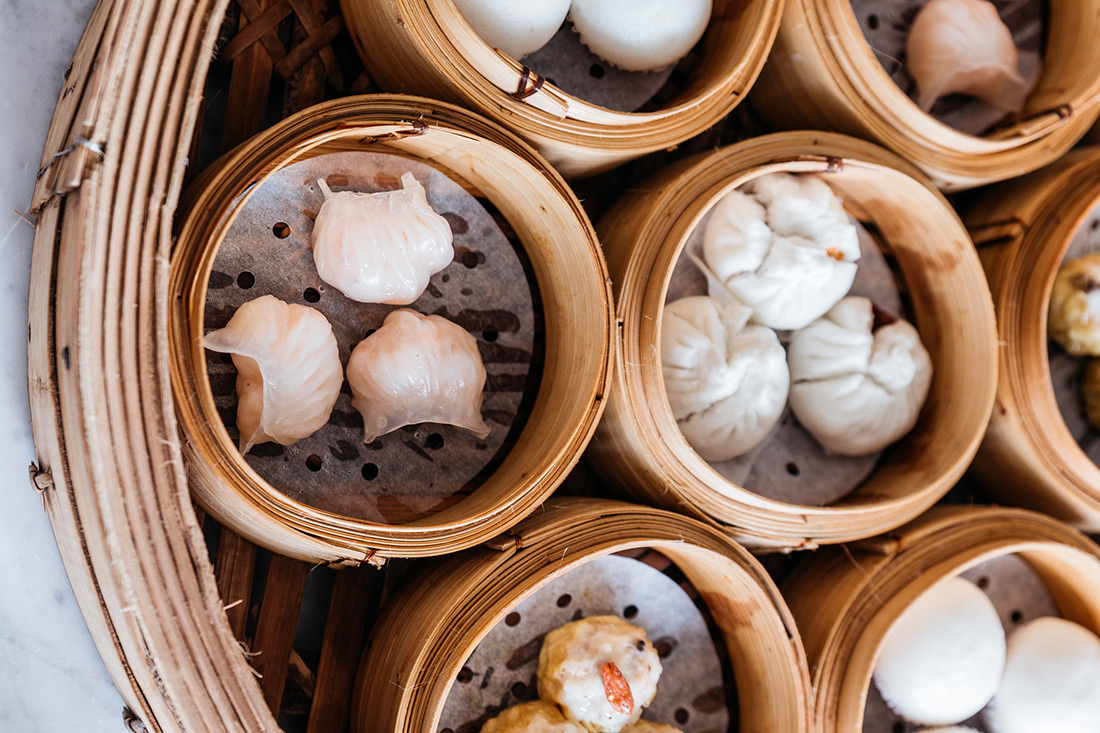 Broccoli beef
Broccoli beef is a Chinese takeout staple. The dish is thought to be a take on gai lan chao niu rou, which combines Chinese broccoli (gai lan) and thinly sliced pieces of fried beef. Early Chinese immigrants in North America couldn't access gai lan, so they substituted for it with broccoli. The combination of the broccoli with the tenderized and flavourful beef makes broccoli beef one of the most popular Chinese dishes. The simplicity of the ingredients and recipe make it a go-to for chefs in restaurants and at home.
Chop suey
Chop suey is another historical staple of Chinese restaurants in Canada. It's made of a variety of vegetables and chopped-up meat cooked together in a savoury sauce thickened with cornstarch and then served over rice or noodles. The recipe and specific ingredients for chop suey differ greatly from restaurant to restaurant. This is because the dish was invented to help chefs use up any ingredients they had. We are not entirely sure how chop suey came to be. It's believed that a Chinese immigrant or diplomat invented it in North America, though it's also possible that Chinese immigrants based chop suey on a Cantonese dish, tsap seui, which means "miscellaneous leftovers."
Chow mein
Chow mein is a general word that means stir-fried noodles. Typically, chow mein is topped with vegetables like bell peppers and bean sprouts, though it is also served with meat or tofu. There are many variations of chow mein. Some of the most popular versions include Cantonese chow mein (which features egg noodles that are deep-fried until crunchy) and soy sauce chow mein.
Dim sum
Dim sum is a traditional Chinese meal consisting of small plates of food like siu mai (meatball dumplings), har gow (shrimp dumplings) and BBQ pork buns. This cuisine originated in the southern Chinese province of Guangdong. Going to get dim sum is also called yum cha, or "to drink tea," by Cantonese speakers. This is a nod to the tea that's traditionally served alongside the small dishes. Dim sum has been enjoyed by people in North America for over a hundred years. Some of the oldest dim sum restaurants in North America have been in San Francisco since the 1920s. It's less clear when the earliest dim sum restaurants were established in Canada. However, its popularity exploded in the 1970s and 1980s, when an immigration cohort from Guangdong and neighbouring Hong Kong arrived.
Dumplings
Chinese chefs have been wrapping dumplings for more than 1,800 years. The filled pieces of dough are a popular staple of Chinese restaurants in Canada. There are a few ways to prepare dumplings, the most popular being steamed, fried or boiled. There are many different varieties of dumplings — wontons (which are typically served in soup), potstickers (which are usually pan-fried to have crunchy bottoms), and soup dumplings, or xiao long bao (which are steamed and filled with scolding broth).
Fried rice
This ubiquitous dish is another very popular Chinese restaurant pick. There are lots of different types of fried rice. Restaurateurs and home chefs can customize their dishes with whatever meat and vegetables they have on hand. Some well-known versions of fried rice include golden fried rice, where the rice is tossed in egg yolk to give it a yellow hue, and yang chow fried rice, which combines a number of proteins together, like shrimp and pork.
General Tso's Chicken
Chinese chef Peng Chang-kuei invented General Tso's chicken, which he named after a 19th-century general. Peng once supervised the grand banquets for the Chinese Nationalist government before they were toppled by the Chinese Communists in 1949. Peng fled to Taiwan, where he invented the famous chicken dish. His original General Tso's chicken was more sour and heavy; it sometimes had bones and skin still on it. The version that's popular in North America is sweeter and deep-fried, similar to sweet-and-sour pork.
Ginger beef
Ginger beef is a uniquely Chinese Canadian dish. In Calgary, in the 1970s, chef George Wong wanted to drum up business and make his menu more appealing to Canadian tastes. Inspired by British pub food, and based on a Northern Chinese recipe, Wong deep-fried pieces of shredded beef and simmered the cooked meat in a spicy chilli sauce. The dish became a hit. It was dubbed ginger beef because Western diners thought there was ginger in the sauce.
Sweet-and-sour pork
This brightly coloured dish is one of the most popular Chinese takeout dishes. Sweet-and-sour pork was first popular in China. It was brought over to North America by Chinese immigrants in the 1800s who worked on the railroads. The dish consists of deep-fried, bite-sized pork that's stir-fried in a sweet-and-sour sauce. Nowadays, the sauce is usually made from sugar, ketchup, vinegar and soy sauce. Oftentimes, ingredients like pineapple chunks and bell pepper are added to the dish for an extra bit of tang.