timeline
Terry Fox
After losing his right leg to cancer at age 18, Terry Fox decided to run across Canada to raise awareness and money for cancer research. With the use of a customized running prothesis, he set out from St. John's, Newfoundland, on 12 April 1980 and covered 5,373 km in 143 days — an average of 42 km (26 miles) per day. He was forced to stop his Marathon of Hope outside Thunder Bay, Ontario, on 1 September 1980, when cancer had invaded his lungs. He died one month before his 23rd birthday.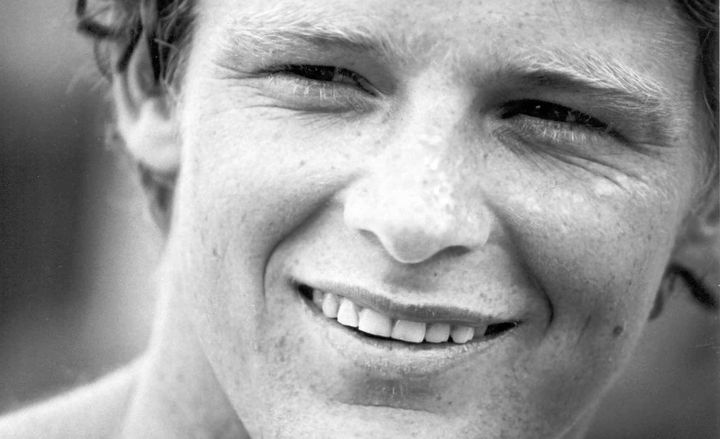 January 01, 1966

Family Leaves Winnipeg

The Fox family moves west and eventually settles in Port Coquitlam, a suburb east of Vancouver.

June 01, 1976

High School Athlete of the Year

In Grade 12, Fox and his friend Doug Alward are co-winners of the Athlete of the Year Award at their high school in Port Coquitlam. Terry is also an excellent student, graduating with one B on an otherwise straight-A report card.

November 12, 1976

Car Accident

Fox rear-ends a truck while driving on the highway. His car is a wreck, but Fox escapes without visible injury. The only problem is a sore right knee, which he assumes he hurt during the crash.


March 04, 1977

Cancer Diagnosis

In December 1976, during his first year playing basketball at Simon Fraser University, Fox notices a new pain in his right knee. He thinks it is just a cartilage problem, but in early March he wakes up one morning to find he can't stand. On 4 March 1977, he learns it is a tumour. He is diagnosed with osteogenic sarcoma, which often starts in the knee and spreads through the muscles and tendons.

March 09, 1977

Leg is Amputated

When Fox is only 18, doctors amputate his right leg 15 cm above the knee. The night before his surgery, Fox's high school coach, Terri Fleming, gives him a Runner's World article about Dick Traum, an amputee who had run the New York City Marathon. The following morning, Fox shows the article to nurse Judith Ray. "Someday I'm going to do something like that," he tells her. He soon begins physiotherapy and a 16-month chemotherapy program at the British Columbia Cancer Control Agency in Vancouver.


July 01, 1977

Terry Fox Meets Rick Hansen

After meeting Terry Fox at a gym, Rick Hansen asks him to join the Vancouver Cable Cars wheelchair basketball team. Fox practices hard as he learns a different way to play basketball, all while undergoing chemotherapy. By the end of the summer, he is chosen for the team that competes at the 1977 national wheelchair basketball championships. Fox plays with the Cable Cars from 1977 to 1980, winning the national championship in 1978 and 1979. In the 1979–80 season, he is selected to play on the all-star team of the North American Wheelchair Basketball Association.

February 01, 1979

Training Begins

Fox begins training for the Marathon of Hope. His prosthetist, Ben Speicher, modifies his prosthesis, which is designed for walking, so that it can better withstand the impact of running. Even with the modifications, it is still awkward and uncomfortable. By the end of his 14 months of training, Fox will have run more than 5,000 km.

September 01, 1979

Prince George Race

Fox competes in a race in Prince George, British Columbia. Although he had originally planned to run in the eight-and-a-half-mile race, he instead runs the 17-mile (27 km) version with friend Doug Alward and brother Darrell. Terry finished last, but only 10 minutes behind the final two-legged runner. Shortly after the race, Fox tells his parents of his plan to run across Canada. His mother, Betty, thinks it is crazy. His father, Rolly, simply asks when he plans to start.

October 15, 1979

Fox Writes to the Canadian Cancer Society

His letter sums up his motivation for the Marathon of Hope: "The night before my amputation, my former basketball coach brought me a magazine with an article on an amputee who ran in the New York Marathon. It was then I decided to meet this new challenge head on and not only overcome my disability, but conquer it in such a way that I could never look back and say it disabled me… [A]s I went through the 16 months of the physically and emotionally draining ordeal of chemotherapy, I was rudely awakened by the feelings that surrounded and coursed through the cancer clinic. There were faces with the brave smiles, and the ones who had given up smiling. There were feelings of hopeful denial, and the feelings of despair. My quest would not be a selfish one. I could not leave knowing these faces and feelings would still exist, even though I would be set free from mine. Somewhere the hurting must stop... and I was determined to take myself to the limit for this cause." In addition to the Canadian Cancer Society and the War Amputations of Canada, Fox also secures sponsorship from Imperial Oil, Adidas, the Ford Motor Company and others.

April 12, 1980

Marathon of Hope Begins (0 km)

Fox begins his cross-country Marathon of Hope, dipping his artificial leg in the Atlantic Ocean and setting out from St. John's, Newfoundland. He takes a bottle of water from the ocean, which he plans to empty into the Pacific when he dips his leg there at the end of his run.

May 06, 1980

Channel-Port aux Basques, Newfoundland (882 km)

Having run across Newfoundland in 24 days, Terry raises $10,000 — roughly one dollar per person — in Channel-Port aux Basques on his last day in the province.

May 25, 1980

Near Charlottetown, PEI (1,699 km)

Fox writes in his journal, "There were lots of people out to cheer me on and support me. Incredible! … I had another dizzy spell during the run. Still freezing, but I wasn't wearing sweats so people could see my leg. I'd run just over twenty-eight miles."


June 06, 1980

Bristol, New Brunswick (2,214 km)

From Terry's journal: "The first few miles were the usual torture. My foot was blistered bad, but my stump wasn't too bad.… Today I had tremendous support. Everybody honked and waved. People all over looked out of their homes and stores and cheered me on."


June 11, 1980

Highway 185, Quebec (2,426 km)

Fox writes in his journal, "The only people here who know about the run are the truckers and the out-of-province people. Everyone else wants to stop and give me a lift." Fox would later complain that drivers in Quebec, where the run was barely publicized, were "continually forcing me off the road. I was actually honked off once… It is so frustrating." In Ontario, the provincial police begin to escort Fox as he runs.

July 01, 1980

Ottawa, Ontario (3,123 km)

Terry kicks the ceremonial opening ball at a CFL exhibition game. The crowd of more than 16,000 people gives him a standing ovation. The next day, Fox meets Prime Minister Pierre Trudeau.

July 11, 1980

Toronto, Ontario (3,523 km)

Toronto Maple Leafs star Daryl Sittler presents Terry with his 1980 NHL All-Star team jersey. Sittler tells the media, "I've been around athletes a long time and I've never seen any with his courage and stamina."

July 14, 1980

Hamilton, Ontario (3,622 km)

Gord Dickson, the 1960 Canadian Marathon Champion, gives Terry his gold medal as a gift. A throng of teenagers swarms Terry after he gives a brief speech at the Royal Botanical Gardens.  


August 27, 1980

Terrace Bay, Ontario (5,153 km)

Terry writes in his journal about a 10-year-old boy who had lost his leg to cancer: "Greg rode his bike behind me for about six miles and it has to be the most inspirational moment I have had!… At night we had a beautiful reception in Terrace Bay. I spoke about Greg and couldn't hold back the emotion."

September 01, 1980

Thunder Bay, Ontario, Marathon of Hope Ends

After running 5,373 km in 143 days, and having raised around $2 million, Fox stops his run in Thunder Bay due to chest pains. X-rays later reveal the cancer has spread to his lungs. Before returning to Port Coquitlam, he tells a press conference: "I'm gonna do my very best. I'll fight. I promise I won't give up."

September 03, 1980

Terry Fox Run Proposed

Isadore Sharp, Chairman and CEO of Four Seasons Hotels and Resorts, commits to organizing an annual fundraising run for cancer research in Terry's honour. He writes to Terry in a telegram, "You started it. We will not rest until your dream to find a cure for cancer is realized."

September 07, 1980

CTV Telethon

CTV airs a telethon to raise money for the Martahon of Hope. Many celebrities and notable Canadians appear, including Anne Murray, Daryl Sittler, Karen Kain, Toller Cranston, Elton John and John Denver. The telethon raises $6.5 million in five hours, pushing the total amount raised by the Marathon of Hope to $10 million.

September 19, 1980

Order of Canada

Terry Fox is made a Companion of the Order of Canada at a ceremony in Port Coquitlam. He becomes the youngest person ever to receive the country's highest civilian honour.

October 20, 1980

Order of the Dogwood

BC Premier Bill Bennett presents Terry with the Order of the Dogwood (the precursor of the Order of British Columbia), the province's highest civilian honour, at the Fox family home in Port Coquitlam.

December 17, 1980

Fox Wins Lou Marsh Trophy

Terry Fox is unanimously named the winner of the Lou Marsh Trophy as Canada's athlete of the year.

December 23, 1980

1980 Newsmaker of the Year

The Canadian Press names Terry Fox the Newsmaker of the Year.

February 01, 1981

One Dollar Raised for Every Canadian

The Marathon of Hope has now raised a total of $24.17 million. Terry achieves his goal to raise one dollar for every person in Canada (population 24.1 million).

June 06, 1981

The SFU Terry Fox Gold Medal

Simon Fraser University bestows upon Fox the inaugural Terry Fox Gold Medal, awarded annually to "an SFU student who has demonstrated courage in the face of adversity and possesses qualities becoming of a role model."

June 28, 1981

Terry Fox Dies

After undergoing months of treatment for cancer, Terry contracts pneumonia in June 1981 and goes into a coma on 27 June. He dies at Royal Columbian Hospital in New Westminster at 4:35 a.m., one month before his 23rd birthday. The federal government orders flags across the country to be flown at half-mast. Addressing the House of Commons, Prime Minister Pierre Trudeau says, "It occurs very rarely in the life of a nation that the courageous spirit of one person unites all people in the celebration of his life and in the mourning of his death." Trudeau expresses, on behalf of all Canadians, "our profound gratitude for the gift which Terry gave to all of us, the gift of his own boundless courage and hope."

July 30, 1981

Terry Fox Humanitarian Award

The federal government, through the Department of Fitness and Amateur Sport and the Department of Canadian Heritage, establishes a $5 million endowment in Terry's name to provide scholarships to young Canadians. The government grants the fund another $10 million on 31 May 2006.

Canada's Sports Hall of Fame Induction

Terry Fox is posthumously inducted into Canada's Sports Hall of Fame, in the Honourary Member category.

September 13, 1981

First Terry Fox Run

The first Terry Fox Run was held, in more than 800 Canadian towns and cities. Today, millions of participants in dozens of countries take part in the run to raise money for cancer research, honouring the young Canadian who started it all with his Marathon of Hope in 1980.

December 18, 1981

1981 Newsmaker of the Year

The Canadian Press names Terry Fox the Newsmaker of the Year for the second consecutive year.

April 13, 1982

Postage Stamp

Canada Post issues a stamp in Terry's honour, foregoing its rule to wait at least 10 years after a person's death before so honouring them

April 20, 1982

Allocation of Funds Begins

The Terry Fox New Initiative Programs, a new division of the National Cancer Institute of Canada, begins allocating the  $27.8 million raised to that point by the Marathon of Hope. 


June 26, 1982

Thunder Bay Monument Unveiled

A monument featuring a 2.7 m bronze statue of Terry Fox is unveiled near where he ended his Marathon of Hope outside Thunder Bay, Ontario.

May 27, 1983

The Terry Fox Story

The Terry Fox Story, starring Eric Fryer as Fox and Robert Duvall as Bill Vigars, is released in Canada after debuting in the United States on HBO on 20 May. It goes on to win five Genie Awards, including Best Motion Picture.

March 31, 1984

Journey for Lives Begins

Inspired by Terry Fox, Steve Fonyo, who lost his left leg to cancer in 1977 at the age of 12, begins his Journey for Lives run across Canada. Like Fox, the 18-year-old Fonyo dips his leg in the Atlantic Ocean before setting out from St. John's, Newfoundland.

March 21, 1985

Man In Motion World Tour Begins

Inspired by his friend and wheelchair basketball teammate Terry Fox, Rick Hansen begins wheeling around the world to raise awareness, public support and finances for spinal cord research, rehabilitation and wheelchair sports.

May 22, 1987

Man In Motion World Tour Ends

Rick Hansen completes his Man In Motion World Tour in Vancouver, having wheeled over 40,000 km through 34 countries in 26 months and having raised $26 million. More than 50,000 people attend a celebratory ceremony at BC Place the next day.

May 26, 1988

Terry Fox Foundation Established

The Terry Fox Foundation is founded when the Terry Fox Run becomes a registered charity. It is independent of the Canadian Cancer Society.

September 01, 1992

Terry Fox Run Goes International

The International Terry Fox Run is held for the first time in 32 countries.


July 01, 1999

Canada's Greatest Hero

Terry Fox is named Canada's greatest hero in a national survey.


January 17, 2000

Second Postage Stamp

Canada Post issues a new stamp featuring Fox as part of its Millennium Collection of influential Canadians.

November 29, 2004

CBC's The Greatest Canadian

Based on audience feedback and nationwide polls, Terry Fox is ranked No. 2 (behind Tommy Douglas) in CBC's six-episode reality series The Greatest Canadian.

April 04, 2005

Commemorative Coin

The Royal Canadian Mint issues a commemorative one dollar coin in Terry's honour. To mark the 25th anniversary of the start of the Marathon of Hope on 12 April, the Mint allows the public to exchange regular coins for the commemorative coin.

April 12, 2005

Douglas Coupland Book

Douglas Coupland's Terry: Terry Fox and His Marathon of Hope debuts in the Top 10 on the Canadian best-seller list.

October 29, 2007

Terry Fox Research Institute Established

The institute, located in Vancouver, "invests in world-class, collaborative cancer research teams and partnerships."

February 12, 2010

Betty Fox Carries Flag at Olympic Opening Ceremonies

Terry's mom, Betty Fox, who in the years since her son's death became a tireless advocate for cancer research, serves as one of eight flag bearers who carry the Olympic flag during the opening ceremonies of the 2010 Olympic Winter Games in Vancouver.

February 27, 2010

Terry Fox Award at the Vancouver Olympics

The 2010 Vancouver Olympic Organizing Committee presents figure skater Joannie Rochette and cross-country skier Petra Majdic with the Terry Fox Award, for "showing determination and humility in the face of obstacles."

September 12, 2010

Steve Nash's "Into the Wind" Premieres at TIFF

"Into the Wind," an hour-long episode of ESPN's acclaimed 30 For 30 series co-directed by NBA star Steve Nash, has its world premiere at the Toronto International Film Festival. "I remember being a six-year-old boy and waking up every morning and rushing to the TV to see where Terry was that day," Nash said at the time, describing Fox as his personal hero. "To see his face hiding the pain and to hear his words disguising the sacrifice was as motivating and as educational an experience as I've ever had." The episode airs on ESPN on 28 September.

June 17, 2011

Death of Betty Fox

Terry's mom, Betty, who had established and ran the Terry Fox Foundation with Darrell Fox, dies in a hospice in Chilliwack, BC, after a long illness. Betty had been awarded the Queen Elizabeth II Golden Jubilee Medal in 2002.

March 22, 2012

Canadian Medical Hall of Fame Induction

Terry Fox becomes the youngest person ever inducted into the Canadian Medical Hall of Fame. He is inducted in the Builder category for his efforts in raising money for cancer research.


April 12, 2012

Mile Zero Statue Unveiled in St. John's

A bronze statue commemorating the moment Fox dipped his leg in the ocean in St. John's, Newfoundland, is unveiled near the exact spot where it happened. Rolly Fox, Terry's father, attends the packed ceremony. "It's emotional being here today," he said. "We were in Thunder Bay when he had to finish, but we wished we'd been at the start of his run.… We saw him off at Vancouver on the 7th of April, 1980, but we wished we'd come with him here."

September 21, 2013

Canada's Walk of Fame Induction

Terry Fox is posthumously inducted into Canada's Walk of Fame in Toronto. Rolly and Darrell Fox accept the honour on Terry's behalf.


September 24, 2014

Order of the Sash, Métis Nation British Columbia

Métis Nation British Columbia posthumously awards the Order of the Sash to Terry Fox (who had Métis heritage through his mother's side of the family), "in recognition of his contribution and sacrifice to our nation, and for giving so much of himself in the name of human kindness.

November 28, 2014

Terry Fox Day Declared in BC

The government of British Columbia declares the second Sunday after Labour Day every year to be Terry Fox Day. In 2015, the same day is declared Terry Fox Day in Ontario, while Manitoba begins recognizing it on the first Monday in August.

April 02, 2015

Museum Exhibit

An exhibit about the Marathon of Hope, "Running to the Heart of Canada," opens at the Canadian Museum of History. It travels across the country until 2019.

September 15, 2015

Terry Fox Heritage Minute Released

Historica Canada releases a Heritage Minute about Terry Fox to mark the 35th anniversary of the Marathon of Hope.

April 01, 2020

$800 Million Raised

The Terry Fox Foundation announces that more than $800 million has been raised for cancer research in Terry's name.