The history of Black Canadian voting rights is marked by contrasting shifts. Enslaved during the period 1600–1834, Black persons could not vote. Emancipated, they were entitled to the rights, freedoms and privileges enjoyed by British subjects, including the franchise; however, racial discrimination did at times impede Black Canadians' right to vote. The rights and freedoms of Black women were further restricted by virtue of their sex.
Black communities in Canada represent an array of experiences, below are some that relate to the right to vote.
The history of Black Canadian voting rights is marked by contrasting shifts. Enslaved during the period 1600–1834, Black persons could not vote. Emancipated, they were entitled to the rights, freedoms and privileges enjoyed by British subjects, including the franchise; however, racial discrimination did at times impede Black Canadians' right to vote. The rights and freedoms of Black women were further restricted by virtue of their sex. Black communities in Canada represent an array of experiences, below are some that relate to the right to vote.
History
During the period of African enslavement in Canada, from the early 1600s until its abolition on 1 August 1834, Black persons were legally deemed to be chattel property (personal possessions). As such, Black persons were not considered to be "people" and therefore did not possess the rights or freedoms enjoyed by full citizens, including protections under the law and involvement in the democratic process.
Black persons in Canada secured some rights and freedoms as their social status changed from enslaved persons to British subjects with the gradual abolition of enslavement, during the period 1793 to 1834 (see also Chloe Cooley and the Act to Limit Slavery). As British subjects, they were technically entitled to all of the rights, freedoms and privileges that status carried. However, because of their skin colour, Black Canadians faced racism and their civil rights and civil liberties were limited. The rights and freedoms of Black women were further restricted by virtue of their sex. Most women did not gain suffrage at the federal level until 1918 and between 1916 and 1940 at the provincial level (see Women's Suffrage).
Black men had the right to vote provided they were naturalized subjects and owned taxable property. Until 1920, most colonies or provinces required eligible voters to own property or have a taxable net worth — a practice that excluded poor people, the working class and many racialized minorities.
Though Black Canadians were not prohibited by law from exercising the right to vote, public sentiment against extending the franchise to Blacks did exist, and local conventions did prevent Black persons from voting. The prejudice and discrimination they faced affected Black peoples' decision to attend polling stations.
Preserving the Right to Vote
Black residents felt strongly about the franchise and took measures to secure this right when it was encroached or threatened. In 1848, Black men in Colchester, Canada West (Ontario), attended the election of parish and township officers. Though Black residents accounted for a third of the town's population, the white men in attendance physically blocked them from voting. Blacks in Colchester sought the legal intervention of a local judge, who ordered that their rights be restored. Their voting rights were affirmed by the local courts and the chairman of the township meeting was subsequently prosecuted and received a heavy fine.
Black Canadians publicly expressed their anger at the mistreatment of the Black voters in Colchester. In an article published in Voice of the Fugitive, Black abolitionist and Provincial Freeman co-editor Samuel Ringgold Ward charged that the right to vote was the "most sacred" of all rights. He remarked that had the white men stolen all of the Black voters' grain and cattle and left them with nothing, that violation would pale in comparison to that of taking away their "right of a British vote."
Franchise as Political Voice
Although the Black vote represented a small fraction of the electorate in many places, it was a valuable and deciding factor in a number of elections. Black voter support was courted by white politicians, and on several occasions, Black communities used this as a means to address issues of concern. In 1849, for instance, Edwin Larwill, a politician in Canada West, brought forth several anti-Black resolutions at a Western District council meeting, including a petition to the government requesting that African American immigrants be charged a poll tax. Larwill also asked the provincial government to contemplate whether Blacks should have the right to vote. Years later, in 1857, Larwill lost his seat on the Legislative Assembly to Archibald McKellar, due in large part to Black voters strategically casting their vote for McKellar, who opposed Larwill's anti-Black discrimination.
Both Liberal and Conservative candidates vied for the Black vote during Nova Scotia's 1843 and 1847 elections. Widely supported Reform (Liberal) leader Joseph Howe delivered speeches in the Black communities of Preston and Hammond Plains to rally their votes, for instance. He pledged to improve the difficult conditions faced by Black Nova Scotians due to racism and the hardships of settlement. Howe also vowed to address the Black community's concerns about the government withholding land grants to Black Loyalists (see also Loyalists).
When Albert Jackson was hired as the first Black mail carrier in Toronto in May 1882, his white colleagues refused to train him for the job and did not want to work alongside him. Toronto's Black community held meetings to decide on a course of action and wrote letters to newspaper editors. James David Edgar, who was pursuing a Liberal nomination for the federal election, supported Jackson in order to obtain votes from members of the Black community. Meanwhile, Conservative Prime Minister Sir John A. Macdonald was approached by Black citizens while on the campaign trail in Toronto. They demanded that Jackson be trained and returned to his post. Jackson's boss, Toronto postmaster Thomas Charles Patterson, was a close friend of the Prime Minister. Macdonald persuaded him to yield to the Black community's grievance and to train Jackson. One month after he was hired, Jackson received his mail delivery route.
Elected Office
Portrait of William Peyton Hubbard by W.A. Sherwood, 1913 (courtesy City of Toronto Art Collection, Cultural Services).
Hubbard is third from the bottom right in this photo of city politicians, 14 July 1898 (courtesy City of Toronto Archives, Fonds 1268, Series 1317, Item 216).
Image: Black History Canada/Ontario Black History Society.
Lincoln Alexander, Lieutenant-Governor of Ontario.
Black men fought to reinforce their right to the franchise. They also engaged in the democratic process by pursuing elected office. In 1859, Abraham Shadd became the first Black man in Canada to be elected to a municipal government when he was elected to counsel in Raleigh, a township in Kent County, Canada West. On the west coast, in Victoria, British Columbia, Mifflin Wistar Gibbs became a city counselor in 1866. William Peyton Hubbard was the first and only Black (acting) mayor in Toronto, a position he occupied while serving as an alderman from 1894 to 1914. In 1963, Leonard Braithwaite became the first Black Canadian to be elected to a provincial legislature, and in 1968, Lincoln Alexander became the first Black Member of Parliament.
Black Women
Like other women able to exercise the right to vote in the mid-19th century, women of African descent could vote as long as they met the general eligibility criteria: citizenship and ownership of taxable property. Married or single women in Canada West (Ontario) could vote for school trustees beginning in 1850, and by 1900, women gained the ability to vote in municipal elections in most regions in the country. Louisa Ann Johnson, aunt of Black lawyer and activist James Robinson Johnston in Halifax, Nova Scotia, voted in that city's 1895 and 1897 municipal elections. Still, the limitations placed on women voters in provincial and federal elections also applied to Black women.
Image: Archives of Ontario/microfilm N 40, Reel 1.
Black women participated in the women's suffrage movement and in the fight for full political inclusion, including the right to hold public office. In the mid-19th century, Mary Ann Shadd Cary used her newspaper, The Provincial Freeman, as a transnational platform to discuss women's rights, including the right to vote. Shadd informed readers of suffrage meetings held in Canada and the United States. The struggle for the abolition of enslavement in America and full civil rights for those once enslaved encompassed the right to vote. Some women of African descent fought to ensure that that right was extended to them as well (see Harriet Tubman).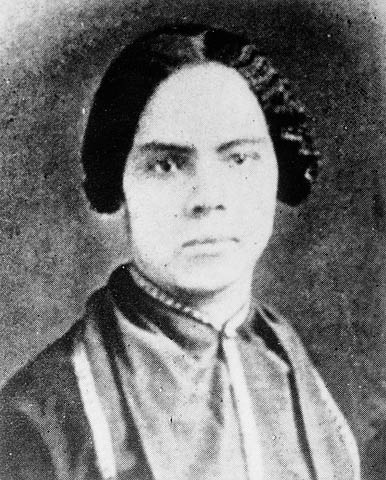 Portrait of Harriet Tubman (c. 1869) by W.J. Moses (courtesy University of Western Ontario - Special Collections).
At the height of the women's suffrage movement — the turn of the 20th century — Louisa Johnson was actively involved in agitating for women's right to vote. Similar to European-Canadian women, the level of engagement by Black women in the movement to secure the franchise tended to be influenced by their socio-economic background. Black women involved in such mobilization efforts tended to live in urban centres, were more often educated and financially secure.
The Wartime Elections Act of 1917 granted the federal franchise to the female relatives of men in the military (army or navy, active or retired). The law extended the right to vote to Black women related to Black servicemen — roughly 1,400 Black men were able to enlist, 600 of whom served in the segregated No. 2 Construction Battalion.
The photograph was taken at the dedication of a plaque in memory of the members of the No. 2 Construction Battalion, an all-Black non-combat battalion that served in the First World War. The plaque was (and is) in the main hall of Queen's Park. Rev. Mrs. H.F. Logan and Rev. H.F. Logan, who spearheaded the campaign for the plaque, are at left of centre. Also included in the photograph are Rt. Rev. Samuel R. Drake, General Superintendent of the British Methodist Episcopal Conference; Ontario Premier Ernest Charles Drury; and Sir Henry Pellatt. (City of Toronto Archives, Fonds 2, Series 411, Item 86)
Over time, Black women became more involved in the political process, and community organizations run by Black women added voter engagement to their mandate. At a 1924 meeting held by the Women's Home and Foreign Mission Society of the Baptist churches in Windsor, Ontario, the group asserted that, "We as Christian women will use our influence in this next election to keep the Ontario Temperance Act in force." (See also Temperance Movement.)
Elected Office
Keynote speaker, at the opening of the first national conference of Women of Political Action, 16 June 1973.
Senator Anne Cools (courtesy Office of the Honourable Anne C. Cools, Senate of Canada).
The first Black woman elected to provincial office was Rosemary Brown, who became a member of the legislative assembly of British Columbia in 1972, representing the BC New Democratic Party. In 1984, Daurene Lewis, descendant of Back Loyalist Rose Fortune, was elected mayor of Annapolis Royal, Nova Scotia, the first Black female mayor in North America. That same year, Anne Cools was appointed to the Senate, the first Black person to hold that position.
Publications and Community Groups
Black Canadian communities have used a variety of vehicles to encourage political engagement. Historic Black-owned publications such as the Voice of the Fugitive and the Provincial Freeman used their platform to inform readers of pressing issues affecting the community and to persuade readers to make their voices heard through their vote. This effort continued through the 20th century with the Dawn of Tomorrow, Contrast and Share newspapers. The British American Association of Coloured Brothers, founded in 1935 in Windsor, Ontario, sometimes used the annual Progress magazine that was distributed during Emancipation Day (see Slavery Abolition Act, 1833) celebrations in Windsor, Ontario for the same purpose. Community groups, such as the Central Citizens' Association in Windsor, hosted meetings and debates with political candidates.
Significance
The right to vote and participate in the political process were important to members of Black communities in Canada. After a history of enslavement and despite the racial discrimination they experienced, Black Canadians believed that voting affirmed their status as British subjects and later Canadian citizens. The political sphere provided a space in which to articulate their concerns, seek redress, improve their social conditions and ensure the protection of their rights and freedoms under the law.