Robert Foulis, inventor, civil engineer, painter (born 5 May 1796 in Glasgow, Scotland; died 26 January 1866 in Saint John, NB). Robert Foulis is known as the inventor of the world's first steam-operated fog alarm, which was installed on Partridge Island in 1859. While Foulis never patented or even profited from his life-saving innovation, his invention assisted fogbound mariners for over a century.
Early Life and Education
Robert Foulis came from a family of renowned book publishers in Glasgow. He initially studied medicine at the University of Glasgow, but left university to apprentice as an engineer. He later worked as a portrait painter in Belfast, Ireland, where he met his first wife, Elizabeth Leatham. She died shortly after their daughter, Euphemia, was born in 1817. This prompted Foulis to move to North America the next year, leaving his daughter in the care of her great-aunt in Edinburgh. She would later join him in North America. While Foulis intended to settle in Ohio, stormy weather forced his ship to dock in Nova Scotia, where Scottish friends convinced him to stay. He began working in Halifax as a painter before relocating to Saint John, New Brunswick, in 1822 to work as a civil engineer.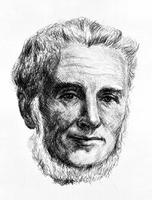 Robert Foulis, courtesy of Irma Council.
Career
Robert Foulis established the Saint John Foundry (between 1825 and 1831) and an art school (1838). He was also a founding member of the Mechanics' Institute, where he offered lectures on chemistry. Foulis installed machinery in the second steamboat to sail on the Saint John River.
Foulis's combined interest in geology and chemistry led to his involvement in coal and albertite mining. Albertite is a mineral that looks like coal. It can be found in Albert county, New Brunswick. Geologist Abraham Gesner, a contemporary of Foulis, conducted experiments on albertite. These experiments led to the development of kerosene oil. Kerosene was a cheaper alternative to the whale oil that had previously been used in oil lamps (see Lighting). In 1852, Foulis patented a lamp that he called the "Illuminating Gas Apparatus." Although the "discoverer" of kerosene oil is debated, Gesner and Foulis both used albertite for gas lighting. Beginning in 1853, Foulis helped convert the Partridge Island lighthouse in Saint John, New Brunswick, to a gas operation. He oversaw the maintenance of the light source, which used gas instead of oil for fuel.
Invention of the Steam Foghorn
On 27 September 1854, the SS Arctic collided with the French steamer Vesta just 80 km off the coast of Newfoundland due to heavy fog. Of the approximately 400 people on board, no more than 86 survived: over 60 crew members and about 24 passengers. All the women and children aboard were lost because, in the chaos, the protocol of "women and children first" was abandoned. There were not enough lifeboats and many used makeshift rafts to stay afloat. Most of the rafts disappeared and only two of the lifeboats made it to shore.
The general public was outraged when the story reached the newspapers two weeks later. In October 1854, the New-York Daily Times (now the New York Times) published "Lessons Concerning Means of Security on Ocean Steamers." The article outlined several ways to warn ships in foggy weather. This included canon firing and powerful steam whistles. The most important recommendation was to use a sound system on board each ship. The sound system would emit coded messages that would help steamers avoid collisions in reduced visibility.
While working at the Partridge Island lighthouse, Robert Foulis came across the sinking of the SS Arctic in a local newspaper. This story inspired Foulis to come up with a better way to warn ships during foggy weather. He concluded that a steam whistle that used a system of coded blasts could be an effective fog alarm. Each location would emit a different code to help mariners mark their specific location. For years, Foulis petitioned the Light House Commissioners to have his invention installed in Saint John. Finally, in 1859, the world's first steam-powered fog alarm was installed on Partridge Island. However, Foulis would not be recognized as the inventor until it was confirmed in an 1864 government report.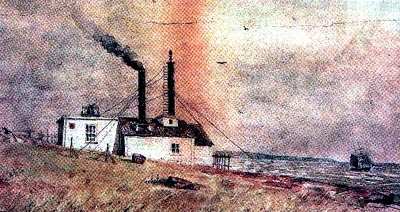 This 1865 watercolour sketch by J.C. Myles depicts the world's first steam-operated fog alarm, on Partridge Island. From the New Brunswick Times Globe, May 5 1998.
A depiction of the scene shortly before Arctic's sinking, showing the makeshift raft, several smaller improvised rafts, and an escaping lifeboat by artist James E. Buttersworth (1817-1894), courtesy of the U.S. Library of Congress/pga.00977.
Collision of SS Arctic and French Steamer Vesta in 1854, courtesy of Victorian Historian website.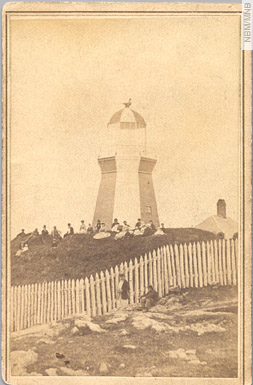 Lighthouse, Partridge Island, 1856, courtesy of McCord Museum/1967.25A
Death and Legacy
Despite his successful innovation, Robert Foulis died in poverty on 26 January 1866 in Saint John, New Brunswick. In 1898, writer Percy Hall referred to Foulis as a "misplaced genius" in New Brunswick Magazine. He argued that "under other conditions he [Foulis] might have had both wealth and power." Although Foulis never patented or profited from his steam foghorn, his innovation was used on Partridge Island for over a century.