Grace Marks, historical figure (born ca. 1828 in Ulster, Ireland [now Northern Ireland]; date and place of death unknown). Grace Marks was an Irish Canadian maid. She was convicted, along with James McDermott, of the murder of their employer Thomas Kinnear, who was killed along with his housekeeper and mistress Nancy Montgomery in 1843. Marks's trial was widely publicized in newspapers of the day. Her story has also been told in Susanna Moodie's Life in the Clearings (1853), as well as in Margaret Atwood's play The Servant Girl (1974) and her novel Alias Grace (1996). The latter was adapted by Sarah Polley into an award-winning CBC miniseries, starring Sarah Gadon as Marks.
A sketch of Grace Marks and James McDermott as they appeared at their trial for murder in Toronto in 1843.
(courtesy Richmond Hill Public Library)
Early Life
Grace Marks was born in Northern Ireland around 1828. She was one of eight children born to John Marks, who was a stonemason by trade. In 1840, when Grace was about 12 or 13 years old, her family immigrated to Upper Canada from Northern Ireland. She worked in a succession of places as a domestic servant. She was hired in July 1843 to work for Thomas Kinnear at his home in Richmond Hill, Canada West (present-day Ontario).
The Kinnear Murder Case
Thomas Kinnear was an upper-class (see Social Class) Scottish Canadian farmer who lived off Yonge Street, just north of Richmond Hill. He lived alone with his housekeeper, Nancy Montgomery. As one account stated: "the relation between the two seems to have been rather less than kin and considerably more than kind," implying that Montgomery and Kinnear were romantically involved with one another. In late June 1843, Montgomery hired James McDermott, a 20-year-old Irish Catholic, as a servant for Kinnear. About a week later, 16-year-old Grace Marks was also hired as a servant.
McDermott and Marks were employed at the Kinnear household for approximately three weeks before the double murder took place. On 29 July, Montgomery was struck in the head by an axe and strangled while Kinnear was shot in the chest. An autopsy revealed that Montgomery had been pregnant. McDermott and Marks took Kinnear's valuables and wagon and fled to Toronto. They boarded a steamer to Lewiston, New York. However, the pair were tracked down and arrested in a waterfront tavern and brought back to Toronto. They were tried separately for the murder of Thomas Kinnear on 3 and 4 November 1843.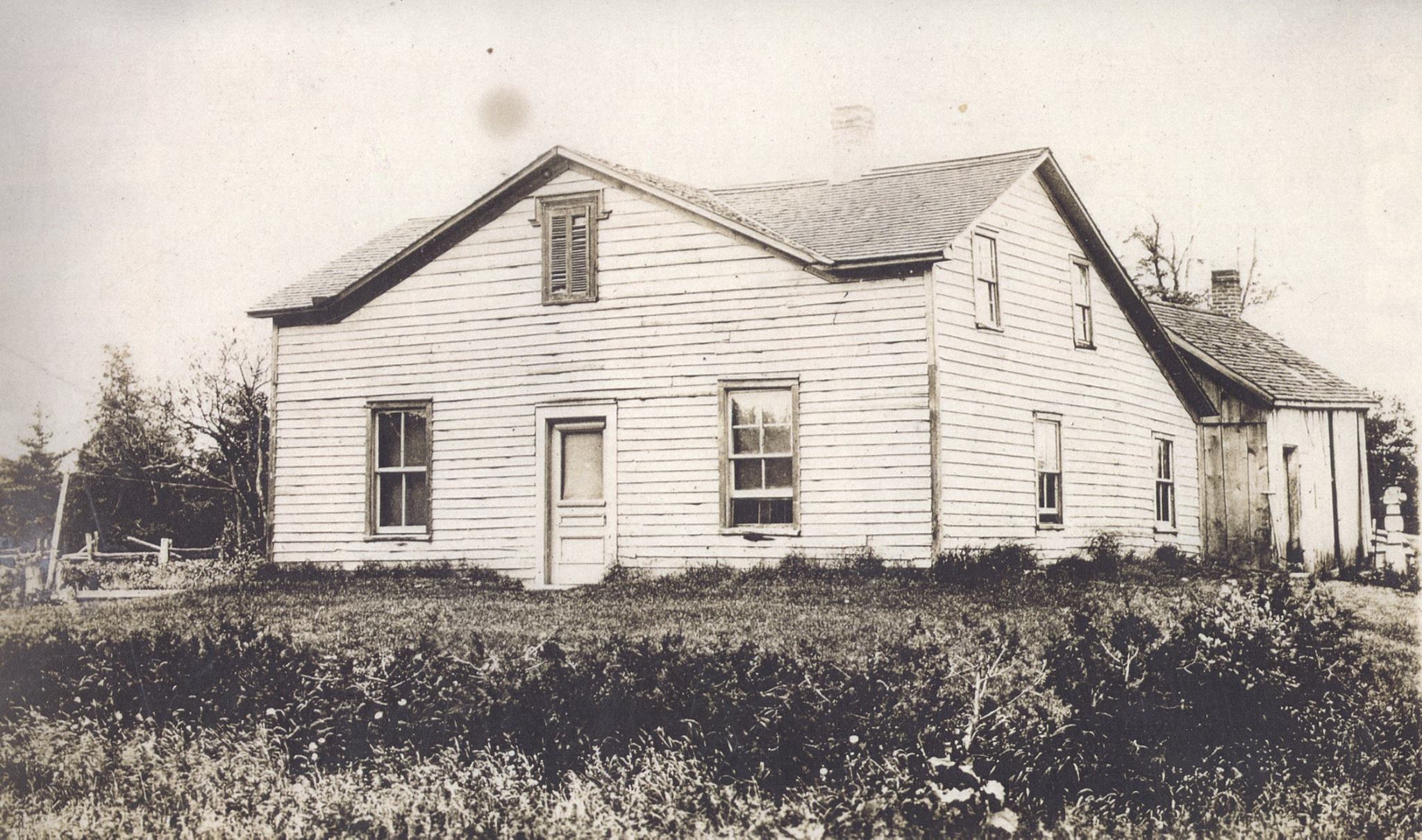 Thomas Kinnear's farmhouse in Richmond Hill.
(courtesy Richmond Hill Public Library)
The Trial
The trials of Grace Marks and James McDermott in November 1843 became a media sensation, as the proceedings were covered in newspapers across Canada. As scholar Susan E. Houston notes: "the deaths of the well-off unmarried Scottish gentleman and his housekeeper excited enormous interest. A whiff of sexual impropriety added to fascination with the gruesome details of murder." At one point, so many people were crowded in the courtroom there was concern that the floor would fall in.
McDermott and Marks gave conflicting accounts of the events in their written confessions; each blamed the other for instigating the murders. McDermott insisted that Marks strangled Montgomery, while Marks maintained that McDermott threatened her to get her assistance. McDermott said that Montgomery had fired Marks, while Marks said that it was McDermott who had been given notice by Montgomery for not doing his job properly.
Newspaper coverage and public opinion were divided on whether Marks was a femme fatale or a naive young girl caught up in McDermott's scheme. In her confession, she stated that McDermott tried to shoot her; a stray bullet was discovered lodged in a doorframe. However, some alleged that she showed up to court wearing the dead Montgomery's clothing, casting doubt on her innocence.
Victorian gender stereotypes played a prominent role in determining the outcome of the trial. (See also History of Gender Roles in Canada.) Both Marks and McDermott were convicted of the murder of Thomas Kinnear (a trial for Montgomery's murder was considered redundant). McDermott and Marks were both given a death sentence; but Marks's sentence was commuted to life imprisonment.
Prison Sentence and Later Life
Grace Marks served her sentence in the Kingston Penitentiary from 19 November 1843 until 7 August 1872. She also had a brief stint in the Provincial Lunatic Asylum (now the Centre for Addiction and Mental Health) from 1852–53. In total, she served nearly 29 years before she was pardoned. When asked about the general cause of her crime in the prison's "liberation questions," Marks wrote: "Having been employed in the same house with a villain." After her release, she moved to New York state. She then disappeared from the historical record.
In Popular Culture
Much of what is known about Grace Marks comes from Susanna Moodie's account of the "celebrated murderess" in her 1853 novel, Life in the Clearings. (See also Roughing It in the Bush; The Journals of Susanna Moodie.) After recounting her version of events from memory, Moodie gives a description of a "sad and humbled" Marks, serving her life sentence while haunted by the "bloodshot eyes" of Montgomery. When Moodie crosses paths with Marks again during a visit to the Asylum, her opinion of Marks is quite different. She describes her as "no longer sad and despairing, but lighted up with the fire of insanity, and glowing with a hideous and fiend-like merriment."
For many years, historians debated the accuracy of Moodie's fictionalized account of Marks. (In his History of Toronto and County of York, Ontario, published in 1885, Charles P. Mulvany calls Moodie's description of events "hysterical effusion" and claims she "blunders grievously" in reporting the facts.) Margaret Atwood came across Moodie's book while attending Harvard University and was intrigued by Marks's story. She wrote a play based on this account titled The Servant Girl (1974). However, Atwood was still not satisfied with Moodie's version of events, so she decided to dig deeper. This research culminated in her historical fiction novel, Alias Grace, published in 1996. It questions Moodie's portrayal of Marks as a guilty "raving maniac."
In 2017, the CBC and Netflix released a six-episode miniseries based on Atwood's novel, starring Sarah Gadon as Grace Marks, Paul Gross as Thomas Kinnear and Anna Paquin as Nancy Montgomery. It was written and produced by showrunner Sarah Polley, who had sought to adapt the novel since she first read it as a 17-year-old. The series won six Canadian Screen Awards, including best limited series and best lead actress in a limited series.