The Nature Conservancy of Canada (NCC) is the largest land conservation charity in Canada. Since 1962, NCC has helped to protect more than 160,000 km2 of land and water across the country. Its mission is to partner with individual donors, corporations, non-profits and governments to purchase and protect areas rich in species diversity (see Biodiversity). The charity and its partners achieve this goal by working with local communities to identify habitat and species in need of protection, and by implementing the best evidence-based conservation science available. As of June 2019, the NCC has conserved habitat across Canada for 34 per cent of Canada's species at risk. (See also Endangered Animals in Canada.)
The Nature Conservancy of Canada (NCC) is the largest land conservation charity in Canada. Since 1962, NCC has helped to protect more than 160,000 km2 of land and water across the country. Its mission is to partner with individual donors, corporations, non-profits and governments to purchase and protect areas rich in species diversity (see Biodiversity). The charity and its partners achieve this goal by working with local communities to identify habitat and species in need of protection, and by implementing the best evidence-based conservation science available. As of June 2019, the NCC has conserved habitat across Canada for 34 per cent of Canada's species at risk. (See also Endangered Animals in Canada.)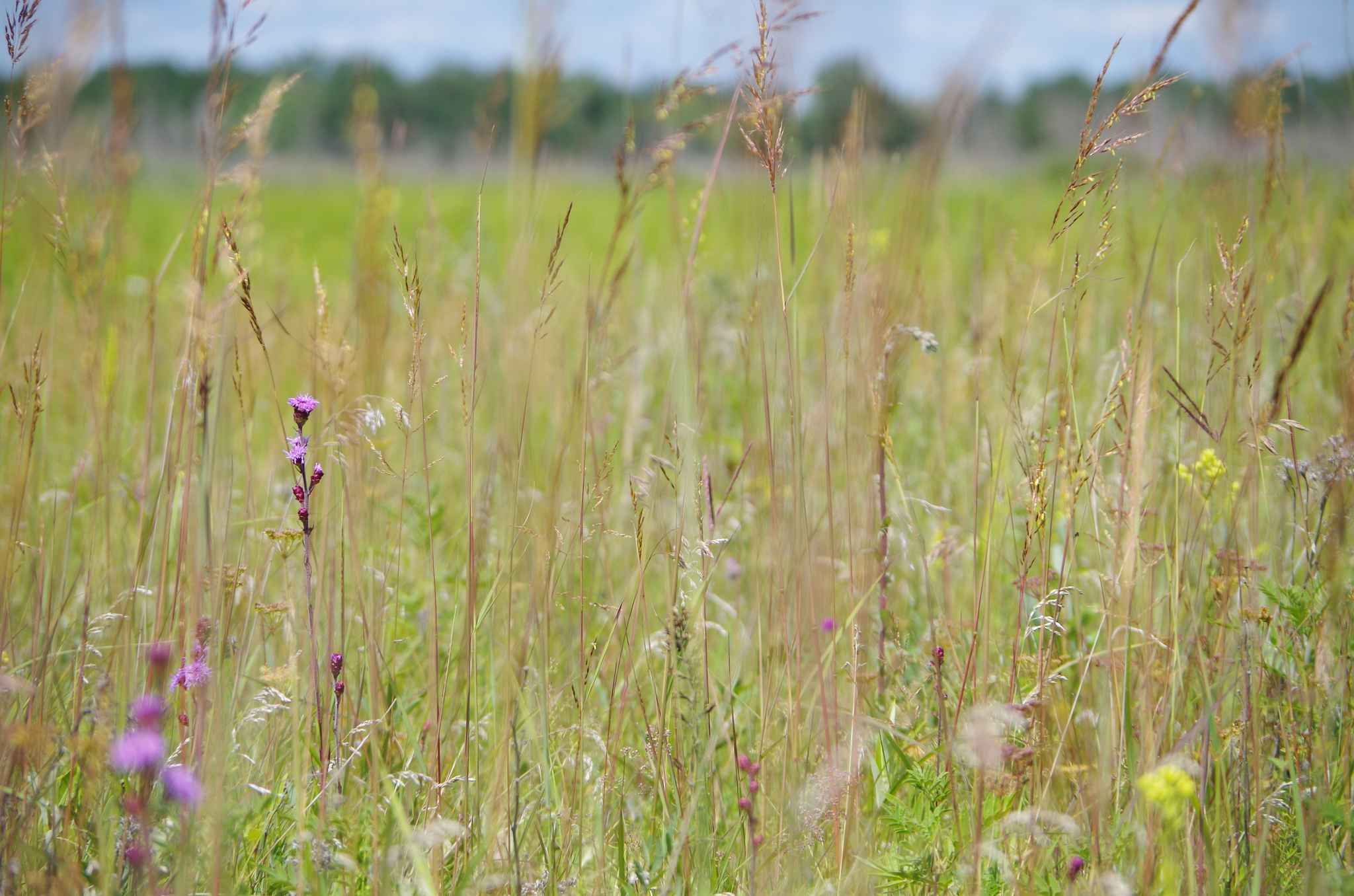 Various grass species at Manitoba's Tall-Grass Prairie Preserve. Photo taken on 10 August 2013.
History and Conservation Highlights
The Nature Conservancy of Canada (NCC) was formed in Toronto, Ontario in 1962 by a small group of avid naturalists and birders. The push was led by J. Bruce Falls, an ecologist at the University of Toronto, as well as Aird Lewis, Dave Fowle and a number of other naturalists and members of the then Federation of Ontario Naturalists. After consulting with land trusts in the United Kingdom and the United States about their efforts to purchase and protect land as species habitat, the NCC quickly moved to identify fragile land in Canada that faced similar threats from development. 
NCC's first property, purchased in 1968, was a 13.4 km2 plot called Cavan Swamp, located west of Peterborough, Ontario. Now called the Cavan Swamp Wildlife Area, it is a complex network of wetlands and bogs that protects 22 orchid species. From there, NCC made its first foray outside Ontario, buying land in Cape Breton, Nova Scotia in 1971. By the end of the 1970s, the Nature Conservancy of Canada had protected land in British Columbia, Quebec and Manitoba, with more properties added in Saskatchewan, Yukon and Newfoundland and Labrador by the new millennium. By 2000, the NCC had conserved more than 1,000 properties across the country.
Two of the most ecologically sensitive of those protected areas are in the Prairies. In Manitoba, the Tall Grass Prairie Preserve, co-owned by the NCC, occupies more than 48 km2 and is home to 16 species-at-risk, including two endangered butterflies (see also Endangered Animals; Endangered Plants).
In neighbouring Saskatchewan, the Old Man on His Back Prairie and Heritage Conservation Area is one of the NCC's flagship properties. It protects the endangered tallgrass ecosystem that once stretched from the Prairies to Texas. Since 1995, the NCC has worked with local ranchers to promote sustainable cattle grazing in the preserve, which covers approximately 53 km2. The land is managed as a "working ranch" to showcase "the positive relationship between agricultural land use and land conservation." Plains bison were reintroduced to the property in 2003, part of ongoing efforts to conserve the species, which was extirpated from Canada in the late 1800s. In 2015, Old Man on His Back was designated a Nocturnal Preserve by the Royal Astronomical Society of Canada, the first of the NCC's properties to receive such a distinction.
Organizational Structure and Funding
From the first small team led by Bruce Falls, the organization has grown to a full-time staff of about 350. It is headquartered in Toronto, Ontario, with offices in each of Canada's 10 provinces. Volunteers also play an important role in the organization. In 2019, about 3,330 volunteers from across Canada worked with the Nature Conservancy of Canada on more than 230 stewardship projects.
Since 1997, the NCC has been led by John Lounds, who previously led the Federation of Ontario Field Naturalists (now Ontario Nature) for six years. In Lounds's 20 years leading the organization, the NCC's operating budget has increased from $8 million annually to more than $90 million today.
Funding from the federal and provincial governments accounts for approximately 40 per cent of the NCC's annual revenue, which totalled $88.9 million in 2019. Donations from individuals account for approximately 25 per cent, while foundations and organizations contribute roughly 15 per cent. A further 10 per cent of the NCC's annual revenue comes from corporations. Large, multinational sponsors like Shell Canada and Great-West Life have supported the Conservation Intern program. Others like TELUS, KPMG and SC Johnson have donated money in direct support of speeding up the process of land acquisition. Other sponsors have included Mountain Equipment Co-op, Kicking Horse Coffee, Bruce Power and The Globe and Mail.
More than 70 per cent of all revenue from donations and corporate grants is directed toward buying land to support the NCC's conservation projects.
Conservation Process
The Nature Conservancy of Canada uses a four-part process to conserve lands.
Define: In collaboration with university and government researchers, the NCC's conservation scientists determine the species and habitats in greatest need of protection.
Plan: Based on an understanding of the threats these species face on both local and regional scales, the NCC drafts a strategy to reduce those threats.
Act: The NCC implements the strategy alongside partners such as local landowners and governments.
Measure: Once a parcel of land has been conserved, the NCC measures its success in conserving land as animal or plant habitat.
Once completed, the process starts all over again, with scientists reassessing their priorities. Though this process is labour intensive and lengthy, the result is conserved habitat across Canada that currently protects 223 species at risk of extinction.
Current Campaigns
Looking ahead, the NCC aims to raise more than $750 million for 500 projects under the Landmark Campaign. The single biggest land conservation initiative the NCC has ever undertaken, the Landmark Campaign's goal is to purchase and protect areas of significant ecological importance to Canada. (See also Environmental and Conservation Movements.)