Helen Kathleen Mussallem, CC, nursing educator, reformer and administrator (born 7 January 1915 in Prince Rupert, BC; died 9 November 2012 in Ottawa, ON). Mussallem started her career as a nurse at Vancouver General Hospital and was deployed overseas during the Second World War. She was instrumental in reforming nursing education in Canada and around the world. In her 18 years as the executive director of the Canadian Nurses Association, she helped transform nursing into a profession and promoted its role within Canada's health care system.
Early Life and Career
Helen Mussallem was born on 7 January 1915 in Prince Rupert, British Columbia to Solomon and Annie Mussallem, immigrants from Lebanon. Her family settled in Maple Ridge, BC, where her father would serve several terms as mayor.
Helen was inspired to pursue nursing after meeting community nurses through the Canadian Girls in Training program. She enrolled in the school of nursing at Vancouver General Hospital (VGH) at age 19 and completed the three-year program in 1937. Following her training, she continued working at VGH in operating rooms and surgical units. She also earned a diploma in teaching, supervision and administration from the University of Washington in the early 1940s.
Helen Mussallem pictured on the day of her graduation from high school. (Courtesy of the Dr. Helen K. Mussallem Biography Project/drhkm.ca)
Helen Mussallem dressed to go into the operating room of the Vancouver General Hospital. This photo dates from the time she spent at VGH before her Second World War service. (Courtesy of the Dr. Helen K. Mussallem Biography Project/drhkm.ca)
Second World War Service
During the Second World War, Helen Mussallem was encouraged by an operating room supervisor at VGH to enlist. She joined up in 1943 as a lieutenant in the No. 19 Royal Canadian Army Medical Corps. Her unit received basic training in New Brunswick before being deployed overseas. After arriving in the United Kingdom, her unit worked at the Marsden Green Hospital in Liverpool for 10 months. There, Mussallem was put in charge of the operating room despite never having worked as a supervisor. She went on to work in field hospitals in France and Germany, often under enemy fire.
In 1945, Mussallem was sent back to Canada to join the Far East Forces. This assignment was cancelled, however, after the United States dropped atomic bombs on the Japanese cities of Hiroshima and Nagasaki that August — events that would lead to the end of the war. She worked at a hospital in Prince Rupert before being discharged from active service in 1946. Mussallem had earned nine medals, making her Canada's most decorated nurse to serve in the armed forces during the Second World War. (See also Nursing Sisters.)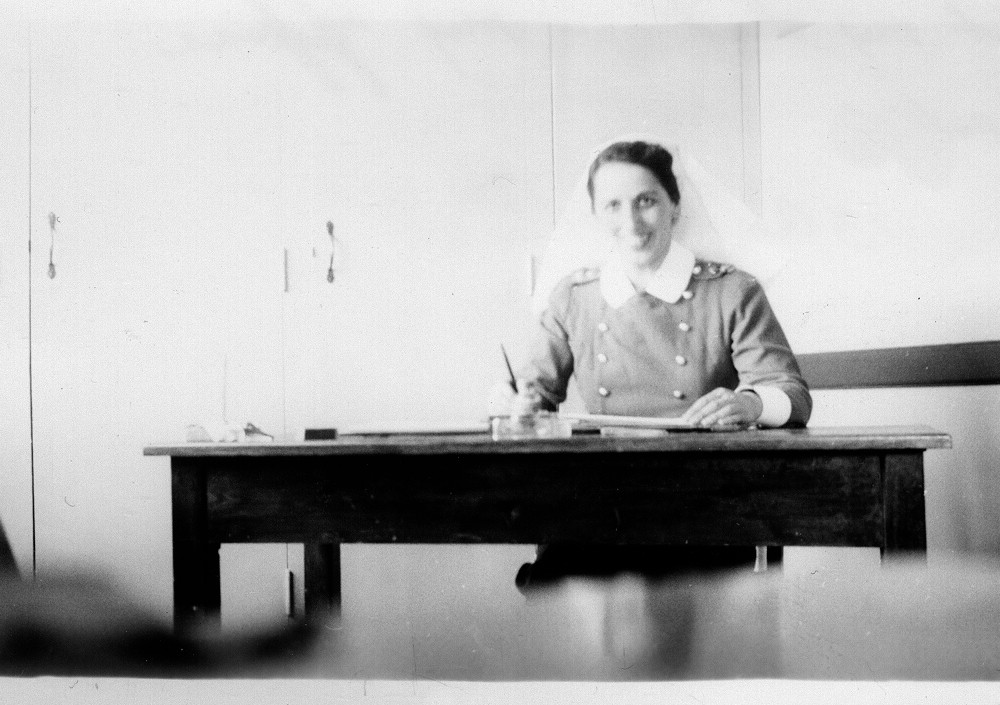 Mussallem at the desk in her office at the Marsden Green Hospital in Liverpool (UK), 13 April 1945.
Further Education
Following the war, veterans received credits that could be used to purchase land, pursue higher education or renovate and furnish their homes (see also Second World War Veterans). Helen Mussallem used her credits to continue her education, earning a Bachelor of Nursing from McGill University in 1947. She returned to VGH to teach for two years before completing her Master of Arts in nursing from Teachers College at Columbia University in 1950. Eventually, she went on to earn a PhD in nursing education from Columbia in 1962, becoming the first Canadian nurse to earn a doctoral degree in this field. While pursuing her PhD, she would often return to work in administrative and teaching positions at VGH.
Pilot Project for Evaluation of Schools of Nursing
In 1957, Helen Mussallem took a contract with the Canadian Nurses Association (CNA) to conduct the country-wide survey A Pilot Project for Evaluation of Schools of Nursing (1958). The goal of the survey was to determine whether Canadian nursing schools were prepared for a national accreditation system. This extensive survey spanned 90,000 km, nearly 2,000 interviews and 25 schools. During her research, Mussallem was horrified by the conditions and standards of the nursing schools, claiming that student nurses were treated as "indentured labour."
The final report, Spotlight on Nursing Education (1960), recommended a complete overhaul of the system. One recommendation, eventually implemented, was to move nurse training from hospitals to mainstream post-secondary institutions. This report reformed nursing education and led to the unionization of nurses in Canada.
The pilot project survey proved monumental for Mussallem's career, establishing her as a leading authority on nursing education. She incorporated research from the survey into her doctoral thesis on nursing education, and the survey report was just one of over 40 publications she completed during her lifetime.
Postwar photograph of Helen Mussallem. (Courtesy of the Dr. Helen K. Mussallem Biography Project/drhkm.ca)
Mussallem (far right) and colleagues in Barbados, where she was a consultant for the Pan American Health Organization/World Health Organization in 1965. (Courtesy of the Dr. Helen K. Mussallem Biography Project/drhkm.ca)
Work with the Hall Commission and the CNA
In 1961, Helen Mussallem expanded on the pilot project in a nursing-education survey she conducted for the Royal Commission on Health Services (also called the Hall Commission after its chair, Justice Emmett Hall). The Hall Commission was a nationwide report on all aspects of Canada's health care system that ultimately recommended universal healthcare ( see Health Policy). In response to the commission's recommendations on nursing education, new baccalaureate nursing programs were created across the country. This was a concrete step in the shift away from hospital training schools, a transition that Mussallem had advocated.
Mussallem became acting executive director of the CNA in 1963. What began as a short-term contract extended 18 years until her retirement from the organization in 1981. Her leadership in this role resulted in better working conditions for nurses and transformed nursing from a vocation to a profession by improving and standardizing education. As director, she established the National Nursing Library, which was renamed the Helen K. Mussallem Library in 1981 in recognition of her work in the field. With the CNA, she helped establish the Canadian Nurses Foundation, which provides scholarships for nursing students. The CNA under Mussallem became more active on commissions and committees to raise its national profile and promote the status of nursing in general.
International Nursing Work
Helen Mussallem's impact on nursing and health care extended far beyond Canada. She worked as a consultant and advisor in some 40 countries, receiving many assignments because she held the prerequisite PhD degree. She was employed as a "short term consultant" with the World Health Organization for almost 10 years in the 1960s and 70s. She helped establish and improve schools of nursing in West Africa, Cuba, the Caribbean Commonwealth and other regions. She lectured and participated in seminars, conferences and committees around the world, representing Canada and bringing her decades of experience to the table. Mussallem continued her international activities well into her 70s.
Citing her work with international nursing communities, the Royal College of Nursing of the United Kingdom described her as a "nurse of the world" when it made her an Honorary Fellow in 1976. The Order of Canada echoed this title in its own citation upon her promotion to Companion in 1992.
Helen Mussallem is invested as an Officer of the Order of Canada by Governor General Roland Michener in 1969. (Courtesy of the Dr. Helen K. Mussallem Biography Project/drhkm.ca)
A portrait of Mussallem in later life, wearing her various decorations. (Courtesy of the Dr. Helen K. Mussallem Biography Project/drhkm.ca)
Selected Honours and Awards
Honorary Doctor of Laws, University of New Brunswick (1968)
Officer, Order of Canada (1969)
Honorary Doctor of Science, Memorial University of Newfoundland (1969)
Special Citation of Recognition, Canadian Red Cross Society (1974)
Honorary Fellow, Royal College of Nursing of the United Kingdom (1976)
Jeanne Mance Award, Canadian Nurses Association (1980)
Florence Nightingale Medal, International Red Cross (1981)
Dame of Grace, Order of St. John (1982)
Honorary Doctor of Laws, Queen's University (1983)
Award of Merit, Registered Nurses Association of British Columbia (1983)
Miembro de Honor, Cuban Nurses Society (1984)
Award for Service, International Council of Nurses (1988)
Honorary Doctor of Laws, McMaster University (1989)
Ross Award for Nursing Leadership, Canadian Nurses Foundation (1991)
Companion, Order of Canada (1992)
Honorary Doctor of Laws, University of British Columbia (1994)
Dame of Justice, Order of St. John (1997)
Doctor of the University, University of Ottawa (1998)Capilano Herald of Arms Extraordinary, Canadian Heraldic Authority (2006)
Honorary Doctor of Science, McGill University (2006)
Lady Ishbel Aberdeen Award, Victorian Order of Nurses Canada (2007)