Masumi Mitsui, MM, farmer, soldier, Canadian Legion official (born 7 October 1887 in Tokyo, Japan; died 22 April 1987 in Hamilton, ON). Masumi Mitsui immigrated to Canada in 1908 and served with distinction in the First World War. In 1931, he and his comrades persuaded the BC government to grant Japanese Canadian veterans the right to vote, a breakthrough for Japanese and other disenfranchised Canadians. Nevertheless, Matsui and more than 22,000 Japanese Canadians were displaced, detained and dispossessed by the federal government during the Second World War (see Internment of Japanese Canadians).
This photograph was taken at the end of the First World War, after Mitsui had been promoted to the rank of sergeant. (courtesy David R. Mitsui)
Early Life in Japan and Canada
Masumi Mitsui was a member of the Issei generation (or first generation) of Japanese immigrants who arrived in Canada following Manzo Nagano in 1877. Mitsui was born to a military family and reportedly emigrated in 1908 after he was refused admission into a military academy. In Canada, he worked as a labourer on a farm in Richmond, BC, and as a waiter at Victoria's Union Club, where he developed fluency in English and skills in leadership.
DID YOU KNOW?
Manzo Nagano is the first known Japanese immigrant to Canada. In March 1877, at age 24, he left Japan for the West aboard a British steamer, arriving in May in British Columbia. He eventually settled in Victoria.
Japanese Canadians of Mitsui's generation experienced systemic marginalization in BC. Like other racialized minorities of that era, they were denied civil liberties enjoyed by other Canadians. In BC, an 1895 amendment to the Provincial Voters' Act specifically excluded Japanese, alongside First Nations and Chinese residents, from the provincial franchise (see Right to Vote in Canada). Since the federal government only extended the federal right to vote to people who could vote at the provincial level, these racialized communities were denied the vote in federal elections as well.
Military Career, 1916-1918
After the outbreak of the First World War, Masumi Mitsui and other Japanese Canadians saw an opportunity to fight for Canada as a means of winning their citizenship rights and fulfilling an obligation. Mitsui later said, "I went because I believed that it would be for the benefit of Canada and for the benefit of Japan [a British ally]."
DID YOU KNOW?
Tairiku Nippō (Continental Daily News) was a Japanese Canadian newspaper published in Vancouver from 1907 to 1941. Most items were written in Japanese and covered a range of subjects relevant to Japanese immigrants in British Columbia. In 1941, the federal government shut down Japanese-language newspapers.

The Tairiku Nippō newspaper, 30 June 1941. (courtesy University of British Columbia Library/PN4919.V23 T3 1989)
In 1914, Yasushi Yamazaki, publisher of the Japanese community newspaper Tairiku Nippō in Vancouver, spearheaded a drive to promote the acceptance of Japanese Canadian recruits into the Canadian Expeditionary Force (CEF) in Europe. In 1915, he revived the idea and arranged for the military training of 171 volunteers in Vancouver between January and May 1916. Mitsui was one of these men.
Encountering barriers at enlistment stations in BC, the prospective Japanese Canadian recruits learned that CEF battalions in Alberta were prepared to accept them. More than 160 travelled to Alberta to enlist, including Mitsui who joined the 192nd Overseas Battalion in Calgary on 1 September 1916.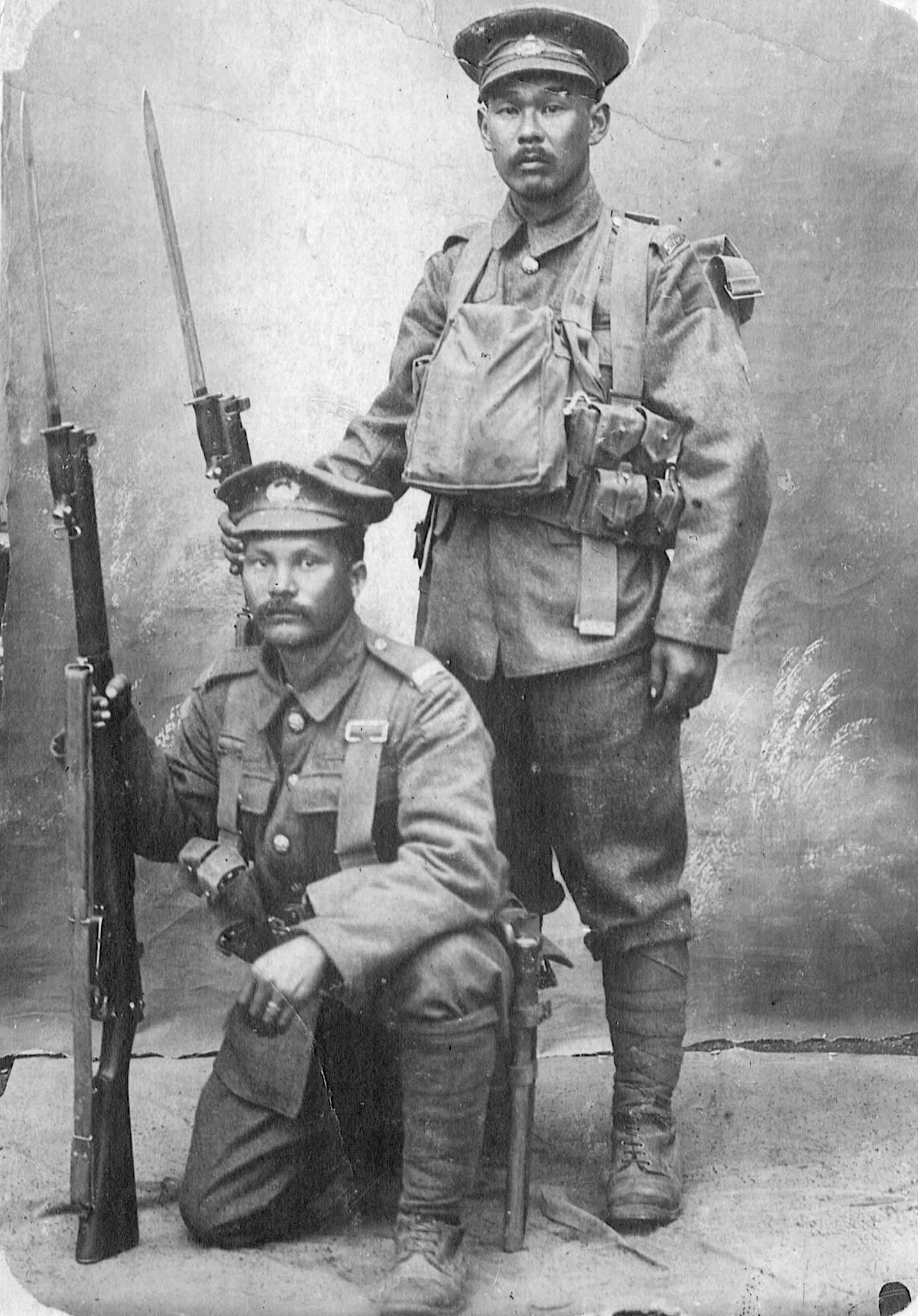 This image shows Masumi Mitsui standing in Canadian Expeditionary Force full uniform holding a rifle, while his comrade Masajiro Shishido is kneeling and also holding his rifle. This image appears to have been taken in a studio, circa 1916. (courtesy Nikkei National Museum/2014.10.1.10)
Sent overseas in October 1916, Mitsui was briefly assigned to the 9th Reserve Battalion in January 1917 before being transferred the 10th Battalion. He arrived at the Western Front in northern France in early March 1917. Concerned about the English-language skills of many recruits, the lieutenant-colonel of the 10th placed all Japanese Canadian soldiers in the battalion under the leadership of Private Mitsui.
Alongside other Japanese Canadian soldiers, Mitsui fought in the Battle of Vimy Ridge and most other major engagements in 1917 and 1918. Although wounded in action in the Battle of Arleux on 28 April 1917, he soon returned to the front where he led 35 Japanese Canadians into the bloody Battle for Hill 70 nears Lens, France, in August 1917. In combat he proved an exemplary leader, taking personal risks to protect his fellow soldiers. Following the Battle for Hill 70, he was promoted to sergeant and awarded the Military Medal for leadership, bravery in battle and aiding the wounded on the battlefield.
Honourably discharged from the military in April 1919, he married his spouse Sugiko and established a poultry farm in Port Coquitlam, BC, where they raised four children: Lucy, Amy, George and Harry.
This image shows eleven Japanese Canadian soldiers dressed in Canadian military uniforms and hats, seated and standing in three rows outside of a light-coloured building in France. The two men seated on the ground from left are Tsunejiro Kuroda and Kumakichi Oura. Seated in the second row from the left are Masumi Mitsui, Chikara Fujita, Masaru Nishijima, Toraki Matsumura and Masajiro Shishido. In the top row, standing from the left are Otokichi Onishi, unknown, Nuinosuke Okawa, and Tsunekichi Kitagawa. (courtesy Nikkei National Museum/2010.23.2.4.551)
Activism: 1920 to 1931
Masumi Mitsui and other Japanese Canadian veterans were unsuccessful in their early attempts to persuade the BC government to honour their military service by extending to them the right to vote. In 1925, they formed BC Branch No. 9 of the Canadian Legion to pursue their efforts further, building alliances with other legion branches in BC.
Mitsui was named branch president, and the veterans organized a comprehensive franchise campaign in 1931, when Mitsui led a delegation to Victoria to lobby members of the BC Legislature. Their efforts resulted in the legislative assembly's decision, by a one-vote margin, to grant Japanese Canadian veterans the provincial franchise. They thereby became the first Canadians of Asian heritage to secure the right to vote in BC.
At a celebratory dinner in Vancouver, Mitsui credited their victory to several key factors, most notably, to the coalition of support the veterans had forged with other legion groups.
Japanese Internment
Anti-Japanese racism in BC intensified during the lead-up to the Second World War. Led by Masumi Mitsui, the war veterans openly displayed their loyalty to Canada when they participated in welcoming King George VI and Queen Elizabeth to Vancouver in 1939 (see 1939 Royal Tour) and in public statements in 1941. Yet, following Japan's attack on Pearl Harbor and Hong Kong on 7 December 1941, the prejudice of many Euro-Canadians progressed to hysteria and demands for the removal of Japanese Canadians from the coast (see Internment of Japanese Canadians).
In 1942, Mitsui was escorted to Hastings Park in Vancouver to be registered as an "enemy alien." Responding to a question from an official there — "What can I do for you, Sarge?" — Mitsui reportedly pulled out his war medals and threw them on the table, asking, "What are the good of my medals?" While his medals were returned to him, he stopped wearing them in public. His farm was seized and with his family he was forcibly relocated to Greenwood, BC, where he was placed in charge of local security.
DID YOU KNOW?
Various scholars and activists have challenged the notion that Japanese Canadians were interned during the Second World War because, under international law, internment refers to the detention of enemy aliens, whereas most Japanese Canadians were Canadian citizens (see Citizenship). Terms suggested instead include incarceration, expulsion, detention and dispersal.
Following the war's end, the restrictions on Japanese Canadians were not relaxed. Mitsui's family was prevented from returning to the coast and the federal government sold their farm without their consent. Forced into financial hardship, they relocated to southern Ontario, eventually settling in Hamilton.
Later Life
With the movement towards Japanese Canadian redress in the 1980s, Mitsui's remarkable achievements came to light. In August 1985, when he was 98 years old, Mitsui was invited back to Vancouver as the honoured guest in a ceremony to relight the lantern at the Japanese Canadian War Memorial in Stanley Park, which had been extinguished in 1942.
Masumi Mitsui died in 1987, a few months before his 100th birthday.
Significance and Legacy
Masumi Mitsui was an ordinary Canadian who through strength of character, determination and persistence, engaged in grassroots activism to make Canada a more diverse and inclusive country. He and the other 221 Japanese Canadian soldiers showed that Canada's military has long been far more diverse than previously acknowledged. The campaign of Mitsui and other veterans to win the vote was an inspiring example of political action by members of a formerly disenfranchised community, expanding notions of citizenship and democracy in this country.