Montreal, Quebec is a city located on the island of the same name at the junction of the St Lawrence and Ottawa rivers in the province of Québec. The island is one of a cluster that also includes Ile Jésus (which became part of the city of Laval in 1965) and the islands of Bizard and Perrot.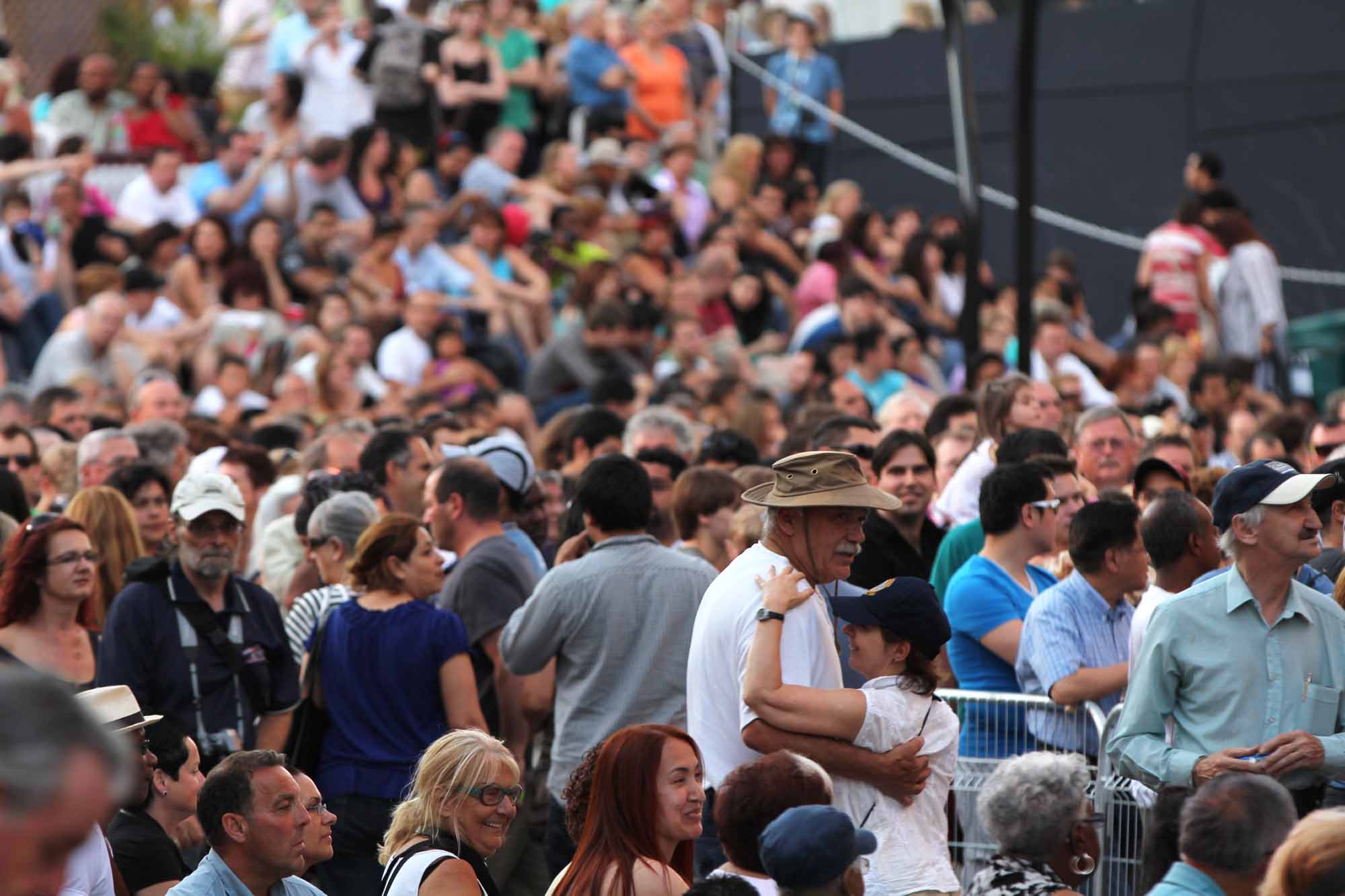 People walk and dance during the open-air concert at the 33th International Jazz Festival of Montreal on June 29, 2012 in Montreal.
Alys Robi
Montreal, Quebec is a city located on the island of the same name at the junction of the St Lawrence and Ottawa rivers in the province of Québec. The island is one of a cluster that also includes Ile Jésus (which became part of the city of Laval in 1965) and the islands of Bizard and Perrot. Montreal stands at the foot of Mount Royal, from which it took its name, 'réal' being a modification of 'royal.'
The French explorer Jacques Cartier discovered the island in 1535 and found an Aboriginal village there named Hochelaga. He named the mountain Mount Royal in honour of King François I. Seventy-five years later the founder of Quebec City, Samuel de Champlain, arrived and set up a fur trading post which he called Place Royale. Paul de Chomedey, Sieur de Maisonneuve, a French soldier born in Champagne, founded on 17 May 1642 a colony to which he gave the name of Ville-Marie. Along with about 50 settlers, he worked on behalf of the Société Notre-Dame de Montréal, an organization founded in Paris by Jérôme le Royer de la Dauversière, a French official primarily concerned with converting the aboriginals to Christianity. In 1663 the whole island was conceded as a seigniory to the Messieurs de Saint-Sulpice, a society of Catholic priests founded in Paris in 1639. Though threatened by the Iroquois, Montreal began to develop after 1665 and became the embarkation-point for missionaries, explorers, and traders for the whole of North America.
In 1701 the town had a population of 2000, and in 1760, at the time of the conquest by England, there were some 5000 inhabitants, the great majority of French origin. Following immigration by the English and the departure of many French, the two groups gradually became equal. The population numbered 58,000 in 1851 and nearly doubled in the next 10 years. In 1900 it was 370,000.
In 1990 the population of the whole island was 1,750,000, and the neighbouring city of Laval numbered 300,000. After 1945 heavy immigration from Europe, Asia, Latin America and North Africa changed its character somewhat, but in 1990 Montreal remained the second largest French-speaking city in the world. In 1969 the island's 29 municipalities were linked to comprise the Montreal Urban Community.
1642-1850
In his Histoire du Montréal (Montreal 1868)/ A History of Montreal, 1640-1672 (Toronto 1928), François Dollier de Casson relates that Maisonneuve, the founder of Montreal, learned the lute to pass the time when he was alone. Little is known, however, concerning such musical activity as may have existed prior to 1750, except that there was choral singing in the church and a certain amount of rudimentary instruction in music dispensed by some of the missionaries. It is possible that the only church had no organ until the end of the 17th century. J.-B. Poitiers du Buisson, who arrived in Montreal in 1698, is the first organist whose name has come down to us. He played in the parish church from 1705 until around 1718. Among his successors were Jean Girard (who brought in 1724 the impressive volumes of organ pieces known, since their discovery in 1978, by the name of Livre d'orgue de Montréal), Guillaume Mechtler, J.-C. Brauneis II, Leonard Eglauch, Henry Berlyn, and J.-B. Labelle. Since the first newspaper, The Gazette, did not appear regularly before 1785, there is almost no information on musical life before that date. In 1786 this publication announced, however, that 'several musicians recently arrived from Europe will give a vocal and instrumental concert,' and a monsieur Duplessy was offering music lessons. The same year The Enchanters, a pantomime by John Bentley, was presented.
The year 1789 was important, for it was then that Louis Dulongpré, Joseph Quesnel, and a handful of citizens founded the Théâtre de Société on Notre-Dame St. Quesnel's comic opera Colas et Colinette was performed there early in 1790. Duni's Les Deux Chasseurs et la laitière was another French-language production, and touring companies presented such English-language comic operas as Shield's The Poor Soldier and Dibdin's The Padlock. Charles Watts of London opened a music school in 1789, as did Dulongpré in 1791. At a concert 'at Mr. Cushing's long room' in 1796 George E. Saliment performed his own Concerto of Flute (sic) and an Overture Grand Orchester (sic) by Pleyel; a Concerto on the Piano Forte (sic) by Mechtler shared the program. There were numerous concerts by regimental bands.
Another date of importance was 1825, when the brewer John Molson, with the assistance of a few shareholders, built the Theatre Royal, the first institution in Canada devoted exclusively to the performing arts. During the summer of 1840, Mr. and Mrs. Arthur Séguin presented an important opera season. In August 1843 a company from New-Orleans directed by Mlle Julie Calvé performed, among other works, Auber's Les Diamants de la couronne and Adam's Le Chalet there. In this theatre, as well as in hotel halls, there occurred musical events of variable quality, in which prima donnas and Italian tenors vied with acrobats and other attractions, all supported by concert or regimental bands. Other artists heard during this period were the tenor John Braham at the Rasco Hotel, the pianist Leopold von Meyer, and a blind harpist, M. Wall. The manufacture of organs and pianos was begun around 1820 by Jacotel and continued later by Fay, Samuel R. Warren, and John M. Thomas. John Lovell published music, and J.W. Herbert was both publisher and merchant.
1850-1900
Set in a difficult economic context and preoccupied with political struggles, Montrealers had very little time for leisure and music. There were few professional musicians, and music teaching was virtually non-existent. In 1852, however, a ship from France brought two men who were to play leading roles. One was A.J. Boucher, a Canadian by birth who became active as a musician, publisher, and music dealer; the other was the Frenchman Paul Letondal, a blind pianist and cellist. Another Frenchman, C.W. Sabatier, had settled in Montreal in 1848. He composed the song 'La Montréalaise' (Lovell 1859).
A musical life gradually began to develop, owing to the initiative of men like J.-B. Labelle, who, for example, conducted a concert of operatic excerpts at the new Mechanics' Hall in 1857 and six years later founded a short-lived philharmonic society. Future great names began to appear: Calixa Lavallée, Moïse Saucier, the three Lavigne brothers, Dominique Ducharme, and Romain-Octave Pelletier, and later Guillaume Couture and Alexis Contant. The singer Emma Albani, née Lajeunesse, the first Canadian diva to receive international acclaim, gave her first concerts in Montreal in 1856 and 1862 but did not return to her homeland until 1883 for the first of several tours. Around 1865 the Belgian violinist Jules Hone settled in Montreal, to be joined shortly by his compatriot Frantz Jehin-Prume, the famous violinist who was the first musician of international reputation to take up residence in Canada. Jehin-Prume played a large role in the development of music through his concerts and teaching. He presented 'classical concerts' by a string quartet in 1870 and founded the Association artistique de Montréal in 1892. Montreal was host at this time to such renowned visitors as Adelina Patti, Henri Vieuxtemps, Auguste Wilhelmj, Camilla Urso, Louis-Moreau Gottschalk, Sigismond Thalberg, and several others.
Choral singing, heretofore confined mostly to the church, became popular in concert after 1861, with the formation of several ensembles known as the Montagnards. The Mendelssohn Choir was founded by Joseph Gould in 1864 and presented concerts over a period of 30 years. The Montreal Philharmonic Society (1877-99) acquainted Montrealers with the great oratorios as well as with the operas of Wagner, and in 1897 it presented for the first time in Canada Beethoven's Ninth Symphony. The dearth of good local string and wind players, however, often made it necessary to import an orchestra from Boston. Some 30 instrumentalists, who had come from Belgium and France around 1890 at the invitation of Ernest Lavigne to play at Sohmer Park, comprised the nucleus of the first MSO, established in 1894 by J.-J. Goulet.
Opera was largely the prerogative of touring companies until 1877, when Lavallée conducted Gounod's Jeanne d'Arc and, the following year, Boieldieu's La Dame blanche with the entire cast, as well as the orchestra, recruited locally. The Opéra français presented a varied repertoire of operas and operettas in its own theatre 1893-6. Emma Albani and her troupe gave performances at the Académie de musique in 1890 and 1892. In this theatre, Victor Herbert's Cyrano de Bergerac was given its world premiere in 1899. Montreal also received theatre companies from France and New Orleans, and as early as 1899, saw the Metropolitan Opera at Her Majesty's Theatre.
Concerts were held at Windsor Hall, which opened in 1890. The Monument national was inaugurated in 1893, Her Majesty's Theatre in 1898. In the latter, another operetta by Herbert, The Singing Girl had its premiere in 1899. The Ladies' Morning Musical Club was founded in 1892 and in 1990 could claim to be one of the oldest active musical societies in Canada.
The increasing growth of musical life during this period found an echo in a increasingly specialized musical press. L'Artisteappeared in 1860, followed by the magazine Les Beaux-Arts (1863-4), Le Canada musical (1866-7, 1875-81), L'Écho musical (1888), Le Canada artistique (1890), Le Passe-Temps (1895-1949), and L'Art musical (1896-9). Among the regular contributors were Gustave Smith, A.J. Boucher, Guillaume Couture, Gustave Comte, Aristide Filiatreault, Charles Labelle, and C.-O. Lamontagne.
Music was taught privately for the most part, although several 'collèges classiques,' post-secondary schools, and convents had acquired the services of specialized staff. A certain standardizing of quality was achieved through organizations commissioned to set examinations, such as the AMQ, the Dominion College of Music, and the Associated Board of the Royal Schools of Music. At the advanced level, instruction remained for a long time in an embryonic stage, despite such initiatives as Carl Emil Seifert's Montreal Conservatory, the conservatory of Edmond Hardy'sCanadian Artistic Society, and the Institut Nazareth for young blind people. The creation of the Strathcona Scholarship in 1895 was one initiative that brought swift results: its first winners were Béatrice La Palme, Ada Moylan, Lynnwood Farnam, and Pauline Donalda. The arrival of Clara Lichtenstein in 1899 began a whole new chapter in the field of advanced music education. Despite the slowness and uncertainty of this era of growth, several outstanding talents emerged, eg, Alexis Contant, Émiliano Renaud, François Boucher, Arthur Letondal, R.-O. Pelletier, Joseph Saucier, Alfred De Sève, and Oscar Martel. Among instrument makers of note were Mitchell, Craig, and Pratte. Boucher, Hardy, De Zouche, Lavigne, and Yon were active as publishers.
1900-45
The first half of the 20th century was to bring about the consolidation of preceding efforts along with an increasing population, the development of means of transport and communication, and the beginnings of the industrial era. This growth, however, suffered a slowdown during World War I, and the ensuing recovery was dampened by the Depression of the 1930s.
The survival of the MSO was due chiefly to the tenacity and generosity of J.-J. Goulet, who had taken over its financial responsibility and direction in 1897 and retained it until its dissolution in 1919. His participation in the 1903 Cycle of Musical Festivals of the Dominion of Canada was considerable, not only in Montreal but also in Halifax, Moncton, and Saint John, which the MSO visited for the concerts given in those cities. After 1919 orchestral concerts were given through the efforts of such men as Jerry Shea and Henri Delcellier, but sporadically. Earlier, the Montreal Opera Company (1910-13) and the National Opera Company of Canada (1913-14) had given symphonic concerts as well as operatic performances. J.-J. Gagnier revived the MSO in 1927, but it was not until the founding of the Montreal Orchestra in 1930 under Douglas Clarke and of the orchestra of the CSM (MSO) in 1934 that Montreal acquired two established orchestras of professional calibre. The advent of radio in the early 1920s also fostered symphonic activity, and station CKAC had its own orchestra for a while, conducted by such musicians as Henri Miro, Delcellier, and Edmond Trudel. The Montreal stations of the CRBC and later the CBC soon had their own ensembles set up by J.-J. Gagnier and J.-M. Beaudet. Miro was also music director 1916-21 for the Berliner Gramophone Co and made numerous recordings for the company. One of the first chamber orchestras was formed by Gagnier; it was followed by the Little Symphony of Montreal and by a radio orchestra formed by the CBC for its program 'Little Symphonies'.
Following the disappearance of the Montreal Philharmonic Society, the Montreal Oratorio Society, founded by Horace Reyner, was active 1902-8. Choral music was perpetuated by the Assn chorale Saint-Louis-de-France, which came into prominence about 1907, and the Assn des Chanteurs de Montréal, founded in 1918 by Jean Goulet. Shortly afterwards came the Assn chorale Brassard (1921), the Montreal Elgar Choir (1923), led by Berkley E. Chadwick, and the Disciples de Massenet (1928) under Charles Goulet.
The period also saw a tremendous upsurge in interest in opera. The Metropolitan Opera company returned in 1901, performing at the Montreal Arena, and again, with Toscanini conducting, in 1911, this time at His Majesty's Theatre. Certain members of troupes that had come from France settled in Montreal as teachers, among them Salvator Issaurel, Victor Occellier, and Jean Riddez. Of particular note is the foundation of the Montreal Opera Company by Albert Clerk-Jeannotte and Frank Meighen. The company's three seasons (1910-13) were distinguished as much by the repertoire as by the quality of the performances. This new attempt to create a permanent opera company was followed by another, the National Opera Company of Canada, which also folded for financial reasons after just one season (1913-14). After the war, other driving forces such as Arthur Laurendeau, Henri Delcellier, Albert Roberval, and Céline Marier toiled in the same spirit; but a measure of stability was achieved only with the Société canadienne d'opérette in 1923, followed by the Variétés lyriques in 1936. These two societies presented operas and operettas, but the Opera Guild (1942-69) devoted itself solely to opera. Founded in 1936, the Société des Festivals de Montréal (later Montreal Festivals) presented annual events devoted mainly to oratorio until 1965, but attempted opera in 1940 with the first performance in Canada of Pelléas et Mélisande. Wilfrid Pelletier conducted a performance by a group called the Canadian Opera Company of Montreal (unconnected with the later COC) in 1931 and was the originator of the autumn opera seasons given 1941-5 at the St-Denis Theatre.
Montrealers had welcomed the Orchestra of the Metropolitan Opera conducted by Anton Seidl in 1896, and in 1902 Pietro Mascagni came to conduct three of his operas in the Arena. The soprano Lillian Nordica and the pianists Raoul Pugno and Edward MacDowell were heard the same year. A concert devoted entirely to Canadian works was presented in Windsor Hall in 1903. Unforgettable for many Montrealers were the numerous concerts of Emma Albani in 1903 and in 1906, the year of her farewell tour.
Post-secondary instruction, which had been somewhat inadequate until that time, now received attention through some remarkable initiatives. At McGill University, the conservatorium was founded in 1904 by Charles Harriss; the following year Alphonse Lavallée-Smith founded the Conservatoire national de musique. The two institutions' growth was considerable during the decades that followed. The second was affiliated to the University of Montreal in 1921 and remained so until 1951. (The affiliation was terminated because the university founded its own faculty of music in 1950.) Post-secondary schools for girls, and later mixed schools, were opened, eg, the École normale de musique in 1927 and the École supérieure de musique d'Outremont (later École Vincent-d'Indy) in 1932. The most original innovation in this field, however, was the Conservatoire de musique du Québec, inaugurated in Montreal in 1943. Established on European models, particularly that of Paris, it provided from the outset free post-secondary instruction in all disciplines. During this period the composers Rodolphe Mathieu, Auguste Descarries, and Alfred La Liberté, among others, were able to organize performances of their works, and Claude Champagne emerged as not only a gifted original composer but as a teacher of virtually all the composers of the succeeding generation.
The growth of musical life in all its forms impelled the daily press to secure the services of better informed music critics, such as Thomas Archer, Philip King, and H.P. Bell in the English press and Léo-Pol Morin, Henri Letondal, Paul-G. Ouimet, Frédéric Pelletier, Eugène Lapierre, Marcel Valois, Jean Vallerand, and Dominique Laberge in the French press. Specialized periodicals, however, seldom survived for long. Le Canada musical reappeared (1917-24 and briefly in 1930); La Lyre (1922-31) was one of the last important publications before World War II, although Le Passe-Temps continued to publish until 1949.
Although the period 1939-45 was not particularly favourable to new developments, the majority of existing institutions managed to survive despite increasingly serious financial constraints. Alexander Brott founded the McGill String Quartet in 1939, succeeding the Dubois String Quartet, which had presented regular concert seasons from 1910 to 1938. The Campbell Free Band Concerts, inaugurated in 1924, provided enjoyment for music lovers during the summer season (as it continued to do in 1990). After Emma Albani, Montreal artists such as Béatrice La Palme, Pauline Donalda, Ellen Ballon, Sarah Fischer, and Rodolphe Plamondon won acclaim abroad.
Among the patrons who contributed to musical growth during this period were Frank Meighen, Cécile Léger, Jean Lallemand, and Mme Athanase David. The recording industry began to develop with Berliner, Compo, Starr-Gennett, and other labels such as Baroque (record label), London, and Madrigal (record label).
1945-90
The immediate post-war period turned out to be a powerful stimulus of regenerative ambition, and the resumption of musical life parallelled the economic development of the metropolis, aided by greater government participation and by the arrival of numerous accomplished European musicians. As early as 1941 the CSM orchestra had acquired the services of Désiré Defauw as artistic director. Defauw raised the orchestra to the standard of the best on the continent, in part by broadening its repertoire and engaging distinguished soloists. After 1950 the orchestra (which became the MSO in 1953) was directed in succession by Otto Klemperer, Igor Markevitch, Zubin Mehta assisted by Pierre Hétu, Franz-Paul Decker, Rafael Frühbeck de Burgos, and - after his appointment in 1978 - Charles Dutoit, assisted by Uri Mayer and later by Richard Hoenich.
The McGill Chamber Orchestra grew out of and succeeded the McGill String Quartet and gave regular seasons beginning in 1953, under the direction of Alexander Brott. With the founding of the Orchestre métropolitain in 1981, Montreal acquired a second permanent orchestra. The orchestra developed rapidly under the direction of Agnes Grossmann, who became its conductor in 1988. The string ensemble I Musici de Montréal, founded in 1983 by Yuli Turovsky established its reputation with tours and recordings. A genuine Montreal school of composers came into being: Violet Archer, Maurice Blackburn, Brott, Jean Papineau-Couture, Robert Turner, and Jean Vallerand. Others followed, among them Gabriel Charpentier, Serge Garant, Jacques Hétu, Roger Matton, Pierre Mercure, François Morel, André Prévost, Micheline Coulombe Saint-Marcoux, Gilles Tremblay, and Claude Vivier.
A significant year was 1963 which saw the opening of the Grande Salle Wilfrid-Pelletier of the PDA. In the elegant salle, the MSO finally found a home worthy of its calibre after 30 years in Plateau Hall, an inadequate auditorium with 1300 seats. The Maisonneuve and Port-Royal halls were added to the PDA in 1967. This auditorium and theatre complex provided the central platforms for the six-month World Festival of Expo 67, still considered one of the most impressive aggregations of musical events of our time.
The Montreal Festivals enlarged the scope of their activities after 1950, while continuing to reserve an important place for concert and operatic performances. Under their auspices in 1961 Pierre Mercure organized the International Week of Today's Music, which caused much controversy and elicited strong reaction from a divided press and a divided audience. There had been few opportunities for the performance of new Canadian music until 1953, when the Society of Canadian Music was founded to provide or facilitate such opportunities. The society in turn relinquished the main burden of its responsibilities to the SMCQ, which was founded in 1966 by Serge Garant, Maryvonne Kendergi, and others. New music has led to the creation of several specialized groups, including the Événements du neuf 1978-90 and the Nouvel ensemble moderne 1989-. Choral music, which had been championed chiefly by the Disciples de Massenet and the Montreal Elgar Choir, enjoyed a new emphasis with the advent of the Montreal Bach Choir founded by George Little in 1951 and the Tudor Singers founded by Wayne Riddell in 1962. Chamber music was served especially well by the Montreal String Quartet (1955-63), which comprised Hyman Bress, Mildred Goodman, and Otto and Walter Joachim, (The Joachims had come from China in the late 1940s.) In 1948 Gertrude Constant Gendreau founded the Pro Musica Society, which gave Montrealers regular opportunities to hear the best chamber music ensembles. Early music was ignored until Celia Bizony founded Musica Antica e Nuova in 1951, a society in which John Newmark and Mario Duschenes took part. The latter did much to popularize the recorder, particularly among members of CAMMAC. The Baroque Trio of Montreal was active 1955-73, and the Studio de musique ancienne was founded in 1974. Numerous other groups were active in 1990, such as the Morency Quartet, the Claudel Quartet, the Alcan Quartet, the Nelligan Trio, the Pentaèdre Wind Quintet and the group Musica Camera Montreal.
The organ was always popular in Montreal owing to the presence of a large number of fine instruments, most of them built by Casavant. Recitals were given regularly in the 1940s by the Casavant Society. A movement supporting the return to the classical organ, with tracker action, expanded in 1960 with the foundation of Ars Organi by a group of young organists including Gaston Arel, Raymond Daveluy, Kenneth Gilbert, Bernard and Mireille Lagacé, and Lucienne L'Heureux-Arel. Montreal acquired many instruments of this type built by Rudolf von Beckerath, Karl Wilhelm, and Hellmuth Wolff, among others.
Opera remained in a relatively flourishing state after 1945 with the Variétés lyriques, the Opera Guild, the Montreal Festivals, and the Minute Opera. These four societies disappeared one after the other between 1953 and 1969. The MSO initiated some productions 1964-8, but it was not until 1971 that a serious attempt was made to form a permanent company, the Opéra du Québec. It nevertheless ceased its activities (1975), but a new company, the Opéra de Montréal, after a first season 1980-1, was well into its 12th season in 1991-2, under the direction of Bernard Uzan who had succeeded Jean-Paul Jeannotte in 1988. Several Montreal artists in the meantime had followed the example of their predecessors and distinguished themselves on the international stage: Pierrette Alarie, Colette Boky, Clarice Carson, Pierre Duval, Maureen Forrester, Louis Quilico, Robert Savoie, Huguette Tourangeau, and André Turp.
The daily press began to attach more and more importance to music. Among the practising critics were Claude Gingras(La Presse), Eric McLean (The Montreal Star and later TheGazette), Gilles Potvin (Le Devoir, La Presse, Le Nouveau Journal), Pierre Prévost (Le Jour), Paul Roussel (Le Canada, L'Autorité), Jacob Siskind (The Standard, The Gazette), Brian Macdonald (The Montreal Herald), Carol Bergeron (Le Devoir), Arthur Kaptainis and Ilse Zadrozny (The Gazette).
To promote the appreciation and study of music among young people, the Amis de l'art was founded in 1942, followed by the JMC (YMC) in 1949. The secretariat of the latter organization was set up in Montreal, as was that of the Canadian Music Competitions. The Montreal International Competition, the only one of its level and scope in Canada, was established in 1963. The Canadian Music Centre opened its Montreal office in 1973. The Alliance chorale canadienne 1961-82 also maintained a secretariat in Montreal, as do the ACREQ, the CINARS, the Canadian Electroacoustic Community and the RIDEAU. The first Montreal International Festival of Music (later of piano) was held in 1988. In November 1990 the New Music America (Montréal musiques actuelles) took place. Moreover Montreal was an important stage for two international events : the World Music Week sponsored by the International Music Council in 1975, and the World Music Days of the ISCM in 1984.
The Council of Arts of Greater Montreal, one of the first of its kind in Canada, was founded in 1956. It was renamed the Conseil des arts de la Communauté urbaine de Montréal in 1980. Its annual Grand Prix, paired with a $15,000 bursary, was created in 1986 to underscore the excellence of artistic expression in the urban community region. Louis Lortie was the winner in 1986. The network of Maisons de la culture de Montréal was established in 1979 to make culture accessible to the greatest possible number of citizens. In 1991, there were l3 Maisons, each offering two essential services: a library service and a cultural promotion service. These Maisons present exhibitions, lectures, plays, concerts and recitals etc.
Though the Quebec chanson and the chansonniers were not particularly a Montreal phenomenon, it was chiefly in the metropolis that they began their conquest of the francophone world. The first of a long list was Félix Leclerc in the early 1950s. The boîtes à chansons flourished at the time, and the vogue of the chanson spread rapidly, thanks to such writer-composer-performers as Raymond Lévesque, Jean-Pierre Ferland, Claude Léveillée, Jacques Blanchet, and Robert Charlebois and to such performers as Pauline Julien, Diane Dufresne and Ginette Reno. (See Chansons; Chansonniers.) The city's hotels and cabarets employed dance bands which provided Montrealers with pleasant evenings. In the jazz world, individuals and groups gained renown, particularly following World War II. Numerous soloists and groups devoted to country music, rock and rhythm and blues continue to flourish.
Montreal differs from other cities, in that it has a considerable number of streets and avenues, bearing the names of musicians. In 1990 there were about 30. Several schools, parks, and public squares also have been named after musicians (see Memorials and honours).
At the same time as the reforms in education that occurred in Quebec in the 1960s, music departments were opened at UQAM, and Concordia University, and in certain Cegeps.
Important archival deposits and documents relating to music may be found at the Montreal City Library, the Centre Régional de Montréal des ANQ, the BN du Q, the Marvin Duchow Library of McGill University, the Jewish Public Library, the CMM, the University of Montreal, and private institutions.
Musicians Born In Montreal
Among the musicians born in Montreal or in the region (see individual EMC entries or the index) are Pierrette Alarie, Émilien Allard, Violet Archer, Serge Arcuri, André Asselin, Gilles and Marcel Baillargeon, Fleurette Beauchamp, Pierre Béique, Pierre Béluse, Alfred Bernier, Félix-R. Bertrand, Jacques Bertrand, Napoléon Bisson, Paul Bley, Max Bohrer, Colette Boky, Colette Bonheur, Lise Boucher, Richard Boucher, Walter Boudreau, Louis-H. and Rosario Bourdon, Pierre Brabant, Timothy Brady, Henry D. Brant, Joseph-Arsène Brassard, Cédia and Victor Brault, Pierre Brault, Michel-Georges Brégent, the Brott family members: Alexander, Boris, and Denis, Noël Brunet, Germaine Bruyère, Réjane Cardinal, Martin Chalifour, Albert Chamberland, Claude Champagne, Jean-Noël Charbonneau, Renée Claude, Alexis Contant, Paul-Émile Corbeil, Marcelle Corneille, François, Jean and Luc Cousineau, Guillaume Couture, Lionel Daunais, Hugh Davidson, Reine Décarie, Maurice Dela, Isabelle Delorme, Rosita del Vecchio, Jean-François Denis, Auguste Descarries, Alfred De Sève, Jeanne Desjardins, L.-Édouard Desjardins, Jean Deslauriers, Gérald Desmarais, Lorraine Desmarais, Rolande Désormeaux, Samuel Dolin, Pauline Donalda, Michel Donato, Roger Doucet, Paul Doyon, Claude Dubois, Jules Dubois, Charles-Joseph Ducharme, Dominique Ducharme, Yolande Dulude, Guillaume Dupuis, Pierre Duval, Maynard Ferguson, Jean-Pierre Ferland, Janina Fialkowska, Roger Filiatrault, Rosario Forget, Joseph-A. Fowler, Hélène and Marcelle Gagné, the Gagnier family members: J.J., Guillaume, René, Armand, Ernest, Lucien, Réal, Roland, and Gérald, Conrad Gauthier, Gérard and Marc Gélinas, Samuel Gesser, Michel Gonneville, Mildred Goodman, Pierre Grandmaison, Fernand Graton, Richard Grégoire, Monik Grenier, Richard Gresko, Guylaine Guy, Marc-André Hamelin, Denis Harbour, Edmond Hardy, Pierre Hétu, Jean-Pierre Hurteau, Marie Iösch-Lorcini, Jean-Paul Jeannotte, Oliver Jones, Paul Jourdain dit Labrosse, Chantal Juillet, Diane Juster, Walter Kemp, Jean Lallemand, Alain Lalonde, Gérard Lamarche, C.-O. and Yvette Lamontagne, Gilles Lamontagne, Alfred Lamoureux, Caro Lamoureux, Béatrice Lapalme, Eugène Lapierre, Bruno Laplante, Louise, Laplante, Thérèse Laporte, Roméo Larivière, Annette Lasalle-Leduc, Marcel Laurencelle, Jean Laurendeau, Calixa Lavallée, Marguerite Lavergne, Arthur, Émery and Ernest Lavigne, Gabrielle Lavigne, Louise Lebrun, Jacques LeComte, Jean and Roland Leduc, Pierre Leduc, Germain Lefebvre I and II, Gilles Lefebvre, Ovila Légaré, Arthur and Henri Letondal, Claude Léveillée, Monique Leyrac, C.W. Lindsay, Michel Longtin, Nicole Lorange, André Lortie, Louis Lortie, Germaine Malépart, Charles Marchand, Oscar Martel, Gilberte, Magdeleine, Marcelle and Raymonde Martin, Lucien Martin, Rafael, Pietro, Joseph, Rodolfo, Alfredo, Paul, Mario and Giulio Masella, Nicholas Massue, É.-Z. Massicotte, André Mathieu, Salomon Mazurette, Peter McCutcheon, Edmond McMahon, Colin McPhee, Pierre Mercure, André Mérineau, Alfred and André Mignault, François Morel, Clément Morin, Jean C. Morin, Pierre Morin, Albertine Morin-Labrecque, Charles-Marie Panneton, Jean Papineau-Couture, Marie-Thérèse Paquin, Gérard Paradis, Hector Pellerin, Colombe Pelletier, Louis-Philippe Pelletier, Romain-Octave I, Frédéric, Romain, and Romain-Octave II Pelletier, Wilfrid Pelletier, Joseph-Julien Perrault, Michel Perrault, Oscar Peterson, Joseph, Eudore and Bernard Piché, Gilles Potvin, Henri Prieur, Albert Quesnel, Louis and Lina Quilico, Caroline Racicot, Ginette Reno, Jacqueline Richard, Lyse Richer-Lortie, Lucien Robert, Nicole Rodrigue, Tony Romandini, Paul Roussel, Ruth Rubin, Moïse, Joseph and Marcel Saucier, Jean Saulnier, Claude Savard, J.-Élie and Georges Savaria, Robert and André-Sébastien Savoie, Joe Sealy, Lucien Sicotte, Émile Taranto, J.-Antonio Thompson, Huguette Tourangeau, Amédée Tremblay, William Tritt, Pierre Trochu, Alain Trudel, Nadia Turbide, Ronald Turini, Robert Turner, André Turp, Honoré Vaillancourt, Gilles Valiquette, Jean Vallerand, Marcel Valois, Jeannine Vanier, Stéphane Venne, Louis and Paule Verschelden, Albert Viau, Claude Vivier, Vic Vogel, Dorothy Weldon and Karen Young.