Please be advised that Memory Project primary sources may deal with personal testimony that reflect the speaker's recollections and interpretations of events. Individual testimony does not necessarily reflect the views of the Memory Project and Historica Canada.

John Ross Daniels at an event of The Memory Project, 2010.
(Courtesy of The Memory Project/John Ross Daniels)
"I hope to God they don't call us to go back into action tonight. I no sooner got it out of my mind ̶ they said, turn your tanks around, go back and pick up the infantry."
Transcript
We'd be sent to where the infantry were and we'd pick them up, load them in the tanks and we'd go to our takeoff point, wherever that was. Once we got the word to attack, we'd go right in and take them right in and go as fast as we could. A lot of times, we'd be right through the German lines sometimes. First thing the Germans knew, we were behind them and that really upset them. But we did a good job. I mean, they [the military] realized they were so important that now that every country has personnel carriers, armoured personnel carriers.
We finished fighting in Holland and then we entered Germany. We went down through the Rhineland, that's where our biggest action was. The Hochwald Forest was one of our worst nights, I had got burned there in the tank. We were called to pick up the infantry about 4:00 in the afternoon. We got to where the infantry were and milled around there for a while; and finally they said, it's been cancelled. The attack has been cancelled. So we went back [up] the highway for three or four miles, I guess, and they pulled into a field with our tanks and the first thing, they started shelling us.
So we pulled out of there and went further back up the road. By now it was, if I remember rightly, it was about 11:00 at night. We were tired, hungry, hadn't eaten for, I don't know how long. But, anyway, my thought, I'll never forget went through my mind, I hope to God they don't call us to go back into action tonight. I no sooner got it out of my mind ̶ they said, turn your tanks around, go back and pick up the infantry. So we went back and we picked them, loaded them in and we were getting on now close to break of day or early morning. We hit the Hochwald Gap as they called it; and I didn't know then until years later, the railroad track went right up along where we were going in on the attack and we were getting heavy shellfire. I found out later, they had guns on the railroad tracks, artillery, and they plastered the hell out of us going in.
So we got hit right on the back. I knew we were hit, but the tank kept going. Found out later it was, put a shell through the suspension gear, which didn't stop us. So we went in. I remember dropping into a hole. It was still dark at that time. I don't know what kind of cellar, what it was we fell into; we got out of that. So our objective was a farm setting. So now it was just about breaking day, so if we pulled up through the long laneway in this farm, I stopped before we come to the house. The first thing I heard the officer holler out, [Panzerkampfwagen VI Aufsführung] Tiger [German heavy tank]. There was apparently a Tiger parked in an apple orchard. So I give it to her and went through the yard, and swung out back at the house. We sat there for a while and I could see a tank coming down through, and I couldn't tell whether it was German or our own, so I told the officer, I said, I'm backing out of here and around the front of the house.
So we backed around there, thought I'd get out and stretch, stand up in the tank. I'd been in the driver's seat for so long. I just stood up when there was an explosion right beside the tank. I saw these two Germans running, one had the bazooka [portable anti-tank weapon], carrying it, and the other guy had the ammunition. They were running bent over like, you know. So I grabbed the machine gun, I shot the both of them, those fellows.
So this went on and then they said, gather up the wounded and take them back out. So we started out. The first thing I knew, there was an explosion right beside my head; and good thing I had the hood up on my tank suit because it was a phosphorous [incendiary] bomb the Germans threw in; and it exploded and burned. So I exited the tank. I jumped right out of her and run. I was picked up by one of our other tanks later on and taken back to the forward dressing station. They fixed me up there and they wanted me to be taken out. I said, no, I said, fix me up; and I said, I don't want to leave the regiment. I was okay. I said, I'm only burned a little bit. These guys are laying around dead and dying. I said, no, let me out of here, that was enough. So that was the end of that night finally. We were lucky to get out of it, really.
Book a Speaker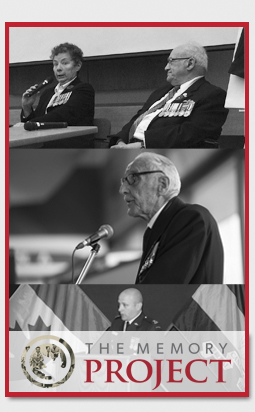 The Memory Project is a volunteer speakers bureau that arranges for veterans and Canadian Forces members to share their stories of military service at school and community events across the country.
Request a Memory Project speaker at thememoryproject.com/book-a-speaker.