Prior to the printing process of putting impressions on paper, foil, plastic or cloth, there are pre-press procedures such as design, artwork, layout, creation of type or graphics, film and platemaking, and press makeready. In the past all these processes were done by hand or camera.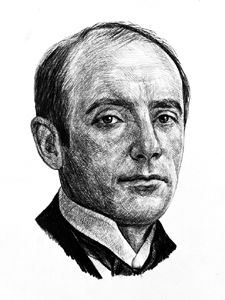 Georges Desbarats invented the halftone, a method of reproducing pictures in newspapers (artwork by Irma Coucill).
Print Industry
The process of producing multiple copies or reproductions is traditionally associated with a printing press but may also describe photographic or electrostatic copier processes of duplication. In the 20th century the print medium has become but one part of a complex and rapidly changing communications process. Within its own area, printing is allied with the graphic arts industry, which involves preparation, actual press work and finishing procedures.
Prior to the printing process of putting impressions on paper, foil, plastic or cloth, there are pre-press procedures such as design, artwork, layout, creation of type or graphics, film and platemaking, and press makeready. In the past all these processes were done by hand or camera. Today, type is set by microcomputer phototypesetters and can be produced in negative or positive film as an automatic process. It can be stored and retrieved from magnetic tape or discs, and manipulated into any form.
Pagination systems can combine halftone or line graphics, type and page layout in a single process. Little handwork is done after the creation of the written script or the artist's finished work. The newer equipment can combine these elements into a page, produce a printing plate automatically, and send the information by wire or satellite to any distant point. The Globe and Mail national edition is transmitted by satellite to locations across Canada, where it is printed and distributed. Cable Television connections and videotex as a means of transmitting information are augmenting or replacing print in many areas (see Telidon).
There are 4 major printing processes: the letterpress, or relief printing method, in which printing areas are raised above nonprinting areas and the impression is made directly from the inked raised surface to the substrate or paper; the planographic, or offset, lithographic system, in which the image and nonimage areas lie on the same plane but are distinguished by application of the principle that grease and water do not mix; the intaglio or gravure system, by which the image is engraved into the cylindrical or flat plate surface, then inked and printed onto the substrate; the screenprinting or serigraphy process, in which ink is pushed through a screen to the substrate.
In recent years, other methods of producing multiple copies from one master have been developed: flexography, a raised image system using rubber plates and aniline inks; electrostatic printing, either in a photocopier or through a fine screen; and jet ink printing, in which tiny globules of ink are jetted on to the substrate, often prompted by a computer or magnetic tape. Laser beam printing is now commercially successful, and electro-erosion printing is a strong probability for the future.
Beyond the press are the bindery or finishing procedures, many of them in-line with the press as a continuing operation. These steps could include folding, stitching and trimming on computerized cutters or cutting equipment on-press; or they may involve punching, perforating for tearaway, fan folding as in business forms, collating many signatures, round-cornering, adding carbon sheets, laminating and embossing.
History
Wooden handpresses (flatbed or "common" presses) imported from the US or Great Britain introduced printing to eastern Canada in the 1750s and were replaced only in the 1830s in large centres by the iron Washington handpress. The first known press was established in Halifax by Bartholomew Green, Jr, of Boston in 1751; his partner, John Bushell, launched the first Canadian newspaper, the Halifax Gazette, in 1752. Following the outbreak of the American Revolution, in 1775, a large number of skilled Loyalist printers arrived from New England, and by the mid-1780s there were presses in Saint John and Charlottetown.
In Québec City the 2 most important printing pioneers were William Brown and Thomas Gilmore, who founded the Quebec Gazette in 1764. In addition to the newspaper, the printing shop produced calendars, order forms and eventually pamphlets and books. Fleury Mesplet, who had learned the printing trade in France, brought the first press to Montréal in 1776. Initially, he produced religious works, but in 1778 began publishing the Montreal Gazette (Gazette du commerce et littéraire).
After John Graves Simcoe was appointed lieutenant-governor of Upper Canada in 1791, he convinced Louis Roy, a French Canadian, to establish his press in Newark [Niagara-on-the-Lake], the capital of the province. Although Roy's stay was brief, he started the province's first paper, the Upper Canada Gazette, in 1793. Because there was little commerce in Canada, printers relied heavily on newspaper subscriptions, government patronage (the printing of proclamations and laws) and the church (the countless tracts that arose from the religious controversies of the era).
It was missionary zeal that prompted the introduction of printing to the West. In 1841 Methodist pastor James Evans compiled a system of syllabic signs for the Cree language. When he was unable to get financing for a printing press, he cut molds in wood, melted the lead linings of old tea boxes into characters, constructed a handpress and, using ink made of soot, printed his book on birchbark. Commercial printing in the Red River Colony began in 1859 when William Buckingham and William Coldwell began publishing the Nor'Wester.
Printing in BC originated with the founding of the Victoria Gazette in 1858. Its presses also printed various government proclamations. In 1878 Patrick Laurie founded the Saskatchewan Herald, in Battleford, and in 1880 Frank Oliver took a press by oxcart from Winnipeg to Edmonton and began publication of the Edmonton Bulletin. The first press arrived in Dawson, Yukon, in 1897 to print the Caribou Sun.
Until the 1830s, printers in Canada looked to the US or Great Britain for their presses and ink, type and paper supplies. The cylinder press, for example, developed in the US in the 1830s, was adopted during the next decade by large circulation newspapers in Canada. George Brown bought the first such press in Canada West for his Globe in August 1844. Paper was first made in the Toronto area from rags in 1826 by Eastwood and Skinner, and Alexander Buntin is credited with introducing the groundwood process to North America in his Valleyfield (now Salaberry-de-Valleyfield) mill in the 1860s (see pulp and paper industry).
The Montreal Type Foundry (MTF) opened in the 1830s and, until it closed 40 years later, was among the earliest producers of type in Canada and a supplier of both imported and domestic presses. In 1887 the Toronto Type Foundry (TTF) was established, an indication that the centre of the printing industry had moved from Montréal to Toronto, and by 1898 had branches across the country from Halifax to Vancouver. The TTF used American matrices exclusively, and it was only in 1967 that Carl Dair created Cartier, the first Canadian-designed type face (see graphic art and design).
Of the few manufacturers of printing presses in Canada, none were as commercially successful or long lived as Westman and Baker of Toronto. Producing Gordon presses (invented by the American G.P. Gordon in 1858) from 1874 to 1922, the business also manufactured a wide variety of printers' and bookbinders' equipment which was distributed nationwide.
Two models of Linotype machine were built in Canada, the first manufactured by the Linotype Company in Montréal in 1891 and the second by the Canadian-American Linotype Company Ltd of Toronto after it acquired the Montréal firm. Both models were exported to Australia, South America and South Africa in competition with Mergenthaler Linotype of the US.
As print shops proliferated between 1810 and 1830, printers' societies or unions were formed in Québec City, Montréal, Hamilton and Toronto. In 1832, for example, a group of 24 journeymen printers set up the York Typographical Society to fight for better conditions; the union failed after bitter struggles, but was revived in 1844 and, as the Toronto Typographical Union, is today the oldest trade union in Canada. At first these unions represented workers who set type, ran letterpresses, or did hand bindery, but as new equipment was introduced and typesetting and presswork became increasingly mechanized, the unions began to represent specific crafts, so that by the late 19th century there were unions of pressmen, compositors, stereotypers, mailers and bookbinders.
By 1900 they had created federations such as the Toronto Allied Printing Trades Council in the larger cities. In 1892 John Bayne Maclean founded the Canadian Printer and Publisher as a monthly magazine, designed as the official organ of the Canadian Press Association.
The final 3 decades of the 19th century saw a great number of technological changes in printing in Canada. W.A. Leggo and G.E. Desbarats of Montréal are credited with having invented the halftone process of graphic reproduction in 1871 and, although others have also claimed this honour, there is no doubt that these Canadians played an important role in its development.
In 1873 the weekly Grip was founded and became the first paper to make its own engravings. Its production manager, Samuel Moore, left the company in 1882 to found Moore Business Forms to make and sell the carbon flipover Paragon Sales book. In 1905 Grip made the first 4-colour plates in Canada, and thereafter consumer magazines saw a greater use of colour in both advertising and illustrations.
Contemporary Developments
Commercial printing, publishing and printer-publishing have enjoyed an unspectacular but steady growth in the years following WWII. In the industry that Statistics Canada calls Print, Publishing & Allied Industries (which includes platemaking, typesetting and trade bindery companies), the number of employees increased from 114,047 in 1984 to 124,900 in 1995, with wages and salaries of $4.6 billion. Selling value of shipments swelled from $8.66 billion in 1984 to $14.6 billion in 1995.
At the same time, many "instant printing" shops have opened, and industries not related to printing have established in-plant printing and finishing plants, now a substantial part of the print supply business. Consequently the number of commercial printing plants has shown little increase, slowed to some extent by amalgamations and acquisitions by larger companies and the development of institutional and government printing plants.
Since the invention of personal computers and their widespread use, a massive change has taken place in the production of printed documents. Desktop or electronic publishing is now achieved by these PCs with the added use of electronic page makeup systems and laser printers which can produce camera-ready text and artwork or offset plates ready for printing. Multicolour work can now be done by a scanner which does the colour separations on film, processes the film and then sends the separations directly to an electronic platemaker.
Canada makes a great deal of paper, much of it in the form of newsprint exported to the US and the Caribbean, but it also imports many fine papers. Most ink used in Canadian printing, publishing and package houses, including in-plant shops, is made in Canada. Two companies, one in Québec and one in Ontario, design and manufacture business forms, presses and decollators. An Ontario company creates and manufactures folding, inserting, high-speed imprinting and paper-cutting machines. Nearly all this production is exported mainly to Europe, Asia and the US. A small computer invented in Toronto will convert noncomputer cutters and guillotines to automated computer operation. A domestic market has been created, but exports will account for the majority of business. Some labelling equipment is also manufactured in Canada.
In 1974 Mitel Corporation was established in Kanata, Ontario, to invent and distribute microelectronic devices for electronic communications, and was the first to develop complete in-house publishing using laser (Xerox 9700). The Mitel systems have been adopted worldwide and are used by many American manufacturers in the production of communications systems.
Imported printing inks in 1986 were worth $22,615,000 and 95.1% of it ($21,509,000) came from the US. Graphic arts imports in that year from all countries were $39,597.9 million and the US maintained its position as Canada's largest supplier, with values of $30,520 million or 77.1%. Imports by category were machinery & equipment, $708.1 million; paper and paper products, $942.8 million; printed matter, $1466.5 million; plastic film and sheet, $478.0 million; and miscellaneous, $292.6 million, all in Canadian dollars.
See also Almanacs; Book Publishing; Printmaking.