Women's sports are booming in North America, from recreational and university levels to the Olympic and professional ranks. But some things have not changed, as witnessed by Coe-Jones's predicament.
This article was originally published in Maclean's Magazine on April 7, 1997
Women's sports are booming in North America, from recreational and university levels to the Olympic and professional ranks. But some things have not changed, as witnessed by Coe-Jones's predicament.This article was originally published in Maclean's Magazine on April 7, 1997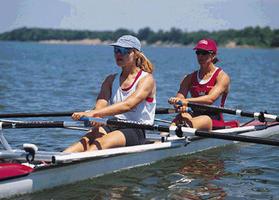 Marnie McBean and partner Kathleen Heddle won the double sculls on Lake Lanier - their third career gold medals (courtesy Maclean's).
Women's Pro Sports See Phenomenal Growth
With her year-old son, Canadian golfer Dawn Coe-Jones boarded a flight last October from Tampa, Fla., heading for a late-season tournament near Allentown, Pa. Little Jimmy had a cold, wailed inconsolably during the flight, and was only marginally happier when Coe-Jones finally got him, their bags and her golf clubs loaded into a rental car. It was dark by then, they got lost looking for the hotel and the still-disconsolate toddler did not get to sleep until well past bedtime. The next morning was no better: the tournament-sanctioned day care was miles from the course, and Coe-Jones's practice round was rained out halfway through. That afternoon at the hotel, just before his mother had to be at a compulsory players' meeting, rambunctious Jimmy fell on his face and opened a cut on his lip. Fortunately, it looked worse than it was - some ice helped stop the bleeding. "I had to take him to the meeting, fat lip and all," recalls Coe-Jones, a 36-year-old native of Lake Cowichan, B.C. "But I'm sitting there wondering, 'What am I doing at this tournament? Who needs this?' "
Women's sports are booming in North America, from recreational and university levels to the Olympic and professional ranks. But some things have not changed, as witnessed by Coe-Jones's predicament. Her story is one to which most parents can relate - except that women athletes have to juggle those responsibilities in a different city every week while still performing admirably in their sports. Not that most are complaining. They are, after all, living a dream, shucking off tired gender stereotypes to score goals, break records, make livings and provide positive role models for the next generation of girls who find themselves drawn as much to basketballs as to Barbie dolls. Who will be biathlon's next Myriam Bédard, diving's next Annie Pelletier, skiing's next Kerrin Lee-Gartner, synchronized swimming's next Sylvie Fréchette?
A half-century after Ottawa's Barbara Ann Scott leaped to prominence by winning the 1947 world figure-skating championship at Stockholm, Canadian girls and women are taking up everything from baseball to rowing to boxing in unprecedented numbers. The Canadian Soccer Association, for instance, reports that female athletes accounted for 31 per cent of all new players registered in 1996, up from only nine per cent 15 years before - and the association anticipates that they will soon represent half its membership. "It's an explosion," says Kevan Pipe, executive director of the CSA, adding: "These are not girls in carefully co-ordinated outfits. We have women covered in mud who have played their butts off for 90 minutes." Then there is hockey, Canada's original gruelling game. This week's women's world championships in Kitchener, Ont., are showing off a quick, combative, highly skilled group of skaters from eight countries, and Canadian team officials predict their sport will make an even bigger impression as a full medal event next February at the Winter Olympics in Nagano, Japan.
Certainly last summer's Olympics were a watershed for backers of women's sports. High TV ratings and better-than-expected attendance at Olympic venues alerted networks to an untapped market for women's basketball, soccer and softball. Sponsors, too, have noticed that sport is no longer just a man's world. Television and print ads selling everything from soft drinks to financial services are using images of women tearing down trails on mountain bikes or diving face first into the sand on a beach volleyball court.
And when companies look for a "name" athlete to promote their products, they often prefer a woman. Since the Atlanta Games, for instance, double-gold-medal-winning sprinter Donovan Bailey has not been the quickest Canadian off the mark at securing new sponsorships. That distinction goes to Marnie McBean, who with partner Kathleen Heddle won the double sculls on Lake Lanier - their third career gold medals. McBean now crisscrosses the country making speeches and appearances for a variety of sponsors, including Manulife Financial, AT&T Canada and Coopers & Lybrand. "In amateur athletics," says her agent, Blake Corosky, "women athletes are just as marketable as men."
The 1996 Olympics also spawned three new U.S. pro leagues for women - two in basketball and one in softball. And thanks to past Winter Games, once-fringe figure skating has jumped to second place among all sports in U.S. television ratings, behind only NFL football - while making superstars of such charismatic gold medallists as Kristi Yamaguchi and Katarina Witt. Insiders say Yamaguchi, who trained as an amateur in Edmonton, earns more than $5 million a year from competitions, tours, exhibitions and sponsorships. And she may not be the highest-paid female athlete. Steffi Graf of Germany won $3.6 million in tennis tournaments last year, and reportedly raked in an equal amount from off-court business ventures. Coming on strong is Australian golf sensation Karrie Webb who, as a rookie in 1996, became the first woman on the LPGA Tour to win more than $1 million (U.S.) in a season.
Not that life at the top of women's sports is all gold and glamor. Yamaguchi, who works in sequins and spotlights, says outsiders don't see the endless bus rides, the nagging injuries or the flat-out fatigue after five cities in seven nights. "Sure, we travel the world and stay in great places," the 25-year-old Californian says, laughing. "But you get tired and hate your luggage. It's hard to get 'up' some nights, but it's something I love - it's what I always wanted to do. I have to remind myself of that."
Stevie Thomas wants to do it, too. After watching tiny Tara Lipinski, a 14-year-old waif from Sugarland, Tex., win the world figure-skating championship two weeks ago, Thomas says bluntly: "I want to stand on top of the podium so much." For the 12-year-old resident of Mississauga, Ont., that is no pipe dream - she is already honing her double Axel and triple Salchow and toe loop, and she has a natural grace.
So on Good Friday, a holiday for most everyone else, Thomas puts in her daily norm of 3 1/2 hours at the Arc Figure Skating Academy. The ice surface is packed with skaters ranging from precocious five-year-olds to internationally ranked juniors, but she finds space to practise. Friends wonder why she is so obsessed. "It feels so great to go up in the air and then land a triple," Thomas says, adding: "Skating gives me confidence. A lot of girls at school, they don't have anything like that." Interestingly, the skater she most admires is a man - four-time world champion Kurt Browning. "I really look up to him," she says, "because he has the jumps and he is so great at the artistic side of skating."
As it happens, Thomas could not be growing up at a more propitious moment for female athletes, and not just in skating. Recent months have seen groundbreaking support for women's sports that, in North America, used to be professional dead ends. "There has never been a better time to capitalize on our sport," says North Vancouver's Charmaine Crooks, 34, a middle-distance runner who has competed in four Olympics. With prize money of up to $100,000 per event now offered at sanctioned competitions, Crooks says, "there's a real opportunity there to make a living as a track athlete."
There are new opportunities in team sports as well. In the past, a few feisty women tried out for men's pro leagues - Manon Rhéaume in the NHL, Anne Meyer in the NBA - without a realistic chance of catching on. (Rhéaume is still a backup goalie for the West Coast Hockey League's Reno Renegades.) Other players simply went overseas - Bev Smith of Salmon Arm, B.C., the new national basketball team coach, is one of many Canadian women who have played in a pro hoops league in Italy. But now, there is the American Basketball League, which just completed its inaugural season, playing to an average of 3,536 fans in its eight U.S. cities. And the eight-team Women's National Basketball Association, backed by the big-brother NBA, tips off its first season in June. "We feel good about the prospects for women's sports," says WNBA president Val Ackerman, "and we think we can lead the way."
Other games hope to follow basketball's example. Organizers of the 1999 Women's World Cup of Soccer in the United States say that event and the 2000 Olympics could boost momentum for a women's pro league. Softball supporters, meanwhile, are planning to start a semi-pro circuit in the U.S. southwest in June. Women's hockey may not be ready for professional prime time - there is simply a shortage of top-calibre players, officials say. Glynis Peters, manager of women's programs for Canadian Hockey, says that while thousands of women compete in college basketball and soccer in North America, only a few hundred play a similarly competitive level of hockey.
For all the progress, women's pro sports obviously lag well behind men's in tournament prize money, sponsor support and TV exposure. For example, the LPGA Tour, one of the fastest-growing women's sports organizations in the world, will stage 43 tournaments offering $48 million in prize money in 1997, and 31 of those events will be shown on TV in North America. But most will be on cable - only 10 will appear on major networks, compared with 42 events on the men's PGA Tour, while the men's prize money totals $75 million. As for sponsorships, Nike handed 21-year-old golf phenom Tiger Woods a seven-year, $40-million windfall before he had hit a single shot as a pro. But the same company, whose ads trumpet its support for women's sports, offended many pros when it offered Laura Davies, the world's No.1 ranked female golfer, a mere $5,000 a year to wear its shoes. "People keep talking about how far we've come," says veteran golf star Nancy Lopez. "But there's still a long way to go."
Women athletes also suffer from entrenched prejudice. Two years ago, CBS golf announcer Ben Wright told a reporter that lesbians in sport "hurt women's golf" and that sponsors were reluctant to support the LPGA Tour. But after a brief whirlwind of controversy - and after CBS fired Wright - the issue simply died. LPGA commissioner Jim Ritts insists the debate was actually good for his sport. "The allegation, quite aside from all the personal stuff, was that lesbianism is significantly and negatively impacting the business of women's golf," he says. "If that were true, a business would be stagnant at best, or declining. But the ensuing 12 months were the greatest in LPGA history from a business standpoint."
In some sports, the TV market is as strong for women's games as it is for men's. TSN and the CBC both report equally high ratings for women's curling as for its male counterpart. The same goes for tennis where, experts say, high-tech racquets have made men's tennis mostly a power game, whereas the women's version features plenty of power but also more crowd-pleasing rallies and finesse shots. "The more people get a chance to see women's sports," says Corosky, "the more they like them."
Charméne Adams and Tanya Neufeld have already scaled the heights of high-school basketball. The 17-year-old Grade 12 students at Hugh McRoberts Secondary School in Richmond, B.C., who both stand five feet, 10 inches tall, led the Strikers to last month's provincial AAA championship game before narrowly losing to Maple Ridge's Thomas Haney. And although Adams, a guard, and Neufeld, a forward, have both been scouted by U.S. colleges, they have chosen Canadian schools and hope to play for the Olympic team. "If you go away and play in the States, you can't come back for the provincial program here - the schedules usually conflict," says Neufeld, who plans to attend Simon Fraser University in Burnaby. She does not think that will hinder her development, saying: "Canadian basketball is getting better, too. I want to be a part of that."
Their ambitions may go even further - both Neufeld and Adams say they might want to play pro ball someday. But they are not so fixated on hoops that they forget other priorities. The two say they put just as much emphasis on maintaining good grades and active social lives - an attitude their coach, Trish Nicholson, says is more common among female athletes than among males. "On a girls' team, you won't find a lot of low grade-point averages," says Nicholson. "When they get to this level, they are usually high achievers."
Most of the women interviewed by Maclean's say that, as girls, they had strong parental support to pursue sports. "You need a little reassurance from your parents because to some extent you are going against the cultural norm," says rower McBean. "Sport was OK for boys, but there were some parents who didn't see it as something for girls." As teenagers, they tended to be all-around athletes and seriously competitive. Sandra Schmirler, whose team will represent Canada at this month's world curling championships in Bern, grew up playing volleyball and baseball, too. "Even as a little kid, I just had to be the best at whatever I was doing," says the Regina recreation supervisor. "My parents didn't push me into sport - it was just an outlet for my competitive nature."
The pursuit of sport often curtailed high-school social lives. Nancy Lopez, 40, winner of 47 LPGA tournaments in a 20-year career, had to join the boys' golf team at her Roswell, N.M., high school because there was no girls' team. "After that, I didn't get asked out on dates as much," says Lopez, who since 1982 has been married to Ray Knight, now the manager of baseball's Cincinnati Reds. "Maybe the guys were intimidated - I don't know. I had one boyfriend who couldn't understand that I had to go to the range and practise. He wanted me to be doing whatever he was doing." But others who came from smaller communities say sport was their social life. "Frankly, there wasn't much else to do," says Schmirler, who grew up in Biggar, a town of 2,500 west of Saskatoon.
For others, the rewards of competing made up for the social costs. "I always knew there was a trade-off," Yamaguchi says. "I didn't mind not going to the dances and the parties and the football games. I had this other life, travelling and being able to get away to competitions. I had friends all over the world at that point."
The sacrifices increase as recreation turns to career. Removed from home and family, elite-level women athletes are cut off from the normal social opportunities to meet friends and prospective mates. Romances tend to be of the long-distance variety. Among skaters, for instance, Yamaguchi and boyfriend Bret Hedican, a defenceman with the Vancouver Canucks, are rarely in the same time zone. And Witt, the two-time Olympic figure-skating champion from Germany, is dating a man in Berlin, where she owns a home. But she is usually on tour, at her apartment in New York City or working in Los Angeles. "I think the most difficult thing about this life for all of us is not being at home," she says. "But we are lucky - we are out here doing something great, something we have passion for, and we make a great living."
The separation is equally tough on husbands. Gail and Terry Graham of Oliver, B.C., have forged a successful sports partnership. She won the Alpine Australian Ladies Masters on the LPGA Tour last month, and he is general manager of Osoyoos Golf Club in the Okanagan Valley. But while the distance enables them to concentrate on their careers, it has forced them to put off having a family - and to put up with loneliness. "There are times when I get sick of going home to a frozen dinner," Terry admits.
Then there are long-distance crises. Lisa Walters, a golfer from Prince Rupert, B.C., who now lives in Tampa, was just about to start a pro-am round in 1992 when she was called off the course in Youngstown, Ohio, with the news that her husband, Mike, had suffered a heart attack back home. It turned out to be a relatively mild attack - he has recovered completely - but she feared the worst on the long trip home. "It was a horrible flight," she recalls. "All you can do is sit there and worry."
For the competitors who have kids, there is no way around the superwoman conundrum that other working women face in balancing marriage, motherhood and career. Male athletes, almost without exception, leave child care to their wives, at home or on the road, but women usually have their kids with them at everything from track meets to curling bonspiels. Coe-Jones says she takes Jimmy because she does not want to go weeks without seeing him. Her husband, Tampa businessman Jimmy Jones, says his wife often talks about leaving the course to be a full-time mother. "But right now," he says, "she feels she needs to be out there."
For most female athletes, that need is financial. Their paycheques may be pocket change to Michael Jordan, but they are still substantial. Coe-Jones has earned more than $2.6 million on tour since she turned pro in 1983, and she has several off-course endorsements contingent on her on-course performance. She is in her peak earning years, and as yet, there is no senior tour for women. So she plays on, and plays well. After the miserable start to her week in Pennsylvania last October, little Jimmy's cold went away and his mother worked her way into contention. "In the final round," Coe-Jones recalls, "I holed a 7-iron for eagle at the 17th hole, I birdied 18 and I shot 66." She finished third and won $49,000 - proof that while life may not always be easy for women athletes, it does have its rewards.
ACL: a real pain in the knee
There was nothing unusual about the way Claude Lessard, a two-time all-Canadian volleyball star, leaped to attack the ball. Her team, the number 1 ranked Université Laval's Rouge et Or from Quebec City, was battling the University of British Columbia in the semifinals of the Canadian university championships last year in Toronto. But Lessard, one of the hardest-hitting spikers in the country, came down awkwardly on her left leg and immediately crumpled in a heap. "It felt like someone had kicked me behind the knee," she recalls. "Right away, I knew I wouldn't be able to play in the national finals."
Lessard, 23, was out for nine months. Like scores of female athletes, she tore her anterior cruciate ligament, or ACL, which keeps the femur, or thigh bone, aligned with the tibia when the knee is bent. The ACL also prevents the tibia, or shin bone, from sliding forward too much. For reasons that doctors do not fully understand, women are much more likely to tear their ACL than men in sports involving jumps, rapid changes in direction or abrupt acceleration and deceleration. High-risk sports include soccer, basketball, volleyball, field hockey and gymnastics. Canadian research is scarce, but studies report that women are anywhere from two to four times more susceptible to ACL tears, depending on the sport. Dr. Doug Richards, team physician for the Canadian women's basketball team, calls it an "apparent epidemic."
For athletes, ACL injuries are season-ending. They require a lengthy rehabilitation and lead to premature arthritis in 70 per cent of cases. Theories abound as to why women are more prone to the injury. It could be because their wider pelvis may change the angle of the knee and in turn strain knee ligaments. Another possible factor is that more women than men suffer from a leg muscle imbalance: when the quadriceps - the muscle at the front of the thigh - overpowers the hamstring - the muscle at back of the thigh - the tibia may be pulled too far forward, resulting in a torn ligament. But in Richards's view, suspicion falls most strongly on the fact that women have a narrower "intercondylar notch," the horseshoe-shaped groove at the base of the femur where the ACL originates to join the femur to the tibia. Dr. Paul Marks, treasurer of the Canadian Academy of Sport Medicine, says that with a sudden knee twist, the notch "may guillotine the ligament."
To help prevent ACL tears, women have to exercise the hamstring muscles in the back of the leg. Knowing how to fall is also important. "We tell the athletes, 'If you land awkwardly and it feels like you're falling backwards, sit down,'" says Richards. But he says it's "nonsense" to suggest women are poorly suited to sports. When all types of injuries are considered, more men get hurt than women. The reason: men are simply more violent, particularly in contact sports such as football, hockey and rugby. The bottom line, Richards adds, is that "we don't want to make it sound like women are injured more often than men - they aren't."
Maclean's April 7, 1997