timeline
Fenian Raids
The Fenians were a secret society of Irish patriots who had emigrated from Ireland to the United States. Some North American members of this movement were intent on taking Canada by force and exchanging it with Britain for Irish independence. From 1866 to 1871 the Fenians launched a series of small, armed incursions of Canada, each of which was put down by government forces — at the cost of dozens killed and wounded on both sides.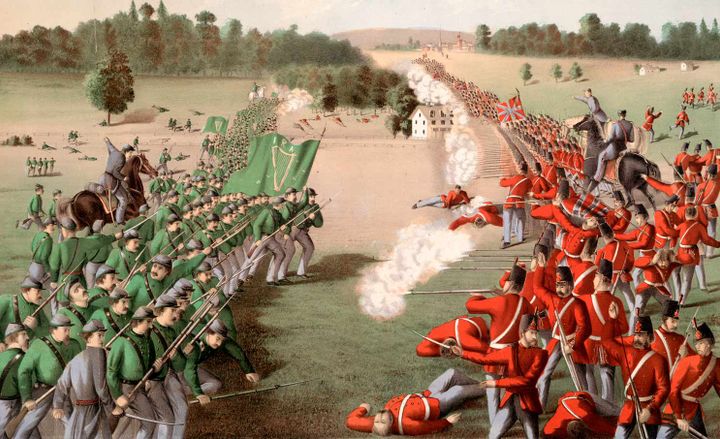 April 09, 1866
Fenian Raids
Michael Murphy Arrested in Cornwall
Tavern-keeper and Fenian leader Michael Murphy was arrested in Cornwall, Canada West. Fenians were Irish patriots in Canada and the United States who wanted a North American revolutionary movement for Irish independence. Canadian officials believed Murphy planned raids with his American counterparts. He was charged with treason, but escaped to the US.
May 31, 1866
Fenian Raids
Fenians Occupy Fort Erie
About 800 Fenians crossed the Niagara River at Buffalo into Canada, occupying Fort Erie.
June 02, 1866
Fenian Raids
Fenian Raid at Ridgeway
Canadian forces under Alfred Booker were driven back by the Fenians at Ridgeway, Canada West.
June 07, 1866
Fenian Raids
Fenians at Pigeon Hill
About 1000 Fenians crossed the Canadian border and occupied Pigeon Hill in Missisquoi County, Canada East.
April 07, 1868
Fenian Raids
D'Arcy McGee Assassinated
Thomas D'Arcy McGee, an MP and Father of Confederation, was shot and killed by suspected Fenian James Patrick Whelan while returning to his Ottawa home in one of Canada's few political assassinations.
May 22, 1868
Fenian Raids
Dominion Police Force Created
Established following the assassination of Thomas D'Arcy McGee, the Dominion Police was created to guard the Parliament Buildings, provide bodyguards for government leaders, and operate an intelligence service — which successfully infiltrated the Fenian Brotherhood. The Dominion Police was active until 1920, when it was absorbed by the Royal Canadian Mounted Police.
May 25, 1870
Fenian Raids
Battle of Eccles Hill
Canadian militia and volunteers clashed with Fenian raiders near Frelighsburg, Québec. The Battle of Eccles Hill was one of the last Fenian raids. The Fenians were Canadian and American Irish patriots hoping to foment revolution for Ireland's independence. They attacked Canada to provoke England. The Canadians successfully repulsed the invaders.
May 06, 1882
Fenian Raids
Fenians Murder Cavendish
Fenians murdered Irish chief secretary, Lord Frederick Cavendish, and T.H. Burke, Irish under-secretary, in Phoenix Park, Dublin.