Colette Beauchamp, journalist and essayist (born in 1936 in Valleyfield, Quebec), has been writing for a variety of Quebec media for over 25 years. In 1987, she published a remarkable essay entitled Le silence des médias, a critical, feminist analysis of the profession of journalism in Quebec. In 1992, she published a biography of Quebec journalist Judith Jasmin, for which she received the Victor Barbeau Award from the Académie des lettres du Québec.
Colette Beauchamp, journalist and essayist (born in 1936 in Valleyfield, Quebec), has been writing for a variety of Quebec media for over 25 years. In 1987, she published a remarkable essay entitled Le silence des médias, a critical, feminist analysis of the profession of journalism in Quebec. In 1992, she published a biography of Quebec journalist Judith Jasmin, for which she received the Victor Barbeau Award from the Académie des lettres du Québec.


Education and Journalism Career
After earning a master's degree in literature from the Université de Montréal, Beauchamp began her career as a journalist in the 1960s, working for Radio-Canada on both radio and television. After six years, she moved into public relations, serving as publicist for various cultural organizations and festivals, such as the National Ballet of Canada, the Théâtre du Nouveau Monde, the Montreal International Music Competition, and the Montreal World Film Festival (Festival des Films du Monde de Montréal). She also worked on public relations for Expo 67, the "Universal and International Exhibition" held in Montreal in 1967, mainly at Place des Arts, the Expo Theatre and the Autostade. In 1969, she founded and began publishing Placedart, a cultural calendar promoting events at Place des Arts, with a press run of over 50,000. In 1971, she became head of the information and services department at Place des Arts.
Place des Arts is the centre for the performing arts in Montréal, with 3 concert halls (courtesy Canadian Tourism Commission).
Place des Arts is home to the Montreal Symphony Orchestra, Les Grands Ballets Canadiens, and the Opera de Montreal.
In the mid-1970s, Beauchamp returned to Radio-Canada to work as a journalist and researcher, in particular for the current-affairs radio program Présent. In the 1970s, she became one of the first female hosts of the program Droit de parole on Radio-Québec (now known as Télé-Québec), which focused on current issues and debates concerning Quebec society. She also did reporting for Radio-Canada, where she tackled many sensitive topics, such as prostitution in Montreal. She also contributed to various print media, such as the French-language magazine Châtelaine.
In 1980, Beauchamp covered the Quebec referendum on sovereignty-association, including the "Yvettes affair" that may well have led to the defeat of the sovereigntist cause. In reporting on these events, Beauchamp interviewed a number of female researchers and feminists. When interviewed in 2009 by two Quebec female journalists of a later generation (Yasmine Berthou and Josette Brun), Beauchamp described how struck she had been by how seldom journalists consulted women as experts on current affairs in those days.
Feminist Activities
Although Beauchamp has said that she joined the feminist struggle in the mid-1970s, her involvement in the women's movement actually began far earlier. In 1960, she joined the Montreal section of the Cercle des femmes journalistes, a Quebec women journalists' group founded in 1951. In 1965, along with Thérèse Casgrain , she served on the organizing committee for the 25th anniversary celebrations of women's suffrage in Quebec. In 1966, she was one of the signatories of the charter of the Fédération des femmes du Québec (FFQ; Quebec Federation of Women), and she served on this organization's first board of directors, alongside Réjane Laberge-Colas, Monique Bégin and Simonne Monet-Chartrand.
Many women journalists played crucial roles in the history of the FFQ. As historian Flavie Trudel describes, they helped to guide the FFQ from the inside from its earliest days and made it visible on the public scene. These women included Fernande Saint-Martin, editor of the women's pages of the newspaper La Presse from 1954 to 1960 and editorial writer for Châtelaine from 1960 to 1972; Jeanne Sauvé, then a journalist with Radio-Canada and the Montreal Star; Françoise Stanton, a journalist and public-affairs host on Radio-Canada; and Solange Chaput-Rolland, a journalist and political commentator.
In the mid-1970s, Colette Beauchamp became active in the Regroupement des femmes québécoises (RFQ), a neo-feminist pressure group formed by women activists who had quit various provincially sponsored committees on the status of women out of disappointment with the position that Parti Québécois leader and Quebec premier René Lévesque had taken on the right to abortion (see Women's Movements in Canada: 1960–85). The RFQ's goal was to support mass actions. In 1978, at the RFQ's first policy conference, Beauchamp was elected to the coordination committee. The RFQ quickly gained attention through its provocative tactics, such as establishing a People's Tribunal on Rape, whose mandate was "to publicly denounce the various forms of physical aggression inflicted on women; to receive, select and examine complaints; and to support women who agree to let their cases be used publicly" (see Sexual Assault). The session that this tribunal held in June 1979, with over 750 women in attendance, had a huge impact and helped to make violence against women a major issue on the Quebec feminist scene. The RFQ also supported Denise Boucher when her play Les fées ont soif, presented at Montreal's Théâtre du Nouveau Monde in 1978, was censored as the result of pressure from Catholic groups. In the 1980 referendum campaign, the RFQ denounced the short shrift being given to feminist issues and encouraged women to spoil their ballots.
In the 1980s, Colette Beauchamp contributed to several issues of La vie en Rose, a feminist magazine of current affairs that published until 1987. Working freelance, she translated a book on parent-child bonding (1983) and wrote a report on the working conditions of nurses in Quebec (1989).
Le silence des médias (essay)
In 1987, Colette Beauchamp published an essay entitled Le silence des médias : les femmes, les hommes et l'information (The Silence of the Media: Women, Men and the News) that was much discussed at the time and continues to serve as a reference for feminist analysis of the media today. This essay condemned the dominance of male values in the press agencies (see also Media Ownership), the shortage of women in policymaking positions, the sexist distribution of reporting assignments (society and education for women, economics and politics for men) and the general lack of women in the news media.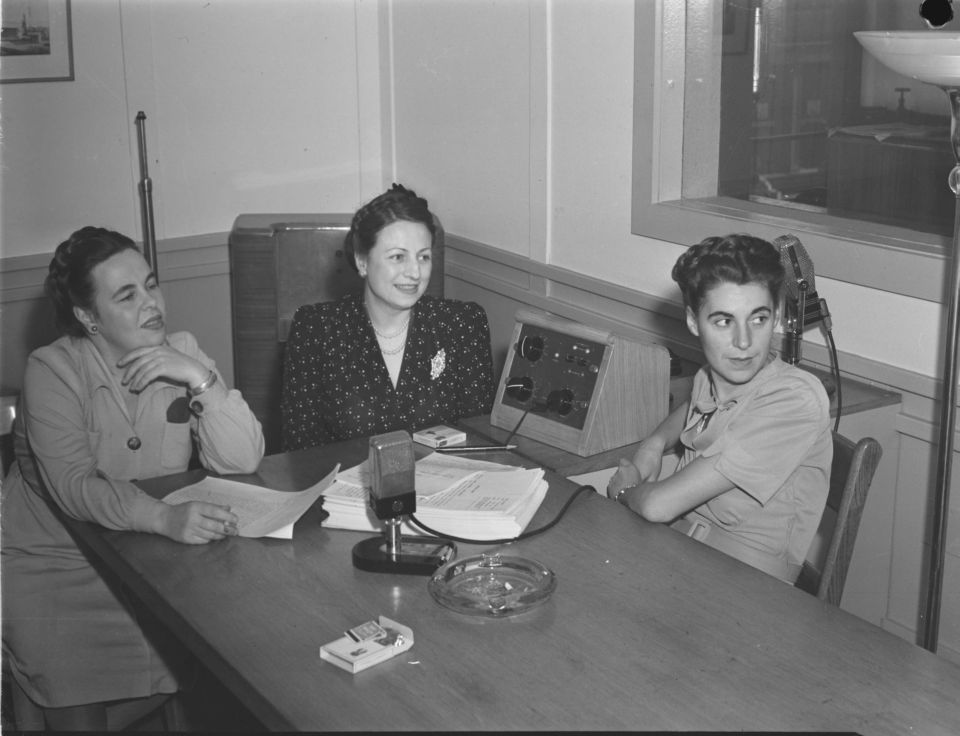 Marcelle Barthe, Berthe Lavoie and Judith Jasmin, three directors of CBF (Radio-Canada) in Montreal in 1945, meeting in the studio.
In the mid-1980s, as she was preparing to write a biography of Quebec journalist Judith Jasmin, Beauchamp realized that first she needed to reflect on her own experience as a journalist and a woman. In her interview with Berthou and Brun in 2009, she explained, "I had so many things to say that there would have been a risk that I would use this biography to express my own ideas, and my feminism was not the same as Judith Jasmin's. […] Of course, she participated in the first women's rights marches in New York, but her feminism was completely consistent with that of her times and limited mostly to the issue of pay equity."
Judith Jasmin, 1916-1972. De feu et de flame (biography)
Beauchamp's biography of Judith Jasmin, the first Quebec woman to pursue a career in political and international journalism, was published in 1992 to critical acclaim. The biography earned Beauchamp the Maxime Raymond Award from the Institut d'histoire de l'Amérique française and the Victor Barbeau Award from the Académie des lettres du Québec. To research this book, Beauchamp conducted an extensive analysis of Jasmin's personal archives and a series of oral interviews with her relatives, friends and colleagues. This biography traces her personal as well as her professional life, underscoring the specifically female aspect of her experience. According to Beauchamp, "what made her different and made her a guiding light for both her own generation and the next, and for men as well as for women, but what no one had figured out before, was that throughout her career, she went out and got the news without negating her own, woman's perspective on the world that she observed."
Other contributions
​In the 1990s and the 2000s, Beauchamp continued to advocate for feminism in her writing, in her statements in the media, and at various public and academic conferences. In 1994, following a groundbreaking conference of Quebec feminists (the Forum pour un Québec féminin), Beauchamp wrote the book Pour changer le monde (Changing the World), published by Les Éditions Écosociété. In 1998, she helped to write the ​Council on the Status of Women's report on a symposium held at the ​Université du Québec à Montréal, entitled Marcher sur des œufs : certains enjeux du féminisme aujourd'hui (Walking on Eggs: Certain Issues of Feminism Today). In 2003, Beauchamp published Du Québec à Kaboul : lettres à une femme afghane. In 2004, she wrote the preface of La télé cannibale, by Michel Lemieux, and in 2005, she published Propagande, médias et démocratie, her translation of Media Control: The Spectacular Achievements of Propaganda; Corporate Media and the Threat to Democracy, a collection of pieces by Noam Chomsky and Robert W. McChesney.
Not only have the meticulous analyses of this journalist, essayist and feminist activist successfully drawn attention to gender-related inequalities and stereotypes in the Quebec media, but the positions and actions that she has taken publicly have helped to give women back their voices on the issues that concern them.
Publications
Le silence des médias : les femmes, les hommes et l'information (1987)
Judith Jasmin, 1916-1972. De feu et de flamme (1992)
Judith Jasmin, Défense de la liberté (1992), edited and with an introduction by
Colette Beauchamp
Du Québec à Kaboul : lettres à une femme afghane (2003
Awards and Honours
Maxime Raymond Award for Judith Jasmin, 1916-1972. De feu et de flamme, Institut d'histoire de l'Amérique française (1992)
Victor Barbeau Award for Judith Jasmin, 1916-1972. De feu et de flamme, Académie des lettres du Québec (1993)