This article was originally published in Maclean's Magazine on February 17, 1997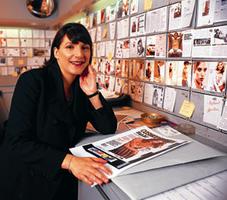 The prestigious magazine Cosmopolitan's new Canadian editor (courtesy Maclean's).
Cosmo's New Canadian Editor
 In a makeshift, ground-floor office tucked behind the august marble lobby of the Hearst Building in midtown Manhattan, glamor is in distinctly short supply. In a space barely big enough to qualify as Madonna's walk-in closet, 20 people are jammed into 10 temporary cubicles, among them the 40-year-old Canadian who has just taken on one of the highest-profile magazine jobs on the continent: making over a genuine American icon, that perennial sex kitten, the
Cosmo
girl. But on this particular day, the only suggestion of sex-kittenhood seems to be the black feather boa wrapped around Bonnie Fuller's computer terminal.
Fuller herself, the new editor-in-chief of Cosmopolitan magazine, is buttoned up to the neck in three-piece black, still trying to recover from glitches in the heating system of the new house she and her husband, architect Michael Fuller, had moved into in suburban Westchester only two weeks earlier. As if that were not enough, she is eight months pregnant, their third child due only weeks after her first revamped issue debuts on Feb. 18. "We just believe in hitting every stress point at once," she jokes. "Why not go for it?"
Going for it, in fact, has been Fuller's stock-in-trade ever since she talked her way into a fashion writer's job at The Toronto Star 20 years ago. But some recent stress points she could have done without - not least of all a front-page spread last month in the business section of The New York Times. In it, her legendary predecessor, Helen Gurley Brown, who had re-created and shaped the magazine in her own image for 31 years, made clear that, despite her 75th birthday this month, she was not relinquishing her throne by choice. Brown even owned up to fleeting moments when she hoped her successor might fail. From her former top staffers, most of whom had not been asked to stay, came even unkinder cuts, dismissing the new editor as "the Fuller brush-off girl."
Worse, at a time when many women's magazines are wrestling with identity crises, the Times questioned whether Cosmo could survive without the woman who personified the philosophy and formula that had made it the sixth-largest- selling magazine on North American newsstands, with 2.5 million devoted buyers a month. As Brown, the undisputed star of the piece, later confessed to Maclean's: "At first, I thought, 'I'll just slip away quietly.' Then I thought, 'No! I want to slip away noisily!' "
On the Monday morning when that noise - which some likened to a meow - emerged from the Times presses, Fuller was still at home before embarking on her one-hour daily Amtrak commute. Expecting a celebration of her own meteoric editorial career, her heart sank when she found herself implicitly cast in the scheming understudy's role in some publishing version of All About Eve. "You read it and you're upset for a few minutes," she admits. "But you get past it and you get on with what you're doing."
What the article failed to mention was that Fuller is getting on with putting out her first issues far from the status office two blocks away where Brown reigned from an eighth-floor pink cocoon. Initially, Hearst had announced that Fuller would be installed as deputy editor for an 18-month apprenticeship. But by last summer, reports of tensions between the old guard and Fuller's new team had become the buzz in New York City media circles. In September, Fuller decamped to this windowless warren of cubicles in the bowels of another building to plot her redesign. And despite Brown's departure, she is still there. Up the street, her predecessor's signature pink silk has been ripped off the walls and the leopard carpet torn up, but it will be weeks before Fuller can take her place in her own decor of spare black and white.
For Fuller, the Times's not-so-sly suggestions of a catfight seemed bitterly ironic given the fact that she had not even sought the Cosmo job. In January, 1996, when Hearst president Frank A. Bennack Jr. and executive vice-president Gil Maurer had offered it, she was shocked. Only two years earlier, they had hired her to launch the U.S. edition of the French fashion magazine Marie Claire. Although it had been an unqualified success, its circulation more than doubling from 250,000 to 525,000, she felt she was "just getting the magazine under my belt." Nor did she have any delusions about just how daunting her task would be to update a publication routinely referred to as Hearst's "crown jewel." Not only was Cosmo reportedly the most profitable magazine in the corporate stable, it was also, in current publishing parlance, a boffo "brand," with massive merchandising spinoffs and 29 international editions, including Russian and Chinese. "I mean," Fuller notes, "this magazine was not broke."
Still, everyone agreed, at least off the record, that Cosmo was showing its - and its editor's - age. In 1965, when Brown had taken it over, she had staked out revolutionary ground, turning it into a monthly handbook for the new female sexual liberation movement. But in an age of AIDS and sexual harassment suits, its perky man-pleasing hints seemed perilously out-of-touch. As Gloria Steinem pointed out, Cosmo had come to symbolize the "survival kit" for today's unliberated woman. Says Linda Hawke, executive director of the national feminist organization MediaWatch: "Cosmo has tried to present itself as a magazine that is about women's power, but it seems to say, 'You can have power if you have great cleavage and a great dress.' "
The only comment Hearst executives have for the moment about Brown's departure is that, in light of her age, there would eventually have to be a change. Still, that change, while profound, would have to be subtle - so subtle a reader might not even catch on. "I'd like people to pick up Bonnie's first issue and potentially not notice a difference," says Cathleen Black, the new president of Hearst's magazine division. "What we don't want is someone saying, 'What happened to my Cosmo?' "
At an oval table piled high with rival glossies, Bonnie Fuller is pondering a list of upcoming features: "Philandering fathers," "Marrying for money" and "Thawing the emotionally frozen man" - all subjects that ought to reassure any diehard Cosmo reader. But one entitled "Do you go too far to please men?" gives her pause. "It can't be all negative," she worries. "How can we rephrase this?" Minutes later, she herself hits on a more upbeat twist: "How far should you go to please a man?"
It is, after all, the quintessential question - the one that will distinguish the new Cosmo girl from the old as Fuller tries to beat the rap that the magazine's archetype had become an anachronistic man-crazy bimbo. But in Fuller's hands, that coming-of-age will be gradual. To the untrained eye, March's cover girl looks indistinguishable from previous sirens. Clad in a cleavage-baring wisp of silk, she gazes out with the usual come-hither stare beneath the tantalizing blurb, "His and her orgasms: how to slow him down and speed you up." Says Fuller of the trademark Cosmo cover: "It was such an icon, you just didn't want to mess with it."
At Hearst, there was never any doubt that she could walk that delicate tightrope between tradition and transformation. Already, three times before - at Marie Claire, YM and in Canada at Flare - Fuller had taken an existing publication and repositioned it, making it hipper and more relevant, increasing circulation and, more important, fattening the number of ad pages. Unlike Brown, who boasts that she never resorted to reader surveys or focus groups, Fuller regularly plied those current tools of the trade. Last summer, when research told her that Cosmo's faithful in the 18-to-34-year-old age group - the largest single market for cosmetics and clothes - had little interest in recipes or travelogues, she threw them out in favor of fitness and money tips. Now, slick fashion spreads feature photographers like former Torontonian Walter Chin - once leery of the magazine's downmarket image - shooting top models in trendier, if still wanton, dishabille.
The definition of glamor too has been updated. Where Brown's last issue profiled Clint Eastwood, Fuller's new one dishes up four pages on David Duchovny, doe-eyed Agent Mulder from The X-Files. "Bonnie has taken the fantasy men out of the tuxedos," says creative director Donald Robertson, Fuller's wry sidekick, who has signed on for all her ventures since she first hired him as a fashion illustrator at Flare: "That blow-dried guy with the big car is gone."
Still, other elements of Brown's legacy have not been so easily jettisoned, above all her apparent obsession with sex. Fuller argues that "people think it's a bigger focus than it is because Helen went out there and said it first: women are entitled to a good sex life." As Robertson notes: "Bonnie's politics and Helen's politics are the same. They're both very pro-men, pro-sex and anti-women-as-victim."
Now, if Fuller has retailored the Cosmo girl with a few attitudinal nips and tucks, she has also donned her mantle. "I buy that philosophy," she insists. "I was the Cosmo girl." That assertion might surprise those who do not think of the Cosmo girl as someone bent on combining career with motherhood. But as Fuller explains it in what has become the new Hearst corporate mantra: "The Cosmo girl is somebody who wants to have it all."
"Cosmo says you can get anything if you don't just sit on your backside with your nose pressed to the glass," Brown wrote in 1981. As it happened, Fuller had just decided a year earlier to test her mettle in the big time, vaulting from her first job, at The Toronto Star, to the New York fashion bible, Women's Wear Daily. Her background could not have been more different from Brown's. While her predecessor, a native of Little Rock, Ark., taught herself to type at 18 to support her newly widowed mother and a sister who had just come down with polio, Fuller grew up in Toronto's tony Rosedale, the eldest of three children born to Tanya and Stanley Hurowitz, a housewife and a wealthy lawyer who dreamed that his clever firstborn would take over his practice. But Fuller, like Brown, harbored a determination that set her apart. "Her Grade 4 teacher called me in," recalls her mother, "and said she'd never seen a child so driven."
By high school, Fuller had made up her mind to become a reporter, and one summer, while still at university, she won a job at a suburban newspaper. Still, true to the wishes of her father, she enrolled at Osgoode Hall Law School. Although her marks were good, her heart was not in torts. The next summer, when she heard of an opening for a fashion writer at the Star, she talked her parents into letting her try it for a year. Until then, she had never shown much interest in clothes. For her, fashion was merely a back route to the city desk. But once she found herself reporting from the runways in New York and Milan, she was hooked. "She was just a very hardworking, determined little gal," remembers the Star's former fashion editor Stasia Evasuk. "She wasn't aggressive in any way, but I could see it in her eyes."
One factor that made Fuller's resolve so steely occurred when she was 18. Her parents' divorce left her mother in abrupt financial straits, forced to sell the family home. "It was hard for her, and for us," Fuller says. "It definitely made me determined not to be financially dependent on anybody."
As the sportswear editor at Women's Wear Daily, she found the pace and competition ruthless - perfect for her Type A-plus personality. But it did not deter her from another goal. At a New York party, she met a fellow Toronto expatriate, the easygoing Michael Fuller. At the time, she had just broken off a long-term relationship "after not having seen a proceed-to-marriage," and she approached her new romance with the same relentless focus she had reserved for her career. "On our third date, I told him, 'You know, if you're not interested in being open to marriage after we've been seeing each other for six months, that's it,' " she recalls. "I just laid it on the line." Michael, she says, was "so shocked I think he decided to rise to the challenge." Six months later, on schedule, he proposed on a bus. "I wanted the engagement," she says. "I wanted the ring."
Months later, in June, 1983, when they were married in a Toronto synagogue, she already seemed on her way to her new redefinition of the Cosmo girl. At 26, with minimal magazine experience, she had just been named editor of Flare. Its then-publisher, Donna Scott, now chairwoman of the Canada Council, knew she was taking a gamble on Fuller, but after interviewing two dozen other candidates, she remained captivated by her ideas and spunk. Says Scott: "She is as single-minded as anyone I've ever met." Their collaboration lasted six years and turned Flare into a fashion must-have.
Insisting she had to attend all the collections, Fuller would show up with a photographer to record her hobnobbing with designers and stars for a column she dreamed up called "Flare was there." Barbara Sgroi, a Toronto fashion writer and friend who has followed her to every magazine, including Cosmo, chuckles at the memory of their forced marches through the Paris salons, Fuller handing out Flare and working the crowd. "It already marked her as not being a complacent Canadian," Sgroi says. "She was hustling herself and the magazine equally."
Every month, Fuller mailed out hundreds of issues with notes to top editors around the world. For her, the competition was not another Canadian women's magazine, but Mademoiselle, Glamour and Vogue. "I had to be just as good as they were," she says. By her sixth year at Flare, she was restless. Introduced to Hearst's Gil Maurer by her pal, top menswear designer Tommy Hilfiger, she sent him a four-page proposal for the make-over of Harper's Bazaar. "It was such an astonishing document that he passed it on to me," recalls Helen Gurley Brown, who was looking for a new beauty editor and invited her to drop by. Brown promptly found Fuller, her husband and new baby in her office. Although Fuller admits she was "scared," she was cool to Brown's job offer, which she regarded as a demotion. But invited to submit story ideas, she whipped off 100.
Still, nothing had come of their encounter when she heard about an obscure U.S. teen magazine called Young Miss, which was in trouble. For Fuller, YM, as she rechristened it, proved a perfect showcase for her canny editorial sense. In her editor's notes, penned in a confidential big-sister tone, she shared her own traumas ("I'd rather take a chemistry exam twice than have to relive my first visit to the gynecologist"), and in a regular feature, invited teens to share their "most mortifying moments." As Sgroi points out, Fuller drew on her own vulnerability. "This was all inspired by Bonnie's most hideously mortifying experiences," she says. "At all these magazines, she's always been willing to put her own experiences in print."
Fuller had built the circulation from 725,000 to 1.8 million when Hearst hired her away to launch Marie Claire in North America. In a shrinking advertising market, it too was a formidable challenge. "People said there wasn't room for another fashion and beauty magazine," she says, "but we sort of elbowed our way in." Her transplant was hailed for a mix that melded high and low fashion with serious issues such as a much-noted piece on the women of Bosnia.
And again, she laid out her own life on the editorial page: introducing an article on how "a growing number of women with killer careers are finding love with lower-income guys," she confessed that her husband had quit his job to stay home with the kids (Noah, now 9, and Sofia, 6) - and to build a family room. "Let me tell you," she burbled, "I'd rather see him with a tool belt than a laptop any day." Although she had assumed the role of principal family breadwinner, she admits, "I wouldn't be happy doing anything else."
Emerging as one of the comers in the cutthroat world of women's magazines, Fuller seemed a veritable poster girl for having it all. By last year, her only worry was whether she could have another baby. She had started to consult adoption agencies when she went with friends to a restaurant where a tarot card reader predicted not only another child, but also another job. "I didn't understand what she was talking about," Fuller recalls. "But she said there would be another very strong woman involved, and at first it was going to be a difficult time."
Tension? Helen Gurley Brown pauses in her breathy monologue. "I would say there hasn't been tension between Bonnie and me. She's always been very respectful. And I've felt for her having to sit through all those lunches and listen to all the carrying on about me. I could never have stomached it." No, the only tension she can think of is during the last months of what she terms "the reign," when Fuller was working on her March redesign and Brown was putting together what she calls her "real wing-ding farewell February issue" - which set an ad-page record. But she makes no bones about the fact that she needed some prodding towards the exit. "Left up to me," she says, "I'd never have gone."
Newly transplanted to a modest corner in another building, along with her trademark decor, Brown has been named editor-in-chief of Cosmo's international editions, charged with making sure that their local editors do not deviate from her basic formula. As she puts it: "My challenge is to keep these girls in line." It is, she says, a "soft landing" for a childless workaholic horrified at the thought of retirement. Ever since her 1962 best-seller Sex and the Single Girl, her life had been dedicated to incarnating its racy maximalist message in a magazine dreamed up by her film producer husband, David Brown, who wrote every exclamatory cover line for the past 31 years. Now, she is stung by suggestions that her Cosmo had become passé. Pointing out that it continues to be the best-seller in college bookstores, she has a simple reply: "Bullshit!"
Certainly, when Brown's first issue appeared in 1965, it was groundbreaking. Cosmopolitan paved the way for a new generation of women's magazines that U.S. feminist Naomi Wolf hails as "potent instruments of social change," offering women an unprecedented forum for debate and a road map for economic and erotic independence. Beneath a veneer of naughty fun, it took the sting out of a movement that was, in fact, threatening centuries of social tradition. But in her popular 1990 critique, The Beauty Myth, Wolf argued that it also paved the way for sending women a potentially lethal mixed message. She charged that its ads and breezy beauty columns undercut that text, keeping women in thrall to a multimillion-dollar diet and cosmetics industry that nourished low self-esteem and an epidemic of eating disorders.
Predictably, Brown bridles at feminist critiques. "The idea you shouldn't be concerned about your looks - that's just nonsense," she protests. "Gloria Steinem streaked her hair and wore lip gloss and sexy clothes. You don't have to have greasy hair to be a feminist." More surprising, perhaps, Fuller echoes virtually the same line. "What's so terrible about cosmetics and fashion, anyway?" she bristles. "It's a fact of life that women since the dawn of time have been interested in making themselves look attractive. We've seen all the hieroglyphics of Egypt - they were doing it then. It's in our biology."
As for the accusation that women's magazines encourage anorexia, bulimia and self-loathing by featuring ever-younger images - such as that of the newly crowned Supermodel of the World, Winnipeg's Leanne Spencer, who is 15 - Fuller argues that eating disorders are prompted by psychological issues like control. "There's much more of a problem in North America with obesity," she says. Fuller is too savvy to attack those contradictory messages that have been the lifeblood of women's magazines - an ambivalent territory that she has proven extraordinarily skilled at negotiating. But her reluctance may also reflect the schizophrenia inherent not only in the new Cosmo girl, but in the lives of most modern girls and women.
Maclean's February 17, 1997