Elliot Page (born Ellen Philpotts-Page), actor, activist, producer (born 21 February 1987 in Halifax, NS). Elliot Page is a serious, soulful and intelligent actor, and one of Canada's biggest movie stars. A seasoned child performer, Page started out in Canadian feature films and TV series, winning two Gemini Awards by the age of 18. Page's intense performance in the American indie Hard Candy (2005) led to high-profile roles in X-Men: The Last Stand (2006) and the indie smash Juno (2007). Juno earned Page an Independent Spirit Award and an Oscar nomination. Adept at quirky comedy (Whip It, Super), intimate drama (Marion Bridge, Mouth to Mouth) and big-budget blockbusters (Inception, the X-Men franchise), Page is equally well-known for environmental activism, advocacy for LGBTQ rights and a grounded, socially-conscious persona.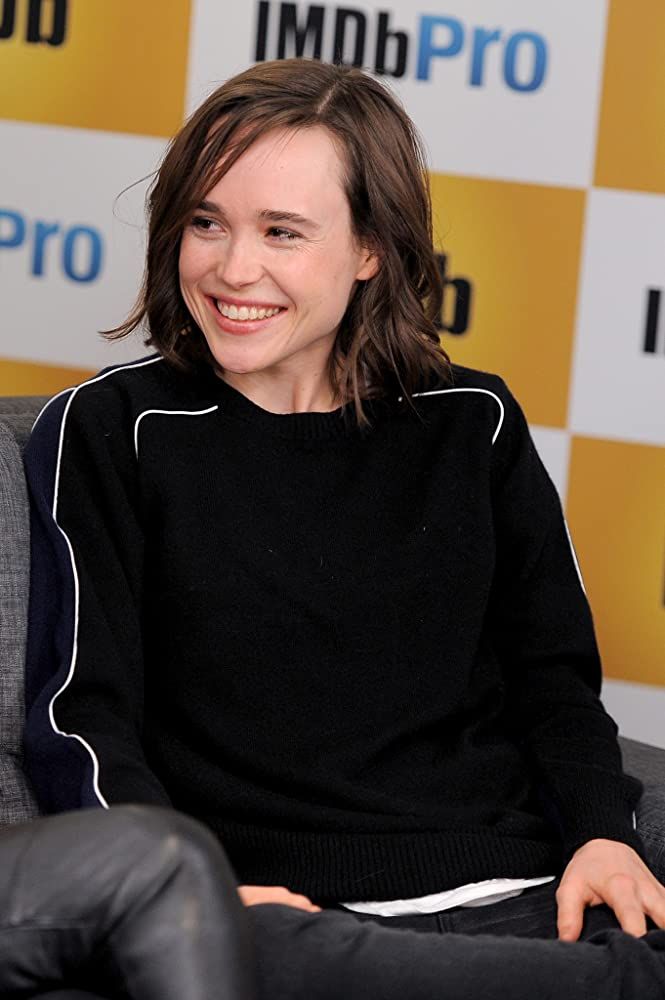 Elliot Page
Elliot Page at an event for The IMDb Studio at the 2015 Sundance Film Festival.
(courtesy Wikimedia Commons)
Personal Life
Elliot Page was born Ellen Philpotts-Page on 21 February 1987 in Halifax, Nova Scotia. His parents are graphic designer Dennis Page and teacher Martha Philpotts, who divorced when Page was a child. He was known as Ellen Philpotts-Page early in his career, and as Ellen Page from around 2001 until December 2020.
Page came out as a gay woman on Valentine's Day 2014, at a Human Rights Campaign conference on LGBTQ youth in Las Vegas. Page began identifying as gay around 14 or 15 and came out to their family at 20, but had struggled for years with the effects that coming out might have on their public image and career. At the conference, Page told the attendees that, "I am here today because I am gay… Maybe I can make a difference, to help others have an easier and more hopeful time.… I am tired of hiding and I am tired of lying by omission. I suffered for years because I was scared to be out. My spirit suffered, my mental health suffered and my relationships suffered."
Page's speech was viewed more than five million times on YouTube. Following that declaration, Page talked about the experience of coming out on such programs as The Ellen DeGeneres Show and Good Morning America. Page also spoke openly about a years-long battle with depression and panic attacks. After coming out, Page was named one of the Advocate's "40 Under 40" and Out magazine's Entertainer of the Year.
Page came out as a trans man on 1 December 2020, when he posted a statement to his social media accounts reading, "Hi friends, I want to share with you that I am trans, my pronouns are he/they and my name is Elliot. I feel lucky to be writing this. To be here. To have arrived at this place in my life…. I can't begin to express how remarkable it feels to finally love who I am enough to pursue my authentic self. I've been endlessly inspired by so many in the trans community. Thank you for your courage, your generosity and ceaselessly working to make this world a more inclusive and compassionate place. I will offer whatever support I can and continue to strive for a more loving and equal society."
Education and Early Career
Elliot Page studied acting at Halifax's Neptune Theatre School. At age 10 he was cast in his first film, Pit Pony (1997), under the name Ellen Philpotts-Page. The TV movie about growing up in a Cape Breton mining town morphed into a CBC series (1999–2001), which earned Page a Gemini Award nomination in 2000.
As a tween and teenager, Page acted steadily in Canadian projects, including Trailer Park Boys (2001–02) and a trio of acclaimed Maritime films: Wiebke von Carolsfeld's Marion Bridge (2002), which earned Page an ACTRA award; Andrea Dorfman's Love That Boy (2003); and Daniel MacIvor's seriocomic Wilby Wonderful (2004), for which Page received an award from the Atlantic Film Festival. Page won his first Gemini Award in 2004 for the TV movie Mrs. Ashboro's Cat (2004).
Page then relocated to Toronto and enrolled in Vaughan Road Academy's Interact program, where his classmates included actor and singer Drake. Page received another Gemini Award in 2005 for best supporting actress in a drama for the first season of the popular sci-fi series ReGenesis. After returning to Halifax, Page graduated from the Shambhala School, a progressive school based on Buddhist principles of mindfulness and awareness.
International Breakthrough
Page could have settled into the relative safety of a television career with forays into moviemaking. But lead roles in Alison Murray's Mouth to Mouth (2005) and David Slade's Hard Candy (2005) raised the stakes. In the international co-production Mouth to Mouth, Page played a wandering Goth kid who falls in with anarchist cultists in Europe. In the confrontational American indie Hard Candy, Page offered a smart, scary performance as a 14-year-old girl who uses the Internet to lure a suspected pedophile into a trap. The controversial film earned mixed reviews, but Page's performance received universal acclaim and led to Page being cast as Kitty Pryde in the blockbuster action movie X-Men: The Last Stand (2006).
With his international star on the rise, Page still made time for Canadian projects, including veteran director Bruce McDonald's elliptical and semi-experimental The Tracey Fragments (2007) and Kari Skogland's graceful The Stone Angel (2007), based on the novel by Margaret Laurence.
Juno (2007)
Page then co-starred opposite Michael Cera in Juno (2007) a record-breaking, critically acclaimed, multiple award-winning independent hit. Directed by Montreal-born Jason Reitman from Diablo Cody's Oscar-winning screenplay, Juno showcased Page as a lovable, quick-witted oddball teenage girl who decides to find the right parents for her unborn baby. Budgeted at US$7 million, the film turned a huge profit, earning US$143 million in North America. It also garnered a number of honours for Page, including an Independent Spirt Award for best lead actress and nominations from the Academy Awards, BAFTA Awards and Golden Globes.
In the idiosyncratic comedy, filmed in British Columbia, Page created a screen persona that countered the cultural obsession with glamour. Page's diminutive body, hoodie-and-sneaker outfits and scrubbed prettiness appeared far removed from dysfunctional celebrity stars of the Twitter generation. (American political pundit Bill Maher described Juno in 2011 as "the anti-Kardashian"). Page created a character who, while childlike, possessed mature verbal skills and projected an aura of confident intelligence. Page displayed a gift for seeming unique yet representatively teenaged at the same time.
Acting Career Highlights
The Oscar-nominated role in Juno elevated Page to A-list status, resulting in such career milestones as an appearance on the cover of Vanity Fair's 2008 Hollywood issue and inclusion in Entertainment Weekly's "15 to Watch: Hollywood's Next A-List." Yet he continued to balance roles in offbeat and independent productions with the occasional blockbuster. Page played the daughter of Dennis Quaid's dissolute college professor in Smart People (2008); whirled around as a beauty queen turned roller-derby contender in Drew Barrymore's directorial debut, Whip It (2009); and played a tackily-costumed female sidekick to Rainn Wilson's caustic wannabe-superhero in the violently eccentric comic book parody Super (2010). Page also co-starred in one of 2010's biggest box-office hits, Christopher Nolan's Inception, playing a genius architect who designs dream structures.
Page played a narcissistic seductress in Woody Allen's To Rome with Love (2012); an unleashed anti-corporate activist in The East (2013); the psychic protagonist in the popular PlayStation 3 video game Beyond Two Souls (2013); and Kitty Pryde in X-Men: Days of Future Past (2014). Page also worked as a spokesperson for Cisco Systems in whimsical commercials shot in Nova Scotia.
Elliot Page
Elliot Page at the premiere of Super at the Toronto International Film Festival in 2010.
(courtesy Wikimedia Commons)
Other projects included Page's first two movies as producer: Patricia Rozema's post-apocalyptic Into the Forest (2015), co-starring Evan Rachel Wood and Callum Keith Rennie; and a story especially dear to his heart, Freeheld (2015), in which Page co-stars with Julianne Moore. Based on true events, Freeheld tells the story of a New Jersey police detective (Moore) who is dying of a terminal disease and must fight for the right of her life partner (Page) to receive her pension benefits. In 2016, Page also produced and co-hosted the Vice series Gaycation (2016–17), which explores "what it means to be lesbian, gay, bi or trans all around the world." It received Primetime Emmy Award nominations for Outstanding Unstructured Reality Program in 2016 and 2017.
Page then played a series of complex, flawed characters in challenging, critically acclaimed dramas. Page and Juno co-star Allison Janney offered a different take on accidental pregnancy in Tallulah (2016), in which Page's character steals a baby and passes it off as her own to get support from her ex-boyfriend's mother. In My Days of Mercy (2019), Page plays a woman whose father (Elias Koteas) is on death row, yet who falls in love with an advocate for capital punishment. Page also starred in The Cured (2018), a sci-fi drama about society's attempts to reintegrate former zombies who have been cured of their affliction; Ann Marie Fleming's award-winning animated film Window Horses (2017); and the Netflix superhero series The Umbrella Academy (2019–).
Activism
A star who has handled the demands of fame with a disarmingly casual poise, Page has used his celebrity to speak out frequently about numerous social and political issues, from his advocacy of Plan B contraception for women to gender stereotyping. A committed environmentalist, Page studied permaculture design at an eco-village near Eugene, Oregon. He also narrated the documentary Vanishing of the Bees (2009) and supports a number of organizations dedicated to sustainability. Page participated in a series of online ads in 2008 to bring attention to human rights abuses in Burma and has also supported the Lunchbox Fund, which provides food to disadvantaged children.
Awards
Outstanding Performance – Female (Marion Bridge), ACTRA Maritimes Award (2003)
Best Performance in a Children's or Youth Program (Mrs Ashboro's Cat), Gemini Awards (2004)
Atlantic Canadian Award – Outstanding Performance by an Actor, Female (Wilby Wonderful), Atlantic Film Festival (2004)
Best Performance by an Actress in a Featured Supporting Role in a Dramatic Series (ReGenesis), Gemini Awards (2005)
Best Actress (Hard Candy), Austin Film Critics Association (2005)
Relationship from Hell (Hard Candy, shared with Patrick Wilson), Fangoria Chainsaw Awards (2006)
Best Actress (Juno), Austin Film Critics Association (2007)
Best Actress (Juno), Chicago Film Critics Association Awards (2007)
Best Performance by a Female – Film (Juno), Canadian Comedy Awards (2008)
Canadian Award, Best Actress (The Tracey Fragments), Atlantic Film Festival (2007)
Best Breakthrough Performance (Juno), EDA Female Focus Award (2007)
Breakthrough Actress of the Year, Hollywood Film Awards (2007)
Best Performance, Female (Juno, tied with Julie Christie), Toronto Film Critics Association Awards (2007)
Best Female Lead (Juno), Independent Spirit Awards (2008)
Best Scared-As-Shit Performance (Inception), MTV Movie Award (2010)
Best Kiss (Inception, shared with Joseph Gordon-Levitt), MTV Movie Award (2010)