​Gérald Tremblay governed the city of Montréal for more than a decade, stepping down in 2012 amid corruption allegations.
​Gérald Tremblay governed the city of Montréal for more than a decade, stepping down in 2012 amid corruption allegations.
Gerald Tremblay served as mayor of Montreal from 2001-2012.
Gérald Tremblay, lawyer, businessman, politician, mayor of Montréal 2001–12, (born 20 September 1942 in Ottawa, ON). After serving in the Liberal cabinet of Québec premier Robert Bourassa, Tremblay governed the city of Montréal for more than a decade, stepping down in 2012 amid corruption allegations.
Education and Early Career
Gérald Tremblay was born in Ottawa, the middle son of lawyer and criminologist Georges-Albert Tremblay and Rolande Forest-Tremblay. At age four, his family moved to Montréal's Notre-Dame-de-Grâce neighbourhood. In college, Tremblay played football as a fullback. He studied law at the University of Ottawa and was admitted to the Québec Bar in 1970. Two years later, Tremblay earned a Master in Business Administration from Harvard Business School.
Tremblay worked as a financial and credit analyst at Dun & Bradstreet and, from 1974 to 1977, taught at the Université de Montréal's business school, École des hautes études commerciales. With his wife Suzanne, he founded the first Canadian franchises of cosmetics retailer Dans un jardin, which he sold in 1986.
Provincial Politics
Tremblay's political career began in 1989 when he was elected to Québec's National Assembly as the Liberal Party member for Outremont. Premier Robert Bourassa named him minister of Industry, Commerce and Technology in 1989, a post he would retain until 1994. During his time as minister, Tremblay developed the concept of industrial clusters — geographic concentrations of companies and institutions that share common technologies and markets. He was also instrumental in paving the way for Sunday shopping in the province.
Re-elected in 1994, Tremblay quit provincial politics in 1996. After returning to private life, he sat on the boards of several companies, including Boutiques San Francisco, Peerless Carpets and Rolland.
Mayor
Tremblay returned to politics five years later, as leader of the Union des citoyens et des citoyennes de l'île de Montréal (which became Union Montréal in 2007). He campaigned against the forced merger of municipalities on the island of Montréal — which had been imposed by the provincial Parti Québécois government. In the municipal election of 4 November 2001, Tremblay won more than 49 per cent of the vote and became mayor of Montréal, defeating incumbent mayor Pierre Bourque, who supported the merger. Tremblay would go on to win elections in 2005 (against Bourque again) and in 2009. Tremblay maintained that he inherited the leadership of a city that was technically bankrupt, with a democratic deficit, chronic under-investment in infrastructure, no mass-transport plan, a moratorium on the acquisition of green spaces, and no cultural policy.
Tremblay also inherited the fallout of an amalgamated Montréal; as mayor he had to reorganize the city after the provincial government created a referendum process in 2004 allowing several municipalities to leave. In 2006, 15 former towns would de-amalgamate.
Montreal city skyline from Mount Royal.
Tremblay also developed a public consultation process for citizens, allowed a question period at municipal council meetings, opened an ombudsman's office and introduced the Montréal Charter of Rights and Responsibilities. The city's financial situation improved during his tenure, with an improved credit rating from Moody's rating agency.
Tremblay was instrumental in the creation of the Quartier des spectacles, the entertainment district that is now home to festivals such as the Festival International de Jazz de Montréal and Just for Laughs. He also helped introduce in 2009 the popular Bixi bike sharing system of bikes and docking stations. However, efforts by the private company that operated Bixi to expand internationally failed, and it filed for bankruptcy protection in 2014. Montréal taxpayers ended up paying for a large part of the $44 million in debt it was carrying.
Scandal
Tremblay faced no shortage of controversy during his mayoralty. In late 2006, he was harshly criticized for his proposal to change the name of Avenue du Parc to Avenue Robert-Bourassa, to honour the former Québec premier. After losing support for the street renaming from the Bourassa family, Tremblay backed down from the proposal. A stretch of University Street in downtown Montréal would be renamed for the late premier in 2015, without conflict.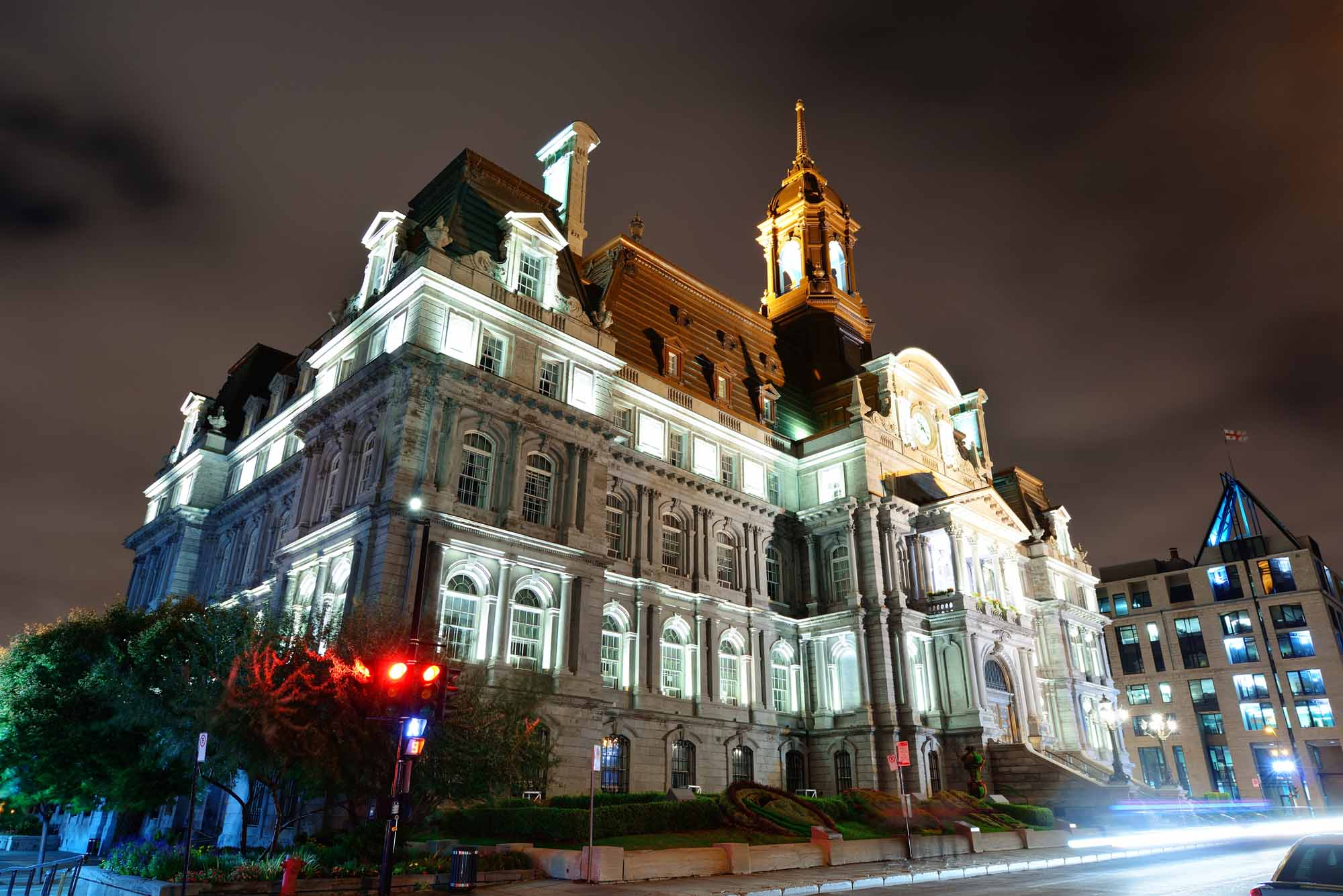 City Hall closeup, 2012 in Montreal. It is the largest city in Quebec, the second-largest in Canada and the 15th-largest in North America.
In 2009, Tremblay ran for re-election amid a series of controversies, including a water-meter scandal. In 2007, the city had awarded a $355-million water-meter contract to a consortium controlled by a construction magnate and alleged fraudster with criminal mob connections. Tremblay — who cancelled the deal in 2009, after a review found irregularities with the tendering process — said he was seeking a third mandate as mayor because he felt he was the best person to clean things up.
Tremblay was re-elected, but the worst was yet to come. On 30 October 2012, during testimony before the Charbonneau commission — investigating corruption between Québec's construction industry, politicians and bureaucrats — a former Union Montréal party organizer alleged that Tremblay knew his party was involved in illegal financing practices with the Mafia, but did not want to be made aware of them.
Resignation
On 5 November 2012, Tremblay announced he was resigning as mayor, one year before the end of his mandate. In a speech announcing his departure, Tremblay continued to deny any direct knowledge of corruption within his administration, but said he had no choice but to resign in the face of the allegations.
"When I was a young man, my father told me never to get into politics because it was dirty and would destroy me," Tremblay said during the brief speech in the Hall of Honour at Montréal's City Hall. "But my passion and love for Québec and Montréal set the path I had to follow."