"Why don't I take the PIAT and I'll shoot it at the first house. And he said, it'll give an awful roar and a surprise factor and then we go rushing down towards the place."
See below for Mr. McDonald's entire testimony.
Please be advised that Memory Project primary sources may deal with personal testimony that reflect the speaker's recollections and interpretations of events. Individual testimony does not necessarily reflect the views of the Memory Project and Historica Canada.
Citation for the awarding of the Military Cross to Bruce McDonald. Signed by Field Marshall Montgomery and army and regimental commanders.
Invitation to Bruce Mcdonald from the Central Chancery of the Orders of Knighthood to an Investiture at Buckingham Palace, attended by King George VI. November, 1945.
Casualty List dated February 21, 1945.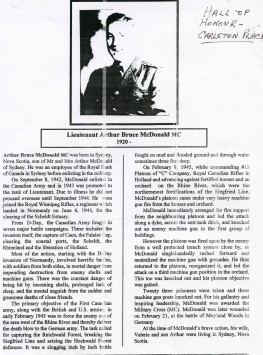 Article submitted to the Hall of Honour, Carleton Place.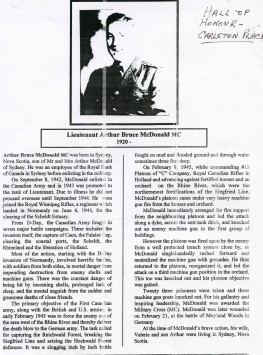 Transcript
I was a lieutenant [in the Royal Winnipeg Rifles] with 35, approximately, men [one platoon] under my command, three sections, each headed by a corporal. There were three platoons in a company. In that battle [the fighting for Louisendorf, Germany, part of Operation Veritable and the Rhineland Campaign], we were attacking over a ridge and down through a valley and up into another ridge. And after the battle, people had to pull back and some of our people were wounded out in the no man's land so to speak, calling for stretcher bearers. Our stretcher bearers had been fired on during the previous week, even though they had the Red Cross on and so on.
So anyway, they were reluctant to go out, expecting that they might be fired on. After maybe 10, 15 minutes, a white flag appeared in the German lines and two people came out with a stretcher and came over to our wounded in front of us and picked them up and took them into our lines. There were four or five of them. And, of course, we had to keep the two people who did the work because they knew our positions, etc. But the leader was noted as a medical student, a young medical student who put his service to humanity above the situation and carried his enemy to our lines.
We got to a place called Keeken [Germany] which was very close to the Dutch/German border. Our objective was to capture the first fortifications of the Siegfried Line. My platoon was supposed to go in and attack the fortifications and what they had done was to fortify the interior of the berms of the farmhouses that were in this group of buildings. And they had them all rigged up with pill boxes and machine gun emplacements and so on. And we were supposed to have covering fire from tanks when we went in, before we went in.
But anyway, we got up there and, in the meantime, the Jerrys had opened the dykes and the place was flooded. So what should have been the place for the tanks to come through was covered with four feet of water. So there were no tanks available. So we had to make do with what we had.
I had a corporal, his name was Rousseau and he was a quiet sort of fellow. And he was the fellow that carried what we called the PIAT or the Projectile Infantry Anti-Tank. It was a weapon, I don't think they use now but it could have the capability of blasting out the side of a tank. It had very heavy explosive power. So he said, Mac, why don't we, when we're going up there, why don't I take the PIAT and I'll shoot it at the first house. And he said, it'll give an awful roar and a surprise factor and then we go rushing down towards the place, yelling and screaming at the top of our voices. Well, it sounds like a good idea, why don't we try it. So he did, he shot the thing and of course, surprised them very greatly and so we captured a number of people in that particular spot.
I have this citation here, in connection with my MC [Military Cross, a gallantry decoration]. And it says:
"On the 9th of February [1945], Lieutenant Arthur Bruce McDonald, commanding 13 Platoon, "C" Company, Royal Winnipeg Rifles, was ordered to clear the fortified houses and the large orchard situated on the Rhine River in the area of Keeken,these fortifications being a part of the north end of the Siegfried Line. While moving to an assaulting position, 13 Platoon came under heavy machine gun fire." This is after that first incident.
"Lieutenant McDonald immediately arranged for fire support from a neighbouring platoon, led the attack on the dyke, crossed an anti-tank ditch and knocked out an enemy machine gun in the first group of buildings. However, the platoon was fired upon by the enemy from a well-protected trench system close by. So this officer, singlehanded, rushed forward and neutralized this machine gun with grenades. He then returned to his platoon, reorganized it and led the attack on a third machine gun position in the orchard. This too was knocked out and this platoon objective was gained. Twenty-three prisoners were taken and three machine gun posts knocked out by this action. Due to Lieutenant McDonald's inspiring leadership and unswerving devotion to duty, "C" Company was able to continue its advance and gain its objective, thus securing the right flank of the battalion objective."
Now that's the official citation and I received this from a fellow in the regiment. I didn't get it from headquarters. But what I find valuable to me anyway, it's signed by our battalion commander, the brigadier, Third Canadian Infantry Division, and the commander of the II Corps, who was [Lieutenant-General] Guy Simonds and General [Harry] Crerar, who was OC [Officer Commanding] of the First Canadian Army. But the last thing they show on it is Field Marshal [Bernard] Montgomery [Commanding 21st Army Group]. So I prize that very much.
Interview date: 27 October 2010