Please be advised that Memory Project primary sources may deal with personal testimony that reflect the speaker's recollections and interpretations of events. Individual testimony does not necessarily reflect the views of the Memory Project and Historica Canada.


Joan Rogers sitting in the vehicle in which she "passed the test," in 1945.
(Courtesy of The Memory Project/Joan Mary Rogers)
"

It was eerie to see this machine with the trails of flame and the apprehension of hearing the, the engine stop and wondering where it was going to land. I think this was harder on the nerves than the actual Blitz."
Transcript
I was 17 when I joined the newly-formed Auxiliary Territorial Service for women in London, England. After training, I was called up a few days before [the] outbreak of Second World War, outfitted with a khaki uniform, somewhat ill-fitting I must say, and then sent home until the powers that be were organized sufficiently to set me to work.
I then was classified as a pay clerk with the Royal Army Pay Corps, rudely known as the pen-pushers. Several of us were new recruits, were billeted in a private home. But being young and healthy with good appetites, we were very deprived and we didn't have very much food. So we complained to the sergeant major, who changed it; took us away immediately and sent us somewhere else, which was much better.
Life was quite uneventful for the first few months but changed considerably when the Luftwaffe [German Air Force] launched its daylight raids on Britain in 1940. I remember watching a dogfight overhead, when out in a boat on the Thames, feeling somewhat vulnerable but not scared - such is the optimism of youth. However, when the German Air Force switched the campaign to London, it was a different story. Night after night of bombing, explosions with ack-ack [anti-aircraft] guns and the unrestricted noise of the German aircraft overhead, several occasions stand out in my mind.
The land mine which demolished Madame Tussauds waxworks [museum], which was close to the YWCA, where we were then billeted; the impact threw me out of bed but no damage. The second memory is of walking home one night with my, my friend, for some unexplained reason, we took a different route from our usual one and a stack of bombs straddled us with tremendous impact. We both threw ourselves on the pavement, held our breath and when the noise stopped, we got up shaken but thankful.
On another occasion, several of us were chatting one evening in the dining room when we heard a tremendous rushing noise. With no exception, we all threw ourselves under the large dining room table, held our ears around the tremendous explosion of a land mine, very near at hand. We all needed a strong cup of tea after that one.
My memories of that of May the 10th, 1940, the last great raid on London, the whole city looked as if it was on fire with flames as far as the eye could see and searchlights overhead. I happened to be in Trafalgar Square that evening and dove for cover in St. Martin –in-the-Fields [church], where I spent the night on the floor of the crypt, cold and hard but safe. I found the most scary thing during the war was the V1 [German 'Buzz Bomb'], known as the Doodlebug. It was eerie to see this machine with the trails of flame and the apprehension of hearing the, the engine stop and wondering where it was going to land. I think this was harder on the nerves than the actual Blitz.
Eventually, the bombing ceased and life was fairly uneventful, our focus being on the increasing workload as more and more pay clerks were transferred to the fighting forces and casualties increased. During the ensuing years, I was promoted from private to lance corporal, sergeant and staff sergeant when I was selected for officer training at the Women's Royal Army Corps [WRAC], formally ATS Officer Training Centre in Windsor. After commissioning, I was posted to a vehicle depot outside Leeds in Yorkshire where I learned to drive in a Jeep which was great fun.
After a stint in Leeds as assistant adjutant, our unit moved to Devizes, Wiltshire where after a brief period, I was promoted to captain and posted to Edinburgh, where I commanded a company and I stayed until I was discharged from the WRAC after 12 years' service. In some ways, it was sort of a hand-to-mouth existence because I mean, you had to go on with what you were doing and I think also, I remember being young, I think it sort of brushed off us more than it did for older people. We were lucky in a way, being in the army because at least we knew that as far as possible, that our welfare would have been considered. But at the same time, we were free enough to - and I say that most of us - we went out every evening, we didn't, even though the bombers were dropping and everything, it didn't stop us because I think we were young and as usual, people when they're young think nothing's going to happen to me.
Book a Speaker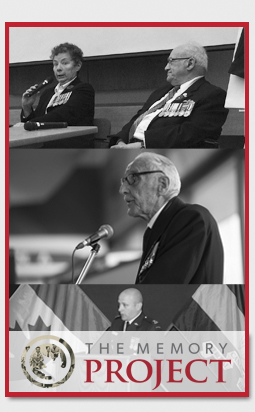 The Memory Project is a volunteer speakers bureau that arranges for veterans and Canadian Forces members to share their stories of military service at school and community events across the country.
Request a Memory Project speaker at thememoryproject.com/book-a-speaker.