Walter E. Harris, OC, Gitxsan artist and hereditary chief (born 10 June 1931 in Kispiox, BC; died 12 January 2009). Harris developed the "'Ksan style of Northwest Coast Art" based on Gitxsan culture and history.
Walter E. Harris, OC, Gitxsan artist and hereditary chief (born 10 June 1931 in Kispiox, BC; died 12 January 2009). Harris developed the "'Ksan style of Northwest Coast Art" based on Gitxsan culture and history.
Early Life
Walter Harris, son of Chris and Clara Harris, was born in the Gitxsan village of Kispiox, British Columbia, in 1931. Harris was born into the Fireweed clan of the Gitxsan, an Indigenous people with four major clans (the other three are the Frog, Eagle, and Wolf clans). In 1956, he married Sadie, with whom he had five children. In 1957, at the age of 26, Walter took on the name of Chief Geel, a traditional Gitxsan hereditary chief's name.
Working as a carpenter and leader in a community lumber mill in the 1960s, Harris was involved in the reconstruction of the ancient Gitxsan village of Gitanmaax, building artistic carving sheds and traditional plank houses for the village. Known as ' Ksan (the Gitxsan name for the Skeena River), the reconstructed village was built between 1968 and 1970 and is located at the junction of the Skeena and Bulkley rivers, near the community of Hazelton, BC. The 'Ksan Historical Village is now a living monument to the culture and traditions of the Gitxsan, with a museum housing more than 600 artifacts, ancient and modern totem poles, and a replica of the ancient village of Gitanmaax.
Walter Harris, "Mother of Grouse" totem pole at Kispiox, BC
Courtesy of Brodie Guy, Flickr.
Education and Early Career
In the late 1960s, Harris also began his transformation as a major Indigenous artist. Trained and influenced by artists at Gitanmaax School of Northwest Coast Indian Art at 'Ksan, and using his carpentry training and skills, he began to create intricate Gitxsan masks, headdresses, jewellery and, eventually, totem poles. Inspired by traditional Gitxsan culture, Harris utilized themes like fireweed (a beautiful purple flower), killer whales and eagles (Fireweed, Killer Whale and Eagle are Gitxsan clans), as well as other Gitxsan iconography to produce beautiful works of traditional Indigenous artwork.
Community Work
In 1972, he was appointed to the 'Ksan Village board and soon became senior instructor of wood sculpture at the Gitanmaax School, serving in that role till 1985. Versed in the culture of the Skeena River people, he also helped to erect the traditional plank-and-beam woodcarving building at the school. In the 1970s, Harris and other Gitxsan artists restored an ancient totem pole from the village of Kispiox at 'Ksan. Next, Harris built the first modern traditional totem pole at 'Ksan in the early 1970s with the help of other Gitxsan carvers. Harris used his family crest of "Obsidian Nose" as the main figure at the totem pole's base.
The totem pole, an artistic and spiritual memorial and genealogical record of a people, became a lifelong passion for Harris, and his totem pole restorations and original works live on at both Kispiox and 'Ksan. Harris also built totem poles outside of his people's traditional lands. For instance, in 1985, he created a totem pole on Victoria Island in the Ottawa River below Parliament Hill, with a traditional pole-raising ceremony. Harris believed totem poles were at the heart of his people's culture: "They are our deeds to the land. They serve as witnesses to the encounter of our ancestors with the supernatural beings who control all the fish, animals and plants in our world. They are our charter of rights from time immemorial."
In 1984, Harris established his own art studio in his home village of Kispiox, "The Hiding Place Gallery and Studio," where he continued to produce intricate jewellery, woodcarvings, and graphic-designed artwork. In 1987, Harris suffered a massive stroke, followed by heart surgery in 1990. Yet he continued to produce works of art, completing a massive, red cedar painted panel for the Kispiox/Anspayaxw (a Gitxsan word meaning "People of the Hiding Place") Elementary School in 1998 (now the Kispiox Community School).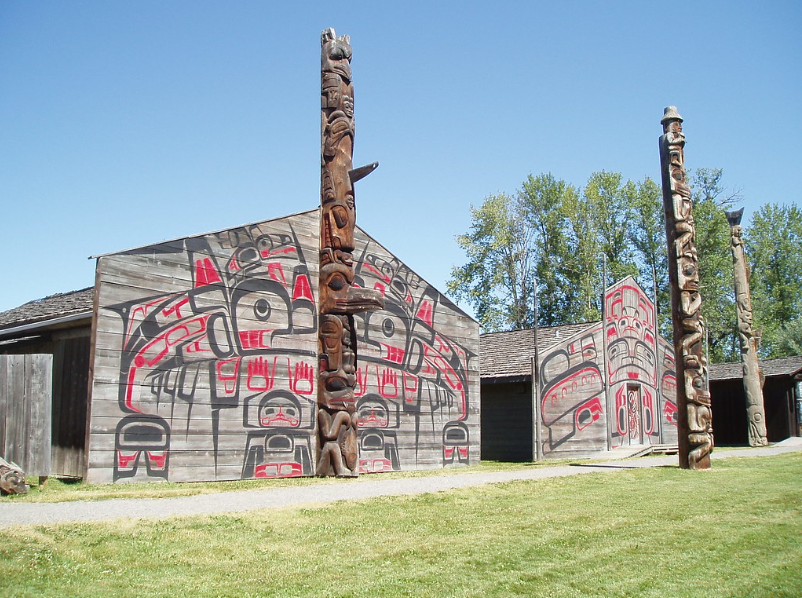 Ksan Historical Village, Kispiox ,BC
Courtesy of Ian, Flickr (P6300056)
Legacy
Though a talented and prolific printmaker, Harris was primarily noted as a carver. His impressive Mother of Grouse totem pole at Kispiox commemorates his family's crests, replicating one that disappeared from his home village long ago. Throughout his life, Harris developed a unique art style called the "'Ksan style of Northwest Coast Art" based on Gitxsan culture and history. Harris' traditional masks and carvings have been installed in major venues across Canada, such as the Canadian Museum of History and Museum of Anthropology at the University of British Columbia in Vancouver, for which he created house-fronts and doors. In 1980, Harris was commissioned by the federal government to sculpt for the Parliament Buildings in Ottawa, part of a program designed to showcase Indigenous artists. Harris' limestone sculpture of an orca is permanently displayed above the doorway of the Commonwealth Room (Centre Block). During his lifetime, Harris passed on the artistic traditions of his people to a new generation of students, including Michael Blackstock, Gitxsan artist and author of Faces in the Forest: First Nations Art Created on Living Trees (McGill-Queen's University Press, 2001).
In 2003, Harris was awarded the prestigious Governor General's Award in Visual and Media Arts for Artistic Achievement in the field of sculpture. In 2005, he was made an Officer of the Order of Canada, an award given "for achievement and merit of a high degree, especially service to Canada or to humanity at large."
"Gitxsan Master Carver" Walter Harris died in 2009. More than 1,000 people gathered at Hazelton, British Columbia a week after his death, to commemorate his life and work.
Honours and Awards
Governor General's Award in Visual and Media Arts, 2003
Officer of the Order of Canada, 2005