Andrew John Weaver, OBC, FRSC, climate scientist, leader of the BC Green Party 2015–20 (born 16 November 1961 in Victoria, BC). Andrew Weaver is a leading climate change researcher who made historic gains for the Green Party of British Columbia in his second career as a politician. In 2013, he was elected the province's first Green MLA. In 2017, he led the Greens to three seats. After the 2017 election, he engineered a power-sharing deal with the BC New Democratic Party and toppled the Liberal government of Christy Clark to help John Horgan become premier.
Andrew John Weaver, OBC, FRSC, climate scientist, leader of the BC Green Party 2015–20 (born 16 November 1961 in Victoria, BC). Andrew Weaver is a leading climate change researcher who made historic gains for the Green Party of British Columbia in his second career as a politician. In 2013, he was elected the province's first Green MLA. In 2017, he led the Greens to three seats. After the 2017 election, he engineered a power-sharing deal with the BC New Democratic Party and toppled the Liberal government of Christy Clark to help John Horgan become premier.
Education and Early Career
Andrew Weaver grew up the oldest of three siblings in an immigrant family in Victoria, British Columbia. His mother, Ludmilla, came to Canada from Berdiansk, Ukraine (see also Ukrainian Canadians). His father, John, is a geophysicist from Birmingham, England, and a former dean of science at the University of Victoria.
Weaver spent his earliest years idolizing famed ocean explorer Jacques Cousteau. Cousteau's work as a scientist, researcher and conservationist inspired in him a love of nature that would become a formative part of his future career. "When I was a kid I wasn't an environmental zealot. I was a guy who played rugby and chess," he said. "But I remember asking Santa Claus for a book — and I still have it today — on the ocean and the sea when I was little. I used to love Jacques Cousteau. I wanted to be Jacques Cousteau."
Weaver attended Margaret Jenkins Elementary School in Victoria, and Oak Bay High School.
Despite his childhood interest in the ocean, his post-secondary studies focused on mathematics and physics. He began with first-year courses at the University of Edinburgh, in the United Kingdom, studying applied mathematics and physics on a one-year exchange in 1980. He graduated with honours at the University of Victoria in 1983.
The next year, Weaver began a master's degree in applied mathematics and theoretical physics at Cambridge University, which he earned despite receiving a serious knee injury in a rugby match. During four months of convalescence in Victoria, he decided to transfer to the University of British Columbia (UBC), where he would finish a PhD in applied mathematics in 1987. At UBC, he began applying his mathematics to the motions and interactions of the atmosphere and oceans (see Climatology).
Career as a Climatologist
Andrew Weaver travelled to Australia in 1988 to undertake post-doctoral studies at the University of New South Wales. The next year, he was back in North America at the University of Washington State's Joint Institute for the Study of the Atmosphere. He would continue climate work on a university research fellowship at McGill University in Montreal. In 1992, Weaver took an assistant professorship at the newly formed School of Earth and Ocean Sciences at the University of Victoria (UVic).
His research, published in more than 200 peer-reviewed journal articles, has focused on climate modelling (i.e., projections of future climate conditions), the role of the ocean in climate change, the role of the Arctic Ocean and its sea ice in climate variability, carbon cycle dynamics and the analysis of historical climate records. A discovery of Weaver's that launched a whole field of study was that the thermohaline circulation of the ocean — the large-scale circulation driven by heat and rain — was not as stable as previously thought, and that there was inherent variability when viewed over decades. "I was quite fortunate — a lot of the great discoveries in science, you never plan them, you just accidentally find them," he said.
He became further engaged internationally on climate issues in the 1990s, when he was the only Canadian to appear on the eight-member United Nations steering group on climate models. That led to appointments to the United Nations Intergovernmental Panel on Climate Change in 1992–93, 1995, 2001, 2007 and 2015. The 2007 panel, on which he was one of the lead authors, won the Nobel Peace Prize with former US vice-president Al Gore for their work in disseminating and promoting greater knowledge of climate change science (see also Nobel Prizes).
Weaver has published two books, Keeping Our Cool: Canada in a Warming World (2008) and Generation Us: The Challenge of Global Warming (2011).

Entry into Politics
In 2008, Andrew Weaver joined British Columbia's Climate Action Team, which advised then-premier Gordon Campbell. The team helped Campbell implement Canada's first revenue-neutral carbon tax, the province's Clean Energy Act and aggressive pollution reduction goals for BC.
After Christy Clark became premier in 2011, Weaver was disheartened to see her weaken Campbell's reforms by exempting proposed liquefied natural gas facilities from the province's pollution targets.
Shortly after, in 2012, BC Green Party leader Jane Sterk began recruiting Weaver to run for office (see also Green Party of Canada). He declined her invitation three times before finally agreeing to seek election as a member of the Legislative Assembly (MLA). A lecture in his UVic climate and society class, in which he encouraged his students to take action to protect their generation from climate change, prompted this decision; Weaver said he came away feeling obliged to follow his own advice.
Leader of the BC Green Party
Weaver entering the BC legislature for his swearing-in ceremony in 2013.
Andrew Weaver ran for the Greens in the 2013 provincial election in the riding of Oak Bay-Gordon Head. He surprised many by defeating incumbent Liberal Cabinet minister Ida Chong by a wide margin, capturing 40.43 per cent of the vote compared to her 29.29 per cent. It was the first time a BC Green MLA had been elected in the province's history. It was widely expected Weaver would then become party leader. However, he said he would prefer to learn the job of MLA first. Two years later, in 2015, Weaver did agree to become party leader.
During his first term as MLA, Weaver was equally critical of Christy Clark's Liberal government and the New Democratic Party (NDP) opposition (see also Liberal Party; New Democratic Party). He kept a high profile, and not just on climate issues. He also proposed banning corporate and union donations to political parties, rejecting oil pipelines and cracking down on foreign housing speculation, among other initiatives.
He nevertheless found common ground with Clark to pass legislation that improved how sexual violence is reported on post-secondary campuses, as well as an amendment to the Workers Compensation Act that made it illegal for employers to force women to wear high heels in the workplace.
Weaver guided the Greens to set party records for fundraising and organization in the 2017 British Columbia election, with a large slate of candidates, a tour bus and a fully staffed provincial campaign. He was re-elected. The party also won two additional seats: Sonia Furstenau in Cowichan Valley and Adam Olsen in Saanich North and the Islands.
(See also Green Party of Canada; Political Party Financing in Canada.)
Support of the NDP Minority Government
The 9 May 2017 election was the closest in British Columbia's history. The Liberals lost their majority government and ended up with 43 of 87 seats. The NDP grew to 41 seats. The outcome meant that Andrew Weaver's three-person caucus held the balance of power. Whomever Weaver decided to support would form the next government. (See also Minority Government.)
Weaver announced immediate plans to negotiate with the Liberals and NDP to determine whom to support. His talks with the Liberals failed to find a middle ground on key issues like the Site C hydroelectric dam project, which the Liberals had approved and the Greens wanted to cancel. Many Green supporters also did not like the idea of Weaver helping to keep Christy Clark and the Liberals in power. Ultimately, Weaver said the Liberals deserved a "time out" after 16 years of government, claiming they could not be trusted.
The Greens had to compromise on several issues with the NDP to get a deal. Though Weaver wanted Site C cancelled, he agreed instead to an independent review of the project. The Greens wanted an immediate change to the electoral system, but instead agreed to a referendum on proportional representation (see Electoral Reform in Canada). However, both parties did also agree to climate action programs, opposition to Kinder Morgan's Trans Mountain pipeline expansion, an emerging economy task force and an innovation commission.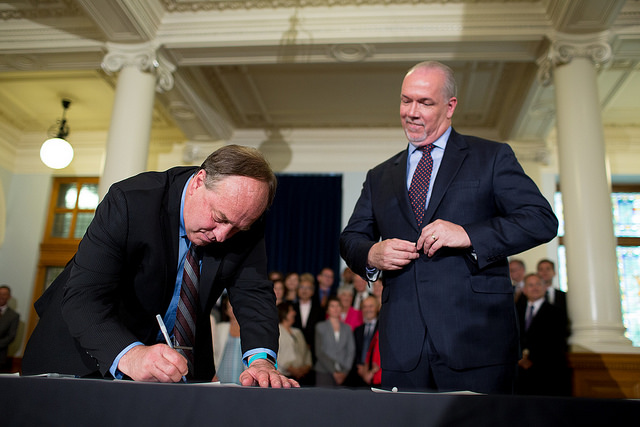 Andrew Weaver (left) and John Horgan (right) sign the Green-NDP coalition agreement on 30 May 2017 in Victoria, BC.
The Greens and NDP announced a "Confidence and Supply Agreement" on 29 May 2017. In it, the Greens agreed to vote with the NDP on matters of confidence (the budget, throne speech and key legislation) for four years, in return for briefings and consultation from the new government, as well as "good faith and no surprises" by both parties on decisions. The Green Party also secured the NDP's commitment to legislative and policy initiatives that included banning corporate and union donations to political parties, working toward a $15 minimum wage, increasing the carbon tax, proposing an essential drugs program for affordable prescriptions, providing funding for mental health, reducing poverty and tackling the opioid crisis. Weaver and the Greens did not ask for any Cabinet posts in John Horgan's government. However, they did receive official party status in the legislature.
Horgan and Weaver combined to defeat Clark's Liberal government on a confidence vote on 29 June 2017. Clark offered her resignation to Lieutenant-Governor Judith Guichon and asked for a new election. But Guichon instead called on Horgan to become BC's 36th premier (see also Premiers of British Columbia). The NDP then recalled the legislature and began governing with the support of Weaver and his Greens.
In 2017, Weaver took a political leave from UVic and wound down his research office.
Actions in Government
Andrew Weaver walked a delicate line in his relationship with the NDP. He at times openly criticized the government for its decisions, such as when the NDP chose to proceed with Site C after its independent review. He also suggested that he could bring down the government over its plan to approve the LNG Canada liquid natural gas plant unless the NDP could demonstrate that BC could still meet its greenhouse-gas (GHG) reduction targets. Nevertheless, Weaver continued to officially support the NDP government.
In May 2018, the BC government passed legislation setting a target GHG reduction of 40 per cent, relative to 2007 levels, by 2030. By the end of the year, Weaver and Horgan unveiled the CleanBC economic plan, a strategy for achieving this goal.
Weaver was also vocal about BC's housing affordability crisis, a priority issue in the Confidence and Supply Agreement. To gain the support it needed from Weaver and his caucus on this file, the NDP amended its speculation and vacancy tax bill to include local governments in annual consultations on the tax and to ensure its revenue is reinvested in local housing initiatives.
The promised referendum on proportional representation was held in late 2018. The NDP and the Green Party campaigned in favour of electoral reform in BC, while the Liberals supported the existing first-past-the-post (FPTP) system. On 20 December, Elections BC announced that 61.3 per cent of voters had chosen to keep FPTP, while 38.7 per cent supported a form of proportional representation. "While we are disappointed with this result," Weaver stated, "we respect British Columbians' decision to retain the current First Past the Post system."
Retirement from Politics
In October 2019, Andrew Weaver announced that he would not seek re-election as MLA. Citing growing climate change activism among youth, he said, "It is time to let another generation take the lead." In January 2020, Weaver stepped down as BC Green Party leader and left the party to sit as an independent MLA. Sonia Furstenau, MLA for Cowichan Valley, won the party leadership later that year.
Weaver resumed his professorship in the UVic's Faculty of Earth and Ocean Sciences.
Personal Life
Andrew Weaver met his wife, Helen Raptis, a teacher and UVic professor who focuses on education policy, in 1981. The two were married in 1988. They have a daughter and a son.
Weaver has had a lifelong passion for sports. He played rugby at Oak Bay High School and for the Jesus College team at Cambridge University. He is an avid collector of hockey cards, and boasts an impressive collection of rare sets, including a Wayne Gretzky rookie card.
Selected Honours and Awards