EXPO 67 reflected to Canadians and to all participating countries the triumph of a diverse, eclectic architectural modernism.
EXPO 67 reflected to Canadians and to all participating countries the triumph of a diverse, eclectic architectural modernism.
In downtown Toronto (courtesy Kuwabara Payne McKenna Blumberg Architects).
The design for the Mississauga Civic Centre was chosen through competition (courtesy City of Mississauga).
Exterior of the Citadel Theatre (architect Barton Myers with Rick Wilkin, 1975). (courtesy PAA/A-13324).
Strawberry Vale Elementary School, Saanich, B.C., 1992, Patkau Architects (photo by J. Dow)
Canadian Centre for Architecture, Montreal. Completed in 1989, the CCA won Peter Rose the National Honor Award of the American Institute of Architects and the Governor General's Award for Architecture (photo by Michael McMordie).
Built 1990-93 and winner of the Governor General's Award in 1994 (courtesy Kuwabara Payne McKenna Blumberg Architects).
Fred Valentine in Calgary, Rosza Centre, University of Calgary, 1997 (photo by Michael McMordie)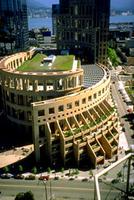 Library Square, Vancouver, B.C., 1992-1995, prize-winning design, Architects: Moshe Safdie & Associates/Downs Archambault & Partners, roof top planting at library echoes contextual landscape with Fraser River (courtesy Cornelia Hahn Oberlander Landscape Architect/photo by E. Whitelaw).
Maison Alcan, (Ray Affleck with Julia Gersowitz), 1980-83 (photo by Michael McMordie)
View of the Expo '67 site (photo by Michael McMordie).
Saucier & Perrotte, Montreal, Cinémathèque, 1997 (courtesy Michael McMordie).
Secondary and service entrance to Belkin Gallery on the plaza, from the west. Peter Cardew architect (photo by Sherry McKay)
Stephen Teeple, Trent University, Childcare Centre, Toronto (photo by Michael McMordie).
USA pavilion with a Buckminster Fuller geodesic dome in Expo '67 (photo by Michael McMordie).
Frei Otto's cable suspended fabric enclosure for Germany, Expo '67 (photo by Michael McMordie).
Erickson Massey's glue-laminated timber beam and translucent glass fibre panel theme pavilions, Expo '67 (photo by Michael McMordie).
Trent University. Henriquez's design combines themes or stories drawn from local history or past architecture (courtesy Henriquez Partners).
Main staircase used as an organizing device, Toronto, designed by A.J. Diamond, Donald Schmitt and Co (photo by Steven Evans).
Architectural History: 1967-1997
Expo 67 reflected to Canadians and to all participating countries the triumph of a diverse, eclectic architectural modernism. A high point in 20th-century Canadian architecture and urbanism, it displayed national and international architectural themes, demonstrated advanced capacities in organization and design, and expressed a mood of confidence in the nation's future. Located in Canada's most cosmopolitan city, Montréal, it presented an image of a strong, unified, sophisticated country, open to the world. All this came into question in the following decades - the illusions first shaken by the 1968 escalation in the activities of the Front de libération du Québec (FLQ) and shattered by the October Crisis of 1970. The formation of the Parti Québécois (PQ) in 1968 followed by its success in the Québec election of 1976, revealed the depth of underlying divisions within the country.
More directly influential on architecture were the economic shocks of the 1970s, although they also contributed to a mood of division and alienation within the Canadian polity. The steep rise in oil prices in 1973-74, engineered by the OPEC (Organization of Petroleum Exporting Countries) cartel, threw eastern Canada into recession while funding an economic boom in the oil- and gas-producing west. Architecture languished in Ontario and Québec and flourished in Alberta and British Columbia. Federal moves to control investment and prices in the oil and gas industry provoked a bitter debate with Alberta. Western alienation seemed to echo the mood in Québec.
The mood of distrust and discontent deepened when federal policies complemented a drop in world oil prices in 1982-83. Recession came, in turn, to the West. Construction ceased, unemployment rose, architecture languished. Federal intervention in the economy became political anathema, not just in Canada but in the Western nations, as Ronald Reagan, Margaret Thatcher and Brian Mulroney espoused a free-market ideology (if not always free-market policies). Architects, their associations in the forefront of supporters of NAFTA (North American Free Trade Alliance), saw their own opportunities for work decline. Major firms shrank or failed and new small practices struggled to find work.
Only with a more stable economic regime and the renewal of growth in the 1990s has Canadian architecture once again begun to flourish. Architecture in the 1990s reflects a variety of influences - a renewed economic and political confidence, the emergence of new design practices, invigorated work from survivors of the turbulent 1970s and 1980s, and ongoing debate over issues of design theory and practice which arose in preceding decades.
As modernism became the preeminent design mode in the decade following World War II, the austere, cubic designs of the mainstream were increasingly challenged by other variants of modernism, particularly the much more rugged, sculptural, in situ concrete work of Le Corbusier, and the more richly varied and ornamented work of Frank Lloyd Wright. By 1967 several so-called modern approaches were evident in works by a varied group of architects working in centres across Canada.
Various interpretations of modernism in design sparked a new interest in architectural history as manifested in Canada's heritage of older buildings and cities. Internationally, the American architect and educator Robert Venturi argued in Complexity and Contradiction in Architecture (1966) for more complex, ambiguous buildings, referring to such examples as Italian Mannerist work of the 16th century. While Venturi saw his work as exploring and enriching the possibilities inherent in modernism, his text was soon appropriated as a founding document of architectural postmodernism, and his designs held up as important early examples.
In Canada modernism has been remarkably durable despite inevitable challenges and resistance from down-market commercial anti-modernists who superimpose derivative veneers on highly conventional shopping centres and speculative town-housing. In the long run, the effect of design on the evolution of urban form is more significant than changes in architectural fashion.
The Toronto writer Jane Jacobs has seen her call for a complex layering and concentration of urban life vindicated against the sterile functional segregation of mid-century planning orthodoxy; in a number of Canadian cities, urban neighbourhoods have gained in richness and vitality despite the proliferation of suburban housing developments. The worst excesses of economic individualism have been resisted - even in bastions of free-market thinking like Calgary - to the great benefit of urban life. A design challenge for the 21st century presents itself in the widening disparities in income and the persistence of an economic underclass whose access to support systems is limited.
Expo 67
The range and variety of buildings erected in Montréal for Expo 67, as well as the planning and construction of the site, can be taken as a snapshot of Canadian and international thinking at the time. Classic modernism was represented in cleancut, cool, geometric forms of the Québec pavilion (Papineau, Gérin, Lajoie, LeBlanc & Durand), the Greek pavilion, and the Haitian pavilion (by another Québec firm, Jodoin, Lamarre, Pratte, Carrière). Exuberant displays of advanced structure included the USA pavilion (a geodesic dome by Buckminster Fuller) and Frei Otto's cable-suspended fabric enclosure for Germany.
Expressing a new preoccupation of the 1960s, mega-structures, Expo 67 boasted several continuous structural frames supporting and sheltering a range of diverse functions and activities. Chief among these were the theme pavilions for the Expo corporation designed by Affleck, Desbarats, Dimakopoulos, Lebensold & Sise - massive tetrahedral space frames of rusting structural steel joined by bolted gusset plates.
Irving Grossman's administration building showed an interest - inspired by Le Corbusier - in the sculptural qualities of poured-in-place concrete, moulded into high relief in the multistorey atria by the sculptor Ted Bieler. Erickson Massey's glue-laminated timber beam and translucent glass fibre panel theme pavilions offered a gentler environment which incorporated pools and planting, welcome in Montréal's summer heat. Some pavilions eschewed the massive presence favoured by others by grouping smaller units into a more modest village-like setting, as for instance John Andrews's Africa Place, erected by the corporation to house exhibits from a number of newly independent African countries.
An ongoing legacy of Expo 67 is Habitat, designed as a demonstration of innovative thinking about urban housing by the then recent McGill University graduate Moshe Safdie. Built on a peninsula extending from the north shore of the St Lawrence toward the two main island Expo sites, Habitat used massive precast concrete boxes as the building blocks for series of luxurious terraced town houses, supported on great prestressed concrete girders over a sheltered drive and elevated walkway.
The Expo site itself was one of the great design and engineering triumphs of the event. Using massive amounts of fill, two large islands were built up from much smaller existing ones, connected by causeways and bridges which carried rapid transit links to the north and south shores of the St Lawrence. The planning of the site located pavilions and exhibits, pedestrian paths, canals, service areas with fast food stalls, washrooms and other utilities and amenities in a relaxed but orderly pattern. Consistent, attractive design of service facilities and outdoor furniture (light fixtures, benches and waste receptacles) supported the sense of attractive rather than oppressive order.
Modernism Triumphant
Canadian architects represented at Expo 67 designed important projects across the country in the 1960s and afterwards, although opportunities to build in the demographic centre of the country soon declined with shocks to the economy. One notable theme to take hold in the post-Expo period was that of the atrium structure; a major facility built around the organizing element of the atrium created lively indoor urban places sheltered against inclement weather. Notable examples include Toronto's Eaton Centre (Zeidler, Roberts and Bregman and Haman, 1973-81), Montréal's Complexe Desjardins (1972-76, by various architects and planners working in concert), and Vancouver's Sinclair Centre (Richard Henriquez and Toby Russell Buckwell and Partners, 1983-86).
The Sinclair Centre introduces another important theme of the post Expo period - the increasing attention paid to the conservation and reuse of valuable older buildings. A heritage conservation project of the period from Montréal is Maison Alcan (Ray Affleck with Julia Gersowitz, 1980-83), in which a new building was placed behind an existing range of buildings on Sherbrooke St, with an atrium connecting the two to produce a unified headquarters complex. The designers were able not only to preserve the individual older buildings but also to protect facades essential to the character of a uniquely attractive street.
Barton Myers, before his return to the US in 1980, was responsible (first in partnership with A.J. Diamond) for buildings large and small which combined a sensitivity to complex urban activities and textures with uncompromising modern forms and materials. His own house, inserted into the full width of a narrow lot in Toronto's old Yorkville (1970), and the Citadel Theatre (Edmonton, 1975, with Rick Wilkin) suggest something of his range of interests.
Erickson continued to attract major commissions and developed an ambitious international practice, as did Safdie. Both these architects, and others, continued to explore themes in a modern idiom though they did not limit themselves to the pared-down functionality of the international style. Only in work such as Erickson's entry in the Chicago library competition of 1988, and Safdie's new central library for Vancouver, 1991, have they shown that even established modernists are not impervious to a growing fascination with alternatives that gained strength in the later 1960s and early 1970s.
Alternatives to Modernism
A preoccupation with historical styles characterizes the work of contemporary architects who want to reject some or all of the modernist precepts. Georgian and Victorian styles have been re-incarnated in contemporary projects, as have many variants of the regional vernacular - the ordinary building of 19th-century farms and villages. Georgian and Victorian stylistic features continue to influence the fashion-conscious field of speculative housing as is evident in the Mackenzie Town Centre, Calgary (1996-97). The retrieval of regional vernacular themes, on the other hand, has been complemented by modernist sensibilities.
Freely handled regional themes emerged as important preoccupations of such architects as Peter Rose (Bradley House, North Hatley, Québec, 1977-79); Jones and Kirkland (Mississauga City Hall, 1982), with some of the regional themes written into George Baird's competition brief; Fred Valentine (Rosza Centre, University of Calgary, 1997); and Brian MacKay Lyons in Halifax.
Toronto's Victorian heritage of brick buildings found a new champion in A.J. Diamond (Metro Toronto central YMCA, 1984; and University of Toronto Earth Sciences Centre, 1989).
Perhaps the most substantial example is the Canadian Centre for Architecture, Montréal (Peter Rose and Phyllis Lambert, with Erol Argun, 1985-89). Here Rose and Lambert reflected the local grey limestone tradition in a building that in its form, organization, and detail draws on Beaux-Arts themes and, especially in the detailing and in the accommodation of the curatorial functions, expresses the austere modernism of Lambert's training with Mies.
The inventive Vancouver architect Richard Henriquez has adopted a signature approach to design, selecting and composing often contrasting building forms to suggest a (fictional) historical narrative. His Sylvia Hotel, Vancouver, condominium addition in part replicates the exterior treatment of the 1912 hotel, but inserts into the concrete frame a rotated modernist glass and metal tower which suggests the partial demolition and rebuilding of an earlier structure. Later buildings, such as the Trent University Environmental Sciences Centre (Peterborough, Ontario, 1990-91), express similarly whimsical stories, often drawn from local history or past architecture.
Interest in the local and the specific lies at the centre of the work of John and Patricia Patkau, whose buildings have attracted the most international interest of any of their generation (born 1947, 1950). Their work is complex - often ambiguous - revealing layers of construction. An apparently arbitrary canting of elements disrupts simple orthogonal masses. At the same time there is an acute sensitivity to site and view, evident in the Pyrch House (Victoria, 1982), and the Strawberry Vale Elementary School (Saanich, BC, 1992). The Clay and Glass Gallery (Waterloo, Ont, 1988), although simplified from the 1986 competition design, pursues these same ends in brick and concrete, contrasted with precise and sophisticated metal and glass details. Despite the apparent deviance from modernist goals, the means by which both the Patkaus and Henriquez achieve their objectives are uncompromisingly contemporary; modern building technology provides the construction and the vocabulary.
Modernism Renewed
It is premature in Canada to suggest that modernism (design based on the primacy of function and the honest use of materials) has been supplanted by postmodernism (the appropriation of historical references for highly individualistic purposes). Contemporary practicing architects such as Ron Keenberg of IKOY (Winnipeg), Peter Cardew (Vancouver), Dan Hanganu and Saucier & Perrotte (Montréal), and Stephen Teeple (Toronto) have chosen to pursue advanced but still clearly modernist approaches to design.
Keenberg's new building for the National Archives of Canada (Hull, 1997) emphasizes his ability to manipulate stock materials to answer demanding functional requirements and satisfy the desire for highly expressive forms. Cardew's buildings similarly use industrial materials and techniques to create satisfying structures for many different clients.
Saucier & Perrotte's Cinémathèque (Montréal, 1997) creates a many-layered setting for the critical display of video and film. Hanganu has a richer palette, and a more expressionistic approach, but works such as the playful Cirque de Soleil headquarters clearly belong to the modernist mainstream as it flows into new and varied channels.
Kuwabara Payne Mckenna Blumberg, the firm that continued Barton Meyer's Toronto practice, contributed a notable reflection on past Toronto modernism in their design for the Kitchener City Hall (1994, competition 1988), as well as careful insertion into a city core in need of new life.
Their work, and that of many others, demonstrates continuing subtlety and sophistication in the best Canadian architecture, with a greater attention to its contribution to the quality of city life than at the opening of this period.
See also Architectural History: Early First Nations; Architectural History: the French Colonial Regime; Architectural History: 1759-1867; Canadian Architecture: 1867-1914; Architectural History: 1914-1967.