Donald Everett Shebib, director, writer, cinematographer, editor (born 17 January 1938 in Toronto, ON; died 5 November 2023 in Toronto). An eloquent, compassionate chronicler of individual alienation and collective Canadian angst, Don Shebib was a pivotal figure in the development of early English Canadian cinema. He is best known for his first feature film, the landmark Goin' Down the Road (1970). It has consistently ranked among the Top 10 Canadian films of all time and was designated a Masterwork by the AV Preservation Trust in 2000. Shebib won four Canadian Film Awards and also worked extensively in television.
Early Life and Career
Donald Shebib played semi-pro football as a young man, studied sociology at the University of Toronto and film at the University of California, where he made his first shorts. Returning to Canada, he directed, shot and edited several lucid, award-winning documentaries for the National Film Board (NFB) and the CBC before turning to feature filmmaking.
Goin' Down the Road (1970)
In the summer of 1969, on a miniscule budget of less than $75,000, Don Shebib directed the cinema vérité-influenced docudrama Goin' Down the Road on the streets of Toronto. Written by William Fruet, photographed by Richard Leiterman and featuring a musical score by Bruce Cockburn, Goin' down the Road is an unflinchingly realist and unsentimental portrait of two Maritimers trying and failing to make it in the big city. They head for Toronto, where they find temporary work in a soft drink factory, drown their troubles in beer and make various futile attempts to improve themselves. With pitch-perfect performances by Doug McGrath and Paul Bradley (who was an untrained actor), the film won the Canadian Film Award for Best Feature Film.
Critically acclaimed in both Canada and the United States, Goin' down the Road drew comparisons to Easy Rider (1969) and Midnight Cowboy (1969) and was praised for its authentic sense of documentary realism. Canadian critics everywhere welcomed it as the first great Canadian movie. The Montreal Gazette called it "A superb movie, the finest Canadian effort ever, and excellent by any standards." The Vancouver Sun praised it as "A human piece of fiction taken from life and put on the screen unemotionally, truthfully, and seething with an inner conflict that motivates the plot and the people in it."
Calling it "the best movie to hit town in a long time," Roger Ebert wrote that "the film's special accomplishment is its treatment of the characters and the city itself with an absolutely unsentimental level-headedness." He also felt that the film "achieves a documentary objectivity that touches us more deeply than tear jerking could." And American film critic Pauline Kael wrote, "There is scarcely a false touch. Shebib is so good at blending actors into locations that at times one forgets that it is an acted film."
Since its release in 1970, Goin' down the Road has been regarded as one of the best and most influential films in the Canadian canon. It has consistently ranked among the Top 10 Canadian films of all time and was designated a Masterwork by the AV Preservation Trust in 2000. Unfortunately, for a long time the film was out of circulation. In 1998, the Toronto International Film Festival (TIFF), in conjunction with Telefilm Canada, struck a DVD copy from the master negative.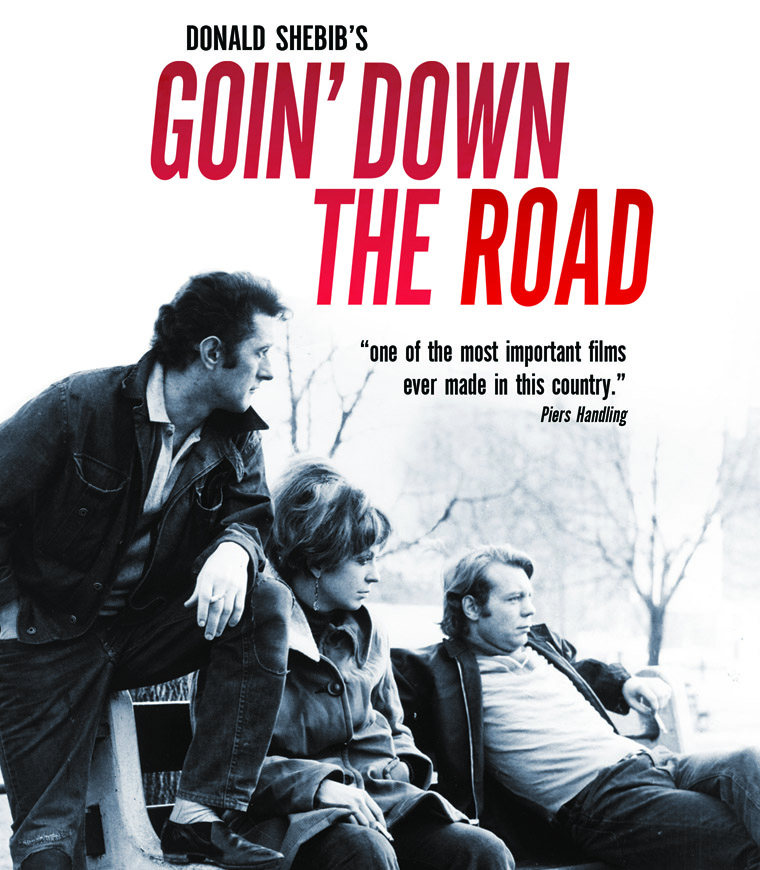 Career Highlights
Immediately following the success of Goin' Down the Road, Don Shebib directed the slight teen comedy Rip-Off (1971), again with a script by Fruet and Leiterman behind the camera. He followed that with Between Friends (1973), which some critics consider his masterpiece, although the film had little success at the box office. A tale of a botched mine robbery in northern Ontario, it is a taut, serious dramatic study of loyalty, Canada-US relations and the limitations of male bonding. Its failed heist sequence rivals any American film noir.
Shebib followed Between Friends with two indifferent films, Second Wind (1976) and Fish Hawk (1979). He returned to form with Heartaches (1981), starring Margot Kidder and Annie Potts. In this variation of Goin' down the Road, two working-class women head to Toronto in search of a future. It is an accomplished, well-directed film but is nonetheless sentimental in tone and has none of the real pain of Shebib's earlier works. The film won Genie Awards for its screenplay, for Kidder as best actress and Potts for best foreign actress. It was also nominated for the Golden Bear at the Berlin Film Festival.
Following Heartaches, Shebib worked primarily as a director for television, with only occasional forays into features. His other films include the shorts The Duel (1962), Surfin' (1964), Satan's Choice (1965) and Good Times Bad Times (1969); By Reason of Insanity (1982) and Slim Obsession (1984) for the CBC series For the Record; the TV movies The Pathfinder (1996) with Graham Greene and The Little Kidnappers starring Charlton Heston (1990); and the features Running Brave (1983), The Climb (1986), Change of Heart (1992), The Ascent (1994) and Down the Road Again (2011), a sequel to Goin' Down the Road. It reunites some of the original cast, including Doug McGrath as Pete, Jayne Eastwood as Joey's wife, Betty, and Cayle Chernin as her friend, Selina. (Paul Bradley, who played Joey, died in 2003.) The film follows Pete as he learns of Joey's death and is tasked with driving his ashes — and his daughter, Betty-Jo (Kathleen Robertson) — from Toronto to Cape Breton.
Shebib's extensive television work also includes the series The Edison Twins, Danger Bay, My Secret Identity, Night Heat, E.N.G., Counterstrike, Lonesome Dove: The Series, Dead Man's Gun, Wind at My Back and The Zack Files.
Family
For 40 years, Don Shebib was married to actor Tedde Moore, daughter of influential theatre artist and administrator Mavor Moore and granddaughter of the legendary Dora Mavor Moore. Don and Tedde had two children together: daughter Suzanna and son Noah. Noah "40" Shebib is a Grammy Award-winning record producer best known for his long-time collaborations with Drake.
Awards
Best Documentary Over 30 Minutes (Good Times Bad Times), Canadian Film Awards (1969)
Best Sound Editing (Good Times Bad Times), Canadian Film Awards (1969)
Best Feature Film (Goin' Down the Road), Canadian Film Awards (1970)
Best Editing (Second Wind), Canadian Film Awards (1976)