Edward Samuel (Ted) Rogers Jr., OC, founder and CEO of Rogers Communications, businessman, philanthropist (born 27 May 1933 in Toronto, ON; died 2 December 2008 in Toronto, ON). Rogers was a pioneer in the Canadian communications industry who established Rogers Communications. At the time of his death in 2008, Rogers was the fourth-richest Canadian, with a net worth of over $7 billion, while the company was worth $18 billion and employed roughly 29,000 people. Rogers Communications owned Canada's largest wireless telecommunications company and cable TV company; 52 radio stations; numerous TV stations (including CityTV, OMNI, Sportsnet and The Shopping Channel); more than 70 consumer and trade magazines (including Maclean's, Chatelaine and Flare); and the Toronto Blue Jays and Rogers Centre (formerly the SkyDome).
Early Life and Education
Ted Rogers was the only child of Edward Samuel and Velma Melissa Rogers. Born with a digestive disorder (likely celiac disease), he was underweight as a child and had vision problems in one eye. Teased for his slight build as well as for his glasses and eye patch, the young Rogers was determined to prove himself.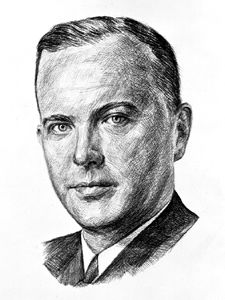 His father invented the alternating current radio tube, which made it possible to plug home radios into the wall. (Before that, radios ran on large, acid-filled batteries.) In 1927, Edward Sr. founded the CFRB radio station, the last half of which stood for Rogers Batteryless. He died at age 38, just before Ted's sixth birthday. After many of his father's businesses and patents were hastily sold off following his death, Ted vowed to buy them all back someday. In 1941, his mother married lawyer John Webb Graham.
Rogers grew up in Toronto's affluent Forest Hill neighbourhood and attended nearby Upper Canada College, boarding there from about age seven until his last year of high school. During his time there, he organized a horse-betting ring and secretly set up a TV antenna on the school's roof. Against school rules, Rogers charged his peers admission to watch broadcasts from Buffalo, New York, in his room.
Rogers went on to study at Trinity College at the University of Toronto. During his undergraduate studies, he organized Young Conservative groups at universities across the country and worked with the Progressive Conservative Party in support of John Diefenbaker. He also worked for the CKLW radio station in Windsor, Ontario, during the summers and ran a small musical equipment rental and talent-booking agency called Rogers Music Services. He graduated from University of Toronto in 1957, although Rogers later admitted that he was more enterprising than studious.
Rogers went on to study at Osgoode Hall Law School, graduating in 1961 (see Osgoode Hall). He articled at the Tory & Associates law firm in Toronto and was called to the Bar in 1962. However, he never practised law.
Early Career in Broadcasting
Rogers embarked on a career in business while he was still articling. In 1959, he established Aldred Rogers Broadcasting Ltd. with Joel Aldred, a well-known broadcaster. Rogers then cold called John White Hughes Bassett, executive at Baton Broadcasting and publisher of the Toronto Telegram, to see if he would partner in Rogers's effort to establish the first private television station in Toronto. Rogers was partly driven by his desire to compete for the broadcast licence against CFRB, the radio station his father founded but that Ted was shut out from. His aggressive pitch paid off, and Baton Aldred Rogers Broadcasting Ltd. (BARB) was created on 22 October 1959. Other partners in the station included Paul Nathanson, the founder of Odeon theatres, and Foster Hewitt, voice of Hockey Night in Canada. Following a bidding process, BARB won the licence for CFTO, which began broadcasting on 31 December 1960. Rogers was named vice-president of CFTO.
In 1960, Aldred Rogers purchased CHFI radio with an $85,000 loan. It was a risky move. Although CHFI was the only FM station broadcasting in Toronto, less than 5 per cent of Toronto radio listeners owned FM receivers, which were new and expensive. However, Rogers was convinced that the FM frequency was the way forward as it was of higher quality sound than the more popular AM frequency. "I may have Van Gogh's ear for music," Rogers said, "but I could see crystal clear that FM with its superior sound was the future for radio." In order to boost listeners, Rogers purchased FM radio receivers in bulk, branded them with the CHFI logo and sold them at cost — just as his father had done before.
Although CHFI's audience grew quickly, it was losing money to operating costs. By June 1961, competitor CFRB had launched an FM station and was in direct competition with CHFI. In order to offset costs for the FM station and direct listeners to the new FM frequency, Rogers launched CHFI-AM in 1963. (This later became 680 News.)
Cable Television
In 1967, Rogers established Rogers Cable TV Limited, paying for its infrastructure with a $250,000 loan from his wife Loretta's trust. In partnership with Baton, Rogers Cable TV began operations in three Ontario markets: parts of Toronto, Brampton and Leamington. However, while the company was deep in debt owing to the costs of getting the infrastructure in place, new Canadian Radio-television Commission (CRTC) regulations forced Baton to sell its 50 per cent stake in the company, pushing it to the edge of bankruptcy in 1971.
During this period, Rogers triple-mortgaged his home in order to keep the business afloat. His persistence and belief in the potential of cable television eventually paid off. Rogers once said, "They laughed at me when I said cable TV would be a big thing in Toronto. They said, 'Who needs it in Toronto?'"
Rogers Cable grew throughout the 1970s, becoming the first cable company to offer subscribers more than 12 channels.
In 1979, Rogers became a public company listed on the Toronto Stock Exchange when it acquired Canadian Cablesystems, a company nearly twice the size of Rogers Cable. The next year, Rogers acquired Premier Cablevision. These acquisitions made Rogers the largest cable company in Canada.
Wireless Leader
Ted Rogers was an early leader in the wireless phone market, despite the initial reluctance of the company's board of directors. In 1985, he launched Cantel with partners Marc Belzberg and Philippe de Gaspé Beaubien (whom Rogers would later buy out). Rogers foresaw that wireless telephones would become increasingly popular, even though they were prohibitively expensive at the time. Cantel introduced the first cellular telephone service on 1 July 1985 and later became Rogers Wireless.
About this time, Rogers suffered a mild heart attack.
"When I was maybe 20 I invited [Rogers] to come and address a political convention. It was maybe 30 years ago. He came and gave a speech that talked about how we would all, in future years, be carrying around little pocket-sized phones that would be able to receive video programming.

The people in the room sort of thought, maybe this guy was reading too may Dick Tracy books and was sort of a mad scientist of some kind. But, sure enough, here we are, 30 years later and what do we have? Little pocket cell phones that you can carry around and get video programming, and much more."

— Remarks made by John Tory, lawyer, broadcaster, business executive, politician, mayor of Toronto 2014 to present, in the Toronto Star following the death of Ted Rogers in 2008.
Challenges and Growth
In 1989, Rogers Communications sold its cable assets in the United States, turning US$1 billion in profit. The company invested the proceeds in CNCP Telecommunications (the telecommunications company formed by the integration of Canadian National and Canadian Pacific's communications wings), buying 40 per cent of the company, which became Unitel. Initially, the company did well, and in 1992, the CRTC gave Unitel permission to compete with Bell Canada in long-distance communications.
That same year, Ted Rogers underwent quadruple bypass surgery.
In 1994, Rogers managed the hostile takeover of Maclean Hunter Ltd., a media conglomerate that ran radio and TV stations, major consumer magazines and the Sun newspapers. At the time, the $3.1-billion acquisition was the largest takeover in Canadian communications history.
In 1995, however, the company took two major hits. First, it became clear that the investment in Unitel was a costly mistake. Rogers, known for his direct if not blunt language, would later describe his company's period in the long-distance telephone business as a "bloody disaster," one that would "always stick in my craw as the worst business disaster of my life." Unitel was restructured after a disagreement among its partners, causing Rogers to back out in 1995, though not before losing $500 million on the venture.
About this time, the company made a mistake by using the "negative option" sales practice, which required customers to alert the cable company if they did not want new services, rather than having providers sell new services to customers. It created a consumer backlash in the cable television industry. As the company continued to invest in its cellular networks, Rogers Communications ended the 1990s with a multibillion-dollar debt load and stock at an all-time low.
Rogers reacted by delivering new services, including high-speed Internet connections, advanced options for mobile phones, and digital television. In 1999, the company became the first service provider in Canada to offer users the BlackBerry. The next year, Rogers recouped its Unitel loss and then some, when Microsoft, AT&T and British Telecom invested $2 billion in Rogers Network Services (see Microsoft Buys into Rogers).
Late Career and Death
Rogers began the 21st century with renewed acquisition power, buying the Toronto Blue Jays in 2000 (see Rogers Buys Blue Jays). Four years later, he purchased the SkyDome (now Rogers Centre), the Jays' home venue. Also in 2004, he bought out AT&T's 33 per cent share in Rogers Wireless for $1.8 billion, and just one week later, acquired the popular Fido wireless brand from Microcell Communications for $1.4 billion, creating Canada's largest wireless operator.
Rogers died of congestive heart failure on 2 December 2008, having suffered from cardiac problems since the mid-1980s. At the time of his death, the company was worth $18 billion and employed roughly 29,000 people. It also had more than $11 billion in annual revenue and more wireless and cable subscribers than any other company in Canada. Although two of his children, Edward Samuel III and Melinda Rogers, were senior executives with the company, the board of directors went outside the family to replace Rogers as president and chief executive officer.
Personal Life
In 1963, Ted Rogers married Loretta Robinson, the daughter of John Roland Robinson, a lord, British member of Parliament and governor of Bermuda. Ted and Loretta adopted their first child, Lisa Anne, in 1967 and went on to have Edward Samuel III (1969), Melinda Mary (1971) and Martha Loretta (1972). Rogers had four grandchildren. He worked alongside his son, Edward, who was president of Rogers Cable, and daughter Melinda, who was senior vice-president in charge of strategy and development at Rogers Communications.
Rogers's personal life was deeply entwined with his career and business. By his own admission, he worked non-stop — at home, at the cottage, and while on vacation — and sometimes to the detriment of his family life. He had a bedroom installed next to his office at Rogers headquarters in Toronto. Rogers was driven by his desire to rebuild his father's legacy and worked tirelessly in that pursuit (see Edward Samuel Rogers Sr.). He attempted to regain control of CFRB on a number of occasions and was pursuing its owner, Astral Media, at the end of his life.
Philanthropy
Ted and his wife, Loretta, donated millions of dollars to charity, including the Toronto General Hospital, the Toronto Western Hospital, Sunnybrook Health Sciences Centre, Woodstock General Hospital, Sheena's Place and the Mayo Clinic in Rochester, Minnesota.
In 1997, Rogers donated $2.5 million to Trinity College, which named its John W. Graham Library after Rogers's stepfather.
In 2000, Rogers donated $25 million to the University of Toronto, establishing the Edward S. Rogers Sr. Department of Electrical & Computer Engineering. The family's gifts to Ryerson University have allowed the school to build the Rogers Communication Centre and launch the Edward S. Rogers Sr. Graduate School for Advanced Communications in the Faculty of Communication & Design.
In 2007, Rogers donated $15 million to Ryerson's Faculty of Business, which was renamed the Ted Rogers School of Management. The majority of the gift was slated to establish 52 new undergraduate and graduate student awards and scholarships. The gift was intended also to establish a new research chair. Six years after his death, The Ted Rogers Centre for Heart Research was started in 2014 following a $130 million donation from the Rogers family — the largest private donation in the history of Canadian healthcare.
Significance
Rogers was an aggressive businessman who was not averse to risk or to carrying a large debt load in order to grow his business. From the 1980s to the time of his death, Rogers Communications accrued an estimated $30 billion of debt and nearly went bankrupt a number of times. Rogers pushed business forward by borrowing large sums of money from banks to acquire other companies or to upgrade his networks' infrastructure. He would then recycle the debt used to expand the business by issuing high-yield bonds and in turn borrow more to acquire new assets or upgrade infrastructure.
The diverse set of companies that Rogers acquired over the years was an example of media convergence. Rogers Communications owned both media producers — including newspaper and magazine publishers and radio and television stations — and the networks that shared or distributed those media — including cable television systems, wireless networks and high-speed Internet.
Honours and Awards
On 17 April 1991, Ted Rogers was invested as an Officer of the Order of Canada. About this time, Prime Minister Brian Mulroney asked Rogers to join the Senate; however, Rogers declined the offer. In 1994, he was inducted into the Canadian Business Hall of Fame. In 2002, he became the first Canadian to be inducted into the Cable Hall of Fame in Denver, Colorado. Also in 2002, he and Loretta Rogers were named Outstanding Philanthropists of the Year by the Association of Fundraising Professionals. In 2006, Ted Rogers was inducted into Canada's Telecommunications Hall of Fame. His father, Edward Samuel, was inducted at the same time. Over the years, Rogers received eight honorary doctorates from North American universities. In 2017, Rogers was posthumously inducted into Canada's Walk of Fame.