Thomas (Tom) Jackson, CC, singer, songwriter, actor, social activist (born 27 October 1948 on the One Arrow First Nation Reserve, SK). Tom Jackson has received numerous awards throughout his musical and acting career. Additionally, he has been recognized through numerous honorary degrees.
A version of this entry originally appeared in the Encyclopedia of Music in Canada.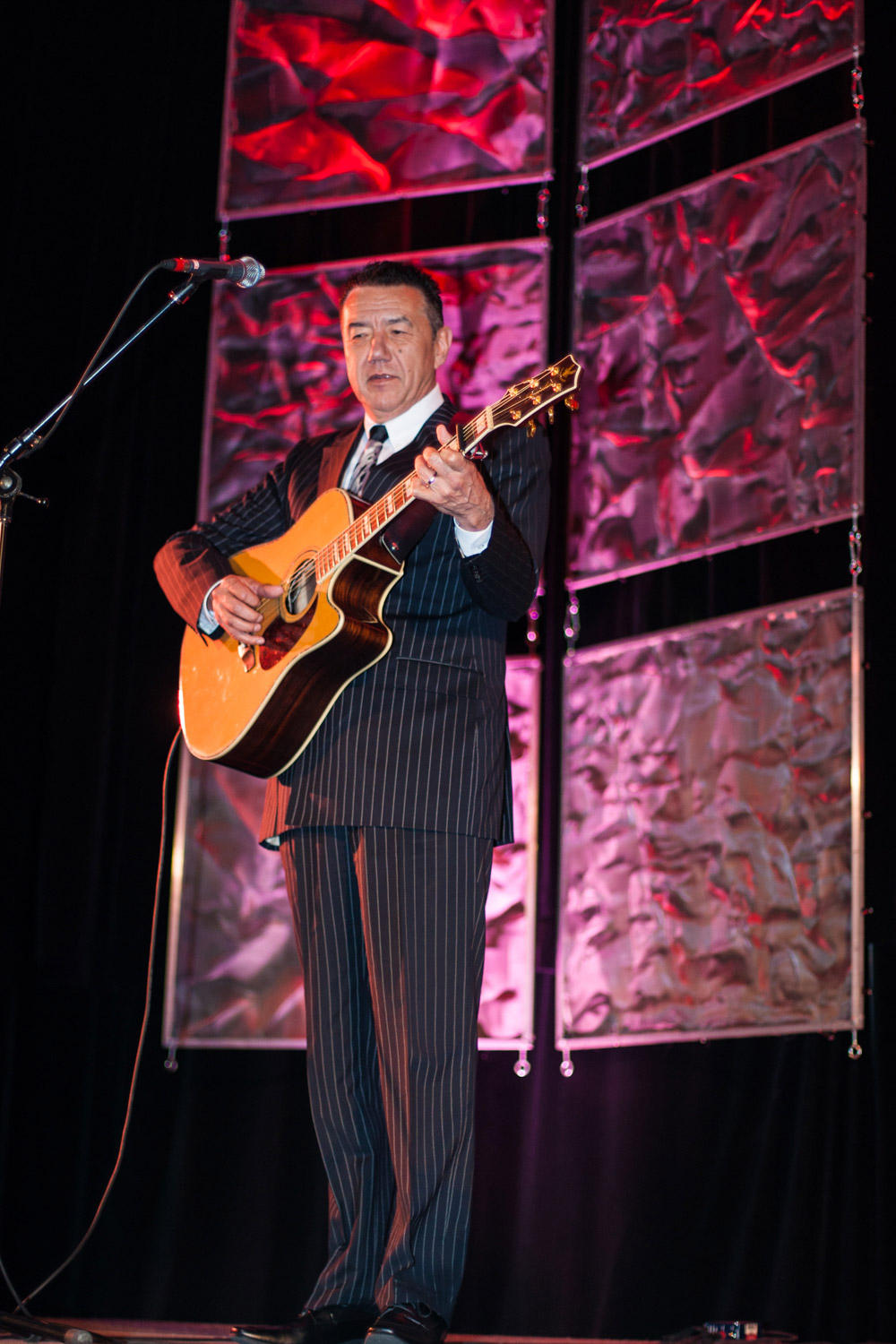 Early Life and Musical Career
Raised in Namao, Alberta, Tom Jackson moved to Winnipeg at 14. Jackson describes music as "the heartbeat"of his early family life. At a young age, he learned to play guitar. He dropped out of high school at 15. After dropping out of school, he lived on the streets for seven years. Through the 1960s and 1970s, he played country, folk and protest songs in Winnipeg clubs and coffee houses. Additionally, he played at the Winnipeg Folk Festival and other festivals. He opened for Valdy in 1980. After that, he pursued solo bookings in Saskatoon and Whitehorse. He followed this with regular gigs in Winnipeg lounges. Jackson's early songwriting explored Indigenous issues. Later, he made a transition to country rock. His first national release was the album No Regrets (1994, Peg Music/Sony).
In his 20s and 30s, Jackson also produced public affairs and Indigenous-rights programming for the CBC in Edmonton and Winnipeg. He worked as a Winnipeg DJ and acted in theatre roles. His main activities as a musician and activist then centred on issues of ending hunger and supporting food banks.
His Dreamcatcher Tour was an eight-year project to build awareness about suicide prevention and empowerment among Indigenous communities. His Huron Carole Benefit Concert Series is an annual Christmas multiple-artist, country-wide concert tour. He also launched the Singing for Supper and Swinging for Supper tours. He co-owns the Calgary-based production company Tomali Pictures. Since 1988, his charitable efforts have raised significant amounts of money for food banks, family service agencies and disaster relief. In particular, his Christmas & Winter Relief Association has raised hundreds of millions of dollars.
He travelled across Canada from 2000 to 2003 on Canadian Pacific Railway's fundraising music tour, "Holiday Train." This resulted in two compilation CDs. He also organized Manitoba flood-relief concerts in 1997. Jackson spearheaded and was a host for CBC Newsworld's 2002 coverage of "Say Hay" (which raised money in support of drought-stricken prairie farmers). In 2003, he worked with Calgary-based industries on "Beef Relief" (raising more than $600,000 in support of that city's Inter-Faith Food Bank).
Stage and Screen Acting
Tom Jackson's early stage credits include a role in George Ryga's play The Ecstasy of Rita Joe for Winnipeg's Prairie Theatre Exchange. This led to a substantial part in Anne Wheeler's Loyalties (1986), for which Jackson was nominated for a Genie Award for best supporting actor. He moved to Toronto and appeared in local stage productions. He also developed and overcame a serious cocaine addiction. By the end of the decade, his career took off. He had a small part in the film Clearcut (1991) and was chosen to play Billy Twofeathers in Shining Time Station (1991–93). This show was based on the popular English children's show featuring Thomas the Tank Engine. His best-known role is that of Chief Peter Kenidi. Kenidi was the Dene community leader in the popular CBC-TV series North of 60. He was subsequently chosen to play Jules Tonnerre. Tonnerre was the tormented Métis singer-songwriter who drifts in and out of Morag Gunn's life in the television adaptation of the Margaret Laurence novel The Diviners (1993). Tom Jackson received Gemini Award nominations for his music and acting in The Diviners.
Jackson's other television credits include Medicine River (1993) with Graham Greene, Spirit Rider (1993), Star Trek: The Next Generation (1994) and three North of 60 made-for-television movies: Trial by Fire (2000), Dream Storm (2001) and Distant Drumming: A North of 60 Mystery (2005). The Longhouse Tales (2000) was a 26-episode series. He played Hector Longhouse, a mystical First Nations storyteller in a world of animals in this series.
Noteworthy Achievements and Awards
A thrice Gemini Award-nominated star of North of 60, Tom Jackson has received two Juno Award nominations, a Canadian Aboriginal Music Award (now Indigenous Music Awards), Queen Elizabeth II's Golden Jubilee Medal in 2002, Queen Elizabeth II's Diamond Jubilee Medal in 2012 and Centennial medals from Alberta and Saskatchewan in 2005. He was invested as an Officer of the Order of Canada in 2000. In 2020, he was promoted to Companion of the Order of Canada. He has been awarded honorary degrees from 11 Canadian universities and is the recipient of dozens of humanitarian awards. In 2007, the Canadian Academy of Recording Arts and Sciences and the Academy of Canadian Cinema & Television presented him with humanitarian awards at the Juno and Gemini awards. From 2009 to 2013, he was chancellor of Trent University.