The community of Amber Valley (originally Pine Creek), Alberta was founded in 1910 by African American families from Oklahoma, Texas and other nearby states. Seeking a life away from segregationist Jim Crow laws, racial hostility and violence in the US, they came in response to the Canadian government's offer of free land in the western part of the country (see Dominion Lands Policy). Amber Valley is located about 170 kilometres north of Edmonton and 24 kilometres east of the town of Athabasca. It was one of several Alberta communities settled by Black people in the early 20th century (see Black Canadians), and the furthest north.
Origins of Amber Valley
In the late 19th and early 20th centuries, African Americans, particularly those living in certain southern US states, faced extreme racial hostility, segregation and violence under the Jim Crow system (see also Ku Klux Klan). Many sought a life elsewhere. Some were drawn to Canada because of the government's call for people to come settle prairie lands in Alberta, Manitoba and Saskatchewan (see Dominion Lands Act).
Between 1909 and 1911, approximately one thousand African American men, women and children made their way north to Canada from the southern US, notably Oklahoma and Texas. They also arrived from neighbouring states, including Missouri. They settled mainly in Alberta and Saskatchewan. In Alberta, they established communities in Pine Creek (later renamed Amber Valley), Junkins (which became Wildwood), Keystone (later renamed Breton) and Campsie. In Saskatchewan, the new settlers established roots in the Maidstone area. Although prejudice, discrimination and racial segregation existed in Canada at that time, Black people from these southern states still made the trek north where the constant threat on their lives was not an issue.
By 1910, approximately 300 free men, women and children had moved to the Amber Valley area of Alberta. Originally called Pine Creek, it was renamed Amber Valley in 1931.
A family from Amber Valley, Alberta .
Courtesy Glenbow Archives/NA-316-1
Who Settled in Amber Valley?
Among the settlers who established the community were the Bowen, Sneed, Murphy and Edwards families.
Jefferson (J.D.) Edwards and his wife Martha were two of the first people from Oklahoma to settle in Amber Valley. J.D. came to Alberta in 1910 when he was 21 years old. He and Martha married in Alberta and raised 10 children. In 1973, the government of Alberta recognized J.D.'s involvement in sports, politics, community building and on various local boards with an Achievement Award in Humanities. J.D. Edwards passed away at the age of 90 in 1979.
Willis and Jean Bowen and their children were originally from Oklahoma. In 1909, they settled in Vancouver. They moved to Amber Valley in 1912. Willis had a few different jobs in Alberta; he worked on a ranch and on grain farms, and he also hauled freight. One of Willis' sons, Obadiah, became a pastor in the community, although he also built roads and railways and worked in mines. Obadiah and his wife Eva raised their family in Amber Valley. In 1938, he replaced his father's homestead log cabin with a one and one-half storey house. In 1999, Obadiah Place, as it came to be known, was recognized as an Alberta historic site.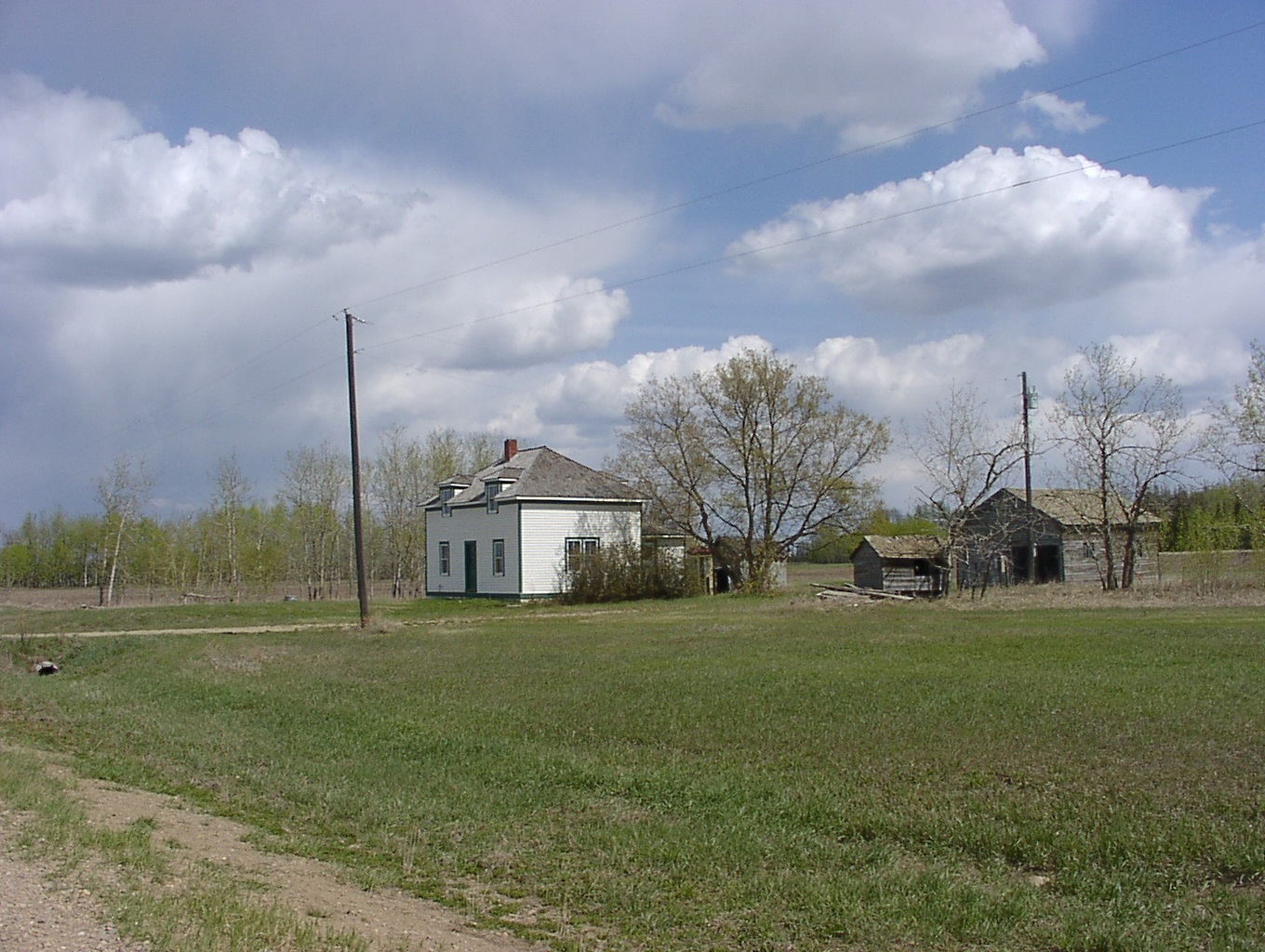 Contemporary photo of Obadiah Place, Amber Valley.
One of Obadiah's four children, Oliver Bowen, was an engineer. He went on to design and construct the city of Calgary's light rail system, also known as the CTrain. Willis Bowen's granddaughter, Myrna Wisdom, has said that her grandfather was the first Black man in Alberta to be given a permit to operate a post office, and that he also operated a blacksmith's shop and a store (see also Deanna Bowen).
Parson Henry Sneed originally came to Alberta in 1905 to survey the land, before heading back to Oklahoma to tell others about Alberta and the Canadian prairies. After settling in Amber Valley, Sneed worked as a farmer as well as a minister. According to one source, Henry had four children with his first wife. After she passed away, he married a woman named Elizabeth and had five more children with her. Elizabeth passed away of pneumonia in 1918.
Black settlers and immigration laws in Canada
In 1911, Canada had only been a country for 56 years (see Confederation and Constitution Act of 1867). The government was looking to expand and build this young country, hence the call for immigration and colonization of Canada's West.
The Canadian Government preferred certain kinds of settlers over others. This preference was based, in part, on race. European immigrants from countries such as Hungary, Romania and the Ukraine were preferred, along with White American farmers. Asian, Jewish and Black people were at the bottom of the government's list of desirable immigrant settlers. Racist immigration policies were created to keep many non-White people out of the country. (See Immigration Policy in Canada, Order-in-Council P.C. 1911-1324 — the Proposed Ban on Black Immigration to Canada and Racial Segregation of Black People in Canada. See also Chinese Head Tax in Canada and Komagata Maru.) Researcher and author R. Bruce Shepard described this as "diplomatic racism," where Canadians in the West used the influence and power of government to restrict Black people from entering the country.
DID YOU KNOW?
Before being allowed to enter the country, Black people were required to pass strict tests proving that their health, financial standing and literacy knowledge met certain criteria. Despite Western Canada's racist immigration policies and fear that Black people would "take over" Canada, some African Americans still managed to settle in Canada and create thriving communities like Amber Valley.
The Challenge of Settling the Canadian Prairies
After settling in and around the Amber Valley area, some Black residents were able to find land claims that had been abandoned by European settlers.
Why had they been abandoned? Instead of the picturesque prairies advertised by the Canadian government (see Dominion Lands Policy), European homesteaders were met with bug-infested, uncleared swampy prairie lands. Although there was much migration of people into the Prairies, many opted to leave for better opportunities in other parts of Canada. Once some of the African American settlers obtained these abandoned lands, they worked hard to clear and prepare them for planting and harvesting crops. This process often took two to three years. Many supplemented their income by working as freight haulers, working in lumber yards and doing other seasonal work.
The community of Amber Valley was very isolated from other towns. Residents had to rely strongly on each other, as well as on the Ukrainian settlers who also lived in the area.
"All the earliest settlers had built their log houses flat on the ground, with one door and the odd small window, and a sod roof. But my Dad built his house with a foundation about 1 ½" from the ground. The foundation was hewed logs the same as the rest. Everyone told him the floor would be too cold and the vegetables would freeze when winter set in. But we always banked it up with dirt and when the snow came, we gave it an extra covering of snow.

We had two rooms downstairs and one big room upstairs, which was curtained off so that the boys slept in one part and the girls in the other. The front room was Mom and Dad's bedroom. But we got one of those davenports, so it was curtained off at night when used as a bed. And by day the curtain was drawn back leaving a not-too-bad parlor room."

Excerpt from Memories of My Father, The Late Willis Bowen of Amber Valley by Willa R. Dallard in 1978.
A Thriving Community
Between 1911 and the 1940s, Amber Valley was a thriving community.
The Toles school, named after Nimrod Toles, one of the earliest settlers from Oklahoma, was opened in 1913. The school educated children up to grade eight. It was also used for church services, meetings, funerals, weddings, elections and other social events.
A view of the Toles School building near Amber Valley, Alberta. Exact year unknown, 1940s. Courtesy of Athabasca Archives, 194-.03106
In 1926, J.D. Edwards founded the Amber Valley baseball team. It was well known throughout Alberta for their prowess on the field and for their grand and flashy ways. J.D.'s son, Kenny Edwards, was the pitcher. In the early 1930s, the Amber Valley baseball team would act as unofficial ambassadors of the Black community throughout Alberta. The team traveled to various towns across northern Alberta to play against White baseball teams. It is important to recall that in the Southern US at the time, Black baseball teams experienced segregation because of Jim Crow laws. Black baseball teams were only allowed to play against other Black baseball teams.
The Amber Valley baseball team drew large crowds and brought the community together. The team reportedly looked forward each year to playing the team from Lac La Biche, Alberta. Along with other events, this game was in celebration of Canada Day.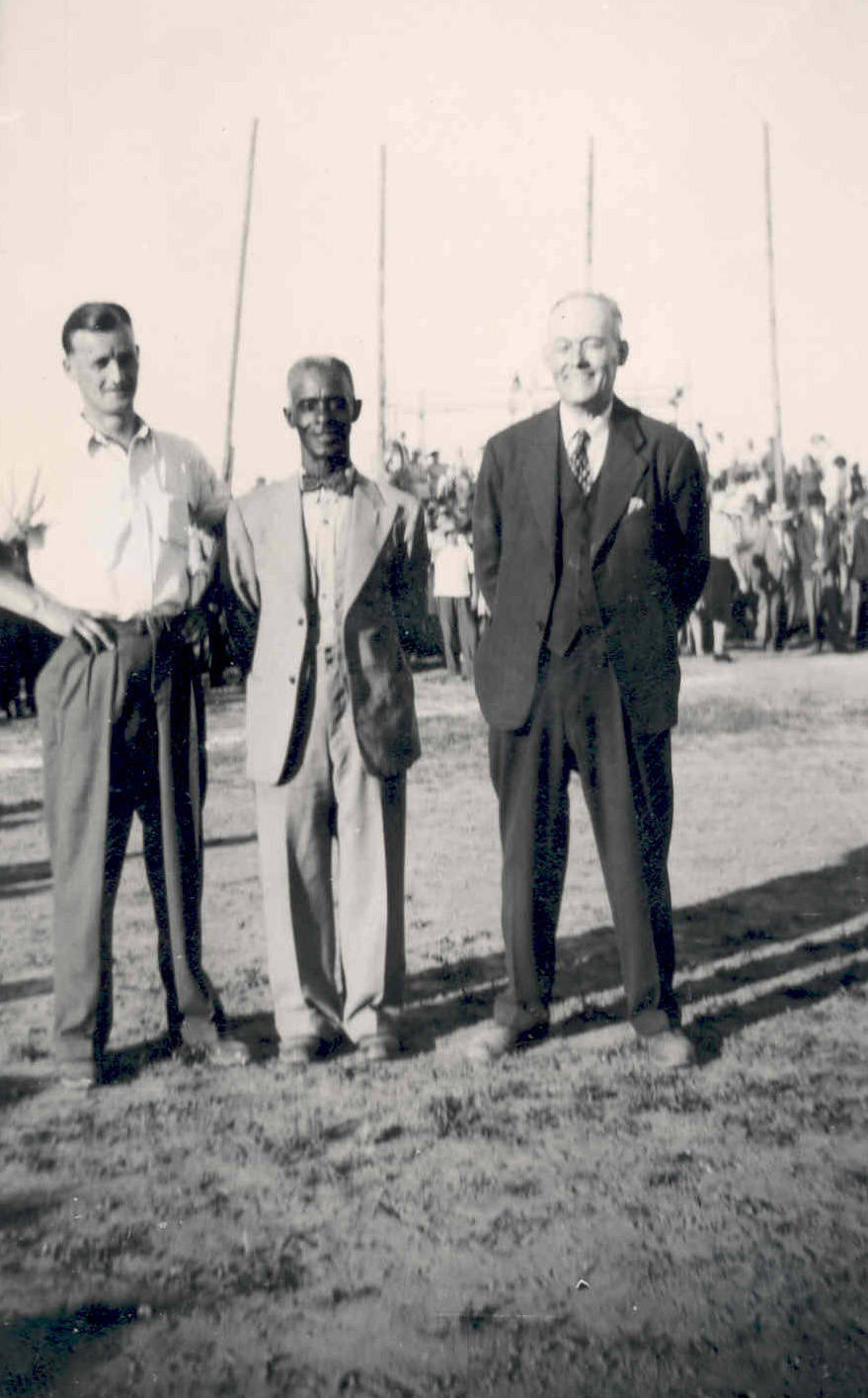 Northern Alberta Baseball League Executives, Athabasca, Alberta. Left to right: Jack Mackie, Jeff (J.D.) Edwards, B.W. Bellamy. Aug 23, 1946.
Courtesy Athabasca Archives, 03235.
Amber Valley Baseball Team in the Northern Alberta Baseball League, Athabasca, Alberta in 1946. Top row, left to right: Cliff Brown, Fordie Medlock, Horace Hinton, J.B. Brown, Alvin Brown, Alonzo Edwards, Ozzie Lipscombe. Front row, left to right: Booker Edwards, Arther Saunders, Kenny Edwards.
Courtesy Athabasca Archives, 03237
Women played an integral role in the success of the Amber Valley community. They worked as midwives and travelled countless kilometres on horseback to deliver babies in the rural countryside of Northern Alberta. They ran a grocery store and made the uniforms for the Amber Valley baseball team. They contributed to a strong sense of community, and to the resilience and determination that was passed down from generation to generation.
Decline and Legacy
In the 1930s and 1940s, many people from rural communities across the Prairies, including some born and raised in Amber Valley, began to move to large cities such as Calgary, Edmonton and Winnipeg in search of jobs. In Amber Valley, older generations passed away and their homesteads were sold. The post office closed in the fall of 1968. The school closed in the 1950s and was later demolished. There is a replica of the school at the Canadian Museum of History. Many of the original farmhouses have eroded over time. Although Amber Valley is no longer an active community, there is a community hall with a small museum containing household items from Amber Valley. The preserved cabin of Romeo Edwards, the older brother of Kenny Edwards and whose parents made the trek from Oklahoma to Amber Valley in the early 1900s, remains standing.
For Black History Month 2021, Canada Post issued a new stamp honouring the Black settlers of Amber Valley.