Junius Lyman Edward Hokan, pilot (born 4 March 1922 in St. Catharines, ON; died 26 September 1942 in the English Channel). Hokan was likely the first Black-Canadian commissioned officer and fighter pilot in the Royal Canadian Air Force (RCAF). He served his country with distinction in the Second World War but was killed when his plane crashed on the way back to England after a mission.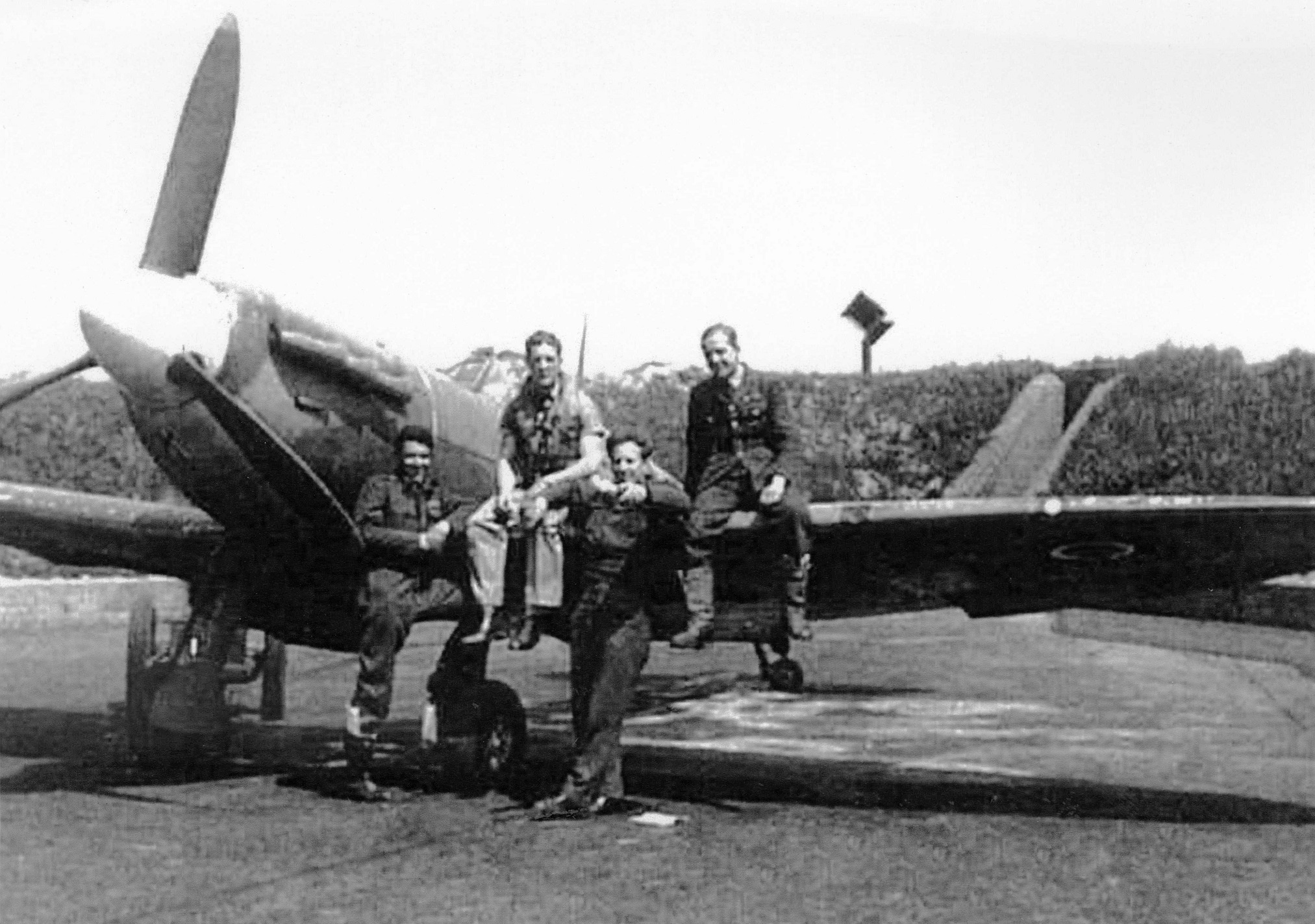 First Black Fighter Pilot in RCAF
Junius Hokan was raised in St. Catharines, Ontario. His father had served in the Canadian Field Artillery during the First World War. At the age of 18, Hokan enlisted in the RCAF on 11 November 1940 in Niagara Falls. At this time, RCAF policies limited enlistment to those of "pure European descent." However, it seems that some recruiting officers ignored these policies. The officer conducting Hokan's enlistment knew he was Black, but still enlisted him.
Aircraftman Class 2 Hokan attended No. 1 Initial Training School in Toronto, where he learned the basics of flight. He then completed initial pilot training at No. 9 Elementary Flying Training School in St. Catharines, and advanced military flying at No. 2 Service Flying Training School at Uplands. He was rated an above-average pilot at both. On 8 August 1941, Leading Aircraftman Hokan received his pilot wings; because of his high standing in the course, he was also commissioned as a pilot officer.
No. 610 Squadron, RAF
Pilot Officer Hokan was then sent overseas. Like most aircrew produced by the British Commonwealth Air Training Plan (BCATP), he was transferred to the Royal Air Force (RAF). After a brief period learning the latest air combat techniques, Pilot Officer Hokan was posted to No. 610 Squadron on 18 February 1942. Although it was an RAF squadron, it had pilots from Australia, Belgium, Canada, France, Norway, and Rhodesia.
No. 610 Squadron flew the Spitfire Mk. Vb on intruder operations (missions into German-controlled areas) until April 1942, after which the squadron's new role was convoy protection and reconnaissance. In July 1942, famed English Squadron Leader J.E. "Johnnie" Johnson assumed command of the squadron.
Pilot Officer Hokan was soon in the thick of the action. On 27 April, while on a dawn patrol with another pilot, they shot down a Junkers Ju 88 off the coast of Lowestowe. On 15 May, he was credited with shooting down a Dornier Do 217 with three other pilots. After each of these two events he was interviewed by the Canadian Press, and his story recounted in Canadian newspapers. Pilot Officer Hokan shot down another Ju 88 east of Yarmouth on 22 June. During his time with 610 Squadron, Hokan demonstrated that he was a capable pilot and could lead multiple aircraft on operations.
On Wednesday, 19 August 1942, Canadian soldiers raided the town of Dieppe on the French coast. 610 Squadron took off at 7:30 a.m. A melee quickly developed, one in which Johnnie Johnson stated, "we thought of nothing but evasion and staying alive." Hokan attacked a Focke-Wulf Fw 190, knocking off a large section of its tail. Before he could do any further damage, he came under attack from another Fw 190 that in turn destroyed most of the tail of his Spitfire. "Hokey" as his squadron mates called him, turned for home. The squadron diary expressed surprise that he had made it back considering the damage to his plane. Later that day he was in the air again over Dieppe in another Spitfire.
Spherant Design
Pilot Officer Hokan had other interests besides flying. In March 1942, he presented to the RAF's Director of Operational Requirements a detailed set of drawings for a position-fixing device for navigators in bombers. This type of device was known as a spherant. The British Air Ministry was interested in Hokan's design and considered transferring him to a research position. They believed he would contribute more to the war effort developing the design than flying a Spitfire. Hokan continued working on it while flying with 401 Squadron, RCAF, to which he was posted on 24 August 1942.
401 Squadron, RCAF
Pilot Officer Hokan's first operational sortie with 401 Squadron was on 6 September 1942, when he participated in a fighter sweep. He then flew regularly on operations. On 26 September 1942, his squadron, along with 64 and 133 Squadrons, were tasked to escort 36 Boeing B-17 Flying Fortresses during on an attack on Morlaix, France. The winds, however, had increased to 160 km/h from the north and not the 55 km/h that had been briefed. The three squadrons were blown farther south than expected. 133 Squadron lost all 12 of its aircraft. 64 Squadron barely made it back to airfields in England. 401 Squadron lost three aircraft, two crashing in England after running out of fuel. Sixty kilometres off the English Coast, Hokan radioed "out of petrol, bailing out, so-long boys, will see you tomorrow" and was last seen in a gradual dive.
Normally, squadron mates would fly over the site of the crash at sea until air-sea rescue arrived, but given the fuel situation, this was not possible. After refuelling at the nearest RAF station, Squadron Leader Hodson wanted to conduct a search, but permission was denied. The RCAF waited to hear if the Germans had rescued Pilot Officer Hokan, but there was no such luck. On 6 November 1942, his name appeared on the RCAF casualty list as "killed on active service." His name was later included on the Runnymede Memorial in Surrey, England, for those with no known grave.
Significance
Junius Hokan was credited with one full aircraft destroyed, 1/2 of another and 1/4 of a third, plus one damaged at Dieppe. His legacy and potential, however, were greater than suggested by these statistics. Johnnie Johnson described him as "a keen and reliable leader who with more experience will make an excellent flight commander." His potential in developing the spherant was recognized at high levels in the RAF and RCAF. Pilot Officer Hokan also demonstrated to his fellow pilots and squadron members that Black Canadians were capable fighter pilots. In a time of widespread racial prejudice in Canada, this was a significant accomplishment.