Barrie, Ontario, incorporated as a city in 1959, population 147,829 (2021 census), 141,434 (2016 census). Barrie is located at the head of Kempenfelt Bay, on the western edge of Lake Simcoe. Located within Simcoe County, Barrie shares borders with the municipalities of Oro-Medonte, Springwater, Essa and Innisfil. Throughout history, the Barrie area has been home to different Indigenous groups, namely the Huron-Wendat, Haudenosaunee and Anishinaabeg peoples. The land is covered by Treaties 16 and 18.
Indigenous Peoples
The original inhabitants of Simcoe County are the Huron-Wendat. Their territory stretched roughly from the shores of Georgian Bay to the northern shore of Lake Ontario. Prior to 1600, the Huron-Wendat numbered about 20,000 to 25,000 people. However, between 1634 and 1642 they were reduced to about 9,000 by a series of epidemics, particularly measles, influenza and smallpox. In 1648 and 1649, the Haudenosaunee defeated and dispersed the remaining Huron-Wendat. During these wars, about half the post-epidemic Huron-Wendat population was decimated. Many of the remaining Huron-Wendat joined the Haudenosaunee.
The Haudenosaunee remained in the Simcoe County area for about 50 years. In the late 1600s, the Anishinaabeg began pushing them south. Today, the First Nations based in Simcoe County are Anishinaabeg. They include Beausoleil First Nation, based on Christian Island in southern Georgian Bay, and Chippewas of Rama First Nation, based on the east shore of Lake Couchiching. The Chippewas of Georgina Island are also nearby, on Georgina Island in Lake Simcoe, and on the south shore of the lake. (See also Reserves in Ontario.) As of 2021, Indigenous people make up 3.7 per cent of Barrie's population.
Settlement and Treaties
Barrie is located at the eastern end of an Indigenous portage route, known by settlers as "Nine Mile Portage." The portage led from Kempenfelt Bay, on Lake Simcoe, to Willow Creek. Willow Creek is a tributary of the Nottawasaga River, which flows into Georgian Bay. During the War of 1812, the route was widened for transporting supplies. Sir George Head, a British officer sent to supervise the construction of a fort at Penetanguishene, set up his quarters where Barrie's downtown was later built.
In 1815, Chippewa chiefs Kinaybicoinini, Aisaince and Misquuckkey met with colonial administrators at Kempenfelt Bay. There they signed Treaty 16, also known as the Lake Simcoe Purchase. The treaty transferred 250,000 acres (just over 1,012 km2) from the Chippewa to the colonial government. Three years later, in 1818, four other Chippewa leaders, Musquakie, Kaqueticum, Maskigonce and Manitonobe, signed Treaty 18, also known as the Lake Simcoe-Nottawasaga Purchase. The treaty surrendered 1,592,000 acres (6,443 km2) of land south of Treaty 16. (See also Upper Canada Land Surrenders.)
A naval depot for military supplies was constructed near the end of Nine Mile Portage in 1819. Commodore Robert Barrie, who oversaw British war vessels at Kingston, visited the site in 1828 and 1833. In 1833, the colonial government opened a portion of Vespra Township, on the northwest corner of Kempenfelt Bay, for settlement. They called the new settlement Barrie, after the commodore. The choice was solidified by the naming of the area's post office in 1835.
Barrie's modern borders include land from the historic townships of Vespra and Innisfil. After settlement, most of this was first used as farmland. By the 1840s, an agricultural fair was held annually in Barrie's Market Square, and a plowing match was established just outside of the village.
Did you know?
All veterans of the War of 1812 were offered land grants as thanks for their service. Black veterans, who served with The Coloured Corps, were given "land grants" in the Township of Oro (now Oro-Medonte), just northeast of Barrie. As a result, the agricultural area became the northernmost stop on the Underground Railroad. The Oro African Episcopal Methodist Church, built around 1846, was designated a National Historic Site in 2000 and restored in 2016.
Development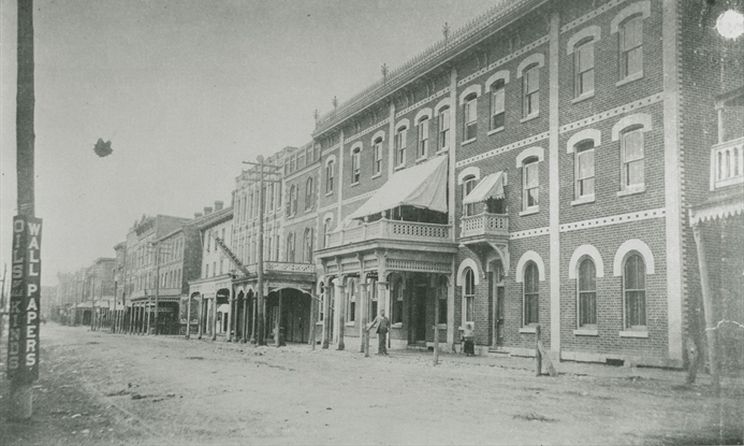 By 1854, Barrie had grown to the point where it formally became a village, receiving its own representative at Simcoe County Council, separate from Vespra Township. It became a town in 1871. While Barrie was on the upper section of Kempenfelt Bay, the hamlet of Allandale grew at the lower section. The town of Barrie annexed Allandale in 1896.
In 1916, during the First World War, the Canadian Expeditionary Force opened a training base southwest of Barrie. The Royal Flying Corps opened Canada's first military aerodrome at the base in 1917. Known today as Canadian Forces Base Borden, it remains the largest training facility for the Canadian military.
Did you know?
A tornado hit the Allandale neighbourhood in 1985, killing 8 people, injuring 155, and destroying 300 homes. The storm resulted in $150 million in damages, making it one of the costliest tornados in Ontario history.
Population
According to the 2021 census, prominent ethnic groups within the Barrie include English (25.3 per cent of the population), Irish (21.6 per cent), Scottish (20.8 per cent), Canadian (17.3 per cent), German (9.1 per cent) and French (8.6 per cent). Common countries of origin for immigrants living in Barrie include the United Kingdom, India, the Philippines, China, Jamaica and Poland.
Economy
Industries employing significant numbers of Barrie residents include retail, health care and social assistance, and manufacturing. Major employers based in Barrie include Georgian College and the Royal Victoria Regional Health Centre. Major employers for Simcoe County as a whole, including Canadian Forces Base Borden, Casino Rama, and Honda Canada Manufacturing, are located nearby.
Many residents commute to Toronto and other cities for work. The 2016 census found that the Barrie Census Metropolitan Area (which includes Innisfil and Springwater) has 95,540 commuters. Nearly one in five of those commuters (18 per cent) have a long commute. A long commute is defined by Statistics Canada as at least an hour spent getting to work. Barrie has the largest proportion of commuters with a long commute of all CMAs in Canada.
Government and Politics
City council is elected every four years, and includes a mayor and 10 councillors.
Marjorie Hamilton served as mayor from 1950 to 1952. She was one of the earliest female mayors in Canada.
Cultural Life
The MacLaren Art Centre exhibits both historic and modern artwork. Nearby, the Township of Springwater is home to Simcoe County's museum and archives.
Notable artists include author Judy Fong Bates, ballet dancer David LaHay, and jazz singer Phyllis Marshall. A star on 1950s CBC television music programs, and later an actress, Marshall is considered a pioneer among Black Canadian performers.
Raised in Barrie, athlete Bobbie Rosenfeld set track and field world records, before advocating for women in sport through her newspaper column. Sportswriters chose Rosenfeld as Canada's outstanding female athlete for the first half of the 20th century.
The Barrie Colts have competed in the Ontario Hockey League since 1995. Former team captain Sheldon Keefe was named the coach of the Toronto Maple Leafs in 2019. The late freestyle skier Sarah Burke is the namesake of Highway 93, which connects Barrie to Penetanguishene.
Other notable residents have included innovative surgeon William Gallie, Ontario premier E.C. Drury, and British Columbia premier Charles Semlin.