timeline
LGBTQ2S
Important events related to the LGBTQ2S community in Canada.
Image: CC flickr/Junichi Ishito.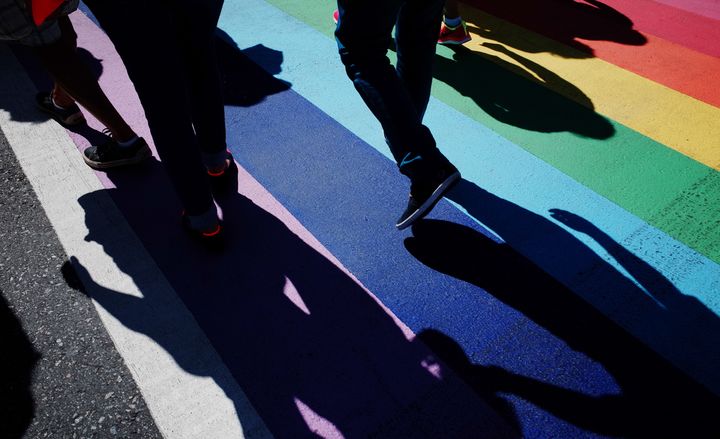 November 24, 1881

Arts, Culture and Press

Birth of Florence Wyle

Sculptor Florence Wyle, who was considered Canada's finest academic sculptor, was born at Trenton, Ill.

October 14, 1887

Arts, Culture and Press

Birth of Frances Loring

Sculptor Frances Loring, who was a founding member of the Sculptors' Society of Canada, was born at Wardner, Idaho.

April 11, 1914

Arts, Culture and Press

Birth of Norman McLaren

Norman McLaren, Canada's leading director of animated film, was born at Stirling, Scot.

Arts, Culture and Press

Victoria Hayward and Edith Watson Publish "Romantic Canada"

Hayward and Watson, partners in business and life, published their book Romantic Canada. The book uses photographs and text to depict rural life in Canada, highlighting people that were not usually shown at the time.

June 25, 1942

Arts, Culture and Press

Birth of Michel Tremblay

Michel Tremblay, whose first widely produced play, Les Belles-soeurs, opened the floodgates of theatre in Canada, was born at Montréal.

November 27, 1943

Arts, Culture and Press

Birth of Nicole Brossard

Publisher Nicole Brossard, who is a leading exponent of formalist poetry in Québec and a major theoretician and promoter of literary and cultural feminism, was born at Montréal.

March 09, 1966

History

Everett Klippert Case

Everett George Klippert is declared a dangerous sexual offender and sentenced to what amounted to life in prison, for no other reason than he was homosexual. Outrage over that sentence, upheld by the Supreme Court in 1967, led to the decriminalization of homosexual acts two years later. In 2016, Prime Minister Justin Trudeau indicated he would recommend a pardon for Klippert and consider pardoning all men who were charged, convicted and punished simply because they were gay.

Arts, Culture and Press

Premiere of Les Belles-Sœurs

The Théâtre du Rideau Vert premiered Michel Tremblay's Les Belles-Sœurs, becoming the first play to use Québec joual instead of Parisian French.

January 01, 1971

LGBTQ2S Organizations

Gay Alliance Toward Equality (GATE) is Founded

Formed by Maurice Flood in Vancouver, GATE is one of the first Canadian Gay liberation groups.

November 01, 1971

Arts, Culture and Press

The Body Politic, Canada's first gay publication

The Body Politic, established in Toronto in 1971 is published until 1987. Today, its publisher, Pink Triangle Press, puts out DailyXtra, with editions in Toronto, Ottawa and Vancouver.

January 01, 1973

Arts, Culture and Press

Canadian Lesbian and Gay Archives is Launched

Pink Triangle Press founded the Canadian Lesbian and Gay Archives in 1973, which today is a respected and historically important collection of LGBT material.

January 05, 1974

History

The Brunswick Four Thrown Out of Toronto Bar

Adrienne Rosen, Pat Murphy, Sue Wells and Lamar Van Dyke were thrown out of a Toronto bar and charged by the police. Known as the Brunswick Four, the case raised awareness about homophobia and harassment in Canada. 

December 15, 1977

History LGBTQ2S Rights

Quebec became the first province to prohibit sexual orientation discrimination

Québec amended its Charter of Human Rights and Freedom to prohibit discrimination based on sexual orientation.

April 01, 1978

History LGBTQ2S Rights

​Ban prohibiting gay men from immigrating is lifted

In 1977, the Canadian Immigration Act is amended, lifting a ban prohibiting gay men from immigrating. The new Immigration Act came into effect on 1 April 1978.

February 05, 1981

History

Toronto Bathhouse Raid

Toronto police descended on four Toronto bathhouses and rounded up close to 300 men. Such raids were a fixture on the gay scene, as police used a questionable interpretation of the term "bawdy house" to justify their actions.

February 29, 1988

Activists and Politicians History

First openly gay member of parliament

In the spring of 1988, British Columbia MP Svend Robinson came out as Canada's first openly gay member of parliament.

November 15, 1992

Activists and Politicians

Death of Dr. Peter Jepson-Young

Dr. Peter Jepson-Young died in Vancouver, British Columbia at age 35. An AIDS activist, he is known for presenting the Dr. Peter Diaries that shared his experience with AIDS, in order to educate Canadians about the disease. 


May 24, 1995

History LGBTQ2S Rights

Gay Adoption Law Struck Down

Judge James Nevins of the Ontario Court struck down a provincial law preventing same-sex couples from adopting children.

May 25, 1995

History LGBTQ2S Rights

Egan v. Canada

In 1982, Canada repatriated its Constitution and adopted the Charter of Rights and Freedoms, which became the basis for many future equality decisions. It was not until 1995, however, that the Supreme Court ruled that Section 15 of the Charter — which guarantees the "right to the equal protection and equal benefit of the law without discrimination" — should include sexual orientation, even though it is not specifically named in the section. The following year, sexual orientation was added to the Canadian Human Rights Act, which covers federally-regulated activities.

July 15, 1996

History LGBTQ2S Rights

Homosexual Couples Benefit

The federal government agreed to extend benefits to same-sex partners of government employees.

October 28, 1998

Activists and Politicians

First openly gay Mayor of a large North American city

In 1998, Glenn Murray became the first openly gay mayor of a major city in North America when he was elected mayor of Winnipeg.

May 20, 1999

History LGBTQ2S Rights

Gay Spousal Rights

The Supreme Court of Canada struck down the definition of the term "spouse" in Ontario law under which homosexuals were denied the right to sue for spousal support.

December 15, 2000

Arts, Culture and Press

Gay publications are protected by the freedom of speech and expression

The Supreme Court ruled in favour of Vancouver's Little Sister's bookstore that gay publications, even sexually explicit ones, were protected under freedom of speech provisions in the Charter of Rights and Freedoms. The store had filed suit against Canada Customs for repeated seizures of LGBT material.

January 01, 2001

Activists and Politicians

First openly lesbian Member of Parliament

In 2001, NDP MP Libby Davies became the country's first openly lesbian member of parliament.

November 15, 2003

Activists and Politicians History

First Same-Sex Marriage of a Serving Cabinet Minister

A few months after a B.C. Court of Appeal ruling legalized same-sex marriage, Ted Nebbeling became Canada's first serving cabinet minister to legally marry his same-sex partner. A pre-decided cabinet shuffle just a day later left Nebbeling, who had served two years as Minister of State for Community Charter, without portfolio. He left provincial politics following the 2005 elections.

March 19, 2004

History LGBTQ2S Rights

Same-Sex Marriage Legalized

A Court of Appeal ruling legalized same-sex marriage in Québec.

July 20, 2005

History

Civil Marriage Act

The Civil Marriage Act received royal assent, legalizing same-sex marriage across Canada. Canada was the fourth nation worldwide to legalize same-sex marriage.

May 01, 2006

Arts, Culture and Press

Brossard Wins Molson Prize

Writer Nicole Brossard won the $50,000 Canada Council Molson Prize for her contribution to the cultural and intellectual heritage of Canada.

November 01, 2010

Traiblazer Athletes

Angela James is inducted into the Hockey Hall of Fame

Known as "the Wayne Gretzky of women's hockey," Angela James was a pioneering and dominant force in women's hockey during the 1980s and 1990s. James led the Canadian women's hockey team to four world championships (1990, 1992, 1994, and 1997). She was also one of the first three women to be inducted into the International Ice Hockey Federation Hall of Fame. When James was inducted into the Hockey Hall of Fame (in Toronto) in 2010, she was one of the first two women, the first openly gay player, and the second black athlete to ever be inducted.

February 11, 2013

Activists and Politicians

First Female and LGBTQ Premier of Ontario

Kathleen Wynne was sworn in as Ontario's twenty-ninth premier, making her the province's first female and the first LGBTQ premier.

July 25, 2015

History

First Official Indigenous Pride Event in Canada

An LGBTQ pride celebration — believed to be the first on-reserve event of its kind in Canada — was held at the Six Nations of the Grand River First Nation in Ontario. Remarks from local leaders including Chief Ava Hill honoured the community's two-spirited people.

March 20, 2016

Arts, Culture and Press

Léa Pool Wins Big at the Gala du cinéma québécois

Québec director Léa Pool's film La passion d'Augustine won six awards at the Gala du cinéma québécois (formerly the Jutra Awards), including Best Film, Best Director, Best Lead Actress and Best Supporting Actress. Pool was the first woman to win Best Film since the awards were founded in 1999.

May 17, 2016

History LGBTQ2S Rights

Liberals Table Transgender Rights Bill

On the International Day Against Homophobia, Transphobia and Biphobia, Liberal justice minister Jody Wilson-Raybould introduced legislation to protect the rights of transgender Canadians. If passed, the bill would make it illegal to deny someone a job or discriminate against them in the workplace based on their gender identity or expression. The Criminal Code would also be updated to protect transgender individuals from being targeted by hate propaganda and hate crimes.

May 28, 2016

History

Conservative Party Ends Opposition to Gay Marriage

At the federal Conservative Party convention in Vancouver, members voted to end the party's opposition to same-sex marriage by deleting the definition of marriage from its official policy. Many Conservatives spoke out in support of the values of equality and respect embodied in this decision. Same-sex marriage has been legal across Canada since the Civil Marriage Act was passed in 2005.

June 01, 2016

History

Pride flag raised on Parliament Hill

To kick off Canada's first-ever Pride Month, and for the first time in Canadian history, the Pride flag was raised on Parliament Hill by Prime Minister Justin Trudeau. A year later, the Transgender Pride flag was also raised, on June 1, 2017.

June 22, 2016

History

Toronto Police Express Regret for Bathhouse Raids

Toronto police chief Mark Saunders publicly expressed "regret" on behalf of his force for the 1981 bathhouse raids. On 5 February of that year, Toronto police officers arrested about 300 gay men on charges of being found in a common bawdy house or keeping a common bawdy house. Most of the charges were dropped, but the raids further persecuted and marginalized a group whose rights were largely unprotected in Canadian society of the time. They also spurred a new era of political activism in the city's LGBT community.

June 29, 2016

History

Ontario issues non-gendered identification

The Government of Ontario announced that as of 2017, drivers have the option to display an "X" (for unspecified) on their driver's licences. Additionally, "F" and "M" markers have now been removed from all new provincially-issued health cards. The government wishes "to ensure the fair, ethical and equitable treatment of people with trans and non-binary gender identity."

July 03, 2016

History

Toronto Pride Parade 2016

An eventful Pride Parade in Toronto marked the culmination of the first-ever Pride Month in Canada. Justin Trudeau became the first sitting prime minister to march in the parade. Activist group Black Lives Matter staged a blockade that stalled the event until Pride Toronto's executive director had signed a list of demands put forward by the group (the most controversial of which was that police floats be barred from future parades). Though Black Lives Matter hailed it as a victory, Pride Toronto later characterized the signing of the list as the start of a "conversation" that enabled the parade to continue, not as a binding agreement.

July 09, 2016

History

Overwhelming Turnout for Pride March in Steinbach

The first Pride march in Steinbach, Manitoba, brought an estimated 3,000 to 5,000 people to the city of about 13,000 residents. Many travelled from other parts of the country to support the local LGBTQ community in its first public celebration. Organizers faced hurdles getting the necessary permissions for the event, and the city's mayor, member of Parliament and member of the Legislative Assembly all announced they would not attend. Prior to the march, the traditionally conservative community drew national attention when education officials denied requests to adapt the curriculum to discuss differences in sexual orientation and gender.

January 17, 2017

Arts, Culture and Press History

First transgender woman actor nominated at the Canadian Screen Awards

Actor Gabrielle Tremblay, from Québec, became the first transgender woman actor to be nominated at the Canadian Screen Awards. She was nominated for "Performance by an Actress in a Supporting Role" for her work in Those Who Make Revolution Halfway Only Dig Their Own Graves, directed by Mathieu Denis and Simon Lavoie.

April 27, 2017

History

First Canadian to be issued identification card without gender marker

Searyl Atli Doty, a child from British Columbia, became the first Canadian to be issued an identification card without a gender marker. Instead of an "F" (female) or "M" (male), Doty's health card is marked with a "U" for undetermined or unassigned. Doty's parent, Kori Doty, requested that gender be withheld from the child's birth certificate — a request that was previously denied by the government. Doty's case is currently under review by the British Columbia Human Rights Tribunal.

June 15, 2017

History

Bill C-16 passed by the Senate

The Senate of Canada passed a bill to protect against discrimination based on gender identity and expression. Bill C-16 is an amendment to the Criminal Code, clarifying that an offence "motivated by bias, prejudice or hate based on gender identity or expression constitutes an aggravating circumstance that a court must take into consideration when it imposes a sentence." Discrimination based on gender identity or expression — just like race, religion, age, gender and sexual orientation — is now prohibited under the Canadian Charter of Rights and Freedoms.

July 28, 2017

History LGBTQ2S Rights

Northwest Territories introduces changes to the Vital Statistics Act

The Government of the Northwest Territories (NWT) introduced two important changes to the Vital Statistics Act. Firstly, NWT residents can now use a single traditional name as their legal name on identification documents, a change that supports the efforts of Indigenous peoples to reclaim their traditions and culture. Secondly, individuals born in the NWT can now apply to change the gender on their birth certificate without having to undergo gender reassignment surgery. Additionally, those who identify neither as male nor as female can choose a third option, gender X, if they were born in the NWT. This change aims to "promote inclusion and fight discrimination against transgender and non-binary people." The NWT is the first province or territory to recognize gender X on birth certificates.

August 31, 2017

History LGBTQ2S Rights

Gender X becomes option on official Canadian documents

Canadians can now choose to have an "X" (for unspecified) on their official documents. This measure aims to make it easier to obtain passports and travel and immigration documents that better reflect an individual's gender identity or expression.

September 01, 2017

History

Canada welcomes LGBTQ2 Chechen refugees

According to the Globe and Mail, Canada welcomed some twenty LGBTQ2 Chechen refugees over the summer of 2017 through a one-of-a-kind underground program. The strategy was kept secret by the federal government and NGOs (including Toronto-based organization Rainbow Railroad) assisting LGBTQ2 individuals attempting to flee persecution in their home countries.

September 21, 2017

History

Newfoundland and Labrador announces option to obtain gender-neutral and non-binary birth certificates

Newfoundland and Labrador announces option to obtain gender-neutral and non-binary birth certificate. Individuals aged 12 years and older residing in Newfoundland and Labrador will now be able to choose an "X" (for unspecified) on their birth certificates.

November 05, 2017

History

Canada's first transgender mayor is elected

Julie Lemieux became the first transgender person elected to the head of a municipality in Québec and in Canada. During local elections in Québec, she was elected mayor of Très-Saint-Rédempteur in Montérégie. She was previously elected city councillor in 2013.

November 28, 2017

History

Justin Trudeau apologizes for LGBTQ2S discrimination

Prime Minister Justin Trudeau apologized for discrimination done or condoned by the Federal government and its agencies against LGBTQ2S Canadians. The apology came with a $145 million compensation package.

January 23, 2019

LGBTQ2S Organizations

Pride Toronto Votes to Keep Police Out of Parade

Members of Pride Toronto voted 163–161 to prevent uniformed police officers from participating in the city's annual pride parade and related events, reversing a decision made by Pride Toronto's board of directors in October. Police were barred from marching in the parade in 2017 and 2018 in response to a Black Lives Matter protest that halted the parade in 2016. Members of Toronto's LGBTQ2+ community were also critical of the Toronto Police Service's handling of several disappearances and murders in Toronto's gay village.